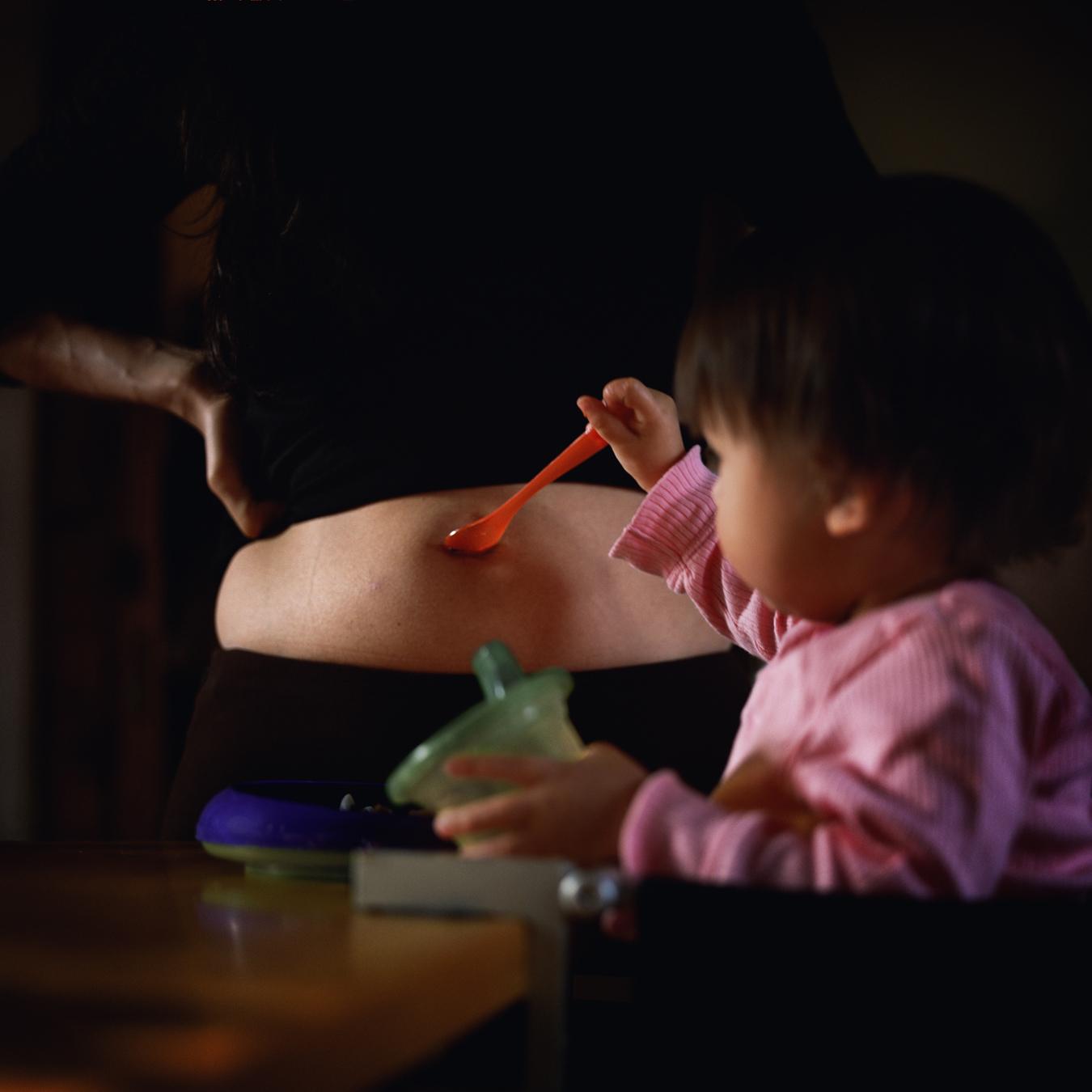 "My body is a funnel through which the world has been poured."  — Janine Antoni
March 19, 2010 — The University of Virginia Art Museum hosts a new exhibition, "Janine Antoni: At Home in the Body," on view through June 13.
With photography and sculpture produced over the last decade, Janine Antoni carefully articulates her relationship to the world, giving rise to emotional states that are felt in and through the body. The works in this exhibition invite the viewer to feel the physical presence of the artist and to come to know her intimately.
"Tender Buttons" invites the viewer to imagine wearing her nipples cast as solid gold broaches. "Conduit," another metal apparatus that is fashioned for the body, allows a woman to urinate while standing up. In the exuberant photograph of the artist using the gargoyle shaped "Conduit" on the Chrysler building, the wind appears to give her a man's beard or a lion's mane. In "Host and Lattice" another creature has come into contact with her body. A spider has built its trap in what appears to be a kitchen, the appropriate place to wait for your dinner.
In "Tangent," the artist balances on a police barricade bearing the text "Police Line Do Not Cross." She teeters there in order to question the law's ability to control her physical movement.
Her form has been shrouded in a cowhide in a sculpture entitled "Saddle." In "Momme," she is veiled again, but this time by her mother's dress. And in yet another image entitled "One Another," Antoni captures one of the first times her daughter feeds herself. Of this moment the artist has said, "I fell in love with her uncanny instinct and tender gesture of reciprocity."
Antoni, a 46-year-old native of the Bahamas, received her B.A. in 1986 from Sarah Lawrence College and her M.F.A. from Rhode Island School of Design in 1989. She received the MacArthur Fellowship and the Joan Mitchell Foundation, Inc. Painting and Sculpture Grant in 1998, and the Larry Aldrich Foundation Award in 1999.
She has exhibited extensively in the United States and abroad at venues including Luhring Augustine Gallery, The Irish Museum of Modern Art, The Whitney Museum of American Art, The Museum of Modern Art and The Guggenheim Museum.   Her work was included in the 1993 Venice Biennial, the 1993 Whitney Biennial and other biennials around the world. Korea, SITE.
The exhibition was made possible through the generous support of Luhring Augustine, New York, The Stanley Family Fund, Albemarle Magazine and the Hook.
Admission to the U.Va. Art Museum is free and open to the public Tuesdays through Sundays from noon to 5 p.m. For information, visit here.
— By Andrea Douglas