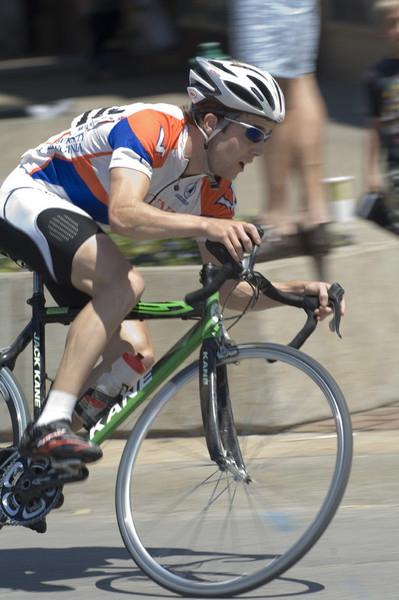 May 17, 2007— Riding with a broken hand, Mark Hardman of Newport News, Va. overcame steep odds and retained his "stars and stripes" cycling jersey as the U.S. Collegiate National Champion. The University of Virginia law student successfully defended his national title this past weekend in two days of racing in Lawrence, Kan. at the 2007 USA Cycling National Collegiate Championships.
On the first day of competition on Saturday, May 12, Hardman was unable to use both hands during the final sprint to the finish line of the 84-mile road race, was passed by five riders in the final 500 meters and finished a disappointing seventh.
Hardman's finish gave him 120 points and left him 46 points behind the leader heading into Sunday's competition, which consisted of the criterium race and bonus sprints. The overall individual winner is determined by combining points from the two days. Since the road race is weighted more heavily, Hardman and his teammates figured his chances of retaining the title were so remote that they retired to their hotel room and ordered six pizzas for four people. They joked that Hardman would have to win nearly every single bonus sprint plus the overall race on Sunday in order to salvage a victory.
As it happened, everything went right for Hardman in Sunday's criterium race. After placing first or second in five of the six bonus sprints, he realized that he might have a chance at the overall title. Fifth in the lead pack of eight riders with less than 200 meters to go—and needing a better finish to win the title—he blasted a risky inside line through the final corner, passed several riders, bumped into the second-place rider as he exited the corner and took the lead with 150 meters left. Again his broken hand proved a handicap in the final all-out sprint, but only two riders managed to pass him in the final 50 meters. His third-place finish plus his success in the sprints gave him 111 points for the day and 231 overall—a 25-point cushion over second-place Tyler Dibble of UC-Davis.
"I knew this would be the last race of my life, and walking away with the national championship was all I could ask for," Hardman said.
The win was a high point of an intense 10 days for Hardman that will culminate this Sunday when he graduates from the U.Va. School of Law. He finished his last two exams last Thursday and hopped on a plane to Kansas that evening, giving him a single day to prep for the races.  On top of his Sunday win, which allows him to wear the "stars and stripes" jersey for the next 364 days, Hardman celebrated his 26th birthday on May 16. "If I can't be happy this week," he said, "I don't think I ever can be."
KEY STATS (Taken from USA Cycling website:
www.usacycling.org
)
2007 USA Cycling National Collegiate Championships in Lawrence, Kan.
Saturday, May 12: Men's Division I road race, 84-mile road course with two-mile detour on gravel road due to earlier heavy rains
Division I Men's Road Race
1. Alex Boyd (Midwestern State University) 3:46.09, 166 points
7. Mark Hardman (U.Va.) 3:46:35, 120 points
Sunday, May 13: Division I Men's Criterium race, a 65-minute race of about 30 laps around a 1.2 mile, eight-corner loop, with bonus sprints about every five laps.
Division I Men's Criterium
1. Phil Mann (Colorado State University) 1:10:48.7 
2. Tyler Dibble (UC-Davis) s.t., 92 points (including any bonus sprint points)
3. Mark Hardman (University of Virginia) s.t., 80 points (excluding bonus sprint points)
Bonus Sprints
1. Mark Hardman (U.Va.), 31 points
Final Division I Men's Omnium (overall)
1. Mark Hardman (University of Virginia) 231 points
2. Tyler Dibble (UC-Davis) 206
Full results in PDF at:
http://www.usacycling.org/news/user/story.php?id=2953
Full releases at:
http://www.usacycling.org/news/user/story.php?id=2956