A three-year collaboration between two University of Virginia professors and Albemarle County's Baker-Butler Elementary School helped the school earn a National Blue Ribbon School Award last week, given by the U.S. Department of Education.
Baker-Butler was one of four schools in Virginia to receive the Blue Ribbon Program's Exemplary Award for Closing Achievement Gaps. It is the first time a Virginia school has been awarded this honor for success in closing achievement gaps between a school's overall student population and English language learners, special education students and students from economically disadvantaged homes.
UVA assistant professor of architecture and design thinking Elgin Cleckley, who leads the mpathic design practice, and School of Education and Human Development associate professor Jennifer Chiu have worked with Baker-Butler administrators and teachers to bring design-thinking principles into elementary classrooms, building what Baker-Butler Principal Seth Kennard described as a project-based learning approach that emphasizes not just the answer to a problem, but the process of getting that answer. Kennard credits the approach as a big part of the success that led to the recent award.
"Students must deeply understand the purpose and meaning behind what they are trying to accomplish and use their new content knowledge to get there," he said. "This generates a level of ownership on the part of students, that, in turn, leads to high levels of understanding."
Design thinking is a problem-solving method that applies architects' and designers' creative thinking to social problems. UVA Darden School of Business professor Jeanne Liedtka is among the earliest scholars whose work on design thinking has helped define the field, and Cleckley and Chiu are among those who have incorporated the concept into the School of Architecture. 
Dr. Steve Saunders, who served as Baker-Butler's principal from 2014 to 2019, which included the three-year award period, brought design-thinking principles to the school through the collaboration with Cleckley, Chiu and their UVA students. The UVA scholars and Baker-Butler administrators and teachers worked together in professional development sessions, and cohorts of teachers came to UVA for three-day sessions with Cleckley's design-thinking course, funded by a grant from UVA's School of Education and Human Development.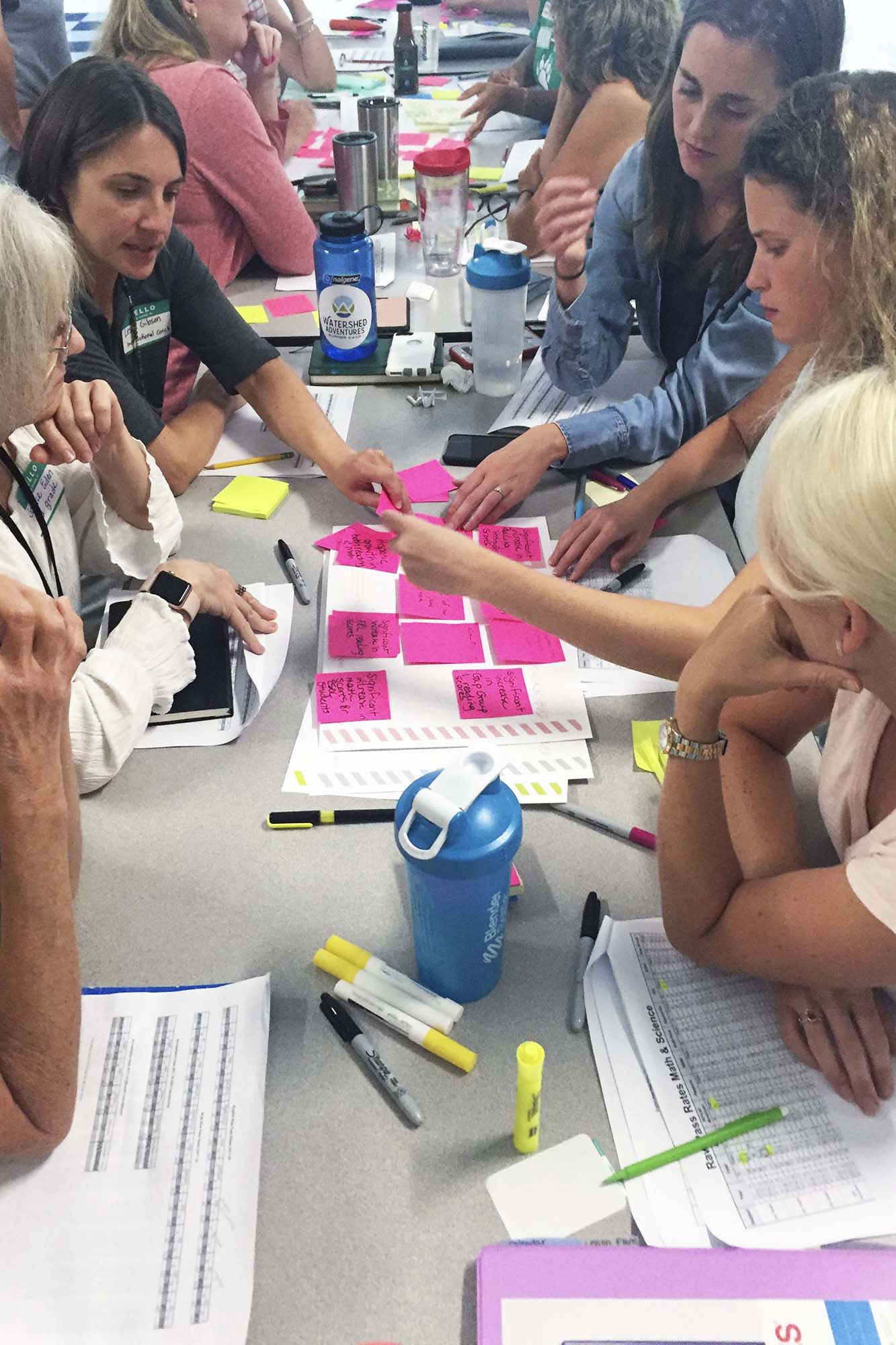 Teachers incorporated design thinking into classroom problems and professional development, often using Post-It notes to track ideas, as in this 2018 session. (Contributed photo)
Together, they developed problem-solving frameworks designed to help students build creativity, critical thinking, collaboration and communication skills, and to develop empathy for others.
For example, in one exercise second-grade students brainstormed ways to improve the end of the school day for their peers, asking questions like, "What problems are we trying to solve?," "Who is affected?" and "What are some possible solutions?". Teachers displayed students' answers in Post-It notes that could be moved around various boards, helping them visualize the decision-making process.
Second-grade teacher Lisa Baker said the design-thinking process helps her students to take risks and find creative solutions.   
"Over the past several years, teachers and administrators have joined together to transition project-based learning projects into design thinking projects," Baker said. "Students empathize, define the project, make prototypes, test their projects and share the final project. Establishing a sense of empathy for others has helped to encourage students to take risks and feel supported by our school community."
The approach has been so successful that Cleckley and the UVA team are hoping to replicate it at other schools. They recently received a Jefferson Trust Award to continue this approach in collaboration with Saunders and Greer Elementary School, where Saunders now serves as principal.  
"Our partnership with [Cleckley and Chiu] at Baker-Butler was foundational to our staff becoming innovative, flexible and creative problem-solvers," said Saunders, a UVA graduate with degrees from the College of Arts & Sciences and the School of Education and Human Development. "Working with Elgin and Jennie allowed us to innovate quickly and I really appreciate the partnership."
Chiu was enthusiastic about the partnership and the results at Baker-Butler so far.
"What I love about a design-thinking approach applied to educational settings is that it supports optimism and agency with students and teachers to solve difficult and important problems," she said. "Design-thinking approaches help to empower teachers and students to make a difference in their schools and local communities with a focus on empathy and need-finding.
"The results at Baker-Butler are very promising and demonstrate the hard work of the administration, teachers and students. I'm eager to continue our work and research with Steve Saunders at Greer Elementary."
Media Contact
Article Information
October 7, 2020
/content/uva-design-thinking-collaboration-helps-local-elementary-school-win-national-award