Virginia Gov. Terry McAuliffe chose the University of Virginia as the place to hold a Thursday press conference announcing an executive order barring state contractors from discrimination on the basis of sexual orientation or gender identity.
"We want to keep Virginia open and welcoming to everyone," McAuliffe said in the auditorium of UVA's Mary and David Harrison Institute for American History, Literature and Culture and Albert and Shirley Small Special Collections Library.
Executive Order 61 mandates that all state contractors adhere to a non-discrimination policy that includes lesbian, gay, bisexual and transgender individuals in employment, subcontracting and delivery of goods and services within the executive branch.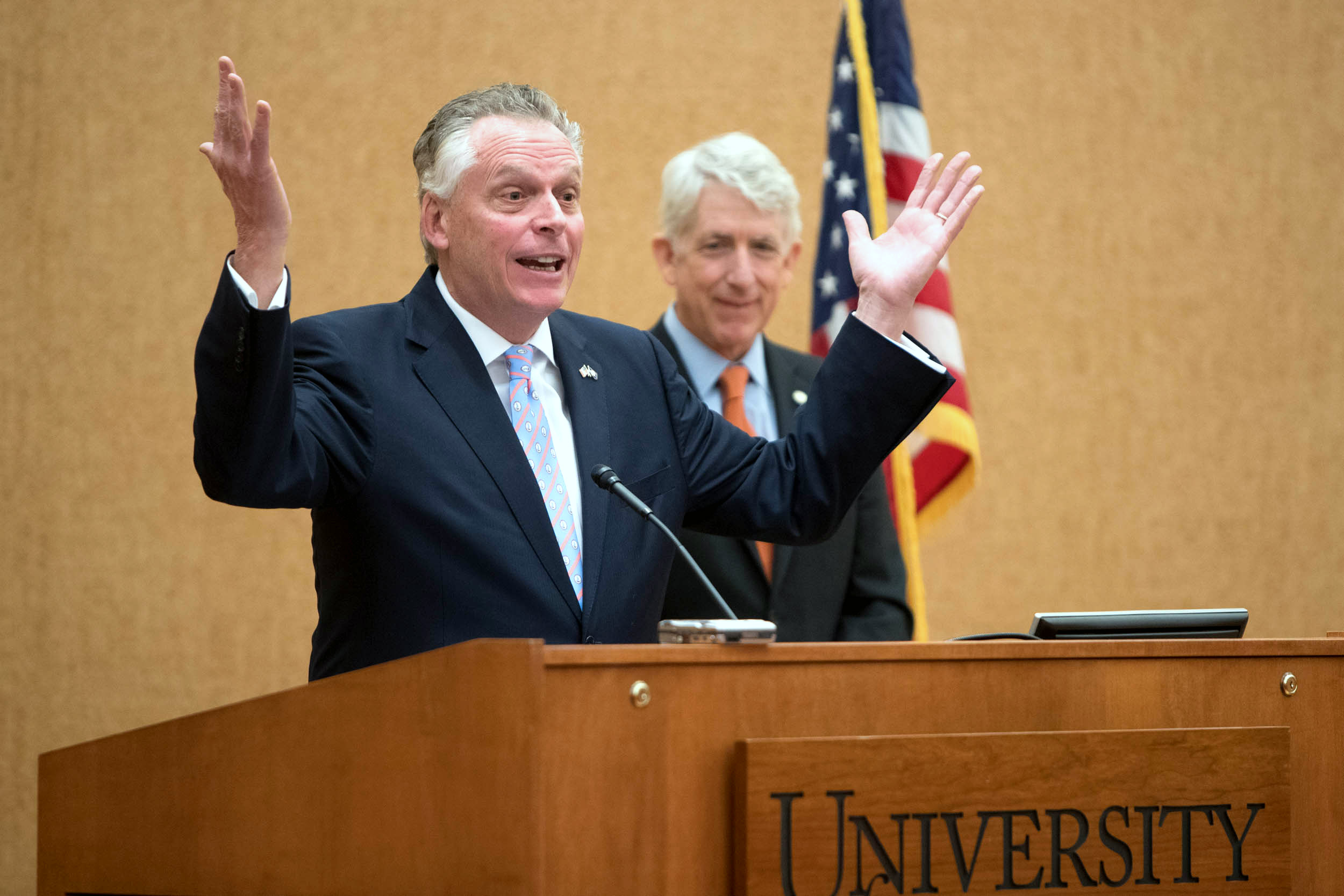 McAuliffe said extending protections to the LGBT population makes sense for civil rights and for business.
On Grounds to attend a retreat at the Frank Batten School of Leadership and Public Policy, McAuliffe pointed out that the commonwealth should follow the words of UVA founder Thomas Jefferson; the protections afforded "life, liberty and the pursuit of happiness" in the Declaration of Independence should apply to Virginia as well, he said.
McAuliffe's action builds upon his first executive order in 2014 that prohibits "discrimination on the basis of race, sex, color, national origin, religion, sexual orientation, gender identity, age, political affiliation, disability or veteran status" in the state workforce. 
"As my first act as governor, I signed Executive Order 1 to ban discrimination in the state workforce based on sexual orientation, take divisive social issue battles off the table and help build an open and welcoming economy," he said, before signing the executive order. "Starting today, the commonwealth of Virginia will not do business with entities that discriminate based on sexual orientation or gender identity."
Recent events have shown negative consequences to discrimination, he said, mentioning North Carolina, which reportedly has lost hundreds of millions of dollars in business since it passed legislation prohibiting protection of the LGBT community and requiring transgender people to use bathrooms corresponding to their biological sex at birth.
McAuliffe's action comes days after state Del. Robert G. Marshall of Prince William County filed legislation similar to the North Carolina bill for consideration in this year's General Assembly session, which convenes Wednesday. McAuliffe vowed to veto the bill if it comes to his desk.
"If we are going to have the economic future we want, we have to send a clear and inclusive message about what and whom we value, and the kind of respect and opportunities that talented people will find in Virginia," said Virginia Attorney General Mark Herring, who spoke after the governor.
"Thanks to Gov. McAuliffe, Virginia will be setting the right example and embracing a common-sense step that so many private sector businesses have already taken, and that they increasingly expect from the states in which they choose to locate and do business."
McAuliffe also encouraged everyone, including legislators, to work together on building the economy, adding jobs and supporting high-quality education and health care.
Article Information
January 5, 2017
/content/uva-governor-signs-non-discrimination-order-state-contractors