Judge Carlton W. Reeves came to the University of Virginia for his law degree. But the 1989 School of Law graduate never had any doubt he would return to Mississippi to apply his legal knowledge.
"This is my Mississippi, and I don't want anyone to make my Mississippi one I cannot be proud of," Reeves said.
Reeves serves on the U.S. District Court for the Southern District of Mississippi. He was nominated to the post in 2010 by President Barack Obama, becoming the second African-American appointed to a federal judgeship in the state.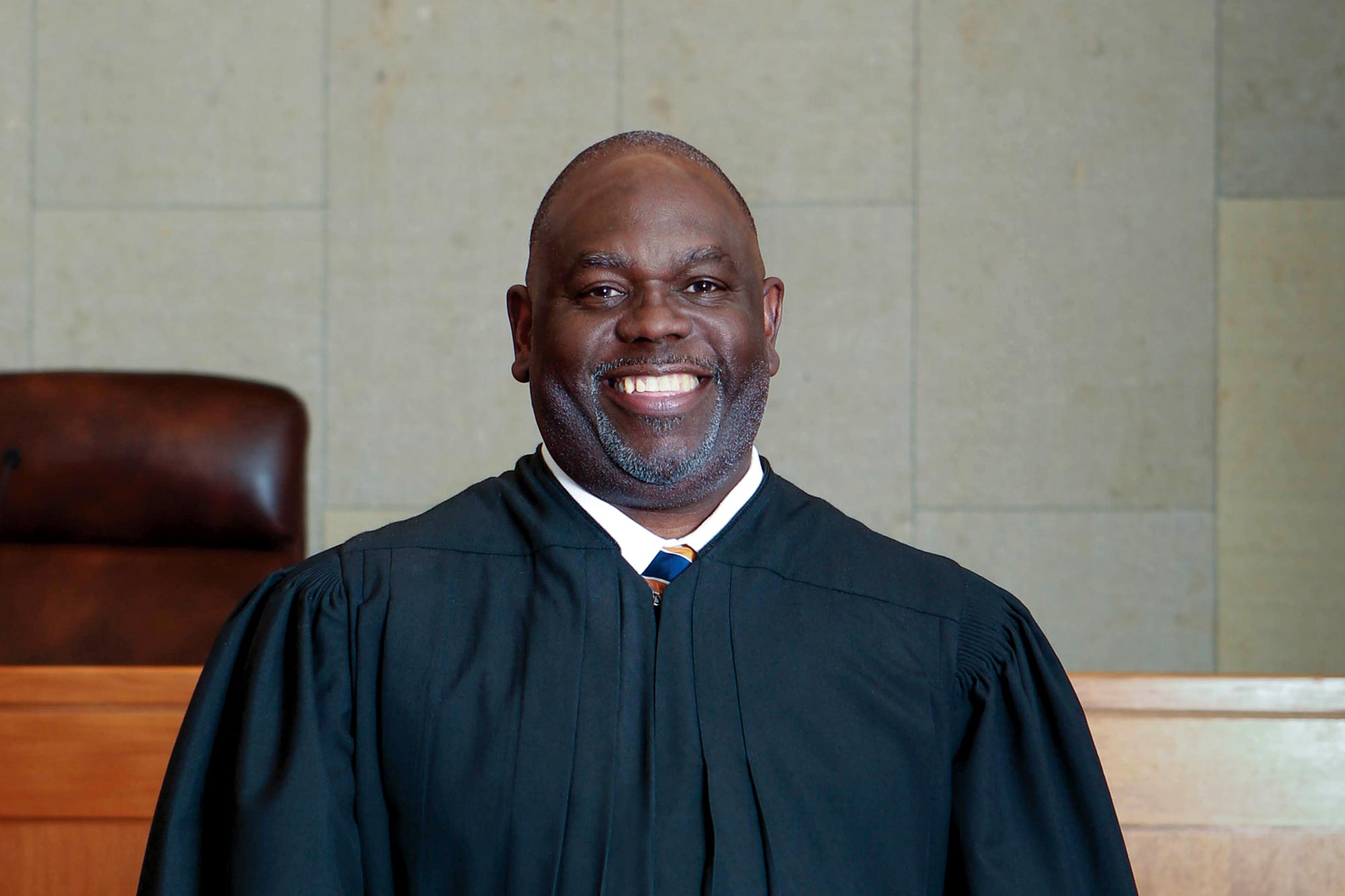 "I knew being a judge would be the best thing to create a greater good in Mississippi," Reeves said. "It's not about creating new rights. It's about breathing new life into the Constitution that we have sworn to uphold."
In the past seven years, Reeves has ruled in a number of notable cases, including Campaign for Southern Equality v. Bryant – the same-sex marriage dispute that he realized "was going to impact far more than just the parties" – and United States v. Butler.
The latter involved federal hate-crime sentencing in the 2011 murder of an African-American man, James Craig Anderson, who was killed when a group of young white men and women ran over him with a truck, proclaiming "white power" as they drove. The incident harkened back to the state's history of lynching, said Reeves, whose poignant sentencing remarks for three of the defendants were widely reported.
He reflected again on that case, which he said was a tragedy on many levels.
"I love my job," Reeves said. "The district judge is the gatekeeper to make sure that justice is rendered. That said, although I love my job, the saddest part is sentencing persons. That is honestly the worst thing. But based on the factual circumstances, I felt it merited something other than the typical sentencing many judges do. I do think judges have the right and the power to speak through their sentences."
The speech Reeves read in the courtroom was so compelling that National Public Radio published it in its entirety on its "Code Switch" site, introducing it as "breathtaking, in both the moral force of its arguments and the palpable sadness with which they are delivered." 
Reeves is far from a crusader, though. Last year, he dismissed a lawsuit attempting to have the state's flag, which contains the Confederate emblem, declared unconstitutional; the plaintiff failed to demonstrate an injury that could provide legal standing for the complaint.
Getting an Education
As a young man growing up in Yazoo City, Reeves' family lived modestly, providing him with all of the essentials, he said. His only regret is he never learned the saxophone, which he so desperately wanted to play as a teen, for fear of straining the family budget.
Reeves recalled he felt happy and safe enough, yet keenly aware of the divide between blacks and whites in his hometown. Starting with his first-grade class in 1970, Reeves was among the initial group of children in the state who never experienced segregated classrooms in public schools. (The U.S. Supreme Court handed down Brown v. Board of Education 16 years earlier in 1954.) But, in general, the integration went no further than the schoolhouse. Athletic and social activities, such as summer youth baseball leagues, continued to be split along racial lines.
As an older teen, Reeves became active in voting rights efforts by working on several local campaigns and went on to learn more about the South's history of social inequality as a student at the historically black Jackson State University. His professors, and later lawyers and judges, became his role models.
"Judges in the South, judges in Mississippi have stood in the gap," Reeves said. "In most instances our legislative and executive branches of government failed us. The victories that African-Americans have seen in Mississippi have come through the pen of a judge, for the most part."
Charles Holmes, a pre-law adviser in the political science department at Jackson State, influenced Reeves and many other students at the school – including future UVA Law classmates Robert K. Long, Class of 1990, Lee A. Frison Jr., Class of 1991 and Ottowa E. Carter Jr., Class of 1991, along with two who preceded them, Hilliard Castilla, Class of 1985 and Judy Grier Smylie, Class of 1986.
"Charles Holmes encouraged us to apply to the best schools possible," Reeves said.
He said his favorite UVA law class was one on voter participation, taught by former faculty member Pamela S. Karlan (now at Stanford University), whom he admired for her practical experience and hands-on approach. He added that another Law School employee, Elizabeth Lowe, a former dean of student affairs, aided him and other students during difficult times, and remains a dear friend.
Outside of class, Reeves put his budding ability to think like a lawyer into practice. He and fellow classmate/best friend Glenn Walters mounted a challenge via the University Judiciary Committee against an undergraduate fraternity that used racist language to promote a fraternity party. They brought charges against the fraternity on behalf of a group of female first-year students who felt threatened by the offensive flyers.
An important takeaway from his time in law school, he said, was "that justice is never done."
Finding His Way Home
Reeves returned home after graduation to clerk on the Mississippi Supreme Court. But that prestigious beginning was never a given, he said.
Applying to three Mississippi judges, Reeves focused on connections he had made, and his desire to lawyer in the public interest.
"When I was at UVA, I made a commitment to myself that I was going to pursue public interest law," Reeves said. "I did very, very few on-campus interviews because I felt I would never work for a corporate firm."
During the summer after his first year he worked for the ACLU of Mississippi. His second summer, he worked for the public interest firm Ferguson, Stein, Watt, Wallas & Adkins, an early integrated law firm in North Carolina. Founded by Julius Chambers, it became famous for bringing civil rights cases to the U.S. Supreme Court, in partnership with the NAACP Legal Defense Fund.
"That firm became the firm I wanted to emulate eventually in Mississippi," Reeves said.
Although he had no direct connections to Justice Reuben V. Anderson, the first African-American judge on the Mississippi Supreme Court, Reeves said Anderson was the one who took a chance on him. Since then, "the relationship we've built over these years is one of like a father and son."
Reeves broke his own rule shortly after the clerkship, however. He followed Anderson to the regional law firm Phelps Dunbar, which handles corporate matters. (Anderson is currently senior partner in the Jackson office.)
"Because Justice Anderson was so good to me, I said yes, because of my love and respect for him," Reeves said.
He added that the law firm experience turned out to be an "extremely positive" one. He learned how to practice law and litigate cases, from trials to appeals. And working in terms of billable hours reinforced the value of managing his time efficiently.
Heeding the Federal Call
By the time Obama tapped Reeves to fill the seat vacated by Judge William Henry Barbour Jr., he had realized his dream of forming his own firm, the racially integrated Pigott Reeves Johnson & Minor.
One of the firm's namesakes was UVA Law alum Brad Pigott, Class of 1980. Reeves and Pigott first worked together after Pigott was named U.S. attorney for the Southern District of Mississippi in 1995.
"When Brad got the appointment to be U.S. attorney, he was looking for people to bring in," said Reeves, who took on the role of chief of the Civil Division. The two had met at an alumni function in Jackson and hit it off. "I immediately admired his quiet strength and his likeability," Pigott said. "I later learned how strong a moral core he had and how committed he was to turning Mississippi 'around' where we could. Soon after I became U.S. attorney, I plucked him from a large law firm to be Civil Division chief at that office, at his admittedly young age. I knew he could do the job very well, and he certainly did."
With the transition from the Clinton years to the Bush administration, the pair started their firm in 2001. It soon earned a reputation for litigating important cases, often on behalf of the little guy.
"We did all kinds of work," Reeves said. "We represented corporations, universities – but we also represented people, individuals and classes of individuals. We also took on projects we thought were the right projects, because the practice of law is not about the practice of making money. The practice of law is about changing people's lives."
Pigott said that Reeves has a long list of personal attributes that continue to make him successful.
"He is strong, quiet, calm, smart and committed," Pigott said. "He made a great [Department of Justice] official, a great law partner – and now a great judge. I'm very proud of him."
Reeves said he thinks his focus on people, and a little luck, have gotten him where he is today.
"This incredible opportunity came to me because of the relationships I had, the work I had done, the people I knew, and literally the stars aligned themselves," he said. "Being an adult in any profession is about relationships and bridges. You don't need to burn any of them. Mississippi is a very small place."
Article Information
June 23, 2017
/content/uva-grad-turned-judge-brings-moral-force-bench