Shortly after Lydia Hanson and Patricia Otterness were matched in the University of Virginia School of Medicine's Patient Student Partnership program last summer, Hanson – who had just started her first year of medical school – called Otterness to introduce herself.
Some 45 minutes later, they were practically family.
The women talked about Otterness' health issues, but there were also conversations about Otterness' favorite hobby (breeding irises), their respective childhoods, politics and a host of other topics.
"I knew in that call that we would get along nicely," Hanson recalled. "She is a very open person!"
After a few more calls and some emails, the pair met in person during one of Otterness' medical appointments. Afterward, they went out to lunch, and their connection grew even stronger.
"I think part of the reason Lydia and I hit it off from the beginning is that she does have a sense of humor, and I love to entertain her," Otterness said. "I am, as my son tells me, a natural show-off. I have a lively imagination and, in my old age, little place to go with it."
When the pandemic hit in March, Otterness' social outlets became even more limited, but thankfully she had already had Hanson in her life thanks to their 1½ years in the Patient Student Partnership program.
"It has been invaluable to me to be in contact almost daily with Lydia during this COVID crisis," said Otterness, a retired geneticist who worked as lab specialist in UVA's Department of Biology for many years. "Not so much medically as socially. Having an interesting young person to share my concerns and joys with has been a delight. I can tell her my medical problems or share old memories with her. I can send her photos of my garden, or of my grandchildren. I feel that I know who she really is, and that she knows me, too."
Hanson said the relationship has been invaluable for her as well – from a friendship perspective and from the standpoint of getting to learn important nuances in the doctor-patient relationship.
"Medical education can be really intense, and I think it's really valuable to see the medical system from the patient perspective," Hanson said. "As a doctor, I will only be able to see my patients occasionally, and I will only know what problems they bring up to me. I think PSP sort of pulls back the curtain on what day-to-day life can be like for patients dealing with chronic illnesses."
A mandatory part of the School of Medicine's curriculum, the Patient Student Partnership program allows medical students to establish deeper, long-term relationships with patients and gives them a real-world context to their academic experiences.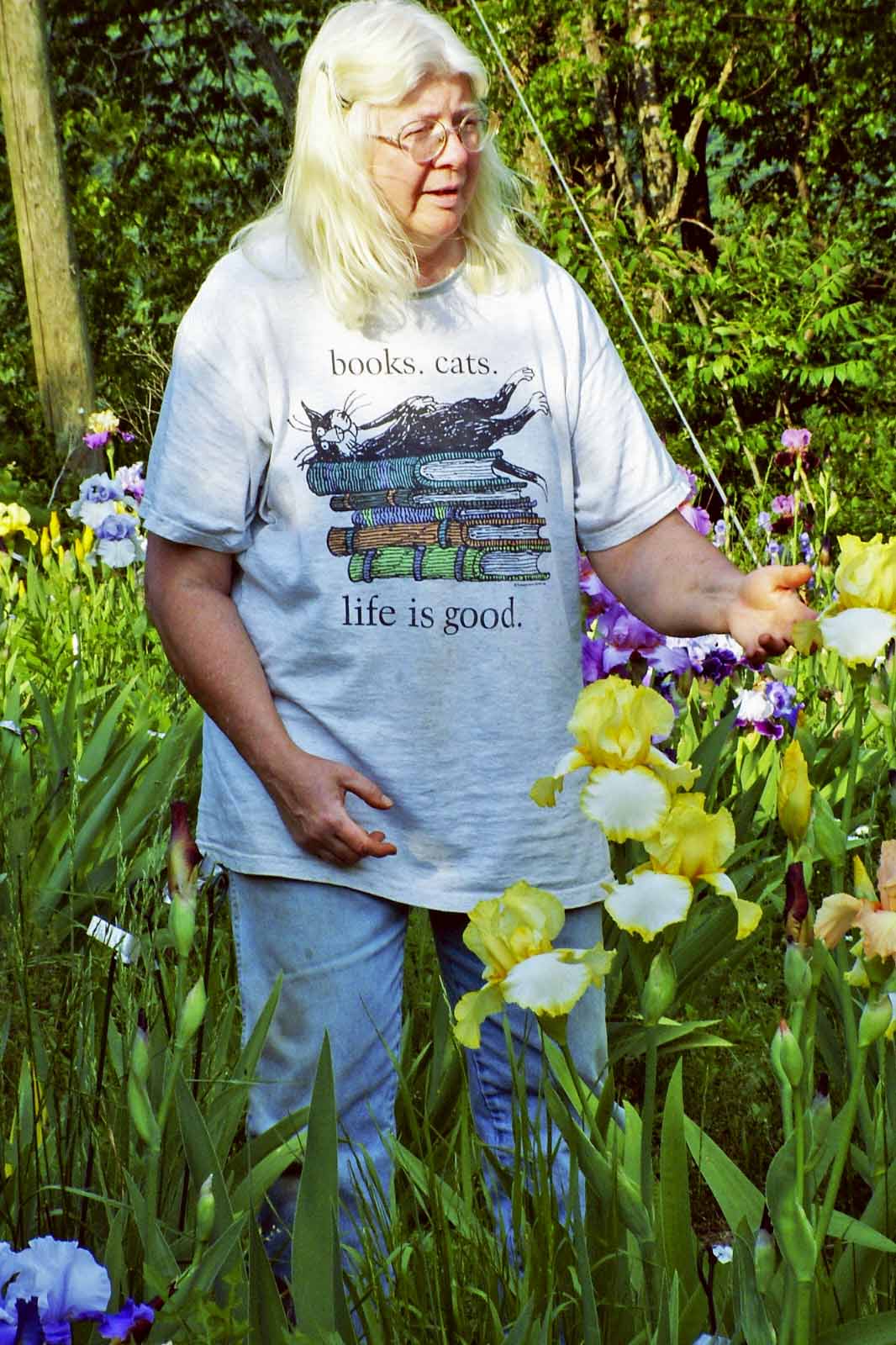 Otterness has shared her love of flower breeding with Hanson. (Contributed photo)
In the program, all incoming students are paired with a chronically ill UVA Health patient – mostly adults, but also some children with complex medical issues. The main idea, according to Dr. Rachel Kon, an associate professor of internal medicine and the course director, is for students to get to know their patients' stories and see the health care system through their eyes.
"We need the next generation of physicians to understand what it is like to incorporate the restrictive diets, many medications, frequent treatments and assistive devices into patients' daily lives," Kon said. "We want students to get to know their patients as people and see how complicated it is to navigate the complexity of the health care system.
"Prior to this program, students often only met patients for a short hospital stay when they were acutely ill, but didn't see how actively they lived life before that one episode and how they adapted and got back to life afterward."
When the pandemic struck Virginia six months ago, the program transitioned to virtual interaction.
"Initially, we were very worried that the student doctor-patient relationship would weaken without the in-person interactions," Kon said. "We were happy to hear at the end of the spring semester that many of the student-patient partnerships were stronger, despite the distance, as the students felt more useful to the patients as they served as a support during this stressful time.
"Also, the patients appreciated the connection to the Health System through the students during such a major public health crisis. Patients and students alike have continued to gain comfort with interacting virtually despite their age or previous tech savvy, which broadens the opportunities for the students and patients to interact."
"Medical education can be really intense, and I think it's really valuable to see the medical system from the patient perspective."

- Lydia Hanson
Starting in late June, students were able to resume joining their patients at some Health System visits while wearing goggles and masks. "This gave the students firsthand experience seeing what the new normal of COVID-19 is for physicians taking care of patients with social distancing," Kon said.
Second-year medical student Rohan Karanth has been paired with patient John Kriener since arriving in Charlottesville. Like Hanson and Otterness, Karanth and Kriener talk about anything and everything.
"He likes sports, specifically football, and is a Patriots fan and will be a Tampa Bay fan starting this year," Karanth said. "He enjoys a good laugh and witty conversation. He's very resourceful and self-driven as he always comes prepared to his appointments and is direct with his providers. He's also very inquisitive and frequently asks about what I'm learning and asks me to explain things."
Karanth said the program has given him something you can't find in any books.
"I've been able to learn and practice how doctors build rapport and set expectations with their patients," Karanth said. "This has allowed me to self-evaluate and note what interpersonal skills I do well in and what I could improve on. Going to my patient's appointments and helping them navigate their care gives me the opportunity to see many of the conditions, medications and physiology I'm learning about in class be applied in real life. This has helped me better understand and remember challenging concepts."
Karanth has helped Kriener coordinate appointments with different specialists, centralize his records, get connected with different resources, advocate for him to his providers and increase his engagement with his care team.
"This has enabled me to view the health care system from many different lenses and have a greater appreciation for what we have patients go through to receive care," he said.
Two years after their first phone call, Hanson and Otterness now text nearly every day.
"She sends me a lot of pictures of her gardens and teaches me about flower breeding," Hanson said. "It's such a nice break from studying medical things to learning about flowers!"
Otterness said it's been a win-win.
"I knew, entering the program, that I had had many medical experiences that would interest Lydia, but we have shared so much more than that," she said. "I had no idea how much joy I would get from the input she has offered me. It is like having another granddaughter."
If you or someone you know is a patient at the UVA Health System and would be interested in joining the Patient Student Partners\ip program, call the coordinator, Beth Wilson, at 434-924-8100.
Article Information
September 8, 2020
/content/uva-health-staple-has-been-invaluable-during-pandemic