In the fall, National Geographic magazine approached University of Virginia history professor John Edwin Mason with an unusual request.
Could Mason, Editor-in-Chief Susan Goldberg asked, help the magazine examine and acknowledge the racist coverage that predominated a large chunk of its 130-year history?
Mason, who teaches both African history and the history of photography, was well-equipped for the task, and his analysis features heavily in a much-heralded letter from the editor that Goldberg published last week. The letter is part of the magazine's April edition, "The Race Issue," examining racial tension in the United States and around the world.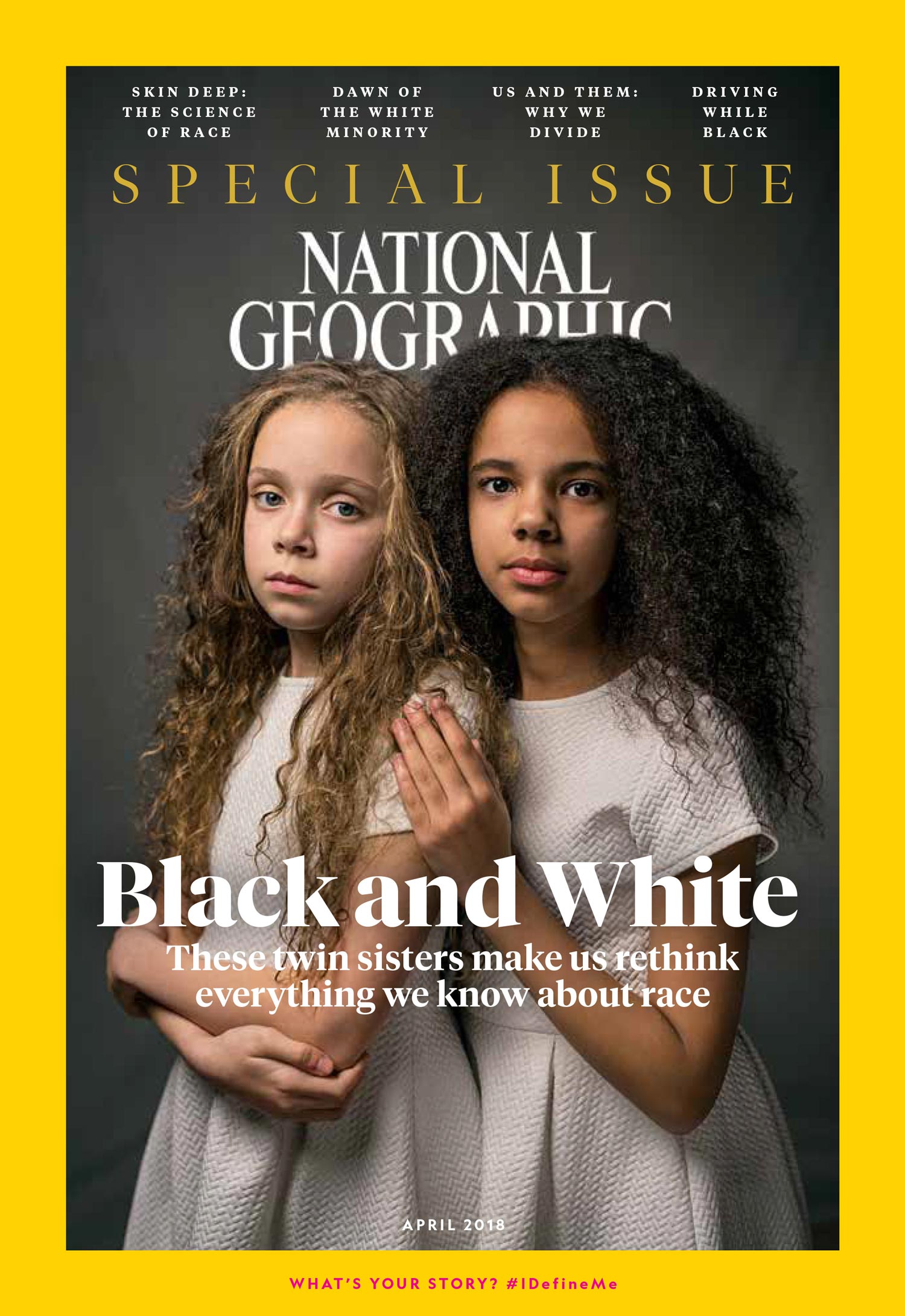 The cover of National Geographic's April issue features twin girls. Michael Biggs sees a clear family resemblance in his twin daughters, Marcia, left, and Millie: "They both have my nose." (Photo by Robin Hammond, National Geographic)
"When we decided to devote our April magazine to the topic of race, we thought we should examine our own history before turning our reportorial gaze to others," Goldberg wrote in the letter.
In this, National Geographic is not alone. The magazine's reckoning comes at a time when other media outlets, historic sites and universities, including UVA, are taking a more critical look at racism in their own pasts.
"There are moments where institutions or cultures as a whole take stock," Mason said. "I think that Susan is responding to that kind of zeitgeist right now."
After meeting with Goldberg, Mason spent hours combing through National Geographic's private photography archives in Washington, D.C.; studying other scholars' work on the magazine; and re-reading old issues at Alderman Library, which has every issue ever published. He particularly focused on issues after World War II and zeroed in on photography, poring over both images that ended up in the magazine and images that, for various reasons, were not chosen.
As a historian – and as someone who grew up reading National Geographic – it was an enthralling task.
"I was really excited when Susan asked for my help," Mason said. "National Geographic is a cultural icon. I read it as a kid. We actually had stacks and stacks around the house, because my mother did not like to throw them away.
"For me, it was a window into the world," he said.
Still, as he would later tell Goldberg, that window was nowhere near perfect.
Up until the 1970s, Mason said, people of color and from parts of Africa, Asia and Latin America were depicted as "backwards, primitive and sometimes a bit savage."
They were frequently shown unclothed and rarely in Western-style clothes. Often they were depicted in either rural settings or village settings that spoke of tradition. There were few signs of technology – no telephone wires, no cars.
"It was as if they were trapped in an unchanging past," Mason said.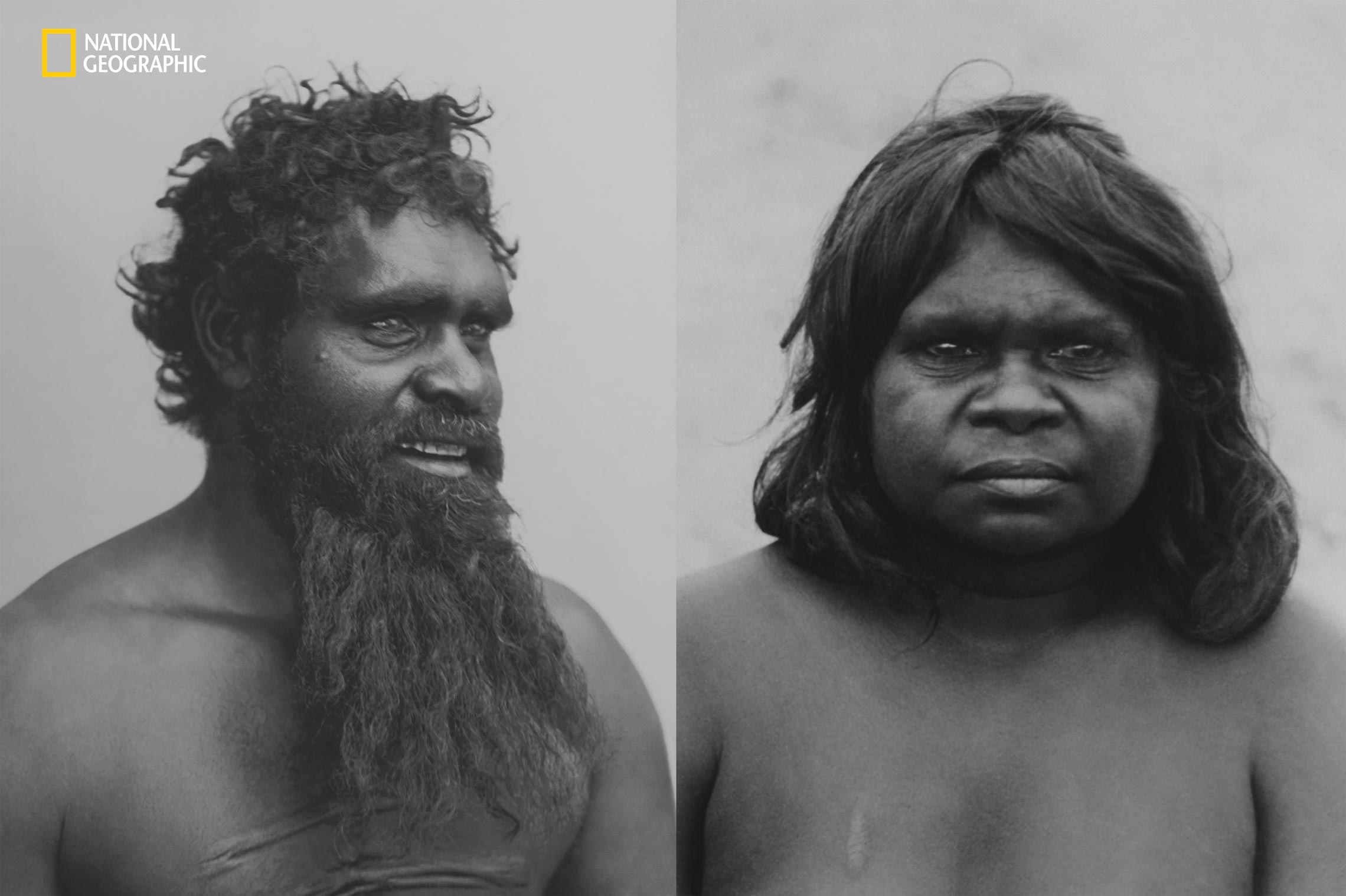 In a full-issue article on Australia that ran in 1916, aboriginal Australians were called "savages" who "rank lowest in intelligence of all human beings." (Photos by C.P. Scott [man] and H.E. Gregory [woman])
Mason called the 1916 photos above "beautiful portraits," but said that they were presented in the magazine as "anthropological specimens," with a caption that mocked the subjects' intelligence.
"They were not presented in a way that would allow us to inherently believe they are just as good as we are," he said. "Photographs are slippery things. In another context, without those words, these portraits could be very pleasing … but in a magazine like National Geographic, text and photographs cannot be separated."
Such depictions were in direct contrast to portrayals of the Western world as modern, progressive and technologically advanced, creating an implicit racial hierarchy that echoed dominant preconceptions at the time.
"The magazine was reflecting the society in which it existed," Mason said, noting that National Geographic started in 1888 and came of age in a segregated America.
"Its staff at the time – mostly white men – accepted the racial norms of the day and gave no hint that they were in any way critical of Jim Crow America," he said.
The magazine's coverage also omitted important moments of political change in Africa and Asia, especially the rise of nationalist movements that overthrew colonial rule after World War II.
"That was such a huge story, and yet all the way through the 1960s there was no sign of it," Mason said. "That was really quite striking. … Readers got no sense of the emergence of these new nations; no pictures of urban, modern Africa; no hint of the political agitation and struggling going on."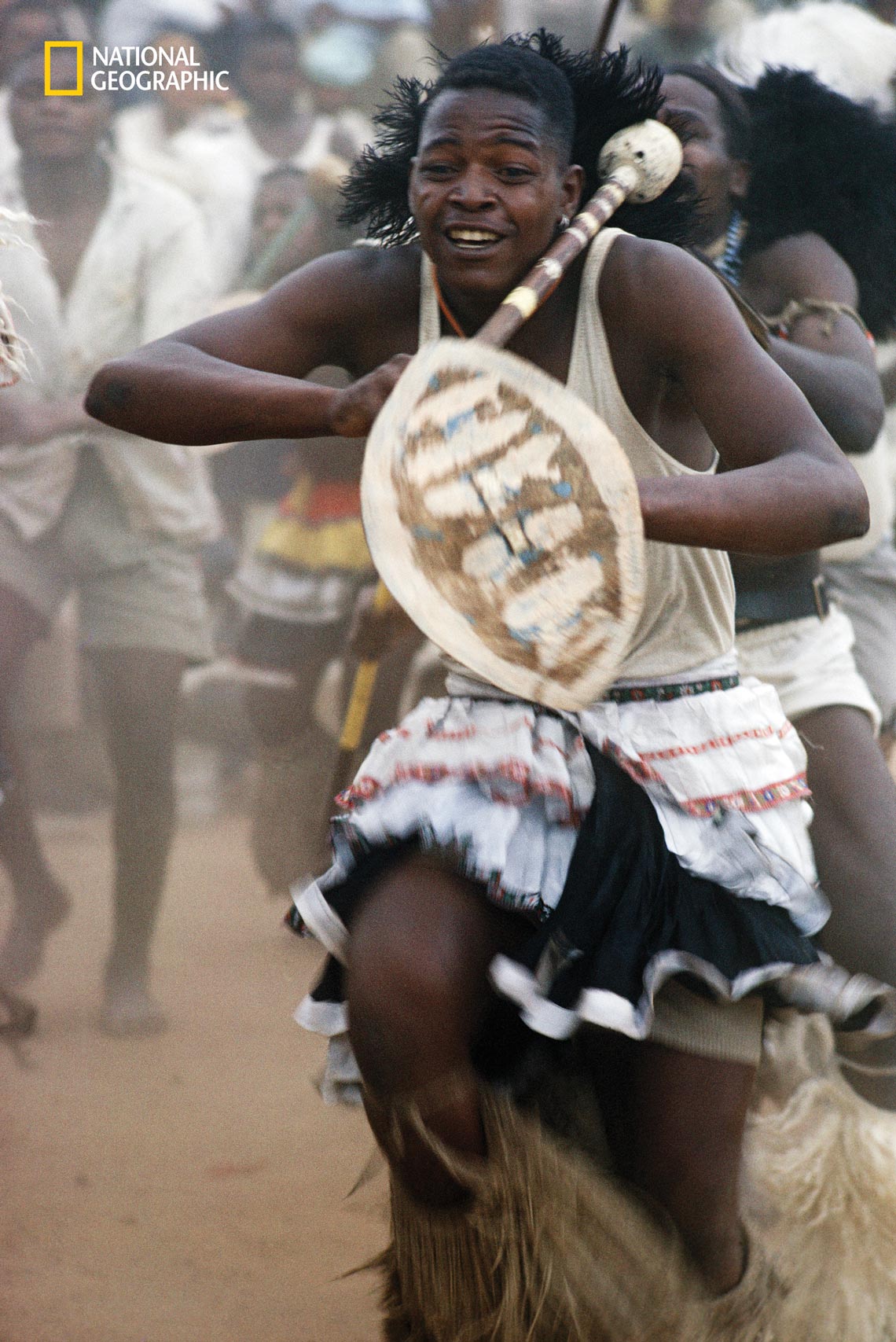 South African gold miners were "entranced by thundering drums" during "vigorous tribal dances," a 1962 issue reported. (Photo by Kip Ross) 
This photo, for example, shows a South African miner performing a traditional dance. It was in the magazine's 1962 issue, two years after the Sharpeville massacre, when 69 unarmed protestors were killed by South African police, alerted the world to the brutality of the ruling government.
When the photo was published, African nationalists were rising up against apartheid, and Nelson Mandela, a revolutionary and future president of South Africa, was already world-famous.
"It was a moment when African nationalists were putting tremendous pressure on the apartheid government and working to abolish really brutal white supremacy," Mason said.
Conditions in the country's gold mines – where this man spent his daily life – were brutal and oppressive, Mason said. The men lived in cramped barracks, faced daily danger on the job, rarely saw their families and could not unionize to fight for better working conditions. Traditional dances, like the one the man is performing, were increasingly staged for white audiences who came to the mines to watch.
None of that context came through in the article.
"The article sees South Africa entirely through the lens of white South Africans," Mason said. People like the miner above were only included as "exotic scenery," with no depth or voice.
"It's really disgraceful," he said.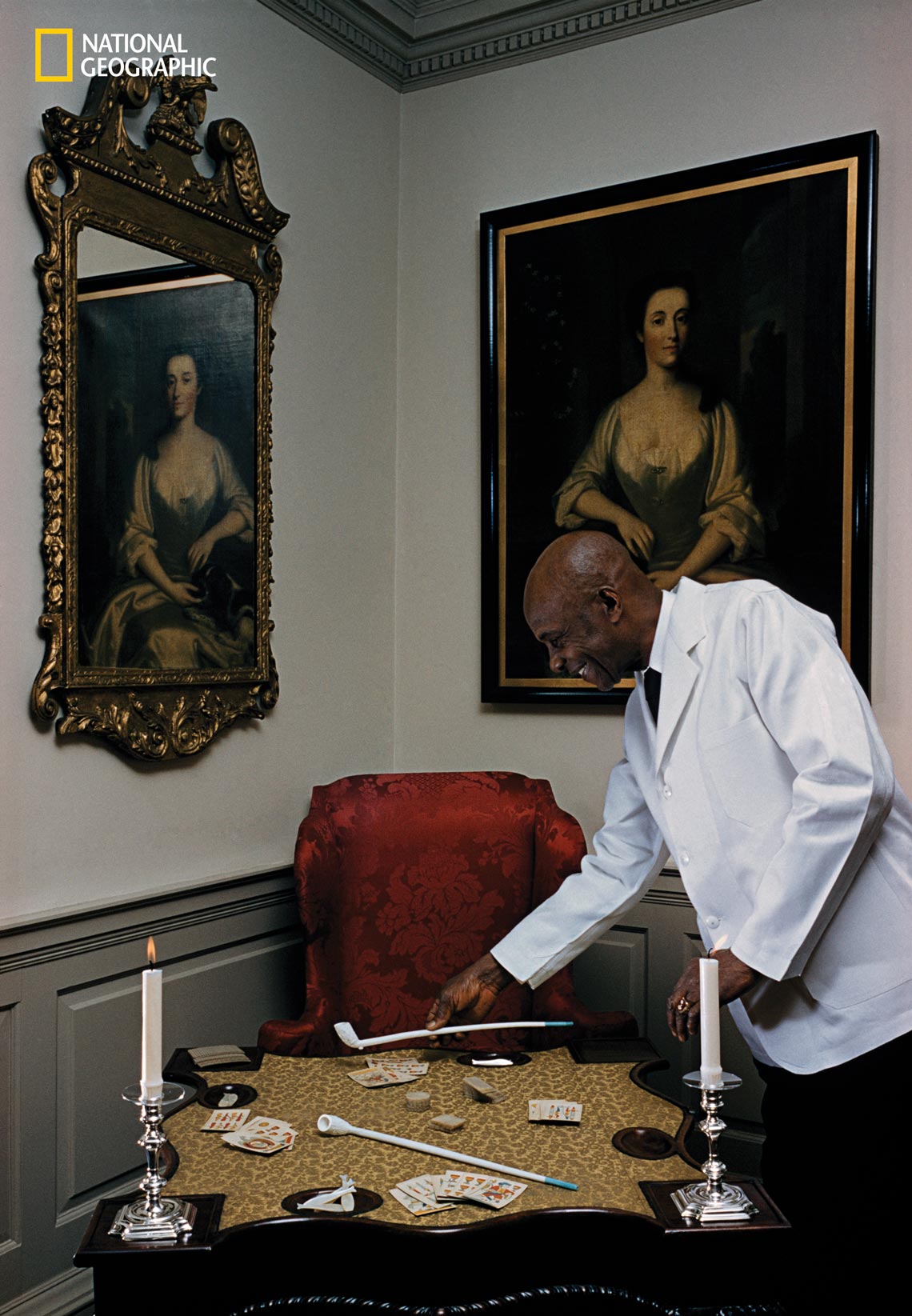 The 1965 article accompanying this photo of a butler at Fairfax House contended that homes built by slave labor "stand for a chapter of this country's history every American is proud to remember." (Photo by Robert F. Sisson and Donald McBain)
Closer to home, National Geographic's portrayals of African-Americans also glossed over social and political context.
"African-Americans rarely appeared in National Geographic at that time, and still appear too rarely today, aside from 'The Race Issue,'" Mason said.
When the magazine did feature African-Americans, it tended to show them in subservient roles, as domestic servants, nannies or laborers. This 1965 photo shows a butler at Fairfax House, a historic home in Fredericksburg.
"Depicting African-Americans only as nannies, butlers or laborers tends to naturalize that status," Mason said. "Because it's such a narrow vision, you would never know there are African-American accountants, lawyers, doctors, poets and much more, and you would never know that African-Americans like this man might bitterly resent their status."
Things began to change in the 1970s, when the Civil Rights Movement had transformed race relations in the United States and decolonization had dramatically altered the global political landscape. Around that time, new editorial leadership took the reins at National Geographic.
"I noticed a significant change around the 1970s," Mason said. "It's been slow but progressive ever since."
He was impressed with the content of the current issue, which features a diverse group of photographers and writers and takes on a challenging topic with few holds barred.
"These are not people who are going to pull punches," he said. "The articles are really powerful, and they have very important things to say about race relations in the U.S."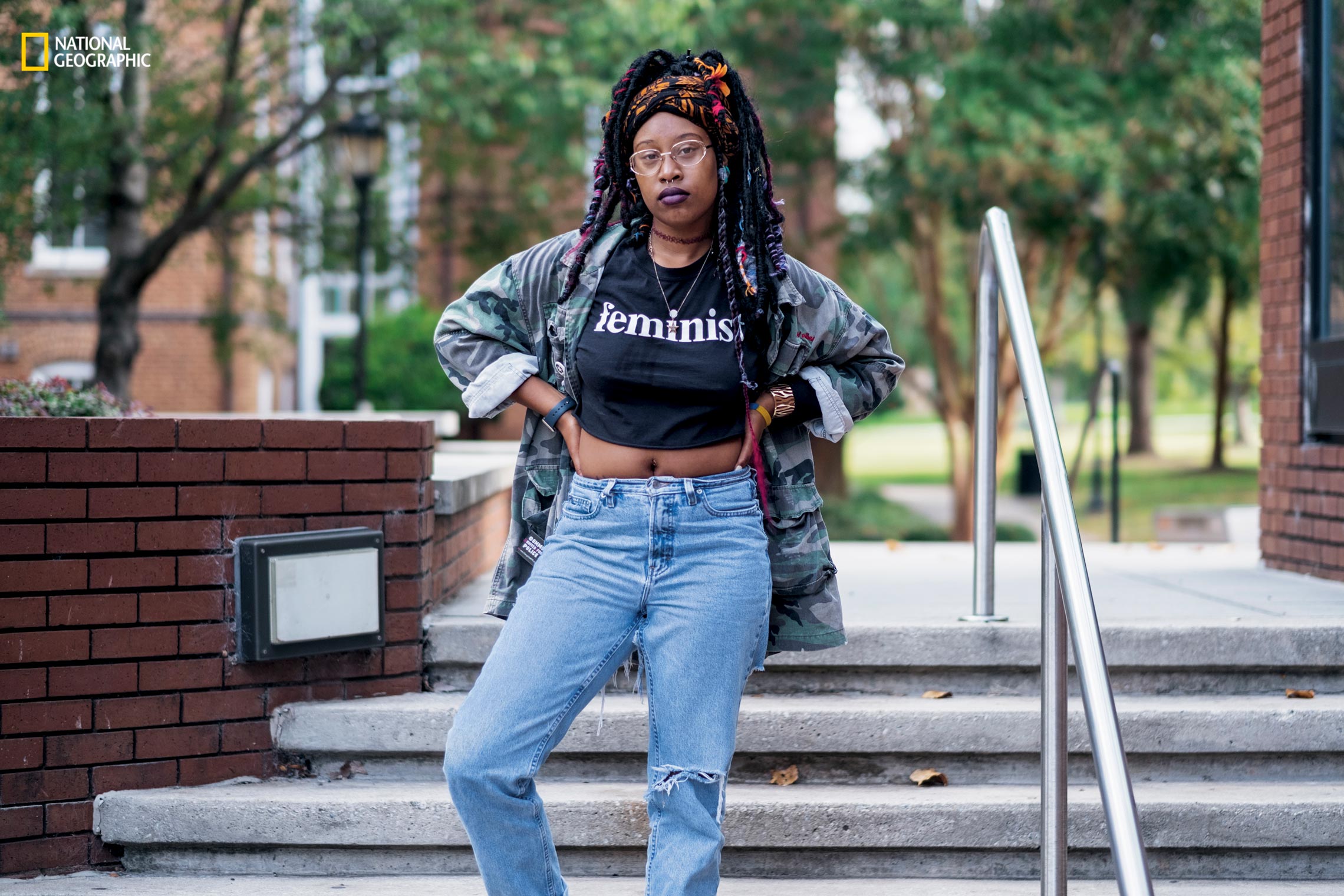 Janae' Sumter used art and activism to encourage Spelman College to support the school's LGBTQ community. After graduating in spring 2017, she enrolled at New York's Pratt Institute. (Photo by Radcliffe "Ruddy" Roye, National Geographic)
The stories feature photographs like this one of Janae' Sumter, a 2017 graduate of Spelman College in Atlanta.
"I love her stance, her gaze, how she is challenging the reader," Mason said. "She is challenging the viewer to see her for who she is, as a black woman who is defining herself.
"It's an image that would have never appeared in these pages prior to the 1970s and probably for many years after," he said.
In the future, Mason hopes the magazine will make continued efforts to include such photographs and stories and give people across the world a chance to share their stories directly.
"They need to continue bringing in more voices and more visions," he said. "There are writers and photographers all over the world, in Latin America, Asia and Africa, who are more than capable of telling their own stories, and it might be good for us to hear those stories from them."
He has similar hopes for UVA, where conversations about the history of slavery and racism at the University mirror some of the tough discussions that took place in National Geographic's editorial offices. 
The President's Commission on Slavery and the University, established in 2013, is charged with educating the public about the history of slavery on Grounds and recognizing the enslaved laborers who worked here. The President's Commission on the University in the Age of Segregation, announced last month, is undertaking a similar examination of segregation and discrimination in the 19th and 20th centuries.
Such steps are important, Mason said, both for studying the past and for advancing positive change in the present.
"I think it is important to acknowledge the past explicitly and put it in writing. That means we can no longer say 'we didn't know,'" he said. "Now that we know, we have a responsibility to ask what we can do now. No one at UVA is directly responsible for how slaves were treated here, but, as at National Geographic, we are responsible for what we do now."
Media Contact
Article Information
March 16, 2018
/content/uva-historian-leads-national-geographics-unusual-self-examination