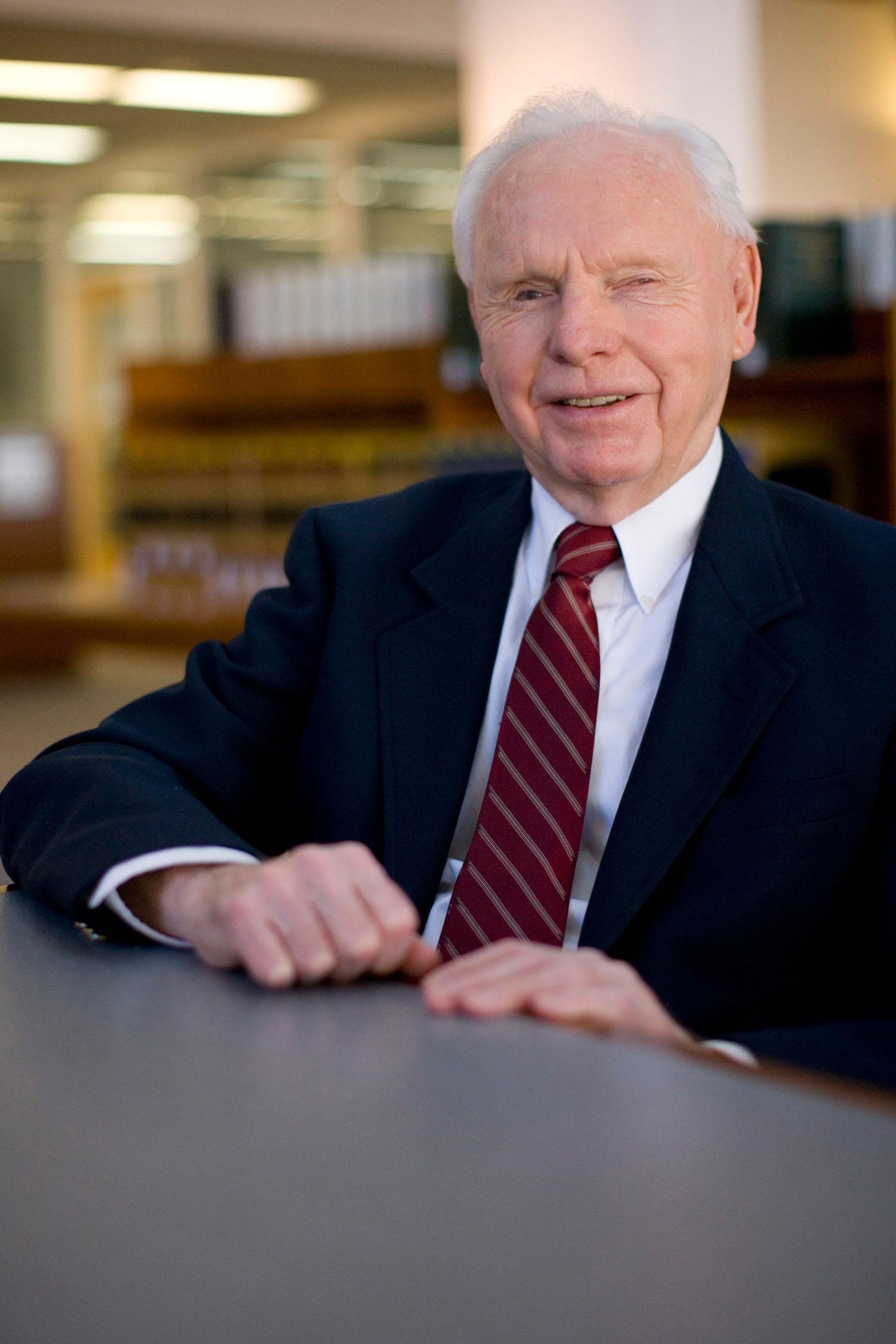 March 24, 2008 — More than most people, Daniel J. Meador, the James Monroe Professor of Law Emeritus at the University of Virginia, can appreciate the challenges that David A. Paterson faces as a visually impaired professional.
Sworn in as New York's 55th governor on March 17, Lt. Gov. Paterson replaced Gov. Eliot Spitzer after his resignation on March 12 in connection with a federal probe into payments to a prostitution ring. Paterson is the first African American to serve as governor of New York and the first New York governor who is legally blind.
While the media reported that Paterson would be the first blind person to serve as a governor, he actually is the second. Bob Cowley Riley (1924-94) was the first visually impaired person to serve as a U.S. governor. Almost totally blind from combat injuries he received during World War II, Riley served as governor of Arkansas for 11 days in January 1975.
Unlike Riley, Paterson is not totally blind, but "legally blind." According to the American Foundation for the Blind, "legal blindness" is a level of visual impairment defined by law to determine eligibility for federal benefits. It refers to central vision of 20/200 or less in the better eye with the best possible correction. That is, a legally blind person must be 20 feet away from something to identify it when people with normal vision can identify it at 200 feet. Or, it can refer to a loss of peripheral vision that leaves a visual field only 20 degrees wide.
Paterson suffered an infection as an infant that robbed him of sight in his left eye and damaged vision in his right eye. He refused to learn Braille and his parents didn't want him in special education classes. So, his family moved from Brooklyn to Long Island, N.Y., and he enrolled in regular public school classes. After completing high school, he went on to graduate from Columbia University with a degree in history in 1977, and from Hofstra Law School with a law degree in 1983.
Two years later, Paterson was elected to the New York state Senate as a representative of the 30th district, which covers the Manhattan neighborhoods of Harlem, Manhattan Valley and the Upper West Side. Spitzer selected him as his running mate for the governorship in 2006.
Paterson's remaining vision allows him to navigate the state capitol building in Albany without help and recognize people from a few feet away, according to news reports. He compensates for his disability in part by being a good listener. Aides leave lengthy voice mail messages for him. He memorizes his speeches.
Unlike Paterson, U.Va.'s Meador lost his sight as an adult in his 50s.
Meador completed his undergraduate studies at Auburn University, received his J.D. from the University of Alabama, and his LL.M. from Harvard University. He served in Korea as an officer in the Army's Judge Advocate General's Corps, and in 1954-55, clerked for Justice Hugo L. Black on the United States Supreme Court.
After practicing law in Birmingham, Ala., Meador joined the U.Va. law faculty in 1957. He taught for nine years, spent a year in England on a Fulbright, then served for four years as dean of the University of Alabama Law School. After returning to U.Va., he took a two-year leave of absence to work in the Department of Justice in Washington, D.C., in the late 1970s. There he worked as an assistant attorney general under U.S. Attorney General Griffin B. Bell in the newly created Office for Improvements in Administration of Justice. The office's broad charge was to identify and solve problems in the justice system.
The job was a good fit for Meador, whose research interests focused on the structure, jurisdiction, personnel and processes of state and federal courts. Unfortunately, while at the Justice Department, his retinas became detached. Doctors "don't know why," he said.  He had to learn to cope.
Being a lawyer by profession was actually an advantage under the circumstances. "I was able to continue my career," he said. "If I were a surgeon or an airline pilot, I wouldn't have been able to. There are many blind lawyers and blind judges. It's not easy, but it can be done."
Facts and Figures on Blindness and Low Vision

"Legal blindness" is a level of visual impairment that has been defined by law to determine eligibility for federal benefits. It refers to central visual acuity of 20/200 or less in the better eye with the best possible correction (seeing at 20 feet what people with normal vision can see at 200), as measured on a Snellen vision chart, the classic, block-lettered wall chart commonly used in eye exams. Or, it can refer to a loss of peripheral vision that leaves a narrowed visual field of 20 degrees or less.

• Although estimates vary, there are approximately 10 million blind and visually impaired people in the United States. Approximately 1.3 million are classified as "legally blind.".

• Approximately 109,000 visually impaired and blind people use long white canes to get around. Just over 7,000 use dog guides to get around, and approximately 1,500 individuals graduate from a dog-guide user program each year.

• At least 1.5 million blind or visually impaired adults (ages 18-69) in the United States use computers.

Luckily, he had been sighted while a law student and during his first 20 years of teaching. But he didn't know Braille and found it difficult to learn as an adult.
Meanwhile, at Justice, he had to give a lot of talks. "That was one of my most daunting challenges at first, but like many things, it gets better with practice," he said. He learned to construct precise mental outlines of his speeches.
Meador also came to rely on audiotapes and live readers. "For a blind person, the point is to get the words on the printed page into the brain, whether through the ears or the fingers," he said.
A related challenge was the time needed to listen to someone read books, articles and documents, rather than reading them by himself. Meador often asked his helpers to read just the first sentence of each paragraph so he could skim through articles and books more quickly. And when listening to audiotapes, such as those made by the nonprofit organization Recording for the Blind & Dyslexic, Meador often speeded them up to two or three times the speed of natural speech, which he trained himself to understand.
Meador returned to Charlottesville from Washington in 1979. "When I left I could see," he said. "When I came back, I couldn't."
Still, he was fortunate that a path of sorts had been cleared by T. Munford Boyd, a professor at U.Va.'s School of Law for more than 20 years, who also was blind. "Our faculty was already accustomed to it and adjusted to my situation without a problem," he said.
Given Meador's own experience, what challenges does he anticipate for Paterson? First, mobility; and second, reading.
In his own case, Meador took on mobility with a cane. "I didn't want to fool with a dog," he said. "I use a cane to get around by myself. I also move around with people."
As for Paterson, Meador expects him to have no problems with mobility. "He will be surrounded by aides, staff, guards and limousines," he said. "Getting around will be no problem for him at all."
Meetings and conferences may be more of a challenge. Discussions will be oral, so he'll hear what's being said. But taking notes is difficult without knowing Braille. He won't be able to talk with aides during the meeting and still follow what's going on. "I know whereof I speak," Meador said.
For public speaking, it's important to get everything you want to say in mind ahead of time. "He's probably pretty good at it, especially if he doesn't know Braille, if he's gotten this far," Meador said.
A major challenge for the new governor will be dealing with printed materials — reports, documents, letters. His staff can read them or he can read them himself, using audiotapes or live readers. Scanning printed materials and having them read back by computer software is another way of "reading" via audio. But it's hugely time consuming.
"Paterson probably has as much experience in coping as I have," Meador said. "He's worked it out. Everybody has to work it out in his own way."
And even as Paterson works things out, he should be a source of inspiration to visually impaired people everywhere, Meador believes. "Being blind is a discouraging thing, especially at first," he said. "To see someone functioning successfully in these sorts of positions would be encouraging for a young person, especially. It can't help but be."
Meador has been an inspiration in his own right. In addition to his classroom teaching, he was the founding director of the Graduate Program for Judges at the University of Virginia School of Law and served as its director from 1980 to 1995.
He has received numerous awards for his teaching and professional service, including the Thomas Jefferson Award, the Raven Award, and the Alumni Association Distinguished Professor Award. He received the Distinguished Service Award from the National Center for State Courts, the American College of Trial Lawyers Litigation Award and the Justice Award from the American Judicature Society.
Asked how his career might have been different if he hadn't lost his sight, Meador said, "That's a good question, but, of course, there's no way of knowing. Given the way it's gone, though, there may not have been a very big difference."
— By Charlotte Crystal