The University of Virginia and its School of Law honored the legacy of Gregory Swanson on Monday with a ceremony that recognized his significance as the University's first black student.
In 1950, squarely in the era of segregation, Swanson successfully sued UVA for his right to a graduate education. Monday afternoon's commemoration celebrated Swanson's courage and perseverance as a student as well as his career contributions.
With family members of the late civil rights trailblazer in attendance, presenters revealed Swanson's official Law School portrait, which will be on permanent display in the Law School's Arthur J. Morris Law Library; announced an award in his name; and delivered historical remarks to a capacity audience in the Law School's Caplin Pavilion.
Law Dean Risa Goluboff said that while in some ways, life at UVA was like that of any other graduate student for Swanson, "There were limits on the community he could create. And the kindnesses that he received could never be taken for granted because of the larger context of isolation, segregation, struggle, exclusion, hostility and paternalism in which he lived. This was a white university in a segregated town."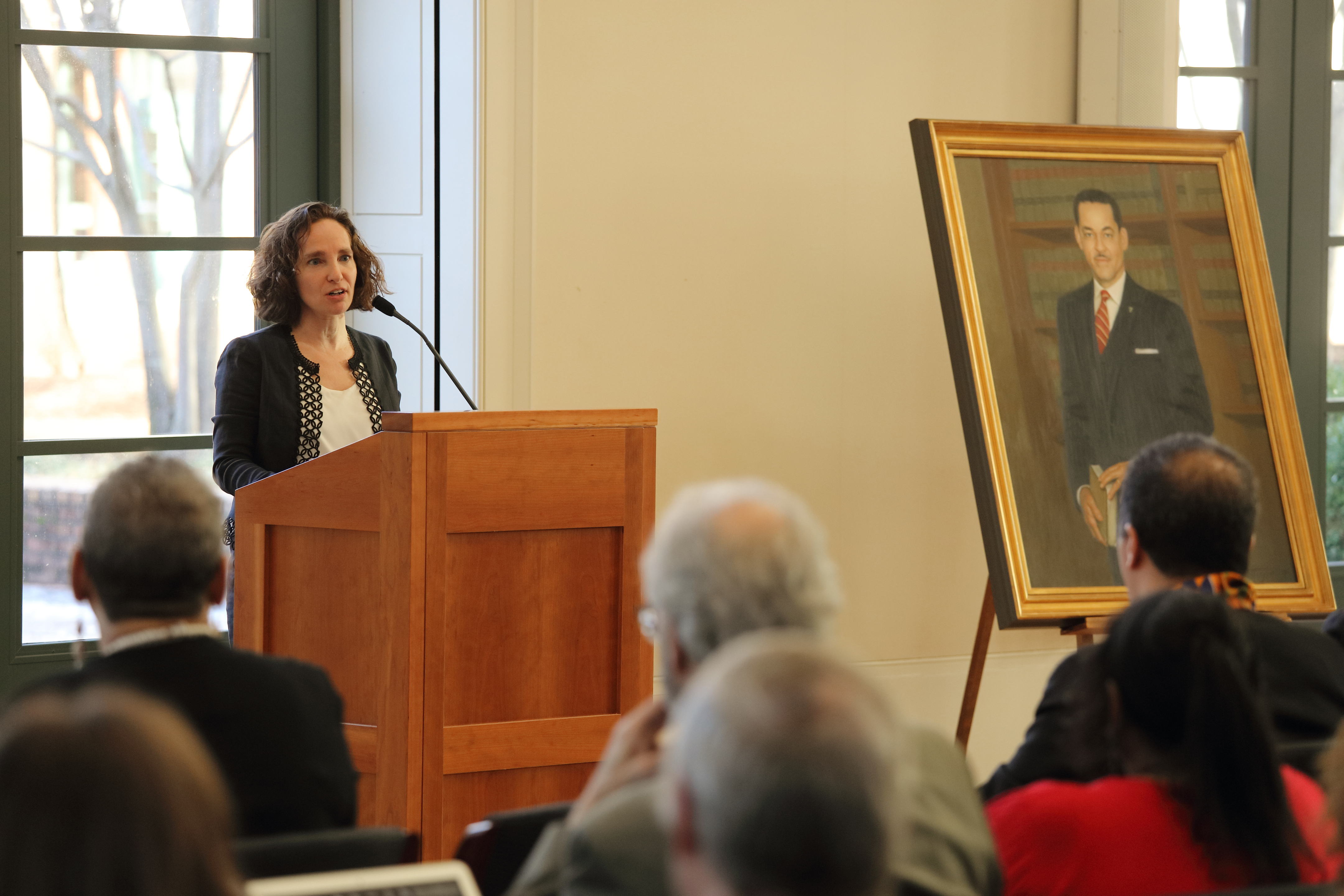 UVA Law School Dean Risa Goluboff praised the courage and tenacity of Gregory Swanson Monday afternoon at the ceremony to commemorate his role in helping to integrate UVA.
Goluboff noted how Swanson once wrote to one of his friends about how he would be stared at by whites as he walked the mile from where he stayed to his classes, no doubt realizing him to be UVA's first black student.
"I should like to read their minds," Swanson wrote in the letter. "Sometimes I think that I do."
Danville native Swanson, who had earned his law degree from Howard University, was already an attorney when he applied to UVA in late 1949, with the goal of earning his master's in law.
While the Law School initially accepted Swanson for the 1950-51 term, the University blocked his admission, citing state law "that white and colored shall not be taught in the same schools."
Civil rights legends Thurgood Marshall, Oliver Hill, Martin A. Martin and Spottswood Robinson of the NAACP Legal Defense Fund appeared on Swanson's behalf in the lawsuit, which played out in federal court in Charlottesville. Robinson argued the case on Sept. 5, 1950.
After a 30-minute trial and deliberation, a three-judge panel decided Gregory Hayes Swanson v. the Rector and Visitors of the University of Virginia in Swanson's favor.
He registered for his law classes 10 days after the decision, in time for the start of the school year.
UVA President Teresa Sullivan said Swanson's bravery made it possible for many other black students in Virginia to have opportunity as well.
"Gregory Swanson was an agent of integration at UVA at a time when society and state law did not welcome him," Sullivan said. "His victory inspired other African-Americans to join him here at UVA and spurred the integration of other all-white institutions around the commonwealth. His courage and perseverance paved the way for the diverse communities that the Law School and University have become."
With her remarks, Sullivan announced the creation of the President's Commission on the University in the Age of Segregation. Its mission will be to explore and report on UVA's role in the period of racial segregation that occurred in the 19th and 20th centuries.
Rector Frank M. Conner III said the University must continue to be vigilant in its commitment to fairness and diversity.
"We need to remember that history is being recorded every day," Conner said. "Our actions, and our inactions, and their part and place in the arc of history will forever be remembered."
A niece and nephew of Swanson, Monifa Love Asante, an associate professor of English and modern languages at Bowie State University, and Evans D. Hopkins, an author and chair of the Swanson Legacy Committee, also provided remarks.
UVA law professor Kim Forde-Mazrui, director of UVA's Center for the Study of Race and Law, led off the commemoration. He called the event an attempt by UVA to "repudiate our past white supremacy."
Presenters noted that Swanson was never one to seek the spotlight, but he knew his actions would be making history if he won.
Goluboff, a legal history scholar and author of the book "The Lost Promise of Civil Rights," said that a series of cases that rose to the Supreme Court of the United States prior to Swanson's applying made it clear that the law was on his side. If there were no other options for a black student to attend a graduate program in one's field within one's state, an all-white state institution had to provide an opportunity.
After successfully completing course work for the one-year UVA graduate program, Swanson practiced law in Martinsville and Alexandria.
In 1961, he became an attorney with the Internal Revenue Service under IRS Commissioner Mortimer M. Caplin, a 1940 UVA Law graduate and one of his former UVA instructors. Swanson worked for the IRS until his retirement in 1984.
At the end of Monday's ceremony, Goluboff presented the inaugural Gregory H. Swanson Award to second-year law students Jamaica Akande and Toccara Nelson. The award is meant to recognize students with traits that Swanson embodied, including a commitment to justice within the community.
The event was part of ongoing reflection in anticipation of the University's 200th anniversary. UVA Law – the nation's second-oldest continuously operating law school – was an original "department" of the University of Virginia, which was founded in 1819. It also was part of the University's Martin Luther King Jr. Community Celebration.
Article Information
February 5, 2018
/content/uva-law-school-commemorate-universitys-first-black-student-gregory-swanson