Imagine you're a professor at a small university. You have a research idea that could lead to a breakthrough in health care, but in order to conduct the research, you need access to big, medical data sets. The federal government could provide the data, plus grant money to fund the project, but only if you have the highly sophisticated, expensive computer system needed to protect the data. Your university doesn't have that kind of computing infrastructure, so the research idea is dead on arrival.
This is the problem the National Science Foundation has tapped the University of Virginia to help solve, with a new $2.5 million grant to broaden Virginia universities' access to protected data for research.
The Virginia Assuring Controls Compliance of Research Data, or ACCORD, is a collaborative effort of UVA and University of Virginia's College at Wise, leading a team of researchers from 11 Virginia universities to build a high-performance computer system for hosting research using data that by law must be protected.
The project is part of the National Science Foundation's Major Research Instrumentation Program, and is the first initiative of its kind in the United States to address growing disparities in universities' access to protected data for research. The problem is multi-faceted; research institutions need high-performance computing capability for handling big data sets, while security regulations are expanding.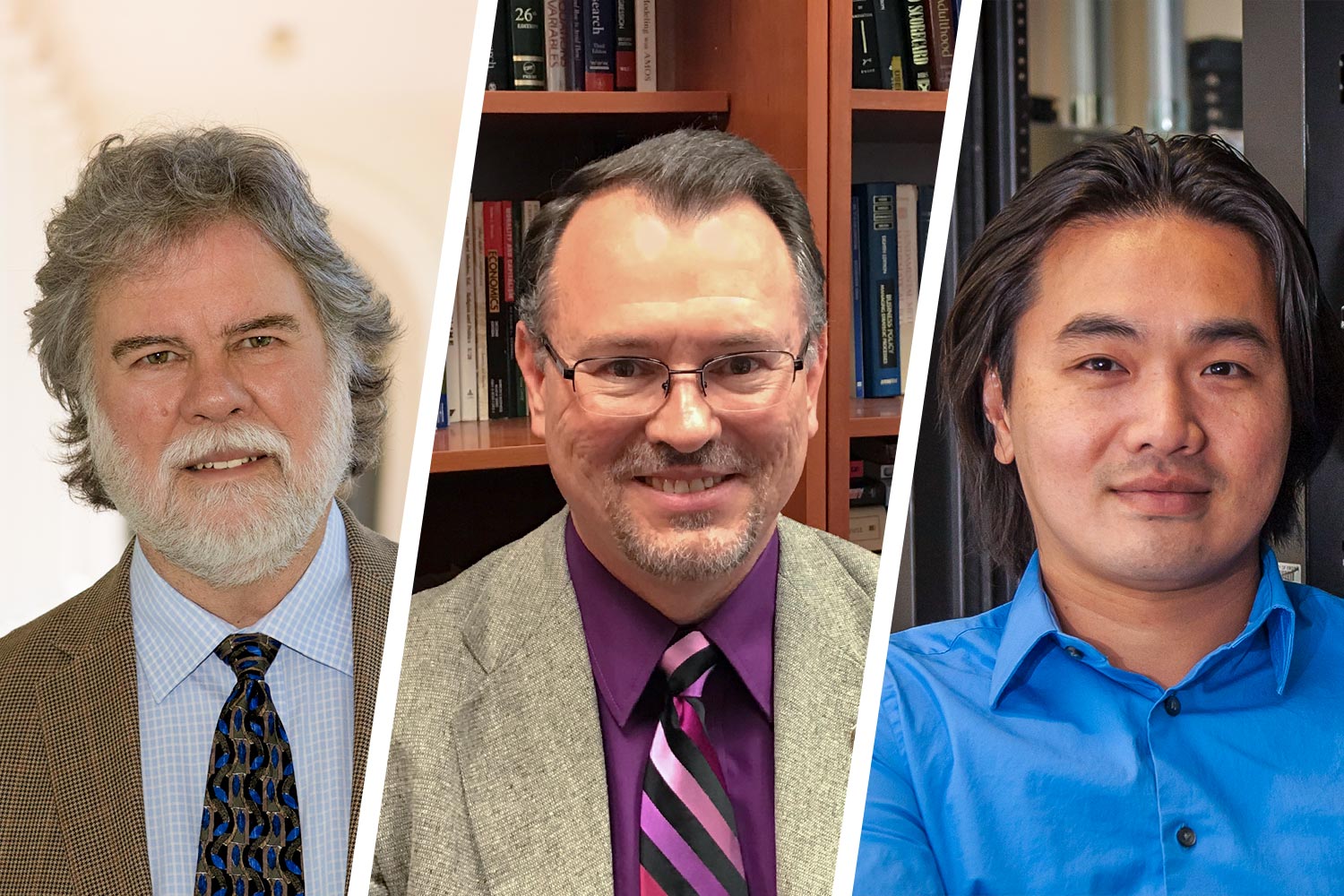 From left, Ron Hutchins, Scott Bevins and Tho Nguyen are heading up the ACCORD initiative that securely broadens researchers' access to protected data.
The Health Insurance Portability and Accountability Act, for example, mandates protections for patients' health information when used in medical research. Continuing to meet those regulations in the face of rapidly growing data sets requires costly computing infrastructure. Compounding the problem, some newer regulations have broad applicability. The Federal Information Security Management Act, enacted to protect government information, now covers every federally funded researcher and institution.
A statewide solution is needed because the federal government is becoming more protective of data requested by non-governmental entities. Researchers throughout the commonwealth must prove they can control and secure the data, meeting the vast and expanding body of government regulations.
Smaller universities are disproportionately affected. In many cases, they cannot seek research opportunities because they cannot provide the infrastructure to guarantee protection for increasingly large, diverse sets of data.
The team led by UVA and UVA-Wise includes The College of William & Mary, George Mason University, James Madison University, Norfolk State University, Old Dominion University, Radford University, Virginia Commonwealth University, Virginia Tech and Virginia State University, and their project is aimed at creating a shared, high-performance computing system to support research that uses sensitive data. The new system can be updated for new regulations.
Ronald R. Hutchins, vice president for information technology at UVA, and Scott Bevins, associate provost for information services and chief information officer at UVA-Wise, are leading the initiative. Tho H. Nguyen, a senior research program officer in UVA Engineering's Department of Computer Science, serves as program manager for the grant. Andrew Grimshaw, a UVA computer science professor, was involved in early conceptualization of the project.
"The partnership between UVA and UVA-Wise speaks to the power of diversity and inclusion for creating the most effective outcomes in research," Hutchins said. "If we bring in smaller schools with different ideas and backgrounds, it will help us in creating diversity. When we can include smaller schools, we can also provide access to the infrastructure necessary for handling large data sets. If ACCORD brings even two or three new researchers to a school because of data access, they can grow their research program, expanding research for the entire state."
The collaboration also supports UVA's mission to broaden statewide research by bringing in research partners, Hutchins said. "When protected data is involved, partnerships become complicated, particularly from a legal perspective. Our work will create a primer on how to bring in partners with protected data."
UVA Engineering Dean Craig Benson said the initiative demonstrates the University's commitment to a collaborative, multidisciplinary approach to solving society's most complex challenges.
"Much of the knowledge creation that makes our world a better place happens at universities, so it is crucial that universities have access to the most cutting-edge capabilities and rich, secure data," Benson said. "I am proud the National Science Foundation is confident in UVA's expertise to lead Virginia universities in developing new technologies and processes to unlock the power of big data for research."
Co-leadership between UVA and UVA-Wise underscores the University's recognition that the world of research has evolved. To address 21st-century problems, researchers must work across traditional boundaries for outcomes that apply broadly to society.
"We are inspired by the mission to broaden access to the data revolution at smaller and non-research-oriented institutions such as UVA-Wise," Bevins said. "This collaboration enhances our research capacity by underpinning our ability to handle sensitive data."
Bevins also sees the project as transformative for UVA-Wise to better serve its students, community and region. Access to sensitive medical data could be particularly important, for example, in research aimed at stemming the opioid crisis in Southwest Virginia. ACCORD will also support training for data security and best practices, an essential skillset in the modern workforce.
Hutchins will serve as lead investigator, and all technical work for creating the ACCORD infrastructure will take place on UVA's main Grounds in Charlottesville. Bevins will head up programmatic activities, like engaging research partners and managing project progress to ensure successful project completion. Nguyen was tapped early in the process to help build the consortium of research partners and define program objectives.
As a former science and technology fellow with the National Science Foundation, Nguyen brings a policy perspective. He views the initiative as transformational for Virginia and the nation.
"What is so powerful is that ACCORD explores a model for apportioning risk that allows federated access to protected data infrastructure. If successful, we will develop a collaborative model that other states can follow," he said. "UVA is leading the nation in pioneering a process to harness the power of big data in the face of sweeping policy changes to protect sensitive data."
"The Office of the Vice President for Research is delighted to partner in this important statewide initiative to help Virginia researchers protect their data, and build a robust environment for data sharing among our commonwealth schools. We are particularly pleased to have the opportunity to collaborate with UVA-Wise," Melur K. (Ram) Ramasubramanian, vice president for research at UVA, said.
Susan Barker, UVA Engineering's associate dean for research, said the high-performance computing project is another example of the bold ideas that propelled the school to a 75% increase in sponsored research funding between fiscal years 2016 and 2019. UVA Engineering contributed to the University's biggest research funding year ever, more than $412 million in fiscal year 2019.
"Researchers at UVA and throughout Virginia recognize the critical need to both share and protect data," Barker said. "This project is an exciting opportunity to incorporate input from a diversity of research programs across the state and develop a forward-looking solution to this challenge."
Media Contact
UVA School of Engineering & Applied Science
Article Information
December 17, 2019
/content/uva-leads-statewide-effort-broaden-access-research-protected-data