Two years ago, a group of University of Virginia students came together with the mutual goal of advocating for a multicultural center on Grounds. That effort became known as "the Multicultural Student Center Initiative," and now, the students' mission to create a space to support underrepresented groups while cultivating an inclusive and diverse University community has come to fruition on the lower level of Newcomb Hall.
According to fourth-year student Catalina Pinto, the student director of the center, it is intended to be a multipurpose, collaborative space for students of all cultural backgrounds.
"We want people to be able to study, hang out and host meetings here, or reserve the space in the evening hours for events," Pinto said. "Even though it's called the Multicultural Center, it is absolutely open to anyone. We want to make sure everyone is welcome in this space."
Additionally, the center, which is adjacent to the LGBTQ Center in the former Cavalier Daily space, will now house the Multicultural Student Services staff offices, creating a physical, centralized location for support programs and services. The center is open from 9 a.m. to 11 p.m., seven days a week.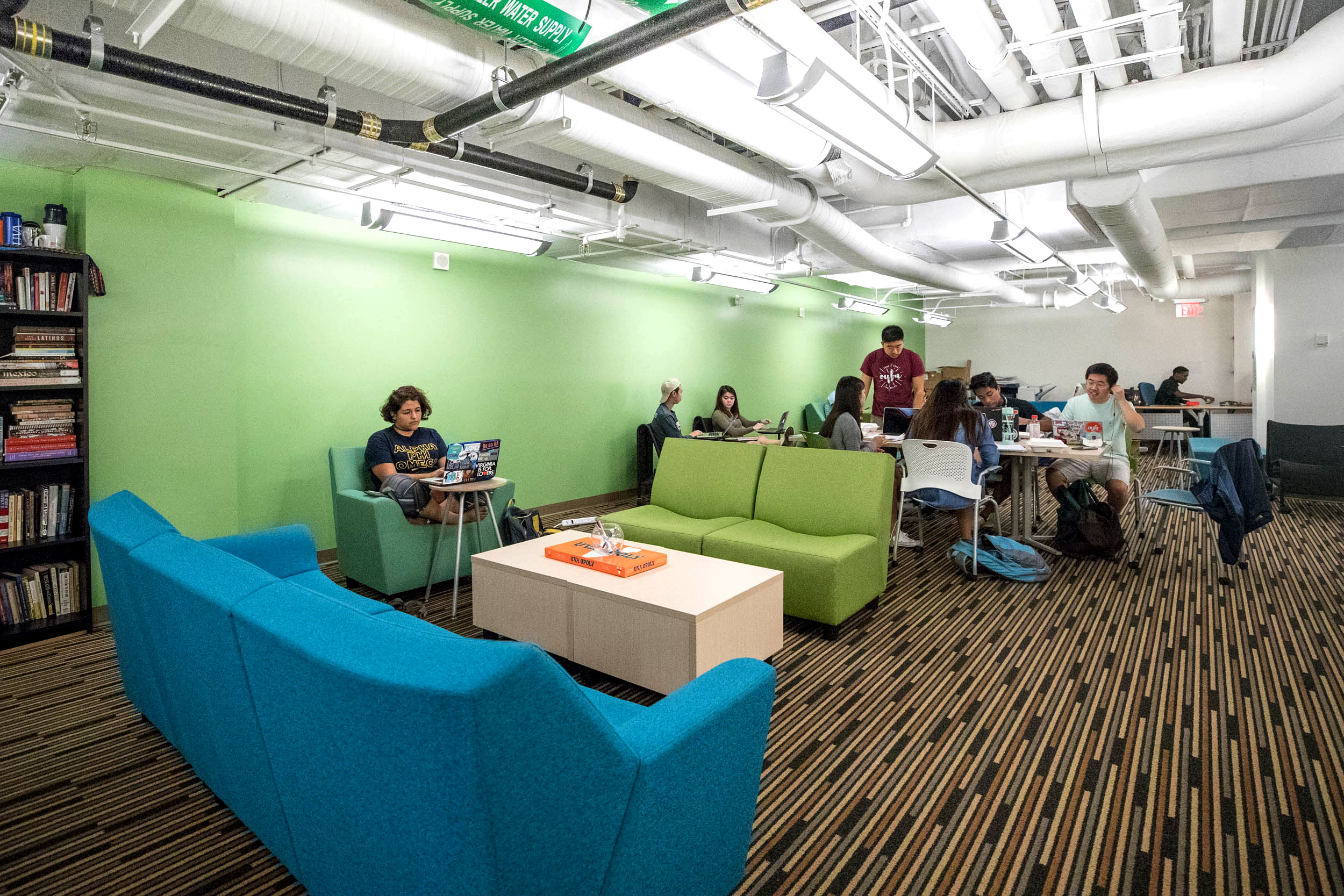 Students are already taking advantage of the Multicultural Center by using it as a place to study, collaborate, hold meetings and host events. (Photos by Sanjay Suchak, University Communications)
Pinto said that all of the multicultural student services that have been offered to University students in the past will continue in this new location, but added there are plans to add even more programming that will benefit the entire University community. Throughout the year, the center will host everything from personal finance and health and wellness programs to social and academic events.
"Right now, we're working on a campus speech program that will be a yearlong series that's focused on free speech versus hate speech on college campuses," Pinto said.
The realization of the Multicultural Center, according to Pinto, was ultimately made possible by the support of the administration and staff in UVA's Office of the Dean of Students, who played an instrumental role in advising students and guiding their vision for the center.
"They are excited about serving students and their needs, flexible and always willing to sit down and chat about suggestions for improvements," Pinto said. "At the end of day, the primary focus is on serving students' needs, which change over time, and they have always been very responsive. I don't think I could truly describe how thrilled we all are for the collaboration that has already happened and will continue to happen in the future through this physical space."
Vicki Gist, assistant dean of students and director of multicultural student services, said she is hopeful about what the future of the center has in store.
"We're very excited about the direction we're headed, which includes strengthening existing programs and services, creating new partnerships across Grounds and developing educational opportunities for the University at large," she said.
The Multicultural Center will host a ribbon-cutting ceremony and open house on Friday from 5 to 7 p.m.
Article Information
November 3, 2016
/content/uva-multicultural-center-serves-students-boosts-cross-cultural-collaboration