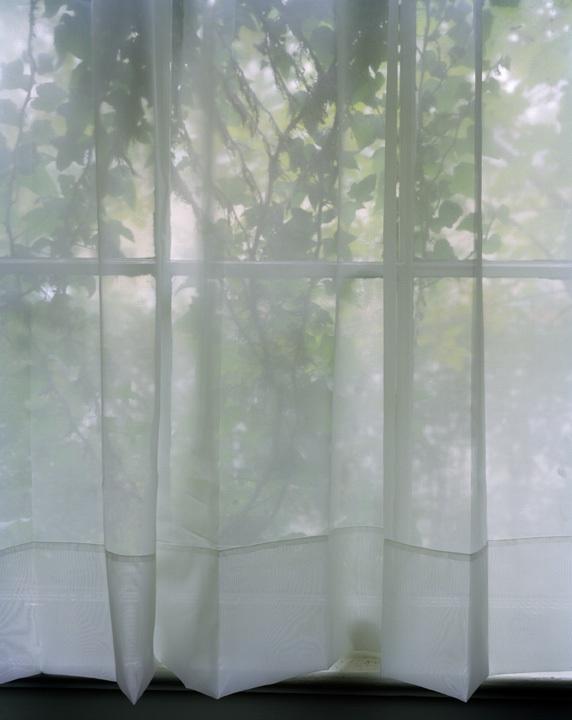 October 24, 2008 — Pamela Pecchio, who joined the faculty of the University of Virginia's McIntire Department of Art studio art program this fall, will have an exhibition of her work in the Ruffin Gallery Oct. 31 through Nov. 28. The exhibition, "Habitation," will kick off with a Final Friday reception on Oct. 31 from 5:30 to 7:30 p.m.
The focus of Pecchio's photographs in the exhibit is an exploration of humans and the places they inhabit. By considering the inanimate objects and the marks they leave on that space over time Pecchio creates a picture of the patterns of our lives. The exhibit includes two kinds of photographs — those that are "intentional marks that make a home and the other are unintentional marks that evidence the experience of habitation," Pecchio said.
"Walls do talk. They passively and actively collect data, record our movements and bear our history. Our homes witness time, as the walls themselves document the layers of our habitation and our trafficking within. … As we move through our daily routines, we make the same movements, so many times that our own bodies record the space, forming a physical memory. Our bodies know the rhythm of the stairwell, as well as the number of steps it takes to arrive at the light switch in the dark," wrote Pecchio in her artist statement.
In this exhibit Pecchio brings into focus those objects and movements that are so familiar they often go unnoticed as we move through our everyday world.  
Pecchio received her M.F.A. in photography from the Yale University School of Art in 2001, where she was awarded the Richard Dixon Welling Prize for Excellence. She received a B.F.A. in photography from the University of Georgia in 1998.
Pecchio has shown her work across the United States, as well as in China, Spain, Italy and Holland. Her work has been featured in ArtNews, Details, Camera Arts and V magazines, as well as her own artist's book, "eight," published by Nexus Press. Her limited edition monograph, "509," is scheduled for printing in early 2009. She is represented by Daniel Cooney Fine Art in New York and Eva Magill in Paris.
Her work is in public and private collections including the North Carolina Museum of Art, the Ogden Museum of Southern Art, the Yale University Art Museum, the Yale Davenport College collection, the Beinecke Rare Book and Manuscript Library at Yale University, the Sloane Fine Art Library at the University of North Carolina-Chapel Hill and the Otis Library of the Otis College of Art and Design, among others.
Before coming to U.Va. Pecchio taught photography at the Universities of North Carolina at Chapel Hill and Asheville, Duke University, Louisiana State University and the University of Georgia Studies Abroad Program in Cortona, Italy.


— By Jane Ford