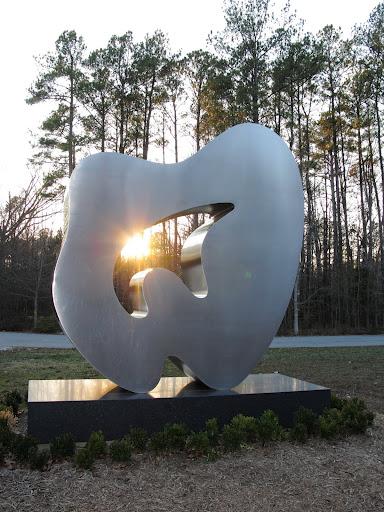 "Oriforme," a sculpture by the prominent abstract artist Jean Arp, will be on view on The Joseph and Robert Cornell Memorial Foundation Entrance Plaza in front of The Fralin Museum of Art at the University of Virginia beginning March 25.
The sculpture is on long-term loan from the National Gallery of Art.
Modeled in 1962 and fabricated in 1977, "Oriforme" exemplifies the approach to abstraction with which Arp is most closely associated. Arp's style drew from the natural forms of animals, plants and human beings.
"In 1936, Alfred Barr, then the head of the department of painting and sculpture at the Museum of Modern Art, labeled this trend 'biomorphic abstraction,' meaning abstract form generated from animate, living sources," explained Matthew Affron, The Fralin Museum's curator of modern art and associate professor of art history in the College of Arts & Sciences.
"Oriforme" is one of a series of sculptures relating simultaneously to the form of the wheel and to the shape of a mouth. Made entirely of stainless steel, "Oriforme" weighs 1,400 pounds and is approximately 7 feet tall.
"The single word in the title is a neologism, an invented term which seems to poetically conflate the words orifice – the point of communication between the surface and a cavity in an animal or plant body – and form," Affron said.
In the past, the museum's entrance plaza has been home to Henry Moore's "Seated Woman," which was on loan to U.Va. from Feb. 22, 2011 to Jan. 17, when it was returned to the Henry Moore Foundation.
The Fralin Museum of Art, located at 155 Rugby Road, one block from the Rotunda, is open Tuesdays through Sundays from noon to 5 p.m. Admission is free.
The Fralin Museum of Art's programming is made possible by the support of The Joseph and Robert Cornell Memorial Foundation.
The presentation of "Oriforme" is made possible through the support of The Fralin Museum of Art Volunteer Board, Albemarle Magazine and Ivy Publications LLC's Charlottesville Welcome Book.