The University of Virginia's Center for Global Health University Scholars work on a variety of projects, from bison grazing in South Dakota to cancer care in Peru.
The scholarships are awarded each year by the Center for Global Health, supporting mentored global health research experiences in underserved communities and, as a byproduct, facilitating the development of leaders for global health. The center's scholarship program encourages UVA students to design and conduct interdisciplinary research projects, which leverage their interests, concerns and ideas into inquiry, service and transformative experiences – all in a global context.
"The Center for Global Health is delighted and privileged to support outstanding students' work with faculty mentors in partnership with local communities around the globe," Dr. Rebecca Dillingham, the center's director, said. "The students develop research skills related to the human and environmental health challenges that are priorities for their project partners. They also gain critical experience in collaboration with diverse stakeholders, preparing them well for future endeavors of all kinds."
Where the Bison Roam
Megan Eisenfelder of Fort Lauderdale, Florida, a second-year student double-majoring in global development studies and biology, last year began a study of bison on the Lake Traverse Reservation in South Dakota, specifically examining the effects of bison and cattle grazing on the plants in the tallgrass prairie of South Dakota, with an emphasis on forage production and quality, soil fertility and the abundances of native medicinal plants. 
"In studying the impacts, we study the ecosystem as a whole, which includes the people whose lives revolve around the land," she said. "Bison and land are intimately tied to the culture of the Dakota people who live on the Lake Traverse Reservation. Therefore, we are studying the bison's impact on Native American medicinal plants and are using the bison research as a tool to educate Native youths about their environment."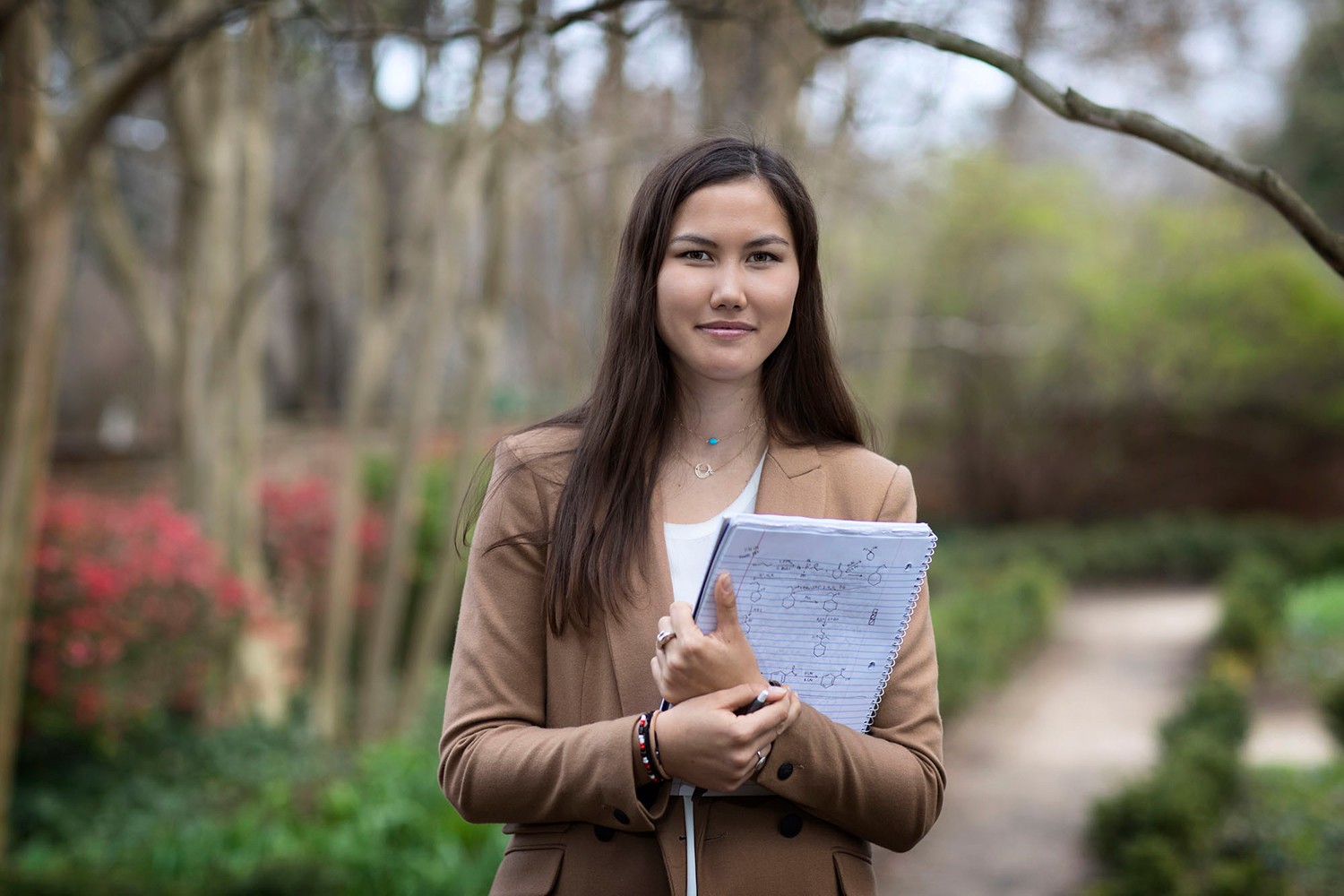 Bison graze differently from cattle, Eisenfelder said. Bison eat different plants in different quantities than cattle, bison hooves affect soil and seed distribution differently than cattle, and bison tend to stay together while grazing, while cattle tend to spread out – all of which affects the soil.
"The rancher that I am working with on this project has been transitioning over to bison from cattle," Eisenfelder said "His hope is that his ranch will only produce bison in the next 20 years. He then hopes that the data we are collecting will encourage other members of the tribe to also switch over to bison production."
To do this, there needs to be a market for bison meat, which Eisenfelder said is growing.
"Many restaurants serve bison burgers, and bison can be found in almost all grocery stores," she said.
Eisenfelder is studying only the impacts of the herds run by Native people who have an indigenous claim and connection to the land. Although bison grazing would have impacts on other farmers and ranchers who are not indigenous, she is choosing to focus on the cultural impacts on members of the Sisseton Wahpeton Oyate nation.
"Intensive farming and ranching has left less than 4 percent of tallgrass prairie in the United States," Eisenfelder said. "In addition, intensive farming is an inefficient use of water and has caused chemical pollution in the lakes and other bodies of water in the Dakotas. Intensive farming all around the country causes soil erosion and the depletion of soil nutrients. In addition, intensive farming disrupts native ecosystems that support other small mammals and plants, while also decreasing overall biodiversity."
In studying the impact of bison, Eisenfelder is working with students from local schools, teaching them key science research skills while also integrating aspects of Native culture, such as language and ethnobotany. Altogether, the project will run for four years with a team of at least five UVA students and six tribal high schoolers working on the project.
Eisenfelder was drawn to this project because she spent her summers on horseback in Montana, and one summer following rodeos. Coupled with her ambition to be a large animal veterinarian, this project seemed a natural fit for Eisenfelder when global development studies professor David Edmunds suggested it.
"It seemed amazing to me to get to work with bison and everything grew from that," Eisenfelder said. "I met with my community partners and the rancher by phone several times and really felt a connection with them. This was then deepened by my two visits the past summer."
Howard Epstein, a professor of environmental sciences, said Eisenfelder's project offers a lot in science, education and outreach.
"Megan is extremely ambitious and resourceful," Epstein said. "It's kind of amazing to me how many things she can do at one time. She is very personable, intelligent, but also humble, which endeared her to the community in Sisseton. She's also a horse person, which fit in extremely well with the locals on the reservation who host weekly 'rodeos.'" 
"The Dakota people had bundle carriers; they were our healers, and those bundles held many of the traditional medicines that we thought were going to be extinct," said Dustina Gill of the Sisseton Wahpeton Oyate people, who is working with Eisenfelder. "Since bringing the buffalo back, the medicines are coming back and our children are learning those connections through their work with Megan. It's exciting to see how they are learning so much on this project and can easily identify the many traditional plants and uses off the top of their head."
An Echols Scholar, Eisenfelder also is a College Science Scholar and a participant in Sustained Dialogue.
"I had an amazing experience and fell into a passion for the people and land at the Lake Traverse Reservation," Eisenfelder said. "They have truly changed my life, and that is what keeps me going – to continue this project and make it better. A research opportunity in my first year has completely transformed my college experience and my life and thereby tying me to South Dakota."
Cancer Intervention in Peru
Last year, Thrisha Potluri of Herndon, a 2017 UVA graduate with degrees in biology and sociology; and Natalie Kessler, of Sandy Springs, Georgia, a fourth-year chemistry major with a specialization in biochemistry and a minor in physics, worked with the Liga Contra el Cáncer in Lima, Peru, to observe cancer detection and prevention interventions.
"Breast and cervical cancers are still among the leading causes of cancer deaths in women around the world," Potluri said. "We were interested in understanding what kind of obstacles women face in accessing cancer care in low-income countries.
"We also had the opportunity to speak with patients, community health workers, obstetric nurses and other medical professionals that allowed us to develop a more nuanced understanding of the local health care system and barriers to health equity."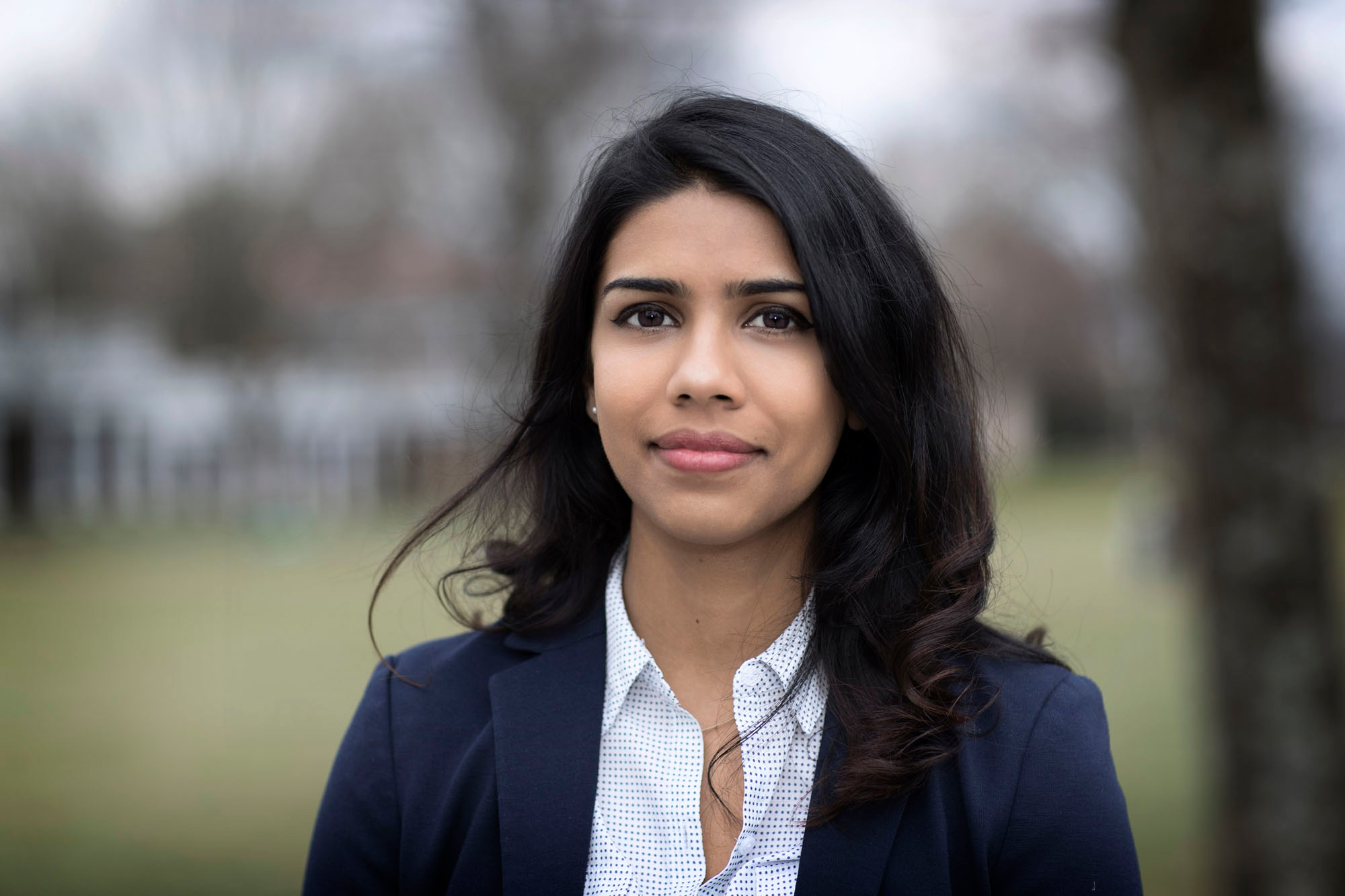 Kessler said a majority of the barriers underserved women face in accessing breast and cervical cancer control intervention in Peru are institutional.
"Compared to other countries, Peru ranks lower in its health expenditures – only about 5.5 percent of its GDP is spent on health care," Kessler said. "While 63 percent of the country's population is classified as low-income or poor, only 42 percent is covered by Seguro Integral de Salud, a Peruvian plan similar to Medicaid. Of this group, 51.5 percent do not seek care. Still, other families and individuals with monthly incomes often have trouble qualifying for insurance. Rural areas of Peru face worse outcomes, due to a lack of direct access to physicians and facilities, and governmental oversight. Many individuals in these areas also still rely on traditional or herbal practices and do not trust modern medicine."
Drawn to Liga Contra el Cáncer, a non-governmental organization that provides free medical care to cancer patients in underserved communities, Kessler and Potluri expected more obstacles for women seeking treatment.
"We found that most of the female patients we interviewed during focus groups were actually knowledgeable about pursuing regular care and yearly check-ups, and that barriers to equitable access at the institutional level were predominantly felt by all," Potluri said.
As Kessler graduates, two more students will take over the project, which will continue for several years.
Rae Blumberg, the William R. Kenan Jr. Professor of Sociology, describe Kessler and Potluri as diligent, inventive and resourceful.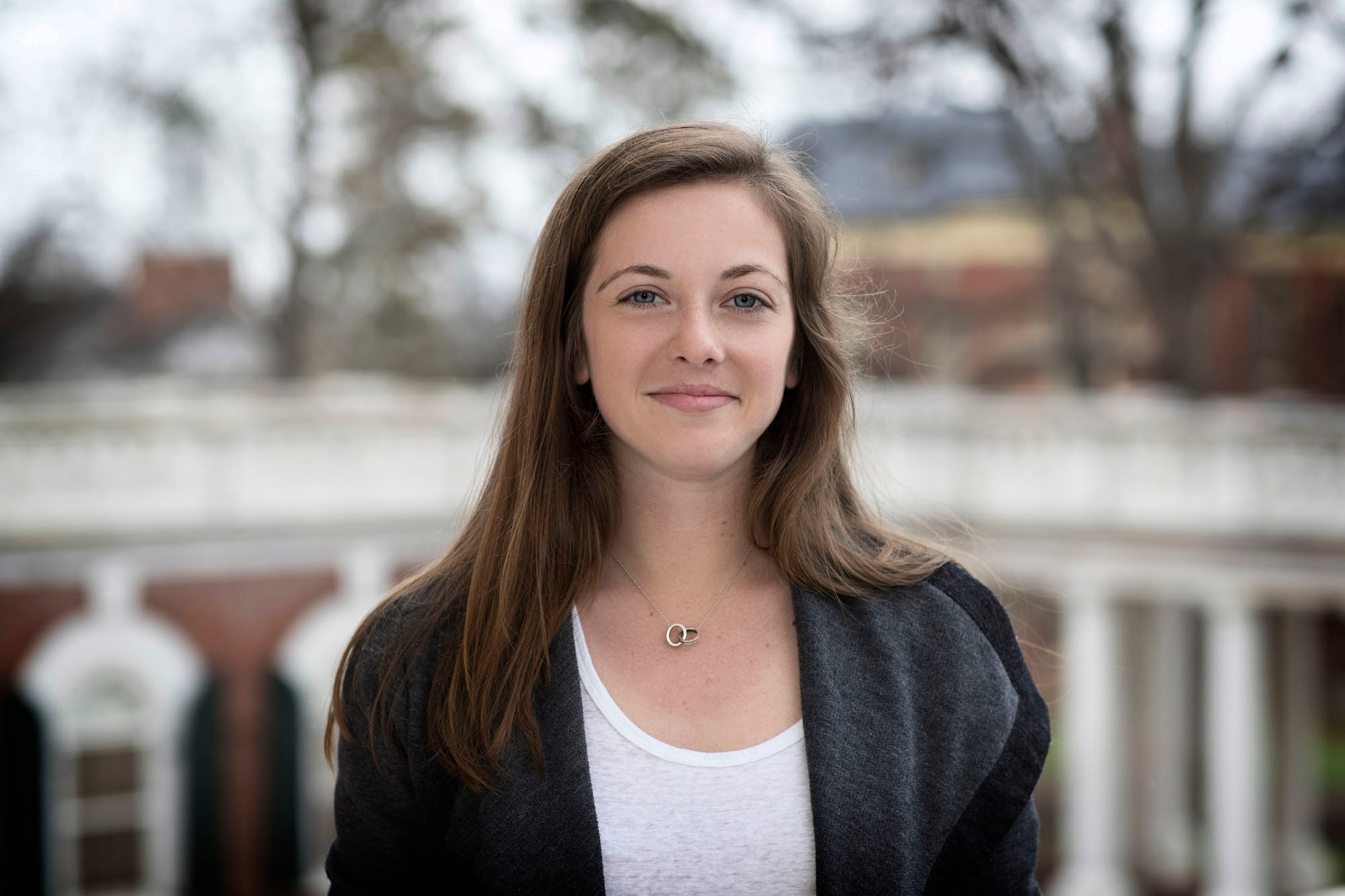 "They took on an important project with a Peruvian NGO that works with women on two types of cancers that are almost wholly or 100 percent related to the female sex: breast cancer and uterine cancer, respectively," Blumberg said. "They get high marks for their own work and commitment and, additionally, their efforts to keep the project going by finding two students with perfect credentials to pick up where they left off."
The pair learned a lot in a short period of time.
"We learned a lot about the health care system in Peru, the environment of seeking care, and how doctors, hospitals/clinics, NGOs and patients fit into it," Kessler said. "We also learned specifically about Liga and how its programs impacted different communities, how it was funded, and how it operated in the context of Lima and its surrounding areas. It was very important for us to understand the larger picture in Lima in order to figure out which programs were working at Liga and how they could be improved."
Having laid the foundation, they are now turning the project over to others.
"We are fortunate and excited that Carolina Grimaldi and Caroline Shermoen will be continuing the relationship that we established last year with La Liga Contra el Cáncer in Peru," Potluri said. "Building upon what we learned from our study, Carolina and Caroline plan to observe how knowledge of cancer prevention and interventions, such as the free government-provided HPV vaccine, reaches rural communities."
While at UVA, Potluri was an assistant managing editor and news writer at the Cavalier Daily; a language consultant with Volunteers with International Students, Staff, and Scholars; an intern at the Gordie Center for Substance Abuse Prevention; vice chair for public relations for Sustained Dialogue; and both a tutor for Latinx and Migrant Aid and a medical service volunteer, both through Madison House. She also was a research assistant at the Mayo Clinic, studying health disparities in breast cancer care. A graduate of Thomas Jefferson High School for Science and Technology, she plans to pursue a medical degree and work in the area of women's health.
"I am interested in working on global health issues that affect women and establishing community-based programs to improve health care equity," she said.
An Echols Scholar, Kessler has been secretary and fundraising chair of Girl Up, an organization to empower adolescent girls; head program director of recreational therapy at Madison House; and a language consultant with Volunteers with International Students, Staff, and Scholars. She works at Judith White's virology lab in the UVA Medical School and has received a Jefferson Public Citizens award for Project Ina, which works toward holistic improvement of maternal health on the Sisseton Wahpeton Oyate Reservation.
A graduate of the Holy Innocents' Episcopal School, Kessler plans to attend medical school and hopes to pursue a career in global public health.
Article Information
April 17, 2018
/content/uva-students-making-healthy-impact-great-plains-peru