This spring, outdoor apparel company Patagonia issued a challenge to the nation's graduate students: they wanted to become carbon-neutral by 2025, and they wanted the best student minds to help them get there.
The team from the University of Virginia rose above the rest with a plan that not only outlined a path to carbon neutrality, but also brought the company in line with one of the most ambitious goals of the 2015 Paris Agreement on climate change: limiting global temperature increases to 1.5 degrees Celsius this century.
"Becoming carbon-neutral by 2025 is a great goal, but we wanted to go even further in thinking about how that goal fits in with global efforts addressing climate change," said Stephanie Roe, a UVA environmental sciences Ph.D. student and one of the five team members.
With their bold proposal, the UVA team was selected as a top 10 finalist out of 108 teams and ultimately won first place after presenting its ideas at the University of California, Berkeley to a panel of six judges from Patagonia's executive team.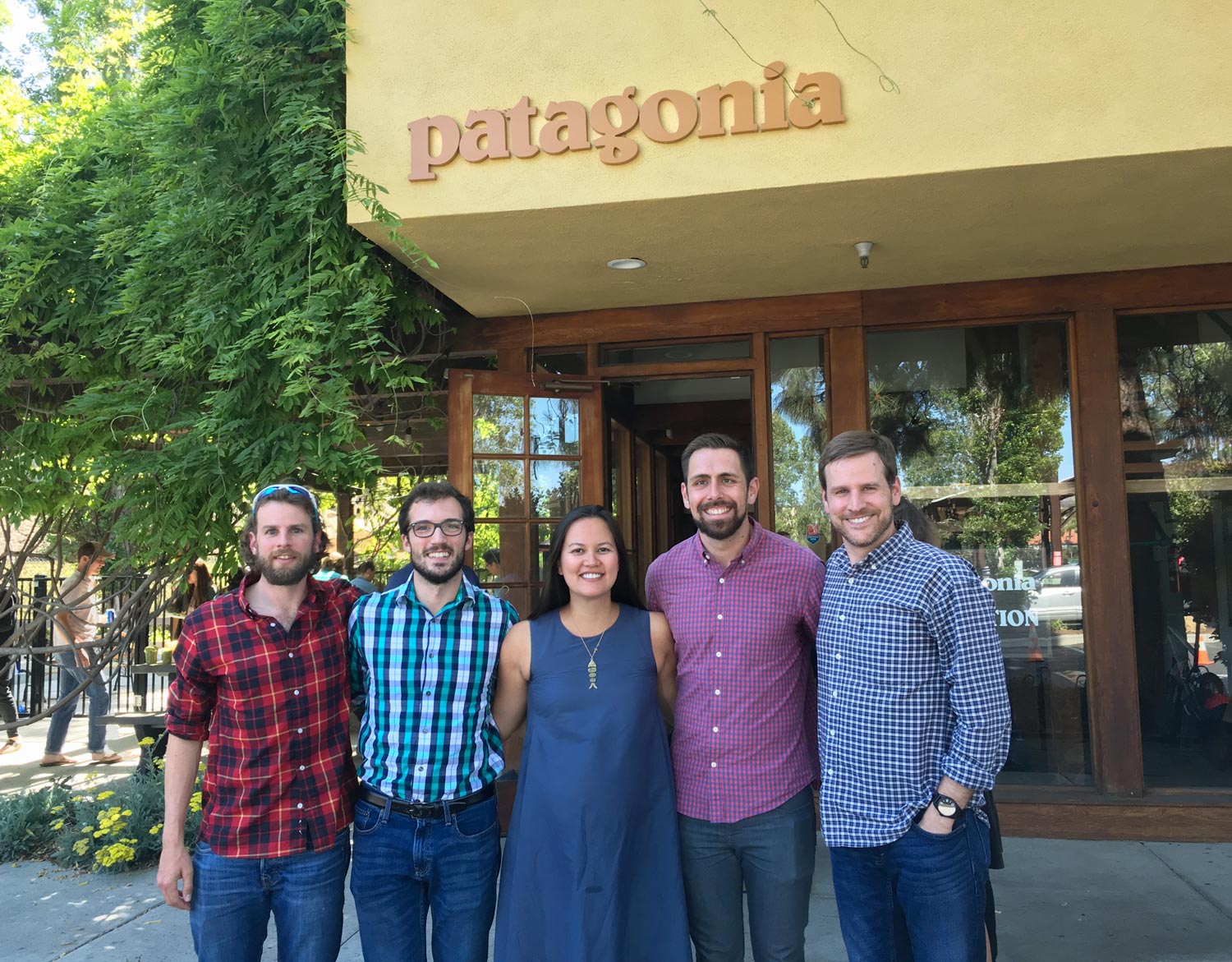 The winning team included, left to right, engineering Ph.D. students Andrew Neils and John Tomko, environmental science Ph.D. student Stephanie Roe and recent Darden graduates Bryan Shadron and Ben Strickland. (Contributed photo)
The win earned the team members a cash prize and a trip to Patagonia's headquarters in Ventura, California, where they spent a day last week meeting with key groups of employees, including Chief Operating Officer Doug Freeman, to discuss how their ideas could be implemented.
"You changed the nature of the question, made us think about it differently and reframed the problem in a new and different way," one of the judges, Patagonia Vice President of Share Services Dean Carter, told the UVA team as he announced their win.
"We were truly inspired and blown away," he continued, noting that their ideas were ambitious, but also "shelf-ready," with the practical details and logistics clearly outlined.
The interdisciplinary UVA team included Roe, materials science and engineering Ph.D. students Andrew Neils and John Tomko, and 2018 Darden School of Business graduates Bryan Shadron and Ben Strickland.
In California last week, they met with executives and employees at Patagonia to discuss the four key tenets of their plan for carbon neutrality. Those include:
Establishing science-based decarbonization targets in line with the Paris Agreement;
Transitioning to novel biopolymers like those being developed in UVA's materials science labs,
Adopting a long-term, 100-percent-renewable energy policy, and
Developing reforestation projects that offset carbon usage.
The company was particularly intrigued by the new materials that the UVA team proposed. Currently, raw materials production is responsible for about 80 percent of Patagonia's total carbon emissions. That can be attributed to both the production of polyester fabrics, which are derived from fossil fuels, and the company's use of fibers like cotton and wool, which, though they are natural, require significant land and water resources.
The UVA team suggested that the company transition to biopolymer textiles, which can be engineered solely from renewable resources. These materials would look and function much like the plastic fibers that make up polyester clothing and other wool alternatives without relying on fossil fuel extraction.
Already, Patagonia is investigating products created from spider silk; UVA's plan highlighted polymers produced by the bacterial fermentation of methane gas and polymers developed from squid ring teeth proteins, found in the suction teeth of a squid's tentacles. The latter are already being developed in materials labs at UVA's School of Engineering and Applied Sciences.
"Right now, these materials are only in laboratories," Neils said. "But there are already startups forming that could bring them to a commercial scale eventually."  
One of the team members, John Tomko, has spent many hours researching and working with the squid ring teeth proteins at UVA and was able to tell Patagonia employees a lot about how the fibers are developed and how they might function in clothing.
"John was really in his element there, showing the work he has already done at UVA," said Roe, who was also able to directly apply her research on "emissions pathways" – used to project future carbon emissions and map out strategies for achieving the 1.5-degree target in the Paris agreement.
"It was really cool to be able to apply our research to something this concrete," Roe said.
In addition to explaining the science behind each of their proposals, the team relied on its two Darden students to develop a business plan implementing their suggestions.
"They wanted to know how we would scale our ideas, not just for Patagonia, but for other companies looking to do something like this," said Shadron, who worked as an engineer before coming to Darden. He helped pinpoint how proposed changes would affect Patagonia's supply chain and identified potential investments or partners that could help the company reach these goals.
"It was important for us to put ourselves in Patagonia's shoes and think through the business issues they might be dealing with," he said.
Shadron said he particularly enjoyed the interdisciplinary nature of the work, which allowed him to meet graduate students from across the University.
"We have a lot of case competitions in business school, but this one really encouraged us to pull together a team from across the University," he said. "I thought that was great."
Neils agreed.
"Working on this interdisciplinary team was definitely a big highlight of my graduate experience so far," he said.
All of the team members are hopeful that their ideas will soon make a tangible difference at Patagonia and beyond.
"For a scientist, it's very rewarding to see your work applied to possibly create positive change in the world," Roe said. "That is what drove me to be a part of this."
Media Contact
Article Information
June 14, 2018
/content/uva-team-wins-patagonia-competition-plan-carbon-neutrality