Sometimes a day's efforts make a lasting impression – especially when hundreds of University of Virginia employees got together on Wednesday, the annual United Way Laurence E. Richardson Day of Caring, and showed what volunteering around the community can accomplish.
UVA offices and units formed teams to work on a range of much-needed projects, helping make the days a little brighter for scores of schoolchildren and patients, for local non-profits and clients. More than 1,200 employees from the Academic Division and Health System signed up for about 125 projects in Central Virginia, from just down the street to as far as Fluvanna and Louisa counties. The University accounts for more than half of all area Day of Caring volunteers.
The UVA volunteers joined other organizations and businesses that participate in the event that the United Way-Thomas Jefferson Area established in 1992 to promote the spirit and value of volunteerism, as well as to increase awareness of local human service agencies and schools that could use a helping hand.
The many hands of volunteers spruced up gardens and cleared trails at a number of places, including local elementary schools, parks and Camp Holiday Trails and Camp Sugar Hollow. They stained or painted picnic tables, walls and doors at the schools and places like Piedmont CASA Inc., a social service that trains court advocates for abused or neglected children. They packed food for Meals on Wheels and played "Bingo" with senior citizens at Golden Living. They fixed bicycles for Charlottesville Community Bikes and put on a fun-filled carnival at the Jefferson Area Board for Aging.
UVA Today visited several sites to capture the camaraderie and enthusiasm of workers giving back to the community. Take a look at some of their efforts.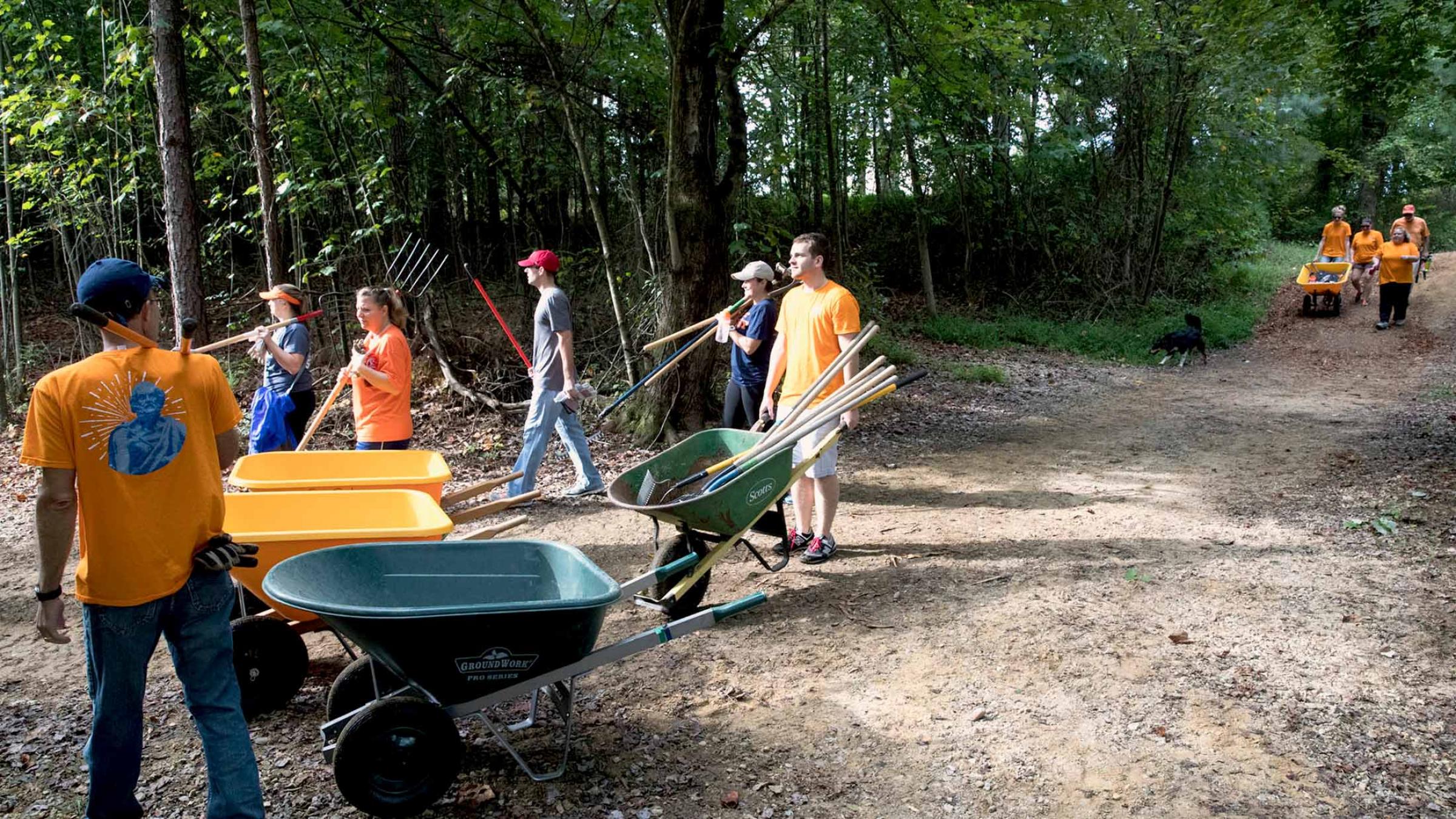 Armed with pitchforks, shovels and wheelbarrows, volunteers from Information Technology Services and Intramural-Recreational Sports get ready to spread mulch and clear weeds at the new dog park at Claudius Crozet Park.
Volunteer Tim Cunningham, assistant professor of nursing and assistant director of the Compassionate Care Initiative, juggled and entertained children at the JABA carnival. He started the nonprofit Clowns Without Boarders.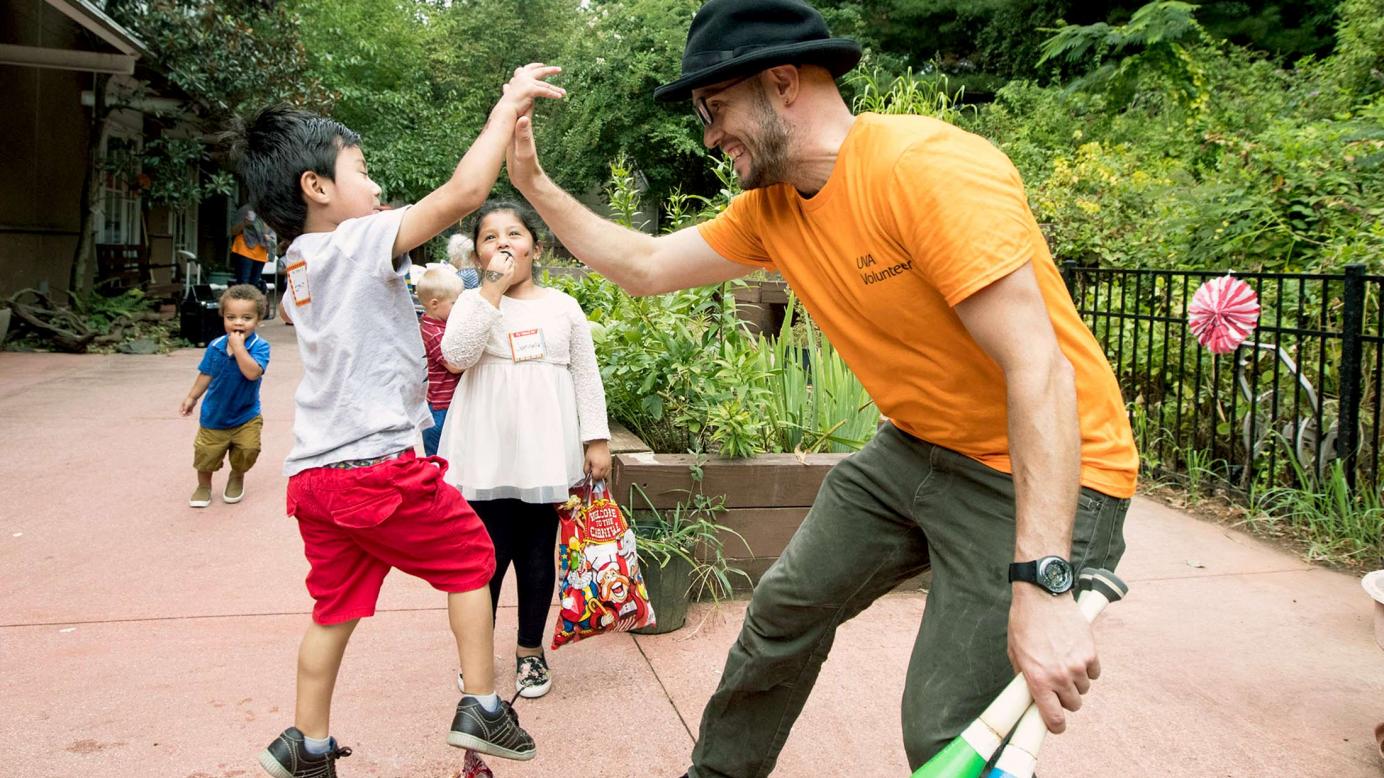 JABA's Adult Care Center and Shining Star Preschool hosted their annual Carnival with volunteers from UVA's School of Nursing and Office for Diversity and Equity providing games and other fun.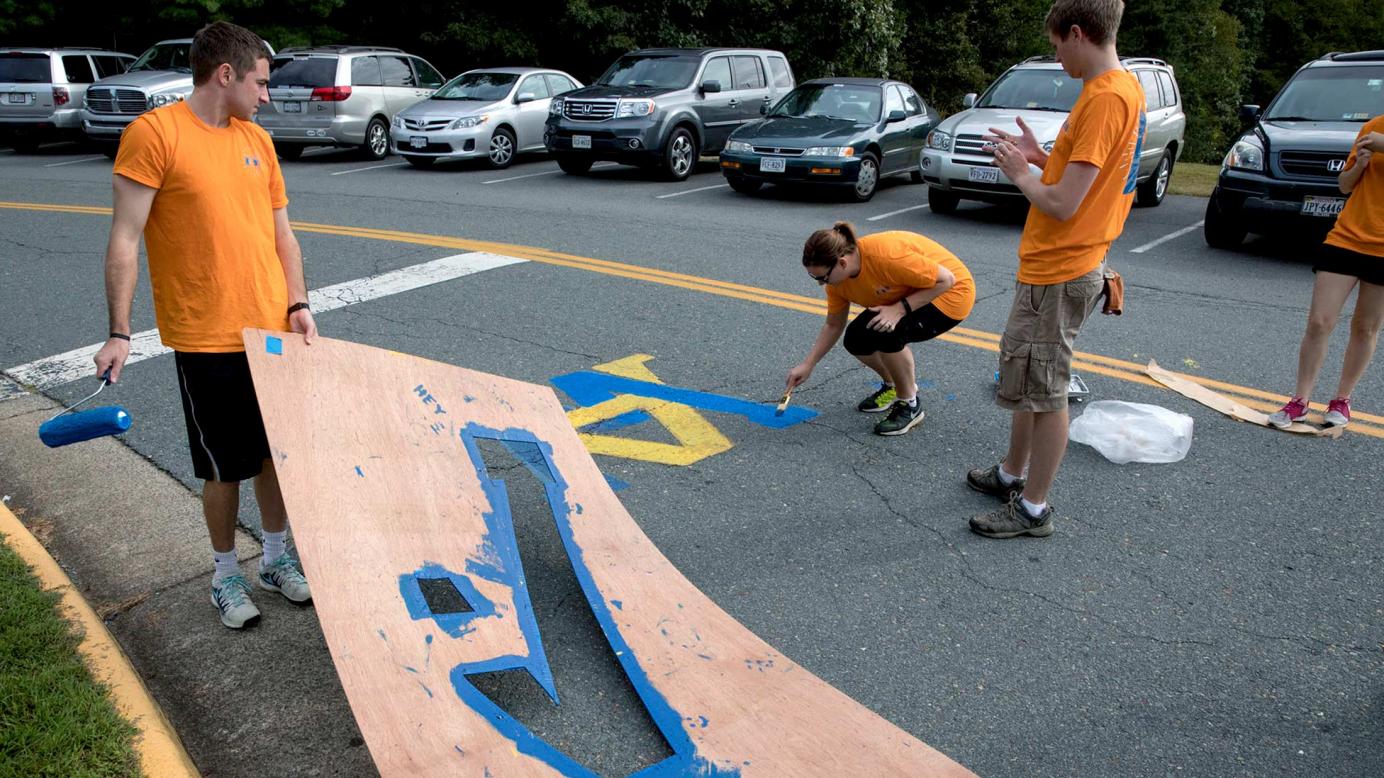 Volunteers from the Arts & Sciences College Foundation helped Western Albemarle High School get in the school spirit by painting a series of linked "W" and "A" letters in the parking lot.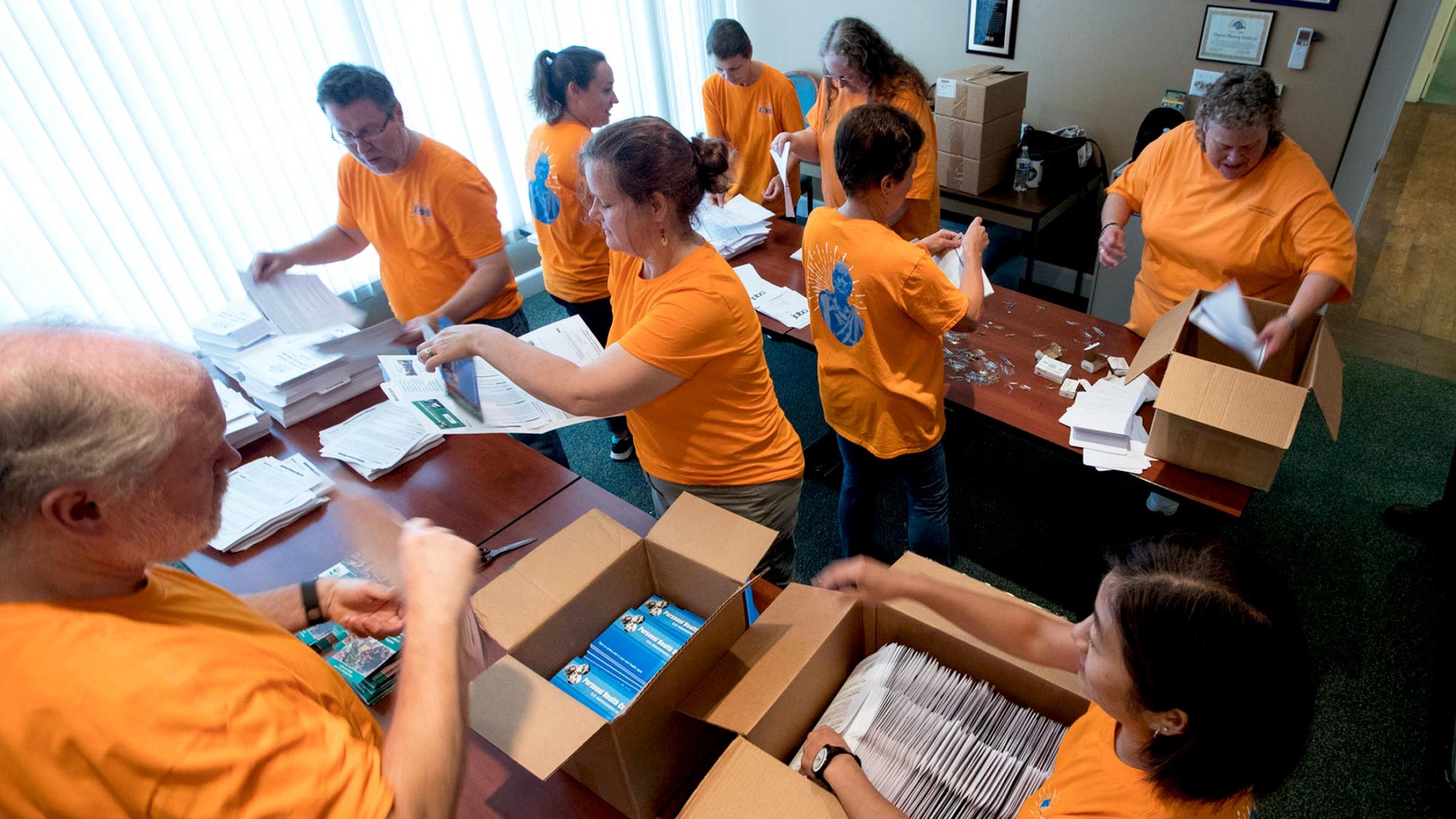 Volunteers from the Law Library put together information packets about health care at the Jefferson Area Board for Aging.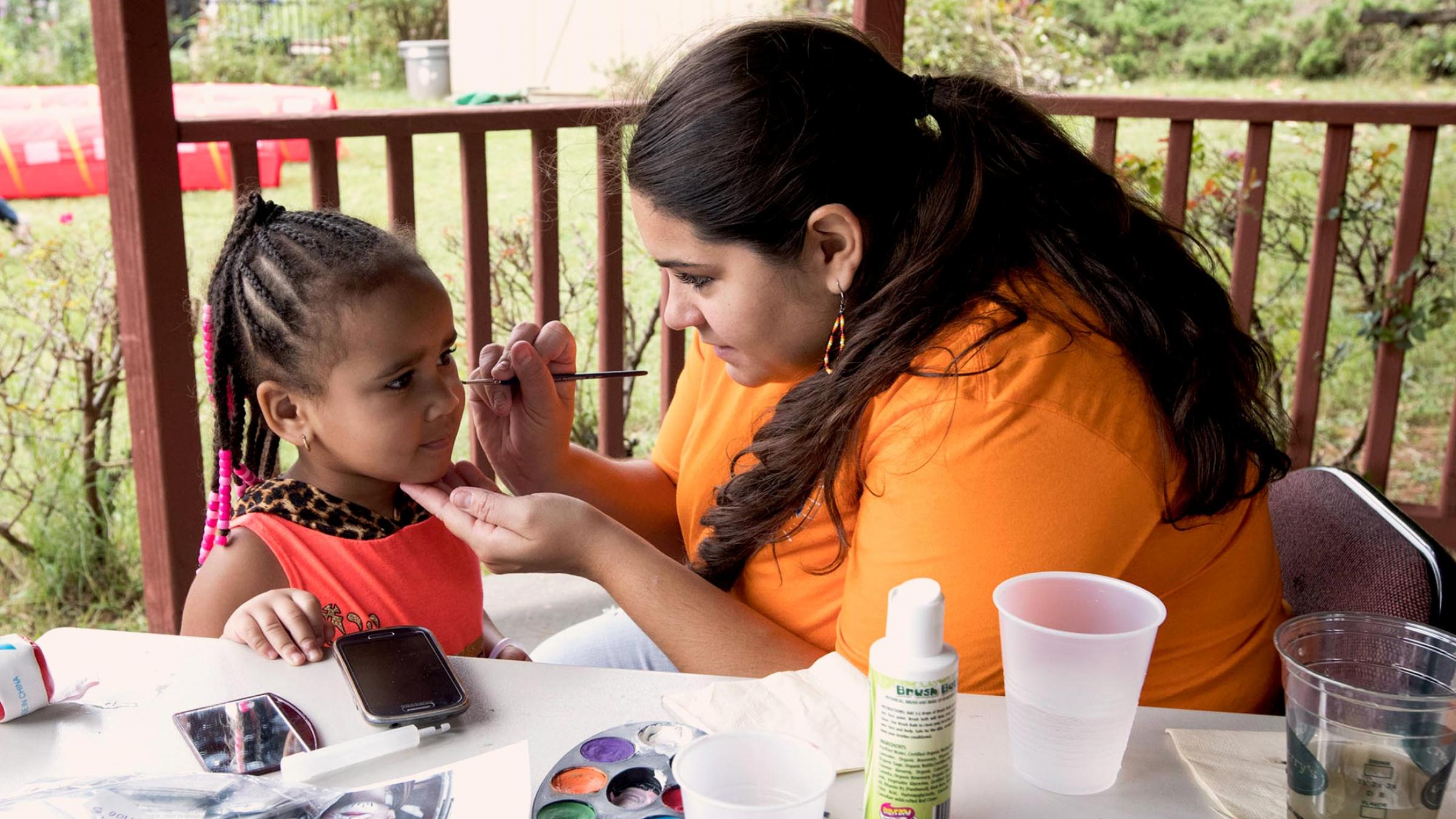 Jessica McCauley, a volunteer from the Office for Diversity and Equity, painted a little girl's face at the JABA carnival.
Media Contact
University News Associate Office of University Communications
anneb@virginia.edu (434) 924-6861
Article Information
September 21, 2016
https://news.virginia.edu/content/uva-volunteers-lend-helping-hands-day-caring