As the baby boom generation in the United States ages, more people are experiencing cognitive decline, including Alzheimer's disease. Meanwhile, autism is more common among children and young adults. More people are addicted to pain-killing opioids. And there is increasing concern about the long-term effects of repeated mild traumatic brain injury resulting from sports, military conflict and accidents.
At the center of all of these afflictions is the brain, the most complex organ in the body. As a response to the challenges and complexities of understanding the brain, the University of Virginia three years ago established the UVA Brain Institute, focused on accelerating and improving brain research, already a strength at the University.
"Our institute is dedicated to bringing together researchers, clinicians and educators from across UVA to creatively collaborate and bring coherent new insights to brain science," said Dr. Jaideep Kapur, director of the UVA Brain Institute and a chaired professor in the School of Medicine's departments of Neurology and Neuroscience. "We have the capacity to really change the way the science is done and to become a leader in several fields by scaling up and transferring knowledge."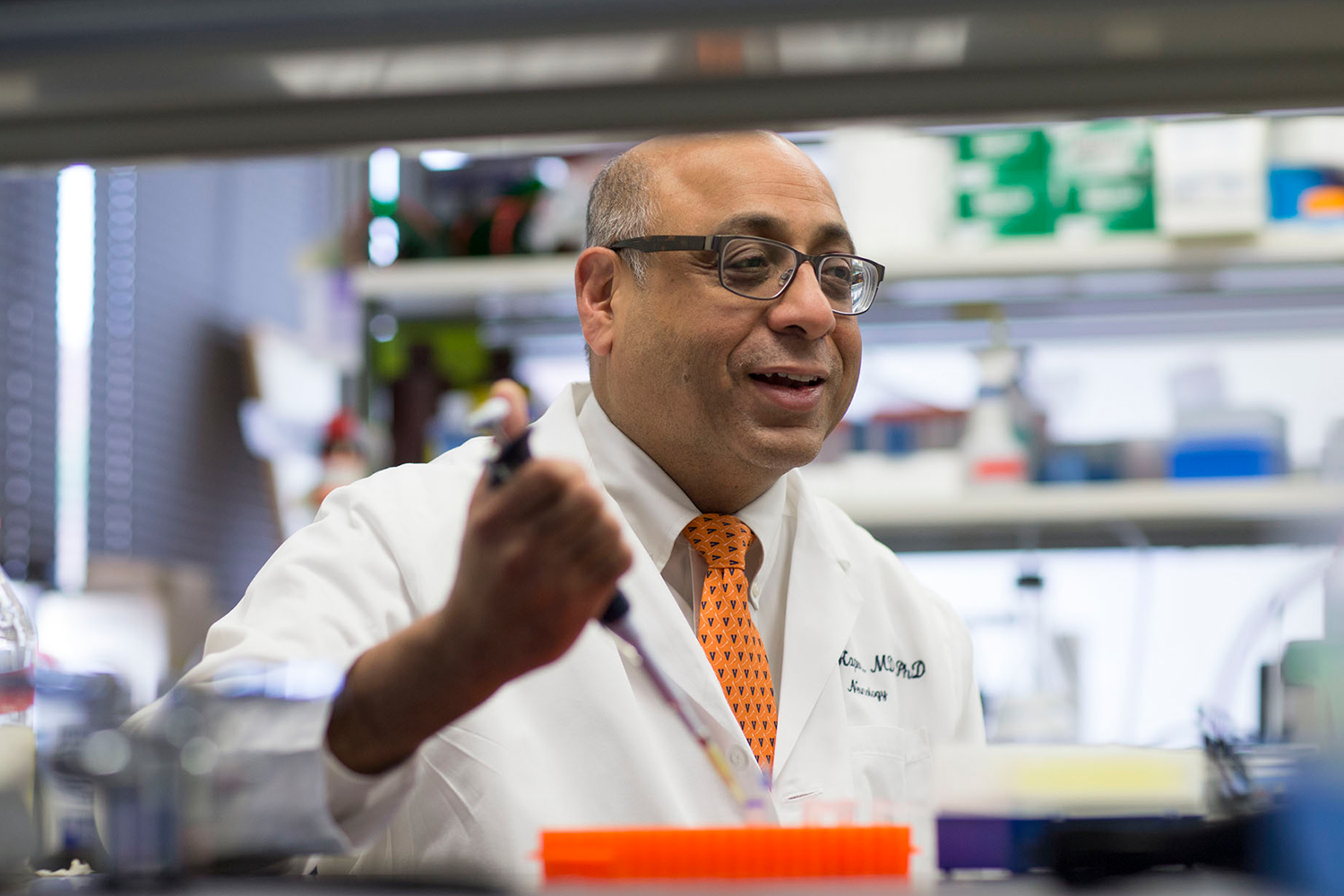 Dr. Jaideep Kapur, director of the UVA Brain Institute, is a chaired professor in the School of Medicine's departments of Neurology and Neuroscience. (Photo by Dan Addison, University Communications)
Already the institute has awarded $1.7 million in seed grants to research teams at the University, supporting 70 faculty members within 28 departments in nearly all schools and the College of Arts & Sciences. The institute also is working with researchers at UVA's Data Science Institute to analyze and make sense of massive data sets involving thousands of MRI and PET brain scans and genetic samples, merging the power of imaging and big data.
Kapur aspires to create an Alzheimer's disease research center at UVA by taking a range of disparate and fruitful studies and merging them to find ways to both predict and delay the onset of the disease – and perhaps someday, to help find a cure.
As an example, one long-term UVA psychology study has tracked the cognitive changes that study participants undergo as they age over decades, trying to find patterns that may explain or predict decline. Kapur believes this enormous data set could be complemented by incorporating UVA's strength in neuroimmunology as well as with additional studies involving genetics, drug discovery and new treatment trials.
"Our goal is to bring neuroscience discovery in service to the community and society at large," Kapur said.
The University also recently hired preeminent autism researcher Kevin Pelphrey as the Harrison Wood Jefferson Scholars Foundation Professor of Neurology. Pelphrey holds appointments in the School of Medicine and the Curry School of Education and Human Development, where he is using brain science to develop biologically based tools for detecting and tailoring treatments for individuals on the autism spectrum.
Kapur's goal is for UVA to gain the NIH designation as a "Center of Excellence in Autism Research and Treatment" by building on numerous research strengths at the University involving autism.
"About one in 68 children in the U.S. have been diagnosed with autism spectrum disorder, up from one in 150 just a decade ago," Kapur said. "This is an area in critical need of further and creative investigation, and we have the people on board to make real advances in understanding this disability and its causes, and finding more effective treatments."
The institute also is focusing on traumatic brain injury, a neurological disorder affecting more than a million Americans as a result of sports injuries, crashes and military conflicts. Studies are designed to understand the ways in which the brain may be injured, and how treatments may help the brain repair itself. Institute researchers currently are working with U.S. Navy special forces to understand how the physical stresses of combat and combat training may minutely injure the brain over time through sub-concussions. The research is seeking patterns that would predict individual susceptibility to long-term injury.
Kapur believes UVA's research in traumatic brain injury is so strong that the University could qualify as a nationally recognized leader in the field.
Researchers with the UVA Brain Institute also are focusing on better understanding the causes and reasons for addiction, and on improving the treatment of pain to reduce reliance on highly addictive opioid drugs. Approaches range from brain imaging to non-pharmacological behavioral techniques and implementing remote mental health and addiction treatment systems. Also, a new anthropological collaboration is underway with southwest Virginia churches to better understand the high rates of addiction in poor rural areas.
"Our faculty is really being innovative and collaborative in working toward solving huge problems involving the brain that affect millions of people," Kapur said.
The UVA Brain Institute will sponsor a Brain Symposium May 29-31 at the Claude Moore Medical Education Building. Leading researchers from UVA and other institutions will present their studies. For details and to register, click here.
Article Information
February 21, 2019
/content/uvas-brain-institute-focuses-alzheimers-autism-addiction-and-injury