FLIM, FRET and FLIRR don't mean anything to most people, but to scientists studying the inner workings of cells, these high-resolution imaging techniques are essential tools for gaining insights to cellular behavior at the molecular level.
Cells communicate with each other and multiply, and how they operate from within is key to researchers' understanding of the intricacies of an array of diseases, from cancer to diabetes to Alzheimer's disease. But studying cells from the inside out, especially in living tissue, is an expensive and challenging proposition.
Researchers at the University of Virginia, and at institutions across the state, can turn to UVA's Keck Center for Cellular Imaging, which offers sophisticated expertise in 14 state-of-the-art imaging techniques – such as FLIM, FRET and FLIRR – using 10 microscope systems, valued at more than $5 million.
"We offer some of the most advanced equipment, techniques and expertise in the country for understanding the activities of cells," said Keck Center director Ammasi Periasamy, a UVA professor of biology and biomedical engineering. "This resource is advancing basic understanding of cell biology and applied research for understanding serious diseases, as well as for drug development."
The center's high-tech microscopy allows extremely high-resolution, 2-D to 4-D real-time visualizations of the inner workings of cells, which is where nearly everything happens in the human body – made up of roughly 37 trillion cells of about 200 types.
UVA researchers use the Keck Center to better understand how tumors spread, why birth defects occur, how the body heals after trauma, and how and why certain drugs work (and why they sometimes don't). Advanced microscopy is essential to understand how cells operate.
Members of biology professor George Bloom's lab, which studies Alzheimer's disease, regularly use Keck Center microscopes to investigate how mitochondria, the power plants of cells, become compromised as this disease develops and progresses. Their studies are often focused on a misfolded protein commonly found in Alzheimer's, Parkinson's disease, Lou Gehrig's disease and other neurodegenerative disorders.
"We're learning how this protein becomes toxic to neurons, and how we might reverse this process," Bloom said. "To do this, we must look at living neurons over time. The equipment and techniques at the Keck Center make it possible."
Bloom chairs the biology department and has conducted research at the Keck Center since he joined the UVA faculty in 2000. He said that founding director Periasamy has kept the center modern, as the power of microscopes in the field of cellular imaging has advanced over the years. Periasamy even designs and builds specialized microscopes.
"Peri is one of the world's leading experts in a particular and important area of microscopy called FRET (Förster resonance energy transfer), which allows exceptional resolution of live tissue in time and space," Bloom said. "It's really essential to advancing cell biology, and Peri has played a major role in the development of this and other major imaging techniques.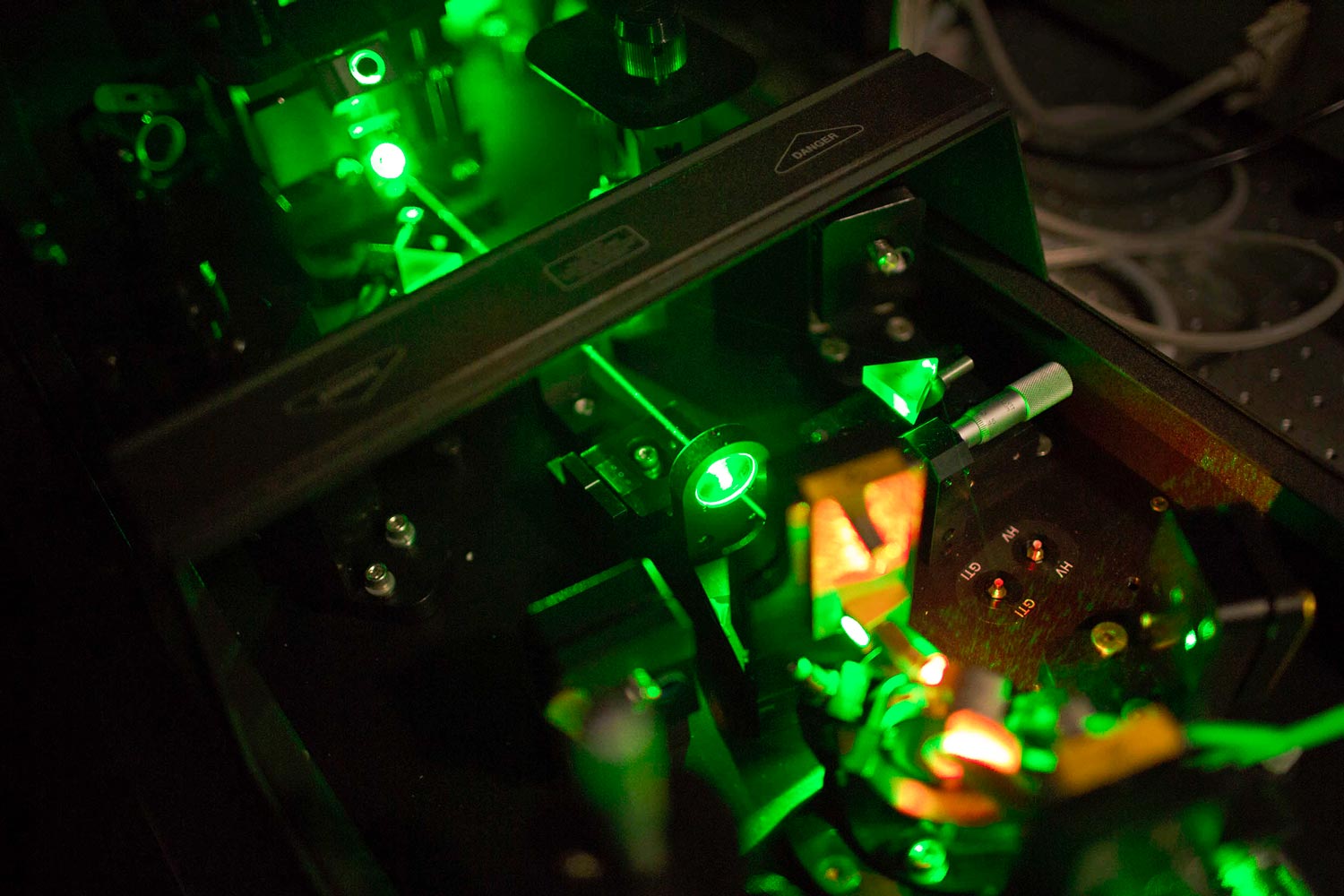 Researchers at the Keck Center offer sophisticated expertise in 14 state-of-the-art imaging techniques
"Because of him, the Keck Center is internationally known in the field, and under his innovation and leadership it is a powerful resource for cell researchers across Grounds and disciplines. The resource also helps our researchers be much more competitive for grants."
"The collection of microscopes at the Keck Center is really expensive and invaluable," said Christopher Deppmann, director of UVA's neuroscience graduate program and a biology professor with appointments in the College of Arts & Sciences, School of Medicine and the School of Engineering and Applied Science. "It's important that we have a core facility such as this, dedicated to the cell-imaging needs of researchers across Grounds. Peri and his crew are true innovators in the development of cutting-edge imaging technologies, and they are always more than willing to share their expertise."
Periasamy and his staff run an annual weeklong, hands-on workshop on two primary microscopy techniques (FLIM and FRET), as well as an international conference on Multiphoton microscopy. Each of these events draw investigators from around the world who are looking to expand their cell and intravital imaging capabilities.
The staff also runs workshops for UVA graduate and undergraduate students conducting research in labs across Grounds, and Periasamy teaches a graduate-level course in microscopy each fall semester.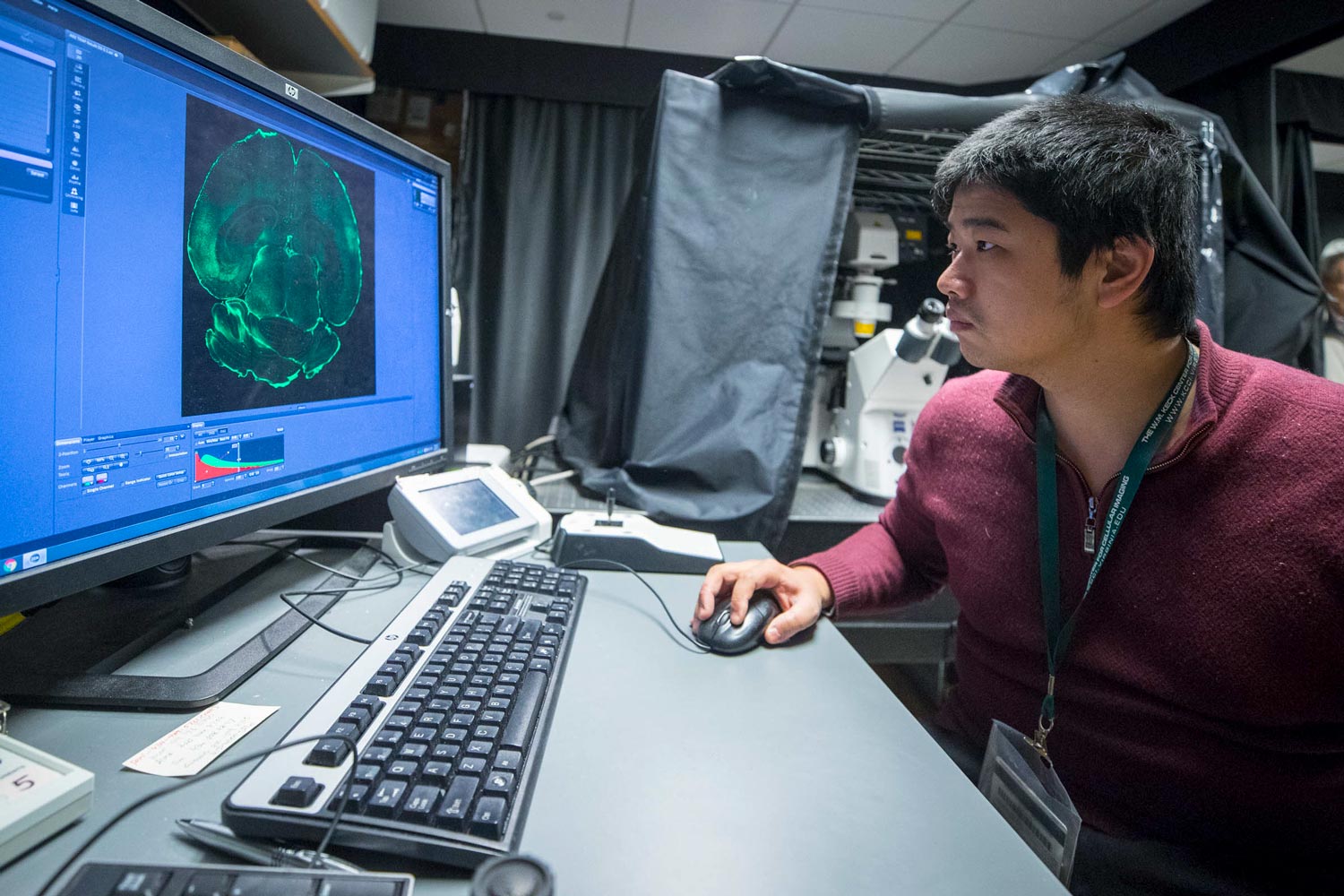 The center's technology allows extreme high-resolution visualizations of the inner workings of cells.
"I enjoy what I do," Periasamy said, "educating students and providing specialized expertise so our researchers can push the boundaries of discovery, using this University infrastructure. I am always happy to help. I also enjoy working on my own research, developing new imaging methodologies that help UVA investigators get the most from their research."
Most recently, Periasamy and his colleagues published two papers in one of the Nature journals, Scientific Reports, on the use of FLIM (fluorescence lifetime imaging microscopy) and FRET for investigations into metabolic changes in prostate cancer cells. They call the combined techniques FLIRR (fluorescence lifetime redox ratio), and it can be used to investigate some of the most serious cancers – including breast cancer, cervical cancer and leukemia – as well as for diabetes and Alzheimer's disease.
"We expect that this approach will generate interest among scientists at UVA to use this new methodology to investigate metabolic signal changes in a wide range of diseases in cells," Periasamy said. "We're always innovating."
Article Information
December 14, 2017
/content/uvas-keck-center-researchers-peer-deep-inner-workings-cells-0