On Thursday, traditional Jewish music met contemporary Yiddish rock during a performance by the University of Virginia's Klezmer Ensemble, celebrating 10 years under the direction of Joel Rubin.
Rubin, an ethnomusicologist and associate professor of music, is widely recognized as a leader in reviving klezmer music, which flourished in the Jewish cultures of Eastern Europe prior to World War II. It was brought to North America around the turn of the 20th century, thriving in places like New York City.
In the decades following the war, American musicians revived the genre, which traditionally was performed at Jewish weddings, but proved to have a much wider appeal. Rubin, a clarinetist, was a founding member of the klezmer band "Brave Old World," which The Washington Post called "the revival's first supergroup." Today, he continues to perform and teach klezmer music around the world.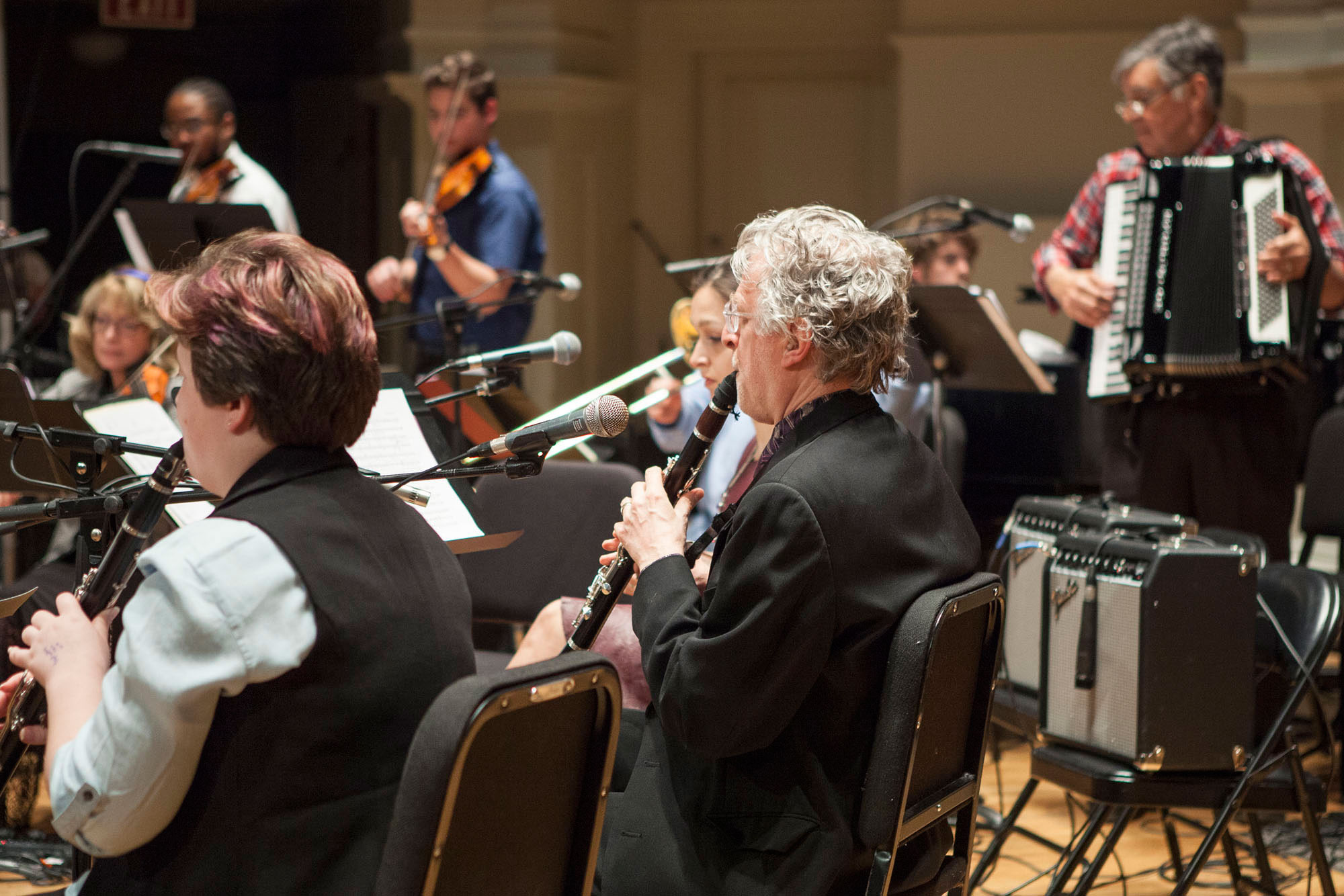 On Thursday, Rubin led UVA's ensemble in a concert with Latvian fusion artists Sasha Lurje and Ilya Shneyveys, who traveled to the U.S. to rehearse and perform with Rubin's students. Lurje, a singer, and Shneyveys, an instrumentalist, have performed around the world with their band "Forshpil," which offers a rock-tinged take on traditional Jewish music, described by the band as "what it would have sounded like if Pink Floyd and The Doors had ever jammed together at a Jewish wedding."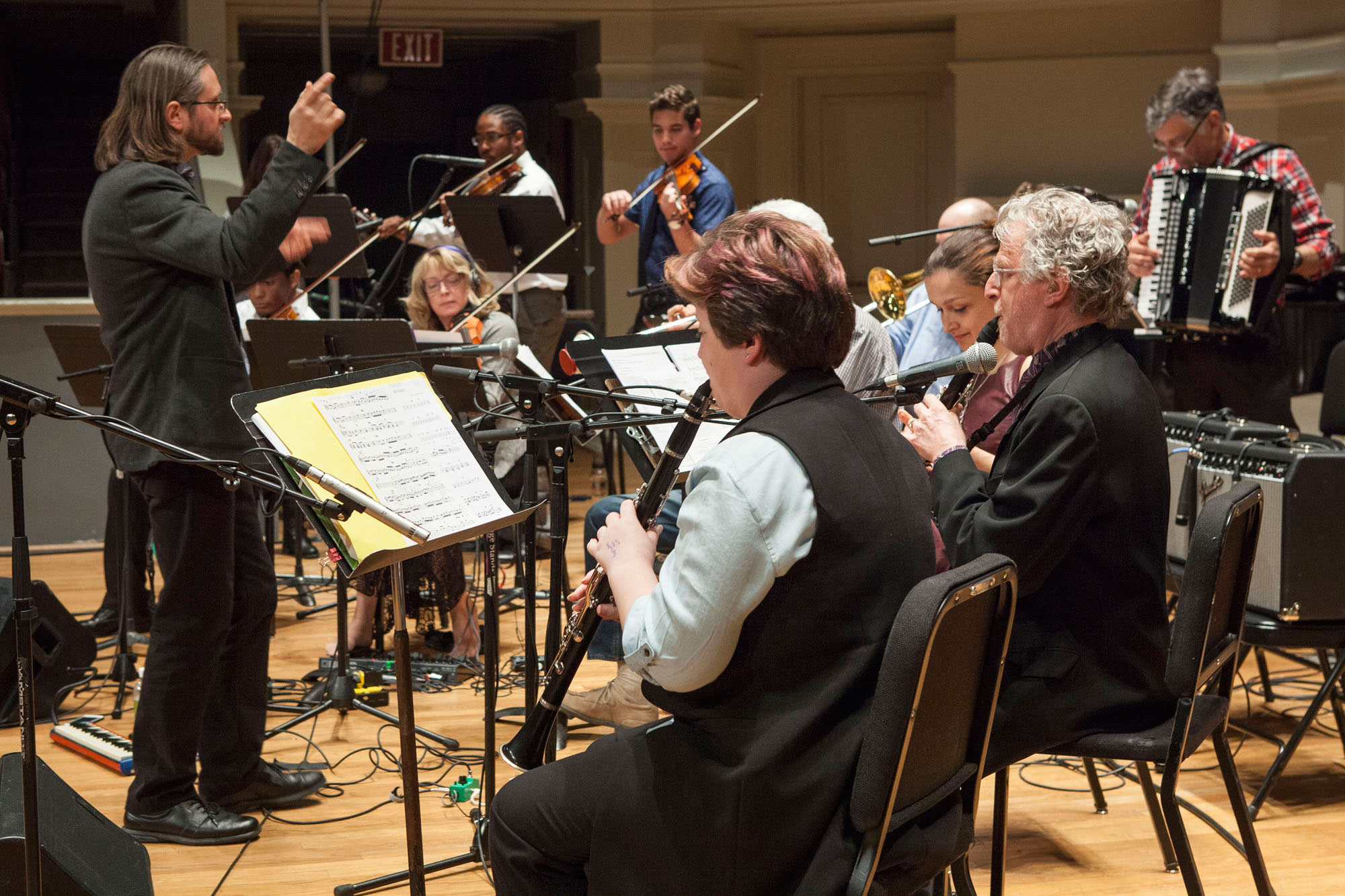 "They are doing really cool stuff with the music, and I like to bring in different takes on the tradition, from different regions and styles so that the students and the Charlottesville community are exposed to these things," Rubin said.
The UVA ensemble has 13 members, including UVA students, local high school students and community members. They rehearse twice per week, practicing for concerts given each semester, featuring guests artists like Lurje and Shneyveys.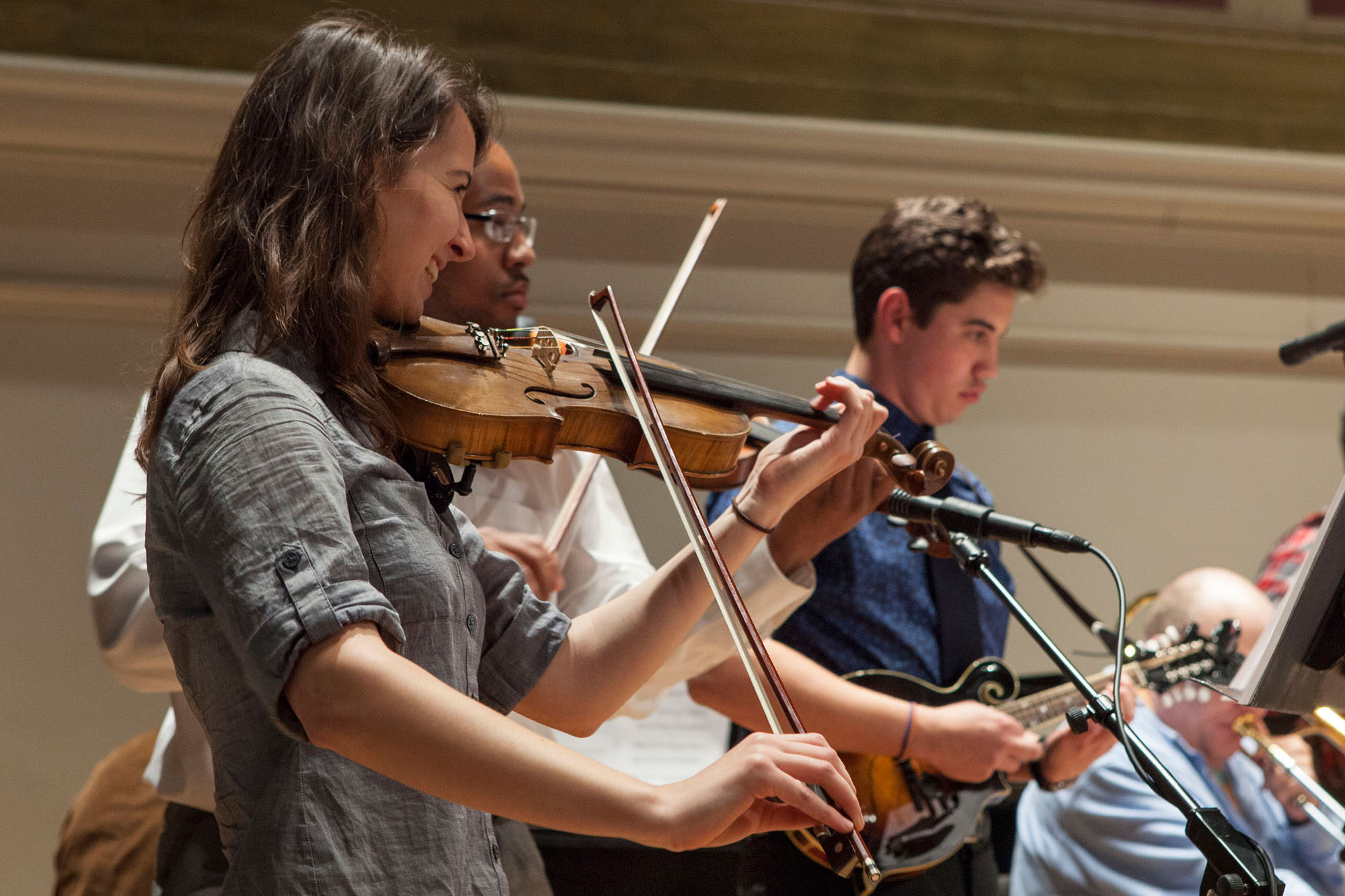 UVA Today sat down with Rubin to learn more about the group and the musical tradition they love to share.
Q. What are the hallmarks of Klezmer music?
A. Klezmer music is very direct, which I think attracts a lot of people. It speaks right from the heart of the musicians to the heart of the listeners. A lot of what we do is dance music, very rhythmic and fun. There is also a philosophical, introspective side to traditional klezmer music.
Instrumentally, the violin and the clarinet are particularly associated with klezmer music. The violin was the main instrument for several centuries, but was supplanted by the clarinet in the late 19th century. Klezmer music continued to be played in Europe up to the eve of World War II and in America until the 1950s. Then, it went into a decline until there was a revival in the 1970s, beginning in the U.S. and spreading internationally. In that revival, the violin has once again taken its place as a major instrument.
Q. The music was traditionally passed down orally, rather than in written notes. How does that influence your approach to teaching new students?
A. I try to teach the music by ear as much as possible, because it is an oral tradition. Klezmer musicians of the last 100 years used music notation, but more as a mnemonic device. It is similar to how jazz musicians use a sheet with just the melody and chords, with everything else in the mind of the performer.
Q. What appealed to you about partnering with Lurje and Shneyveys?
A. I tend to vacillate between bringing in long-established musicians who have been playing klezmer for decades and bringing younger, up-and-coming performers. Sasha and Ilya's band, Forshpil, has a lot of reggae influence, funk and jazz fusion. They are a Yiddish psychedelic rock band, but they also do traditional material. Sasha has spent years, almost more than any singer of her generation, studying the old style of Yiddish folk singing, working in archives and reconstructing songs. Both of them came through workshops that my colleagues and I teach. They were our students and now they are our colleagues.
Q. How did you first become interested in performing Klezmer?
A. It was almost coincidental. I had conservatory training as a clarinetist and that is what I was doing until I was about 24. Through a friend I was playing with, I met musicians who were starting one of the first klezmer bands in the U.S. They lent me my first Dave Tarras record – one of the greatest American klezmer musicians.
That was how it started, and I later learned that I had a little bit of klezmer in my own family. My great-grandfather was most likely a klezmer musician. My grandfather was also a musician, though he was already fairly removed from the klezmer style. I also grew up with my grandmother singing Yiddish folk songs. When I finally started playing it myself, I felt, pretty early on, a very strong connection with the music that I cannot really explain.
Q. Considering the ensemble's work after 10 years under your direction, what are you most proud of?
A. I'm proud of the series of concerts we have performed and the many guests we have brought in. I am also proud of how the group attracts musicians from really diverse backgrounds, diverse in both their level of musical experience and their religious and ethnic background. Klezmer is Jewish music, but it appeals to musicians from all kinds of different backgrounds. I love getting them all together to play.
Q. Why do you think the music appeals to so many ethnicities and races?
A. It is very emotional music. The real origin of klezmer music is in Jewish wedding celebrations, so it is very entertaining and celebratory. You can sing along with and remember the melody easily. You can tap your foot to it – it's fun. Even the most joyous music has a serious aspect to it, but the dynamic of playing in a klezmer ensemble is really fun for a lot of people, and our group really enjoys playing with each other.
Media Contact
Article Information
April 15, 2016
/content/uvas-klezmer-ensemble-pairs-modern-rock-jewish-tradition