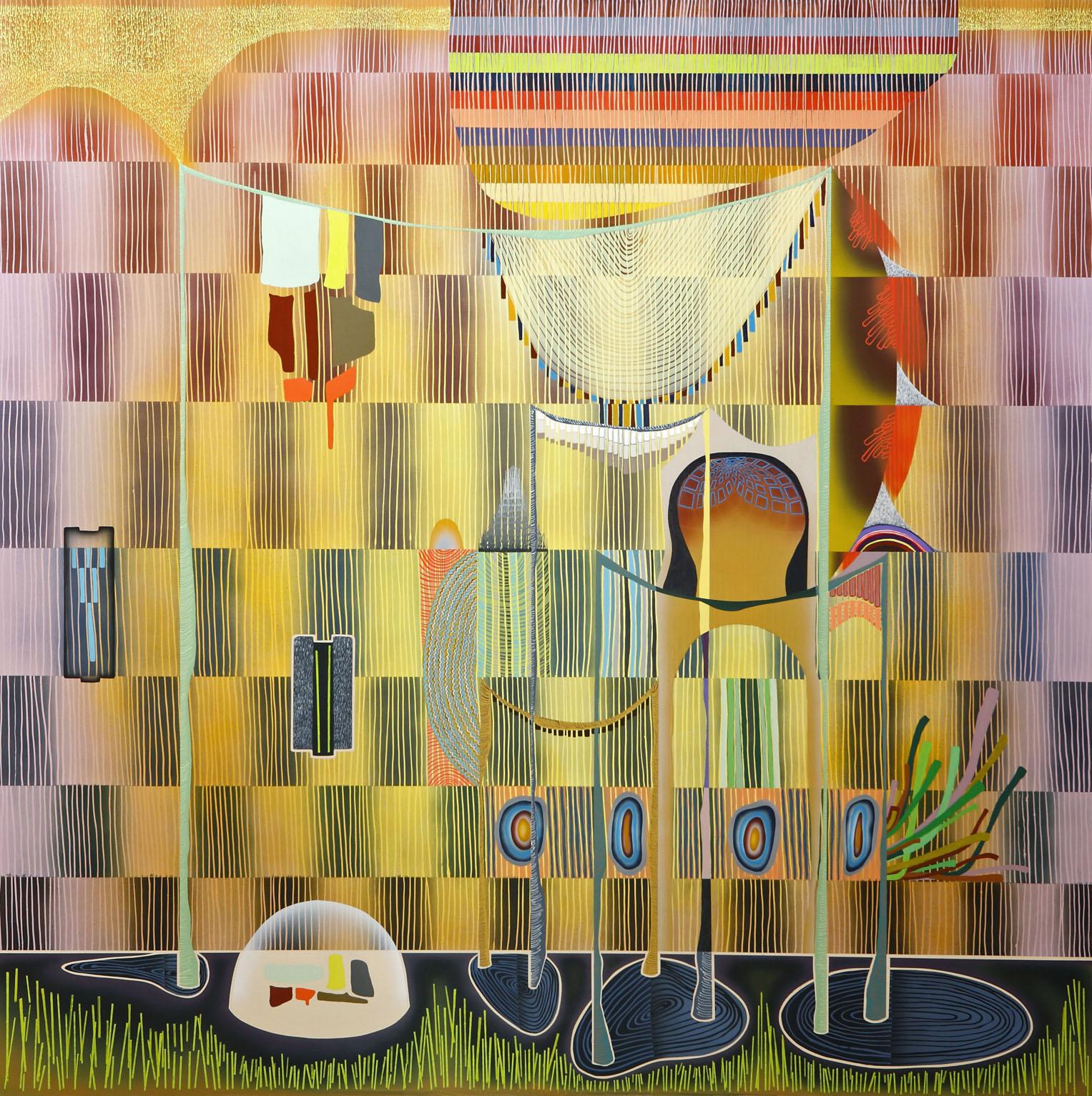 August 12, 2010 — The Ruffin Gallery at the University of Virginia will open for the fall semester with an exhibition, "Katie Baines: Recent Paintings."
The exhibition, which runs Aug. 25 through Sept. 17, will feature approximately 10 paintings by Baines, a visiting professor in the McIntire Department of Art's Studio Art Program this academic year.
A "Final Friday" opening reception will be held Aug. 27 from 4 to 7:30 p.m. in the gallery, located in U.Va.'s Ruffin Hall. Free parking is available in the Culbreth Road Parking Garage.
Baines works primarily in acrylic on panel board employing airbrush, stencils and masking fluids in her painting process that results in some marks that act as thin, transparent veils and others that are opaque, crisp-edged forms.
"The decisions I make that dictate the type of form I establish in a painting are based on color, shape, line, pattern, texture and placement. As I move through this process, a painting is slowly revealed and may go through many transformations before it arrives at its destination," she said.
Although her work is nonrepresentational, she incorporates marks that are reminiscent of real objects – coral reefs, blades of grass, vapor mists, bolts of lightning, architectural structures or oil spills. These marks "exhibit qualities of human behavior," she said. "Shapes can be loud and obnoxious, and they can be quiet and sophisticated. They can run and jump. They can be smart, and they can be dumb. They can participate in conversations and relationships. They can be nurturing.  They can be deceitful. "
She considers her paintings to be "visual inventions."
"Indefinable forms interact with one another in an undetermined environment. Each painting exists as its own unique world with numerous possibilities," Baines wrote in her artist statement.
During her visiting professorship, Baines will teach drawing and painting.
Baines earned her master of fine arts degree from The Ohio State University in 2006.  She currently resides in Richmond and teaches in the Department of Art at Virginia Commonwealth University, where she earned her bachelor of fine arts degree.
Baines will give an artist talk on Sept. 15 at 5:30 p.m. in Campbell Hall, room 160.
Ruffin Gallery is free and open to the public Monday through Friday, 8 a.m. to 5 p.m.
— By Jane Ford