Approaching its 200th birthday, the University of Virginia's Rotunda has received a Silver LEED certification following an extensive renovation.
LEED stands for Leadership in Energy and Environmental Design, a certification developed by the U.S. Green Building Council to recognize environmentally responsible practices in construction and renovation.
The extensive Rotunda renovation, which took from 2012 to 2016, included replacing the domed roof and the exterior column capitals, installing all new interior systems and refurbishing the Dome Room. Three new classrooms and additional study space were developed to encourage students to spend more time in the iconic core of the University.
The University received the certification for the way it executed the project.
"The demolition was carefully managed to minimize the amount of material that was removed, and all of the waste was directed to a recycling service so that more than 95 percent of the materials that were removed from the building were recycled," Brian Hogg, senior historic preservation planner, said. "The heating, cooling and plumbing systems were designed to be very efficient, and the HVAC has much greater ability to control the rooms for comfort. All of the lights in the building are LED, so in the Dome Room, for instance, the wattage needed to light the dome well is now about 25 percent of what was needed before the renovation. The paints, adhesives and sealants all included low volatile organic compounds."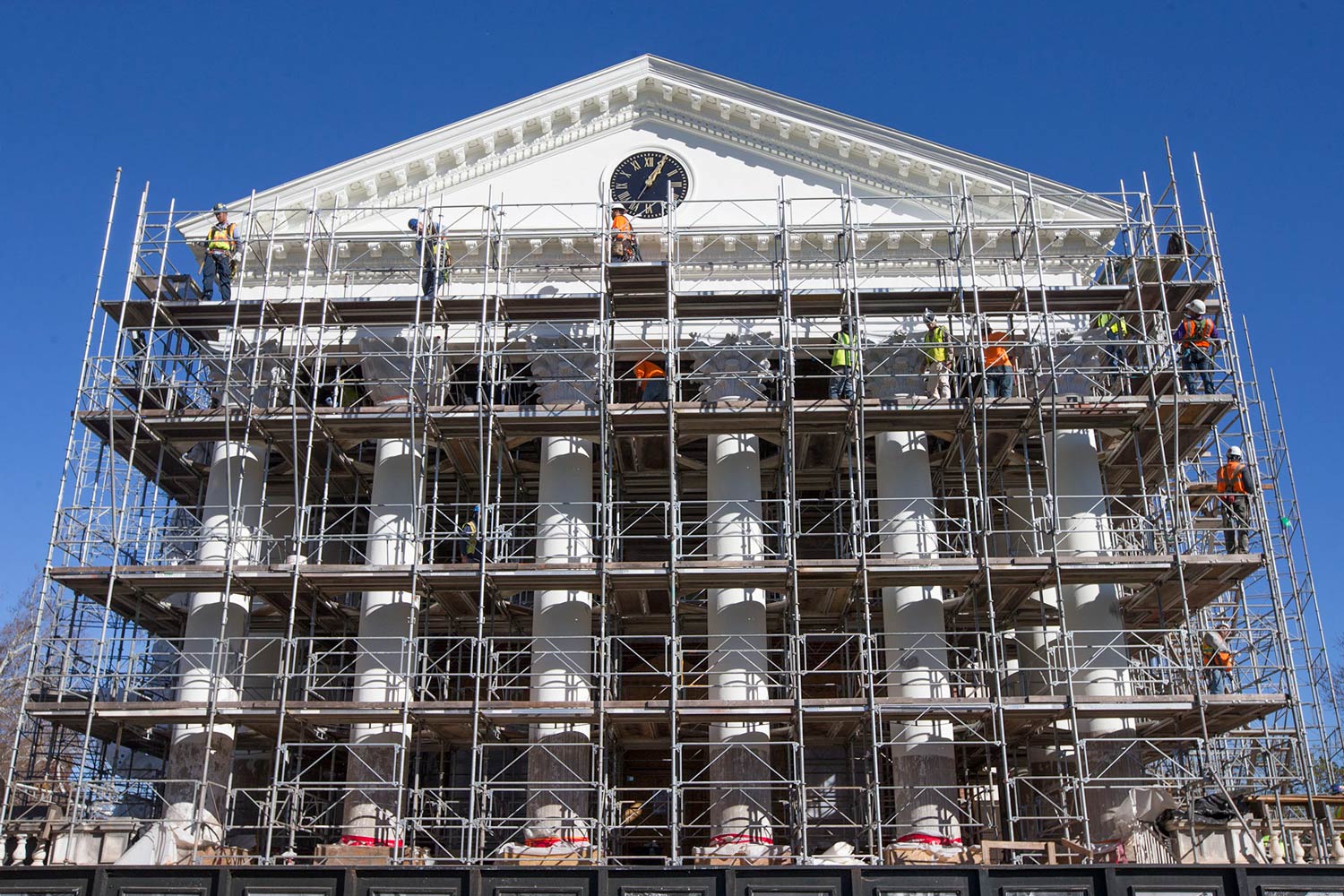 The four-year renovation paved the way for students to use the building more actively as both classroom and study space. (Photo by Dan Addison, University Communications)
When dealing with a landmark such as the Rotunda, the challenge comes from meeting modern environmental standards while maintaining the historical integrity of the structure, he said.
"Working with an historic building presents challenges because of our desire to also adhere to robust preservation standards, especially on the Lawn, and that requires a careful balance of the two sometimes-competing goals," Hogg said. "However, the University has created central systems to support the buildings that are very efficient. It has a strong public transportation network and other systems that support the LEED efforts. All of the buildings we've done under LEED on Grounds have achieved at least a certified rating."
Among recently renovated buildings, Garrett and New Cabell halls received LEED gold certification, O'Neill Hall earned silver, and Pavilion IX and Pavilion X were both designated as certified.
Andrea Trimble, sustainability director at Facilities Management, said that UVA has shown it can work on preserving the historic fabric of its buildings and still meet high sustainability standards.
"The structures on the Lawn are the only ones with LEED certification in any UNESCO Heritage site," Trimble said. "UVA is unique among UNESCO heritage sites for this."
Article Information
January 22, 2018
/content/uvas-venerable-rotunda-takes-leed