Trying to navigate the various emergency relief resources available in the wake of COVID-19 is challenging enough. Now imagine trying to do so when the literature isn't written in your native language.
Rising third-year University of Virginia student Alizé Dreyer and her mother, Ayşegül, recognized how tough of a predicament some people from in and around the University of Virginia community might face amid the pandemic, and jumped into action after hearing that UVA's Center for American English Language and Culture was looking for volunteer translators and interpreters.
The mother-daughter tandem, who live in Northern Virginia, are among nearly 200 volunteers representing 30 languages who have signed up as part of the Multilingual Outreach Volunteer Effort program since April.
"I have to say that I was completely blown away by the response," said Elizabeth Wittner, the academic director and coordinator of the center's International Teaching Assistant Training Program. "It was simply incredible in that amount of time to have this enthusiastic, engaged group of undergraduate and graduate students, faculty, staff, alumni and Charlottesville community members who were ready to work.
"In those early weeks of the pandemic shutdown, a lot of us were feeling lost, scared, helpless and isolated. Here was something concrete people could do that would truly make an impact."
Born in Istanbul, Ayşegül has worked as a freelance translator for much of her adult life. In high school, she translated French into Turkish. Then, after moving to the United States, she did mostly English-Turkish.
Ayşegül joined the Multilingual Outreach Volunteer Effort – an offshoot of the center's Volunteers with International Students, Staff and Scholars program – in April after Alizé forwarded an email she had received from a classmate about it. Her first project was translating a brochure.
"Turkish may not be as much in demand in the Charlottesville area as other languages, such as Spanish, Arabic, etc.," Ayşegül said, "but that could also mean fewer Turkish language resources for those who may be in need."
A history and global studies major, Alizé did Turkish translations during the school year through her part-time job in the art history department, then joined the Center for American English Language and Culture as an intern in June, occasionally putting her Arabic to use.
"Contacting people in Charlottesville that I don't yet know is my favorite thing," Alizé said. "It broadens connections across different communities. It's nice when a phone call leads to a conversation and human connection, in addition to providing helpful resources.
"I also love seeing the initiative so many people are taking to help out other people in our communities. It is truly heartwarming to see how so many volunteers are willing to use their time for such good work."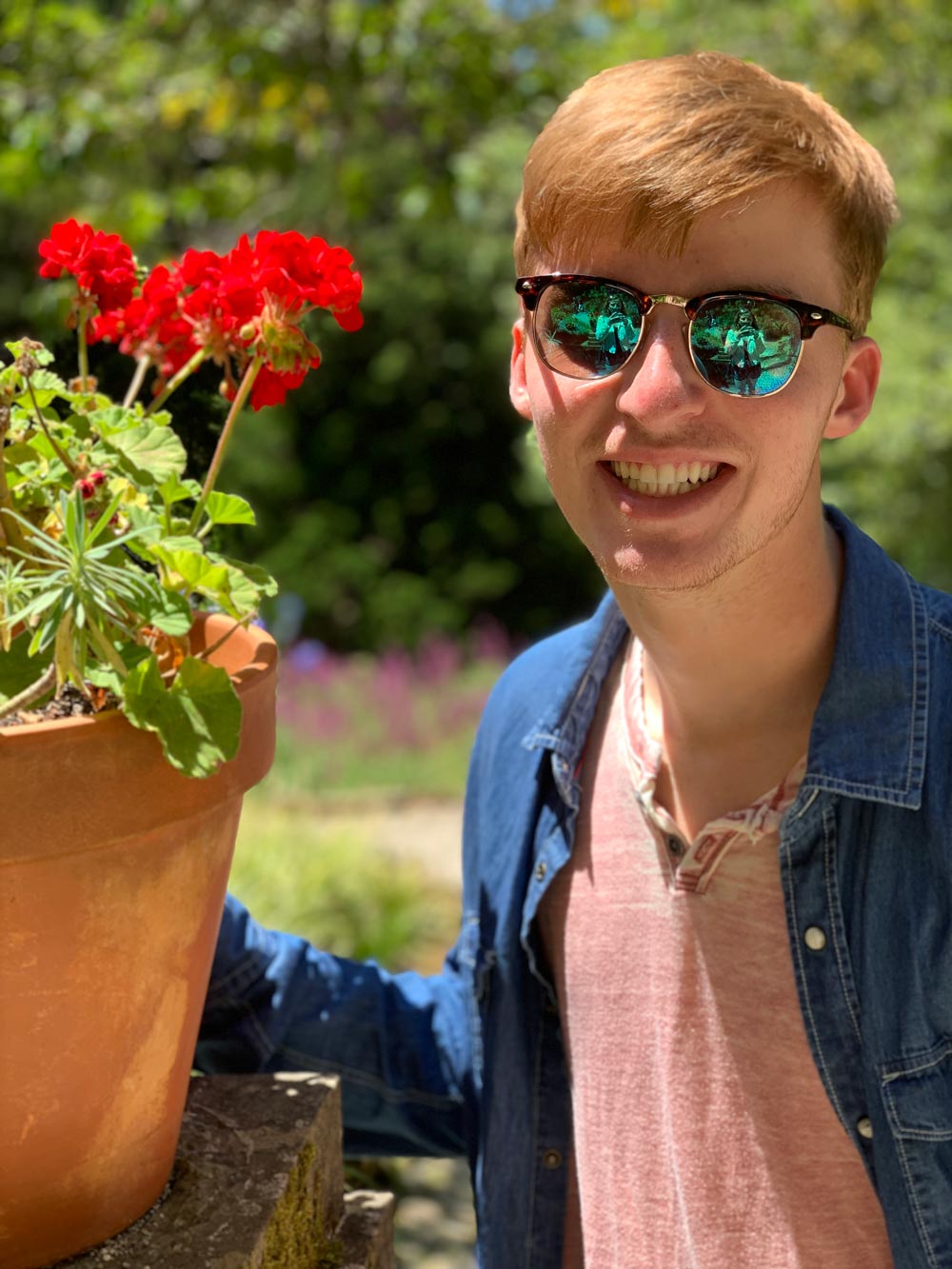 Travis Schuck, a rising second-year student, has been translating a document about a federal program that provides millions of dollars in food benefits. (Contributed photo)
Spanish translations have been the highest in demand. To that end, center volunteers have helped get information and resources to Latinx community members who have been affected by COVID-19.
Working in a Google document, volunteers typically translate different sections of the same document, then go back and review each other's work.
Rising second-year student Travis Schuck, a Spanish major, said the effort has been tremendously gratifying.
Schuck has spent most of his time translating a document about a federal program called Pandemic-Electronic Benefit Transfer, which provides millions in food benefits to more than 68,000 students in the Washington, D.C., area. The translation was requested by non-profit company D.C. Hunger Solutions.
"I've been privileged growing up in that I never have had to worry about food; my family always had the resources we needed to get by," Schuck said. "Unfortunately, that's not the case for many families. A document like this is so incredibly important to ensure these families get access to necessary resources."
Local organizations who have benefitted from the center's work have included the Charlottesville City Schools, the Central Virginia Small Business Development Center and the Mid-Atlantic Food Resilience and Access Coalition.
UVA senior lecturer Esther Poveda Moreno said the teamwork during the endeavor – which has included many of her colleagues in the Department of Spanish, Italian & Portuguese and in Latin American studies – has really stood out.
"I was also extremely moved and happy to see former students contributing their knowledge of Spanish to this common cause," she said.
Wittner said Alizé and Ayşegül – the only mother-daughter tandem – have gone above and beyond.
"It has been really amazing to watch them work together," she said. "They have similarly thoughtful, careful, thorough styles. They are both incredibly professional." 
Alizé and Ayşegül say the project has been a good way to stay connected. During the quarantine, Alizé has been living with her father, Doug, at the family's residence in Falls Church, while Ayşegül has been residing with her mother in nearby Arlington City.
"I enjoy seeing her work on translations in action and I learn what it means to be an effective translator through that," Alizé said. "We've always worked well together and having her on the same team of this specific project is no different."
Ayşegül said one of the coolest aspects of the project is that they often don't know whom their work is benefitting.
"There is a nice Turkish proverb, 'Do good and throw it into the sea; if the fish don't know it, God will,'" she said. "So a volunteer's work can be like random acts of kindness."
If you're interested in volunteering, contact Elizabeth Wittner at ew3p@virginia.edu or visit the Center for American English Language and Culture's website.
Article Information
July 13, 2020
/content/volunteer-translators-have-played-crucial-role-during-pandemic