Fewer Louisa County residents will go hungry, thanks to groundbreaking work conducted by the University of Virginia's Weldon Cooper Center for Public Service.
In a recently concluded multi-year study, entitled "Who's Hungry?," Cooper Center researchers found a 22.3 percent food insecurity rate among Louisa County residents – nearly twice the 11.8 percent national average (as determined by the U.S. Department of Agriculture).
"It was higher than I expected," said researcher Tom Guterbock, who directs the Center for Survey Research, a unit within the Cooper Center. "There were an estimated 8,400 people in Louisa who were food insecure out of a population of about 33,000."
The USDA defines food insecurity as a lack of consistent access to enough food for an active, healthy life.
It breaks food insecurity down into two categories: "low" food security and "very low" food security. The former is marked by a reduced quality, variety or desirability of diet, but little or no indication of reduced food intake. The latter is characterized by multiple indications of disrupted eating patterns and reduced food intake.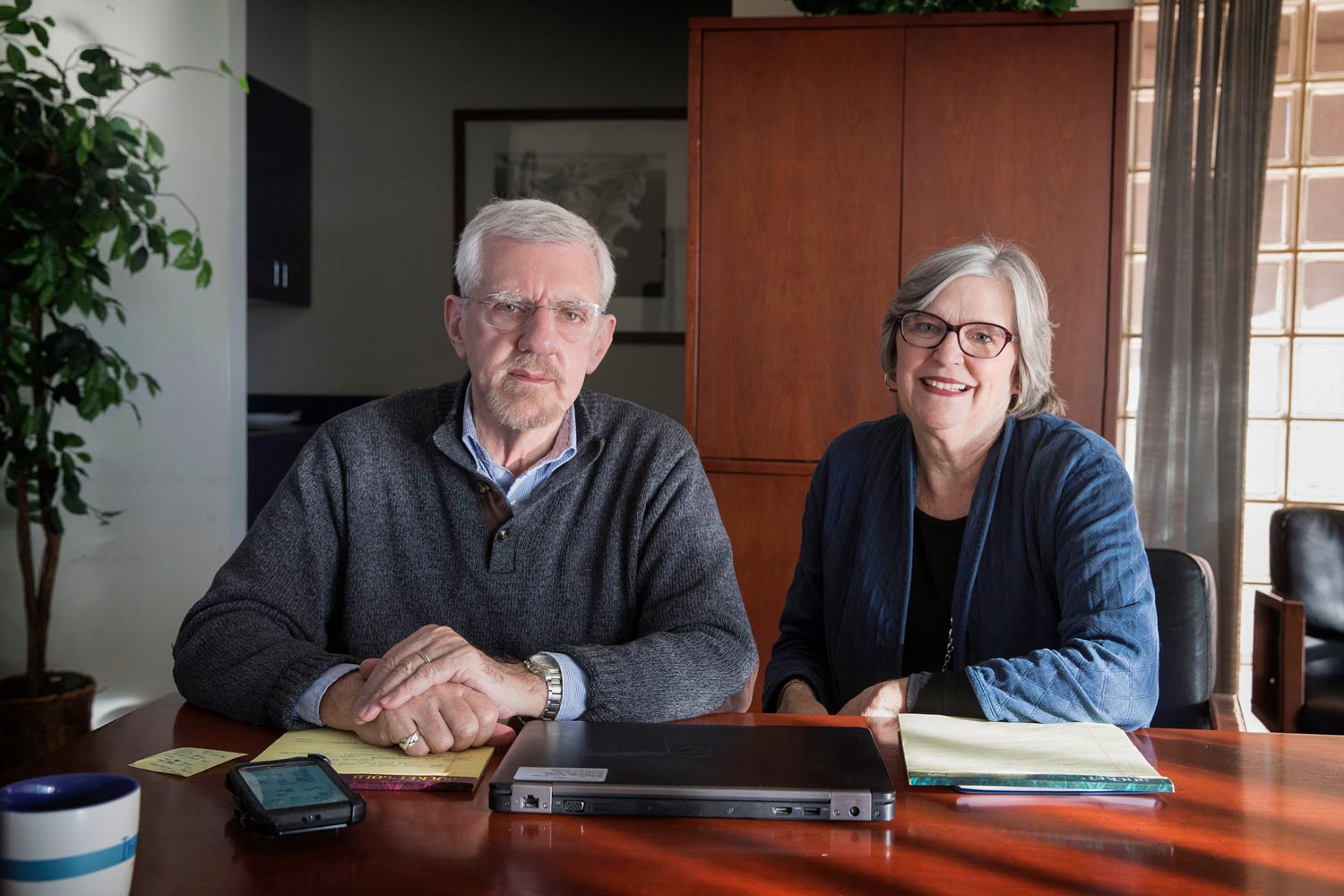 Tom Guterbock and Kate Wood of the Center for Survey Research were surprised by some of their findings. (Photo by Dan Addison, University Communications)
The survey found that 12.3 percent of Louisa County residents fell into the "low" category, while 10 percent were "very low."
The survey was done on behalf of the Louisa County Resource Center, a non-profit organization that runs a large food pantry in Louisa for families in need. The research was funded by a grant from the Charlottesville Area Community Foundation.
"The Louisa center staff wanted to know, 'Are we serving all of the county equally well?'" Guterbock said. "They were concerned that perhaps they weren't serving the far ends of the county enough – and that turned out to be true. There were some gaps in their service."
Louisa's actual rate of food insecurity is far different from the statewide average of 10 percent of households estimated in a 2015 USDA study.
"Local levels of food security are usually just estimated based on the rate of poverty," Guterbock said. "You get a much more accurate assessment by directly asking a representative sample of residents whether they have enough to eat."
Kate Wood, the senior project director at the Center for Survey Research, calls Louisa "a really interesting county."
"It has some pockets of affluence, but interspersed are pockets of very poor housing," Wood said. "One of the things I was surprised by was how food insecurity around the county didn't necessarily line up with the distribution of poverty around the county. There wasn't always a direct correlation between poverty and food insecurity."
Guterbock said he knows of no other study that's been done with a general population probability sample in a rural area – something his team accomplished by going door to door.
"It's unusual for us to do in-person, door-to-door work in a rural area," he said. "Most of our work is telephone, mail or web. This was a rare occurrence – and it really paid off in terms of the representative sample and finding these people who are hard to find."
As a result of the survey, the Louisa County Resource Center has started a satellite distribution center in Green Springs near Zion Crossroads, with plans to set up another location in the eastern end of the county.
"Now people don't have to drive all the way into the town of Louisa to get food," Guterbock said.
Wood and Guterbock said it feels good to have used University resources to make a real impact.
"This is the kind of work we can do out in the community," Wood said.
"It's very gratifying," Guterbock added, "and we think our methodology can be expanded to other jurisdictions as well. I think we've demonstrated that you can get more accurate data on this need."
Weldon Cooper Center Executive Director Larry Terry said the project embodied both the Cooper Center and the Center for Survey Research's mission to "inform, empower and collaborate with organizations and communities across the commonwealth."
"Our work will continue to be driven by the core value of community," he said, "and we are excited to take on additional projects that will have a positive impact on the public interest."
The full Center for Survey Research report can be found here.
Article Information
January 16, 2019
/content/weldon-cooper-center-helping-feed-hungry-mouths-louisa-county