University of Virginia sociologist Fiona Greenland unfurls a large geospatial, archaeological map across her desk depicting a satellite image of Dura Europos, an early first-century Roman town in southeast Syria. She points to extensive speckling of the ground inside and outside the ancient town.
The small dark spots mark where burial sites have been looted.
This map shows just one of 400 archaeological sites that were looted in Syria during the recent civil war. Potentially millions of artifacts were stolen and sold illegally.
"It's a tragic disturbance of history and local culture," said Greenland, an assistant professor in the sociology department. "ISIS didn't invent archaeological looting. But the group intensified looting and cultural destruction to an unprecedented order of magnitude."
Prior to becoming a sociologist, Greenland was an archaeologist for 10 years, and had studied looting of antiquities in Italy. During her postdoctoral fellowship at the University of Chicago, violence in the Syrian war was escalating and news emerged that the Islamic State was committing acts of atrocity against civilians as well as the cultural treasures embedded in their communities.
As part of the Fertile Crescent, Syria's history shows astonishing breadth and depth, going back at least as far as 10,000 BCE and encompassing cultural, political and linguistic contributions from the Mesopotamians, Akkadians, Assyrians, Egyptians, Greeks, Romans and more recently Muslims, Christians and Jews.
There was a sense of shared obligation among human rights advocates, archaeologists and social scientists, she said, to do something. That's when she decided to apply her research skills to cultural violence and civilian deaths in Syria.
Since coming to UVA in fall 2017, Greenland has been using new tools to measure the connection between illicit markets for looted antiquities and wartime cultural violence, while looking for ways to evaluate what is happening and what can be saved.
In 2018, the National Science Foundation awarded her $245,000 for a two-year project, "Insurgent Artifacts: Scientific Urgency, Remote Sensing, and the Rise of Conflict Archaeology." Working with a team of research assistants, Greenland has studied how scientists and policymakers who collaborated to stop ISIS's looting used satellite data to make decisions and create new forms of knowledge. That project then led to the idea of developing further analysis of the link between cultural violence and civilian casualties.
Her latest project has just received a National Science Foundation grant – Greenland's second NSF award since coming to UVA – to research the relationship between cultural destruction and civilian harm, with the war in Syria as a case study.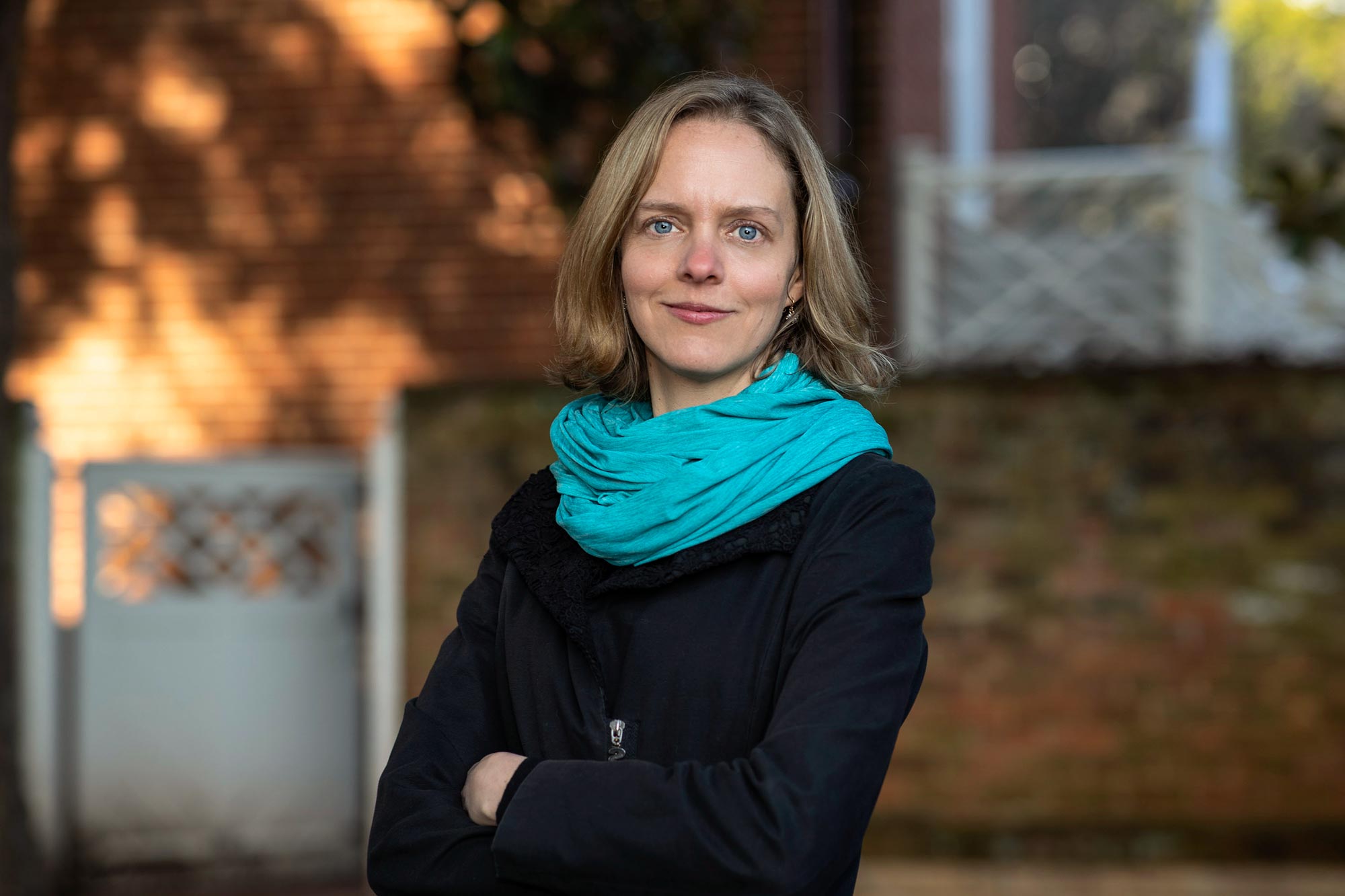 Sociologist Fiona Greenland combines historical and cultural data with temporal and spatial analytical techniques in her research.
Greenland emphasized that while ISIS has intentionally destroyed ancient palaces and other buildings to obliterate history, responsibility for cultural violence and civilian deaths is shared. Military actions by the Syrian and Russian governments, among others, have caused more extensive destruction, typically called "collateral damage." Because insurgents have made a deliberate show of destroying antiquities, posting videos – "obsessively documenting themselves" in social media, Greenland said – it is easy to overlook other sources of destruction, she said.
The Syrian government officially opposes the destruction of historical sites, but has not always avoided it in its own missile strikes against insurgents.
Most Muslims reject ISIS's religious interpretations and violent actions, she pointed out. 
"There's been an outpouring of grief among the Syrian people, refugees and those remaining there," she said. "For them, compounding the anguish of losing their loved ones is the devastating loss of much-loved mosques, museums, cemeteries and marketplaces."
In this complicated setting, the relationship between wartime cultural violence and civilian deaths has been unknown, Greenland said. "We've never had the data to look at these two things together." The new NSF project will probe their nuanced temporal and spatial linkages.
Bombing cultural sites during a war is considered a war crime in most cases, according to the 1954 Hague Convention.
A seed grant of $6,000 from the College of Arts & Sciences' Quantitative Collaborative enabled her to begin the study, "Investigating the Relationship Between Monument Destruction and Civilian Victimization." That seed grant provided the basis for Greenland's new NSF project.
To carry out the new study, Greenland is collaborating with the Uppsala Conflict Data Program in Sweden, which she said "maintains a robust database of civilian deaths, and employs a sophisticated method for geo-referencing every event."
She hopes the research will assist scholars and decision-makers in protecting both human life and cultural artifacts and sites, supporting other efforts at preservation and rebuilding fractured communities.
Article Information
February 6, 2020
/content/what-happens-when-antiquities-are-obliterated-sociologist-investigates