Shilpa Davé has fond memories of the Muppets. She remembers going to see "The Muppet Movie" as a child when it came out in 1979, then subsequently becoming a fan of "The Muppet Show" on television. Some of the characters, including Kermit the Frog, she already knew from "Sesame Street." Others, created by Hollywood legend Jim Henson, were new and exciting to her.
"What I loved most were the song-and-dance numbers, and I especially liked the comedy sketch 'Pigs in Space,' because it satirized shows like 'Star Trek' and 'Lost in Space' – shows that my family watched in syndication," said Davé, a University of Virginia assistant dean and assistant professor of media studies.
During the 1970s and 1980s, the networks featured numerous variety and comedy shows, such as "Sonny and Cher," "Tony Orlando and Dawn," "The Carol Burnett Show" and "Donny and Marie."
The Muppets was a vaudeville-type theater show that featured dancers and actors and musical numbers, only with puppets – though Davé said she also enjoyed it when the program would have human guest stars, such as Rita Moreno and Julie Andrews.
Last month, the Muppets were in the news after Disney Plus added a content warning to the beginning of 18 episodes. "This program includes negative depictions and/or mistreatment of people or cultures," the warning reads. "These stereotypes were wrong then and are wrong now."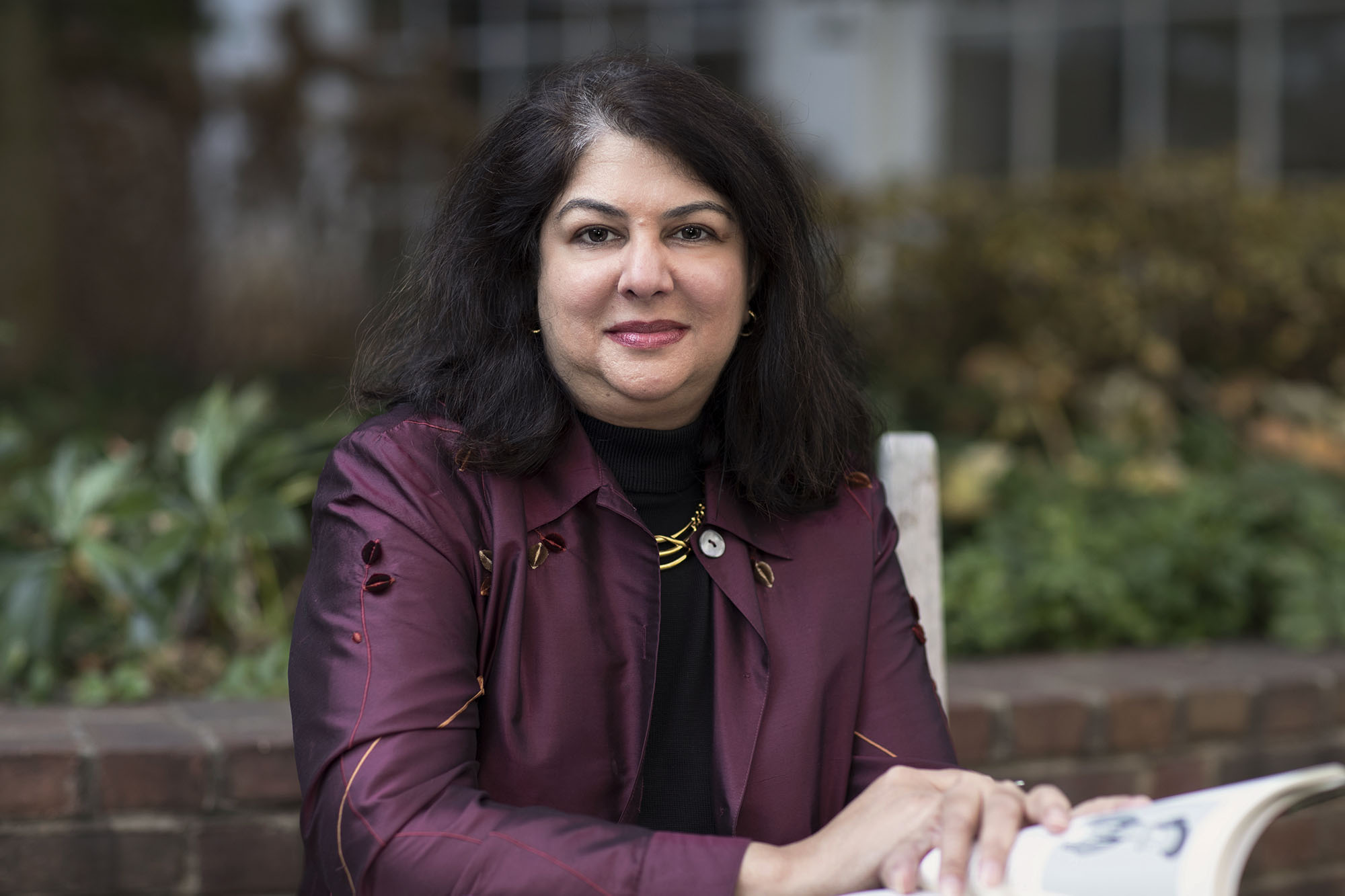 Shilpa Davé says humor has become a way of filtering racist and controversial material. (Photo by Dan Addison, University Communications)
Davé, whose work has focused on representations of race and gender in media and popular culture, sat down with UVA Today to take a deeper dive into the development, specifically as it relates to how we might rethink generational influences and origins.
Q. What did you enjoy most about "The Muppets"?
A. The best part for me was being able to see the behind-the-scenes action as Kermit managed all the crises that went on with putting on a show; there wasn't another series that focused on what goes into managing a show and all the things that go wrong. Even though there were critics in the theater such as the old white men, Statler and Waldorf, characters like Fozzie the Bear kept trying his best and were supported by Kermit.
There was always an element of events not going as planned and despite this, Kermit and his gang and sometimes the guest stars were always able to rally and create something special, so it was an example of the mantra, "The show must go on." But more than that, I also think it was teaching examples of resilience and recovery in the wake of disaster.
Q. Many people feel "The Muppet Show" was a social commentary for what has happening in the 1970s and 1980s. How did this manifest itself, and do any examples or specific episodes come to mind? 
A. There were only three [commercial] television networks (ABC, CBS and NBC) at the time, plus PBS, so more people were watching the same television shows and hence were more influenced by what was being screened. Weekly television shows such as the live variety shows were able to respond to current events in a timely manner. "Saturday Night Live" premiered in 1975 and rose to prominence during this time, doing comic and political satire for late-night audiences. There was a lot of uncertainty in the 1970s with the Watergate investigation, the end of the Vietnam War, and the energy crisis, but there was also legislation, conversation and education around the civil rights and feminist movements.
"The Muppet Show" was a combination of variety show and sketch comedy for younger viewers that brought in prominent and diverse comedians and performers in the arts, theater, music, television and film industries. I remember when actors like Lynda Carter (star of the "Wonder Woman" TV series), Christopher Reeve ("Superman") and Mark Hamill ("Star Wars") were guests and they talked backstage about their famous roles and then also interacted with their Muppet co-stars in staged roles. In the episode with Hamill, Anthony Daniels (the actor behind the droid C-3PO in "Star Wars") and R2-D2, the actors re-create their roles and join in with the "Pigs in Space" crew for an adventure. The genre-mixing and character-crossing into different universes made for creative sketches, but also encouraged the idea of crossing worlds (human/Muppet) and categories.
The musical guests included singers such as John Denver, Gladys Knight, Lena Horne and Judy Collins. Johnny Cash and June Carter were both guests on the show. One of the shows tagged as negative was the 1981 episode where Johnny Cash was performing "Ghost Riders in the Sky" in front of a Confederate flag with Muppets in white sheets flying in the background. While the image is offensive, at the same time this segment was aired, there was also a very popular TV series called "The Dukes of Hazzard" (1979-85) where the car was named the General Lee and the Confederate flag was part of the advertising for the show. What this tells us is that racist depictions and representations were an integral part of popular culture and that although there may have been objections, there was not a groundswell of people with decision-making power to protest that sketch in the television or film industry.
Q. How does entertainment, specifically the comedy genre, play into all of this?
A. Humor becomes a way of filtering racist and controversial material, but still does not negate the influence of racism. As we see remakes and revisions of shows and films from the past, we are measuring the generational influence of these images as they are repeated and used and excused as humorous. But what is funny to one group, then and now, has a different meaning in contemporary times. We now have the ability to re-create iconic stories that reflect the times that we live in. One action that corporations and companies can take do is to underwrite and financially support projects that include the histories and stories from alternative perspectives and stop blindly repeating the same narratives.
Another example of the generational transfer of racist depictions and narratives occurs in another of the episodes tagged with offensive content that features sketch comedy by the comedian Peter Sellers. In the show, he performs a role in brown face – he uses dark makeup to play a Roma musician – and talks with an accent, actions he repeatedly did throughout his career.
The generational influence of Sellers carried over to other comedians who used his example to create their own acts. One of the most famous, which I have written about in "Indian Accents: Brown Voice and Racial Performance in American TV and Film" (2013), is the use of the "brown voice" – a mimicry of Indian-accented English used by white people – by Hank Azaria for the animated character of Apu Nahasapeemapetilon in "The Simpsons" (1989-present). The series has been on for more than 30 years and, as also chronicled in the documentary, "The Problem With Apu" (2017), impacted multiple generations.
In 2019, Azaria said he would no longer "voice" the role. Since there were few alternative depictions of Indians and South Asians in the U.S., Apu remains a defining character for multiple generations and we have witnessed the legacy of one of only recurring racial minority characters in narratives in the 1990s and early 2000. Currently, the variety of alternative images of South Asian Americans is growing and includes stories written and produced by Mindy Kaling and Hasan Minhaj.
Disney is also the platform for fictional superhero Kamala Khan, aka Ms. Marvel, who will soon be getting her own series in the Marvel Cinematic Universe.  
Q. How does the offensive content on "The Muppet Show," which many people have just been made aware of, compare to offensive content in other forms that have had the disclaimers in recent months? Do we need to look at it through a different lens since it was a sketch comedy, or is offensive content offensive, no matter what the medium? 
A. As the conversation around outdated images in some Dr. Seuss books has shown, racist and other offensive depictions are being looked at and revised by publishers as well as film studios and multimedia outlets. There is a recognition that images and content have legacies that influence future content creators. We need to recognize that past images and even some traditions have limitations.
Content doesn't necessarily need to be censored or banned, but instead given context. Streaming outlets and movie channels should have introductions for classic films and encourage discussion that includes questions like, "What was happening in the industry, region, nation or world when this was made? Who is the center of the story and whose story or voice is dismissed or left out? How can we bring in alternative visions or stories into the conversation?" Because there can be more than one perspective.
Q. In terms of newly released kids shows and movies, have you seen any new trends? The movie "Soul" seems to do a great job of addressing some of the things we've been talking about. Do you think attitudes surrounding the topic have started to change at all?
A. We especially see this in some of the newly released animated shows and features produced by Disney and other entertainment companies. When we think about how racial bias and white supremacist racial propaganda is passed on, we need to ask, what are educators, filmmakers, writers and storytellers bringing forward? How does the media environment showcase new or buried voices that reflect the social lives and histories of the 2020s?
With the 2020 Golden Globe awards and the 2020 Academy Award nominations, we see how bringing in alternative stories appeals to and reflects the stories of multiple generations. Many of the new narratives focus on relationships across generations, rather than the missing or restrictive adults that are characteristic of the 1990s Disney animated features. The 2017 Academy Award-winning animated film "Coco" (Disney), directly addressed the missing adult – and his story – in the photo of a Mexican family and how grandparents' generational choices influence and weigh on current generations.  
In the midst of anti-Asian rhetoric and violence in 2020 and 2021 in the U.S, two animated films, "Raya and The Last Dragon" (Disney) and "Over the Moon" (Sony Pictures, on Netflix) are powerful examples of multifaceted Asian women (voiced by Asian/Asian American actors) who are compassionate and strong in both historical/fantasy stories of Southeast Asia and contemporary times that draw on Chinese stories and mythologies and inspire Asian/Asian Americans, diverse audiences, and content producers in general. "Soul" (Pixar), nominated alongside "Over the Moon" for best animated picture for the 2020 Academy Awards, speaks to the need for generational change. "Soul's" protagonist is a Black, middle-aged music teacher whose individual dream of being a jazz musician is thwarted, and yet as a teacher he is able to pass on his experiences and inspire and be inspired by younger generations to face disappointment and rejoice in his achievements.
What these trends show is how contemporary stories are addressing the missing pieces and stories that have been overlooked or left out of media histories of the racially diverse representations of family, friends and community that make up the United States and our social culture.  
I do feel like attitudes are changing and that our understanding of what we value in our generation and what we want to pass on to later generations is changing and evolving. The advent of new technologies in the last 20 years and even in the last year has shown how resilient and kind and empathetic we can be. Working to shift the foundations of what we see, and even how we work with what we see in media, is ongoing. The medium of moving pictures/film is just over 100 years old, but some of the ways we think about staging and who talks and even the structure of storytelling has been changing throughout those hundred years.
Article Information
March 23, 2021
/content/what-muppets-can-teach-us-about-generational-influences-and-origins