Author Corban Addison has traveled on a U.S. Navy aircraft carrier, spent time in Nairobi and the Dadaab refugee area in northern Kenya, attended Somali pirates' trials and visited Mogadishu. He went undercover into the brothels of Mumbai, where he met both sex traffickers and young women released from enslaved prostitution.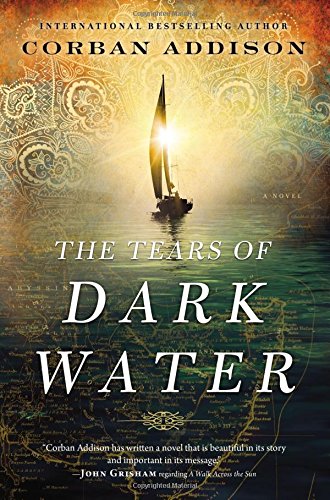 "The Tears of Dark Water"

The 2004 University of Virginia School of Law alumnus called these activities "research" – research he applies to his internationally bestselling novels, including the third one, "The Tears of Dark Water," that was published to another round of acclaim last month.
The father of two children, who lives in Charlottesville, practiced civil litigation after graduating from law school and had been "moonlighting as an aspiring novelist" for several years, he said. "I've always been interested in stories."
Something changed after Addison and his wife, Marcy, saw the 2007 film, "Trade," which takes on the issue of global sex trafficking. She suggested that he incorporate the human rights subject into his fiction writing.
Addison took a sabbatical to research the facts, and wrote in the UVA law library nights and weekends, which resulted in his first published novel, "A Walk Across the Sun," in 2012.
"Don't be afraid to read this book," well-known lawyer-turned-bestseller John Grisham told an audience when introducing Addison at a reading later that year. "What Corban has tastefully and masterfully done has been to tell his story in such a way that there's not the language or the scenes that you would expect or that will make you uncomfortable. It's an unfortunate issue, it's an ugly issue, but it's a very important one. That's why I think the book is important."
Although each book has been "a labor of love," Addison is comfortable describing his writing as "fact-based fiction." He and his wife also support the humanitarian causes he has written about, including abolishing contemporary slavery and gender-based violence.
"I try to tell a compelling story to inspire empathy for the disenfranchised around the world," said Addison, who then weaves that element with several stories of relationships around a framework of suspense. His novels yield reviews replete with praise such as "gripping," "thrilling" and "compelling," along with "exquisitely worded" and "beautifully written."
In the publishing world, Addison's work gets categorized with political thrillers and that has drawn a large, global readership, plus the friendship with Grisham, who uncharacteristically read Addison's first novel before it was published. Now he's part of that distinctive group of well-known attorney-authors, including Linda Fairstein and David Baldacci, two other UVA law alumni, as well as Grisham, a local resident.
Addison credits Grisham with giving him an unforgettable piece of advice: No matter what happens to a book in the publishing marketplace, go ahead and work on your next one. Ideas and opportunities have presented themselves; he just finished his fourth manuscript, set in the global apparel industry.
Addison based his second book, "The Garden of Burning Sand," on a true story about a girl with Down syndrome who was sexually assaulted in Zambia. He spent a month in the landlocked nation in the southern half of Africa, learning from several non-governmental organizations, including the International Justice Mission and Special Hope Network, established by some friends.
"It was my hope to write a story that would capture the African continent in all its astonishing beauty and heart-wrenching brokenness, and that would compel people to think about ways that they can combat the pandemic of violence against women and children around the world," he said.
"The Tears of Dark Water" was also inspired by true events, when Somali pirates in 2011 took over a sailboat, "The Quest," and U.S. negotiations to free the American hostages were unsuccessful.
(View the "Tears of Dark Water" video trailer.)
"U.S. efforts weren't good enough," which led to a tragic misunderstanding, Addison said. He met with many people involved in the case, but wasn't able to interview the Navy SEALS who were there and "tried everything," he said.
"The U.S. often overestimates its own power, and that led to miscalculating. It was a clash of wills," Addison said.
Nevertheless, he wanted to portray the Somali characters as real human beings, asking, "What motivates people to take extreme measures that become crimes? What are the circumstances?"
In the case of Somalia, Addison said piracy is a symptom of a bigger problem that can be traced to clan conflicts, competition for scarce resources and a fragile government.
The overall human rights concern of international violence touches everyone, he pointed out, "from the wealthiest enclave to the poorest area."
Addison said each book has been not only an adventure, but also "a community endeavor," from his wife's unfailing support to the people in far-flung areas who opened doors for him in some unlikely places.
For him, "the fruit of the stories" comes from readers getting engaged, their eyes opened, their questions coming – especially "How can we help?"
"That's what gets me up in the morning," he said.
Article Information
November 3, 2015
/content/why-he-writes-law-alum-devotes-fact-based-fiction-human-rights-issues