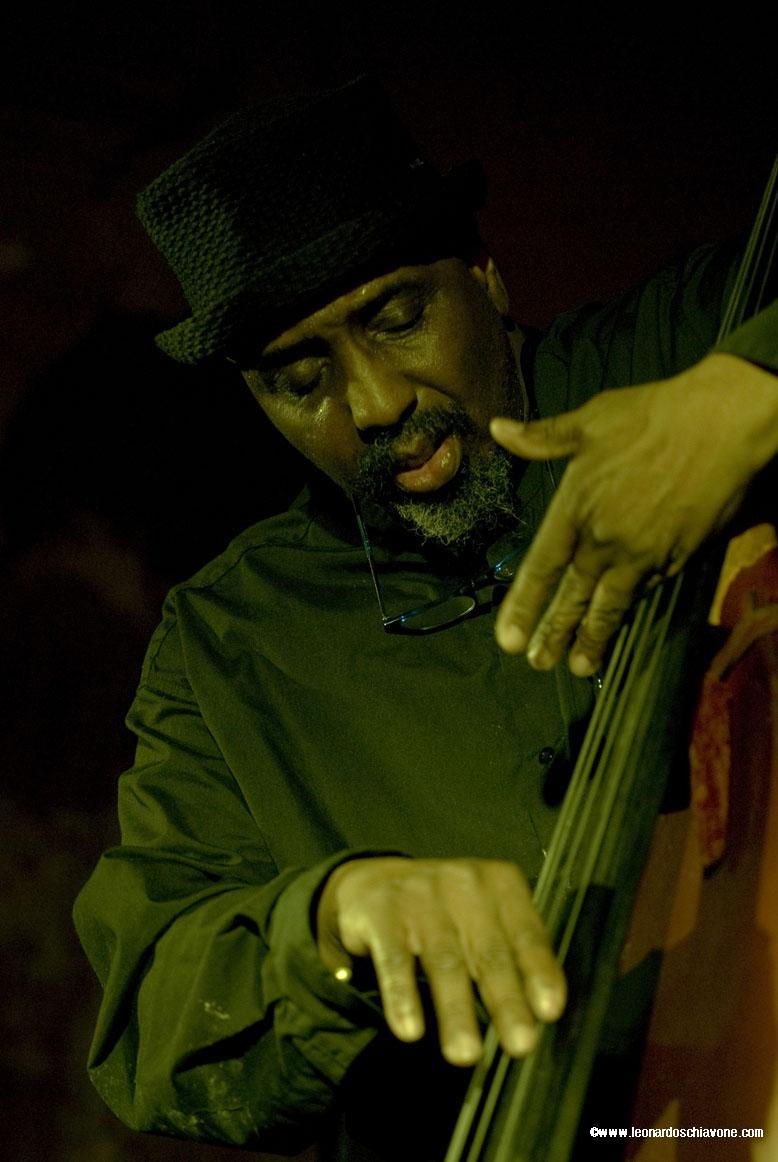 October 6, 2010 — New York-based jazz composer and bassist William Parker will be in residence at the University of Virginia from Oct. 13 though 15. The residency, presented by the Charlottesville Jazz Society and WTJU-FM and held in conjunction with U.Va.'s Program of Arts Administration in the School of Architecture, will be highlighted by a concert Oct. 13 at 8 p.m. in the U.Va. Chapel.
The residency will include a workshop for young music students at Charlottesville's Music Resource Center, a lecture for students in U.Va.'s music administration program and a master class with the U.Va. Jazz Ensemble. The Carter Woodson Center for African-American Studies and the University Programs Council are also co-sponsoring these events.
Parker is a master musician, improviser and composer. In addition to the bass, he plays shakuhachi (traditional Japanese Bamboo flute), double reeds, tuba, doso ngoni (a six- stringed of the traditional hunters societies in Mali and Guinea), djembe (a skin-covered hand drum shaped like a large goblet) and other instruments.
Born in 1952 in the Bronx, N.Y., he studied bass with Richard Davis, Milt Hinton, Wilber Ware and Jimmy Garrison, then entered the New York City music scene in 1971. He immediately began playing with many of the top musicians in modern jazz, including Rashied Ali, Don Cherry and Cecil Taylor, as well as with traditionalists like Walter Bishop Sr. and Maxine Sullivan.
Parker played in the Cecil Taylor Unit from 1980 through 1991. Since then, he has released numerous recordings as a leader, each of which has expanded on his musical, spiritual and social philosophy. 
Parker writes, "It is the role of the artist to incite political, social, and spiritual revolution, to awaken us from our sleep and never let us forget our obligations as human beings, to light the fire of human compassion. Sounds that enlighten are infinite. We can put no limit to joy, or on our capacity for love."
Parker will perform Wednesday with his flagship group, the William Parker Quartet, comprising  Lewis Barnes (trumpet), Rob Brown (alto) and Andrew Barker (drums). They have released four recordings on the AUM Fidelity label. Parker's newest recording, "I Plan To Stay a Believer," is a tribute to the music of Curtis Mayfield. New York City-based dancer Patricia Nicholson will also participate.
For this concert, Parker has requested that audience members bring drawing materials and sketch their impressions of the music as it happens. Sketches may then be displayed at the post-concert reception.
Parker's residency coincides with WTJU's fall Jazz Marathon fundraiser, and he will co-host with Michael Shelton the "On the Jazz BassLine" show, which airs Oct. 13 at 2 p.m., discussing his career and previewing that evening's concert. Copies of his new CD will be available as premiums for donations to the fundraiser. The schedule of special programming for the week of Oct.11-18 can be found at www.wtju.net.
Tickets to the concert are $15 ($10 for Jazz Society members and U.Va. faculty and staff; $5 for students), and are available at the door only. Information about the concert and workshops can be found at www.cvillejazz.org, or by calling 434-249-6191.