One is an award-winning historian who researches the labor and medical treatment of black prisoners in the post-Civil War South. The other is an anthropologist who has written – and starred in – a documentary. New additions to the University of Virginia faculty, Talitha LeFlouria and Edwin Kwame Otu are bolstering the Carter G. Woodson Institute for African-American and African Studies.
Both have already spent time on Grounds as part of the institute's internationally known residential fellowship program, which aims to encourage African-American and African scholarship and expand the academic pipeline of minority professors by helping pre- and post-doctoral fellows complete scholarly work and prepare for the academic job market.
Since its founding in 1981, the Woodson Institute has supported the research of close to 200 scholars, who have gone on to successful careers, mostly at other colleges and universities. This year, however, the institute recruited  two of its own fellows into UVA positions.
"Since its inception, the institute has promoted interdisciplinary and collaborative research and interpretation of the African and African-American experience in a global context," director and English professor Deborah McDowell said.
Each of the newest professors expands the breadth and depth of curricular and research topics under the umbrella of African-American and African studies at the University.
Talitha LeFlouria
"The only woman blacksmith in America is a convict." That's how LeFlouria begins her first book, "Chained in Silence: Black Women and Convict Labor in the New South," telling the story of Mattie Crawford, imprisoned in 1896.
The book looks at the Georgia experience of a little-known subgroup of prisoners: African-American women, who faced a year's sentence on a chain gang even for petty theft, or women charged with felonies who were ensnared in Georgia's convict lease system. The women were worked like men to rebuild the war-torn South, on chain gangs and on agro-industrial farms, plowing fields and plying necessary trades such as brick-making and blacksmithing.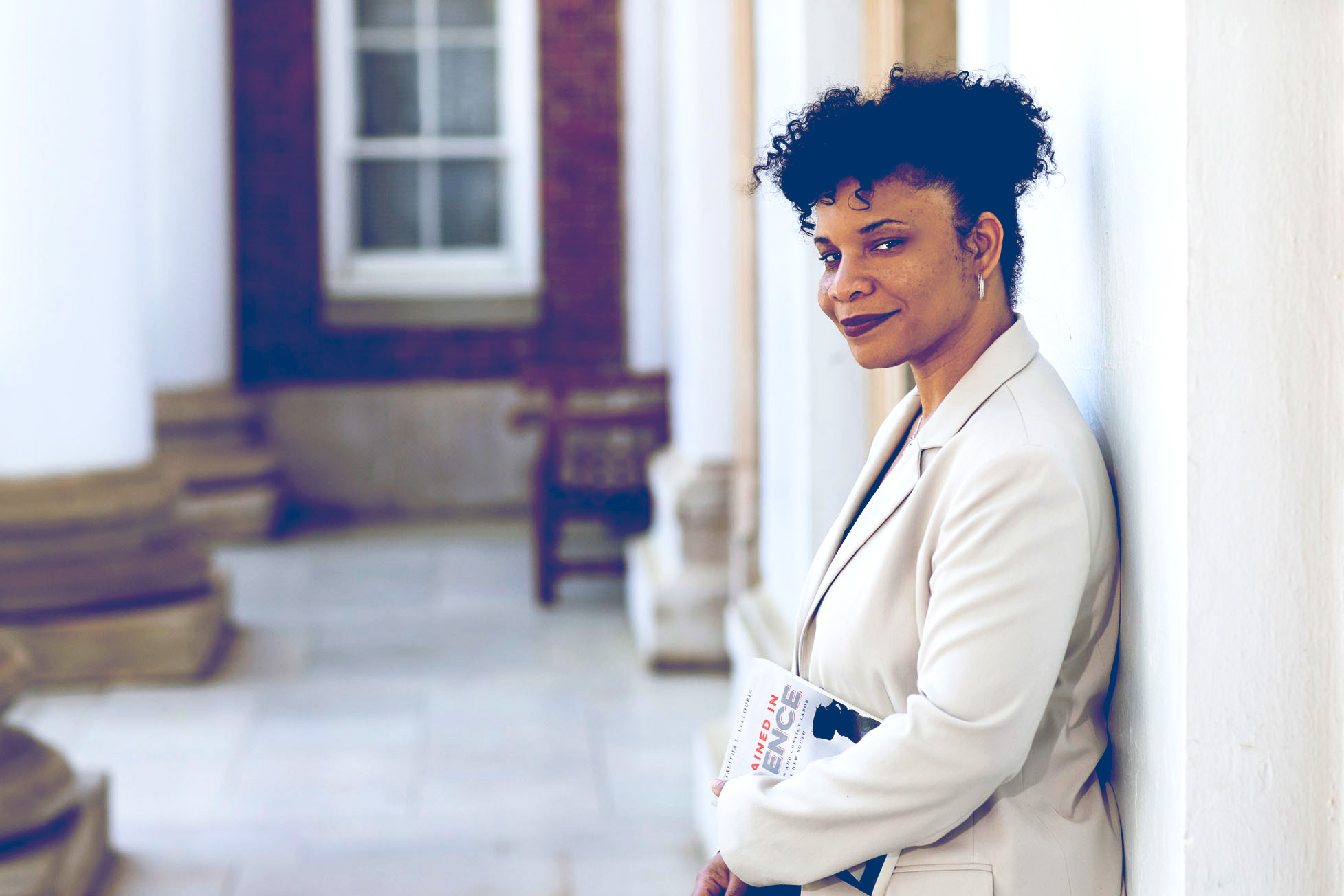 Tailtha LeFlouria previously was on the faculty of Florida Atlantic University and earned her Ph.D. in history from Howard University. (Photo by Dan Addison/University Communications)

LeFlouria told a Ms. magazine reviewer last year, "Writing this book was my way of salvaging the experiences of lesser-known, less respectable black women whose burdens and tribulations have been marginalized in the historical discourse and whose voices have been muted from the historical record." (She has described the background to her early research in several interviews, including this one with UVA's Arts & Sciences magazine.)
In a rare event for an academic book, "Chained in Silence," published by the University of North Carolina Press, sold out in hardcover; it's now available in paperback. It has garnered  six awards, among them the Organization of American Historians' 2016 Darlene Clark Hine Award, given annually for the best book in African-American women's and gender history.
LeFlouria came to the Woodson Institute as a post-doctoral fellow to delve into her next project, one that emerged from her earlier topic, on "Doctoring Captivity: Prison Physicians and Incarcerated Patients in the Post-Civil War South." The study focuses on how prison doctors experimented on imprisoned patients in Alabama, Georgia, Tennessee and Texas to accumulate knowledge to benefit their unconfined clientele.
"This is an unusual approach to thinking about the development of the New South through medical history and the history of incarceration," McDowell said.
LeFlouria, who previously was on the faculty of Florida Atlantic University and earned her Ph.D. in history from Howard University, brings her expertise and unusual approaches to the classroom as well. This spring, she taught "Race, Medicine and Incarceration," and in the fall, she'll offer "Black Women and Work" and in the spring, "Slavery Since Emancipation."
Edwin Kwame Otu
Kwame Otu, who was a pre-doctoral Woodson fellow and hails from Ghana, said he chose the Woodson Institute because he knew its reputation as "a beacon of interdisciplinary excellence, [that] has produced a host of younger scholars in the United States and beyond."
Otu, who just completed his Ph.D. from Syracuse University, defending his dissertation  with distinction, "embodies the best aspirations of the fellowship program," McDowell said, having watched him integrate himself into UVA's academic community over the past two years. After he took over the African Studies Colloquium series, for example, attendance to speakers' talks increased substantially.
"He's already an unofficial mentor to our students, has already lectured in classes taught by seasoned colleagues. He's ubiquitous," McDowell said.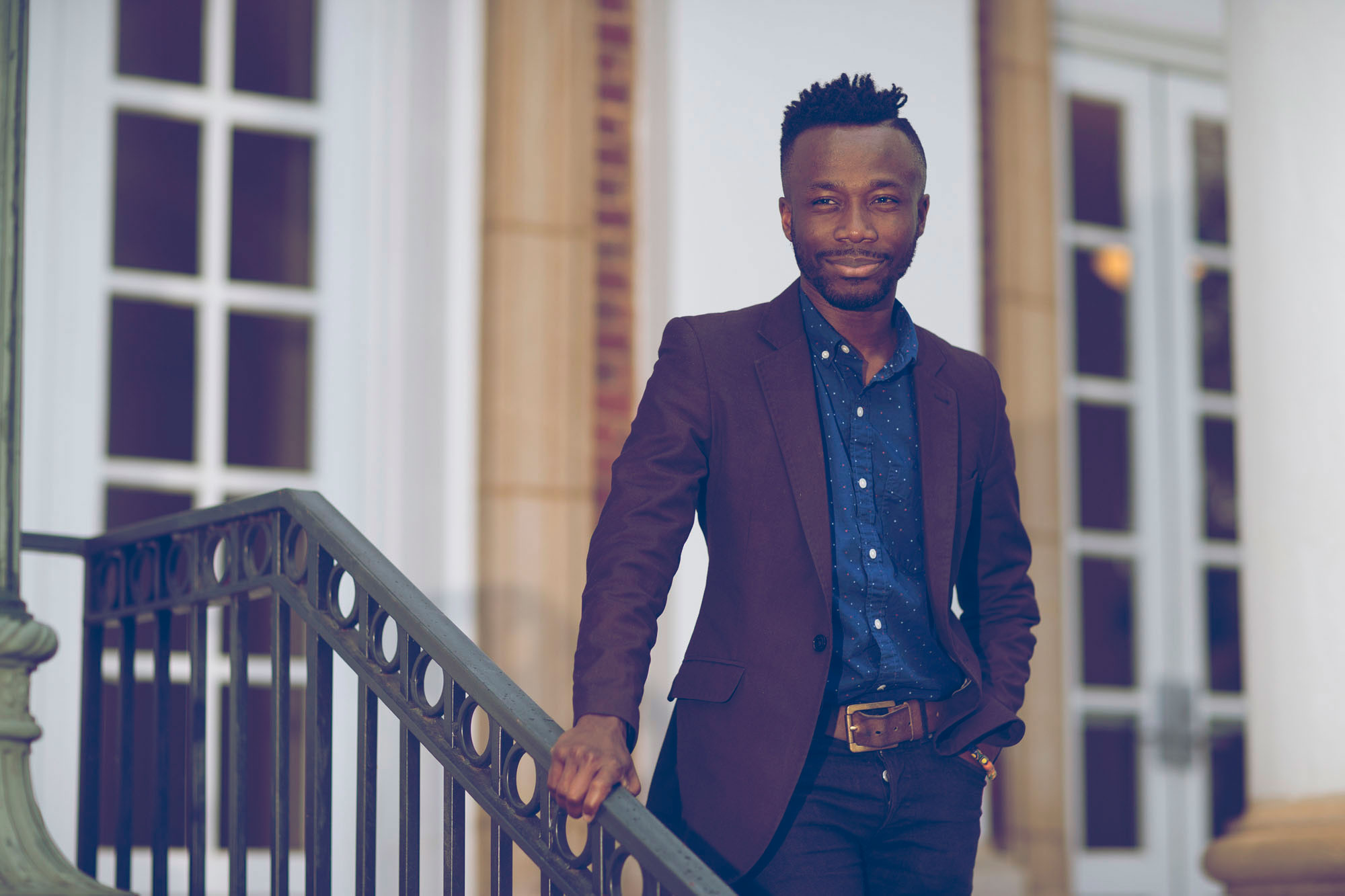 Edwin Otu investigated the lives of "sassoi," which translates as "self-identified effeminate men" from the middle and lower classes in Ghana. (Photo by Dan Addison/University Communications)

For his anthropological fieldwork, Otu investigated the lives of "sassoi," which translates as "self-identified effeminate men" from the middle and lower classes in Ghana, a country where homosexuality is illegal. With their precarious socioeconomic place, the sassoi engage in a brand of activism different from that undertaken by many American LGBTQ citizens.
This variation of activism is "silent," said Otu, who earned his master's degree from Ohio University after getting his bachelor's degree at the University of Ghana. He is reworking this dissertation, "Amphibious Subjects: Sassoi and the Contested Politics of Queer Self-Making in Neoliberal Ghana," into a scholarly book.  
Otu also depicted the life of a gay man in Ghana in writing the script for – and starring in – a short documentary that he narrates as a letter to his mother, telling the things he had not revealed to his family. He collaborated with Ghanaian-American filmmaker Akosua Adoma Owusu, a UVA alumna and former student of Kevin Everson, in bringing the film to life.
The documentary, "Reluctantly Queer," premiered at the New Directors/New Films program in the U.S. and was nominated for an international Berlinale Film Festival award this spring.
Drawing on his research, Otu will teach an upper-level course next year, "Queer Africas," that "will highlight the intricate interrelationships between sexualities in both Africa and its myriad diasporas," he wrote in an email.
Another class he'll teach starting this summer, "Sensing Africa," will explore how sensory perceptions contribute to ideas about Africa, from how it's visualized to what it tastes and sounds like.
Article Information
May 26, 2016
/content/woodson-fellowship-pipeline-produces-strong-additions-uva-faculty