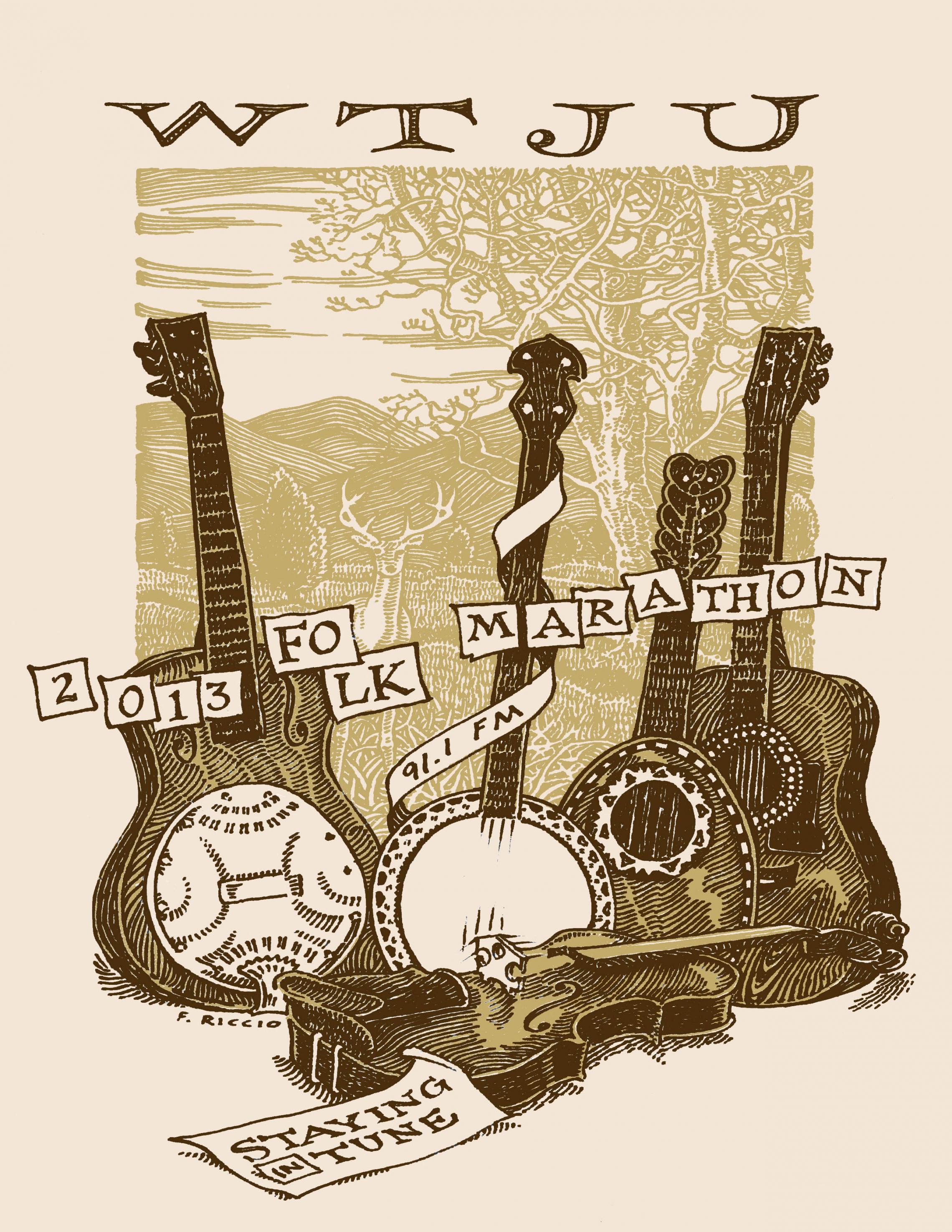 Interested in the folk roots of the Mamas and the Papas? The Greenwich Village folk scene that begat Bob Dylan? How about yodeling? Bagpipes, anyone?
Once again, the annual WTJU Folk Marathon has it all, airing a week of folk music programming beginning Feb. 4 and offering adventurous roots-oriented shows and live performances.
The Folk Marathon is one of WTJU's core fundraising activities. The station's goal is to raise $40,000 with its mix of blues, bluegrass, old-timey, western swing and gospel, to name but a few varieties of roots-oriented styles.
"From Appalachian string bands to folktronica, we'll air a variety of special programs that showcase all types of folk, roots and world music," WTJU general manager Nathan Moore said.
This year's theme is "Staying in Tune." Each weekday from 9 a.m. to noon, a program will focus on a different stringed instrument – guitar, fiddle, mandolin, banjo and dobro.
During this time slot, well-known local and regional musicians will discuss their playing styles, play some of their favorite recordings and demonstrate their expertise with live on-air performances.
On Saturday at 8 p.m., as a kick-off to the Folk Marathon, the revered folk artists Robin and Linda Williams will play a benefit concert at the Jefferson Theater in Charlottesville to support WTJU, which bills itself as "The Sound Choice in Central Virginia."
Tickets can be purchased here. VIP tickets will include a "meet and greet" with the performers, a complimentary catered reception, early entry and a WTJU T-shirt.
For more than three decades, Robin and Linda Williams have been performing a blend of bluegrass, folk, old-time and acoustic country, and have developed a loyal and widespread national audience, particularly through Garrison Keillor's nationally syndicated public radio show, "A Prairie Home Companion." Throughout their career, the duo's music has helped to define the very sound of Americana.
 
"I'm also especially excited about all the live bands we're bringing to the station for the marathon," Moore said. "There's nothing quite like experiencing live music as it's being created on the air."
An amazing array of live musical guests will be tuning up to perform from 7 to 8 p.m. each weeknight. These distinctive and familiar performers include the Ragged Mountain String Band, The Terri Allard Trio, Buzzard Hollow Boys, Gallatin Canyon, and Jim Waive and the Young Divorcees.
Gerald Anderson and Spencer Strickland will stop by for a special performance during the "Radio Bluegrass" show. On Feb. 9, Charlottesville's favorite Grateful Dead cover band, Alligator, will perform live from 2 to 4 p.m.
Local musicians will also guest-program their own special brand of folk programming. Chris Leva will host a show about the strange and exotic music of Epiros and Albania. With his unique show, "Giants Who Once Walked the Earth," Charlie Pastorfield will play music by neglected proto-punk bands, such as the Dave Clark Five and the Seeds, treating their legacy as a kind of primitive folk.
The regular WTJU announcers also rise to the occasion with their breadth and depth of special programming – creative outpourings that show the full range of folk music.
Among the offerings are programs devoted to Van Morrison, Jay Unger and Molly Mason, Uncle Tupelo, David Bromberg, Levon Helm, bawdy songs, songs about tobacco, folk ballads, cowboy music, western swing, the A-to-Z of world music, Caribbean rhythms, blind gospel singers, Sufis, sitars, accordions, ukuleles and the pedal steel.
Of special note, Dave Rogers – whose on-air persona, Professor Bebop, has been a WTJU staple for 40 years – will host "Blues at the Roadhouse" on Feb. 8 at 10 p.m., playing rustic and gritty Chicago and Mississippi blues. As the good professor states, "Deep fried, if not sanctified!"
More information about the 2013 WTJU Folk Marathon and its complete schedule – including colorful descriptions for each program – can be found here.
As with its annual jazz and rock fundraisers, WTJU treats the folk marathon like a huge ongoing party – keeping the music flowing by rolling out all sorts of tremendous programming.
"WTJU's fundraiser marathons are our galas," Moore said. "They are a chance to celebrate what WTJU is all about and dive into a genre of music.
"The Folk Marathon is like a gala, too, in that we need listeners to show their support of WTJU through generous donations. We rely on our marathons for the majority of our annual fundraising."
On the air since 1957, WTJU 91.1 FM has focused on the spirit of musical discovery with its mission of airing diverse programming by offering a platform for independent and creative expression. With its programming free from the direct constraints of commercial interests, WTJU is able to reflect the broadest educational goals of the University.
Despite the shifting media landscape, WTJU continues to serve as a hub of local music and culture, maintaining a growing community of committed music lovers.
Programming at WTJU is hosted largely by volunteers. Generous giving through the folk, jazz, rock and classical marathons goes a long way to ensure that WTJU stays strong, independent and commercial-free, Moore said.
Donations can be made online here or by phone, mail or in person. Generous pledgers can choose from a variety of premium thank-you gifts, including a WTJU tote bag, hat or T-shirt, as well as CDs from some of the best folk performers.
"There is no better time to give to the station than when you are enjoying some great music," Moore said.