Those returning to the University of Virginia for upcoming bicentennial celebrations will notice a new addition near the historic Lawn's familiar 10 pavilions.
Students and faculty members in the School of Architecture have created a temporary addition to Thomas Jefferson's vision for a living and learning community, one of numerous artworks being prepared for the Oct. 6 Bicentennial Launch Celebration. 
The final product – a series of interlocking arches made of nontoxic, recyclable polypropylene plastic – is very different from the neoclassical style that Thomas Jefferson admired. However, Jefferson, who had a chemistry lab installed in the Rotunda, likely would have been fascinated by the technology used in its production.
As part of a digital fabrication course, students designed their own computer algorithms that built a 3-D model of the pieces they envisioned – a valuable skill for the evolving architecture industry they will enter.
A three-axis CNC router machine in the school's Fabrication Lab used the digital model to cut the design out of large sheets of plastic. Slight changes to the algorithm over time created interlocking structures that relate to each other while having their own distinct features – much like Jefferson's original pavilions.
"Students wanted to pay tribute to the pavilions while also creating something distinct and very much of this time," architecture professor Michael Beaman said. "As we worked with the students on the designs, we were inspired by the pavilions, which are all self-similar but have slightly different features."
Beaman taught the class with Fabrication Facilities manager Melissa Goldman and guest lecturer Andrew Kudless, a professor of architecture at the California College of the Arts and one of innovators at the cutting edge of digital fabrication in architecture.
We followed along as they built their own interpretation of Jefferson's pavilions from scratch. Take a look below.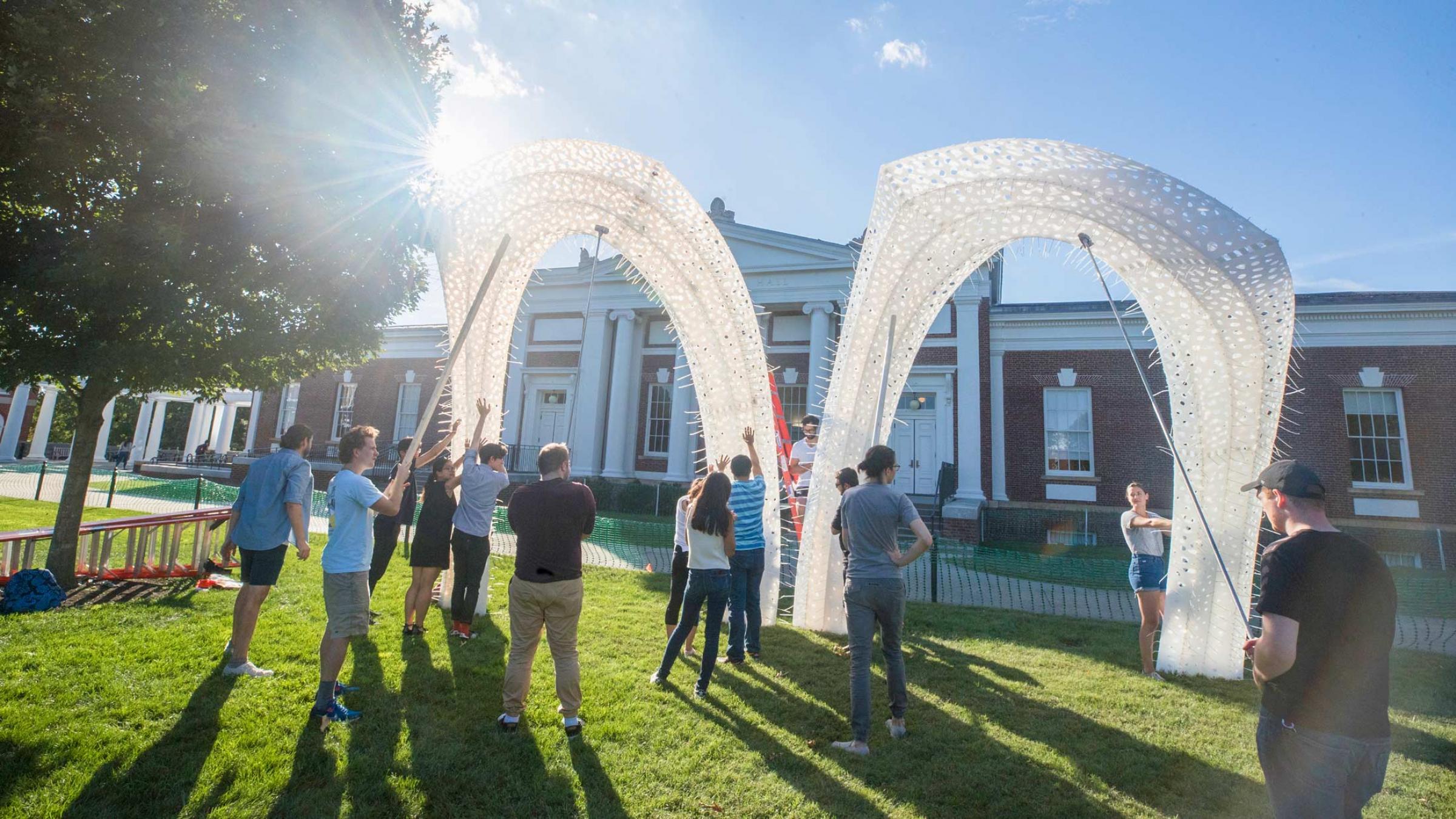 The final product, being assembled above on the Lawn's fifth tier, will be on display during the Bicentennial Launch Celebration, when hundreds of student artists and performers will collaborate with special guests to celebrate the 200th anniversary of the laying of UVA's cornerstone.
"This class was a really cool way for us to make a tangible impact on the bicentennial celebrations," fourth-year architecture and engineering student Josh Gritz said.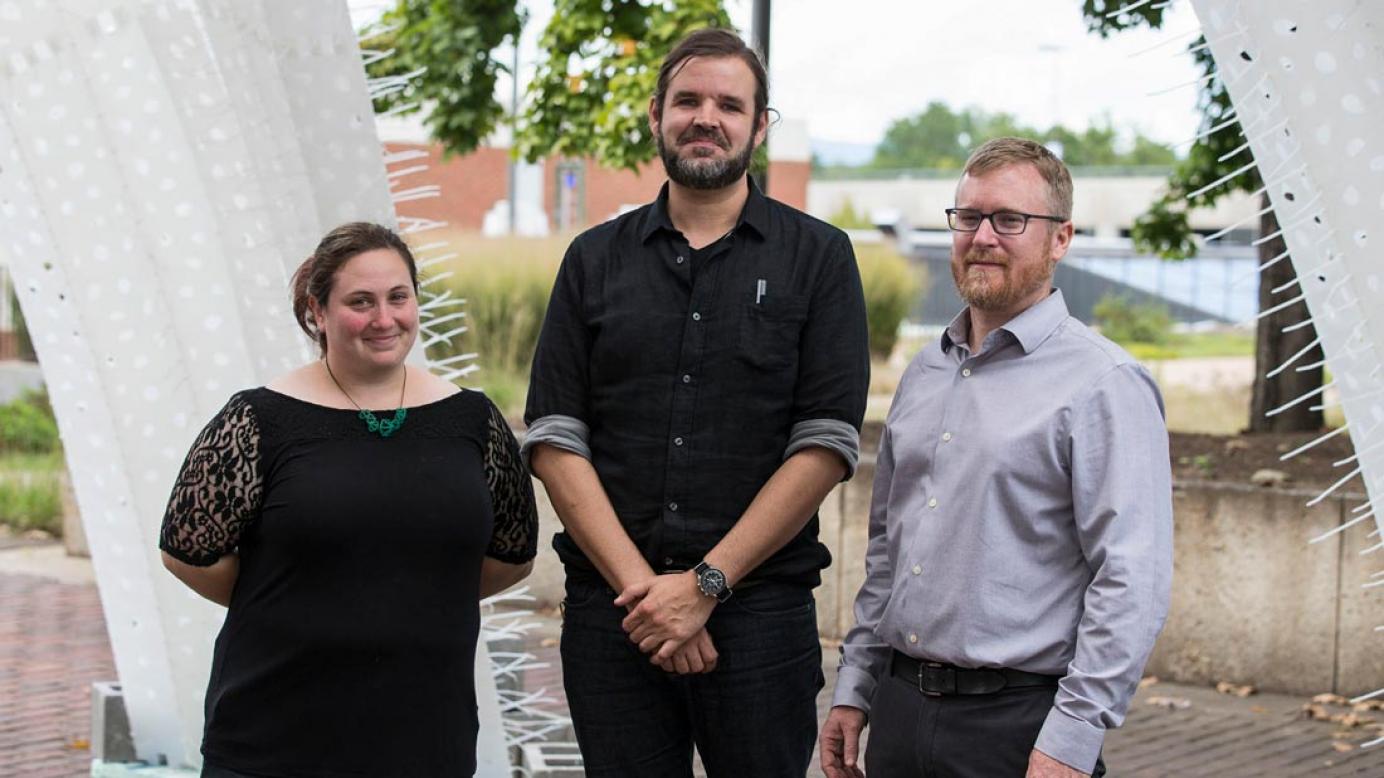 The class included 26 undergraduate and graduate students, most of whom are studying architecture or engineering. One is also studying drama and helped design lighting to illuminate the structure at night. 
Kudless, pictured at right with Beaman, center, and Goldman, traveled from California twice to give guest lectures and work with the students as they learned about digital fabrication.
"Andrew is truly an expert in this field," Beaman said. "It was amazing to have our students learn directly from him."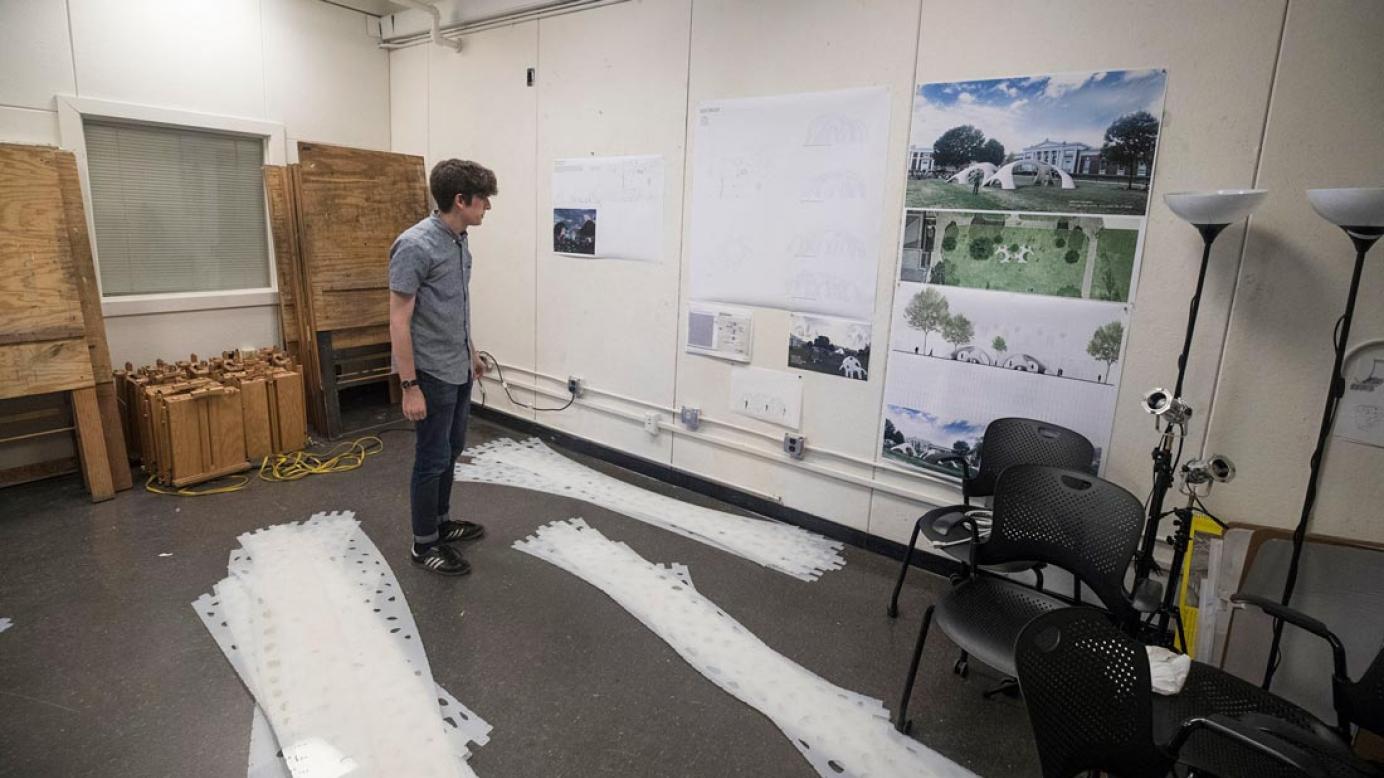 The students started with a vision for a series of interlocking arches on the Lawn – light and airy structures that, like the pavilions that inspired the class, would present different interpretations of an overarching theme.
"One important lesson of this class was about testing and iterating as you go," Beaman said. "This particular design and fabrication process is not as much about designing one final product, but creating multiple series and iterations that you can adapt."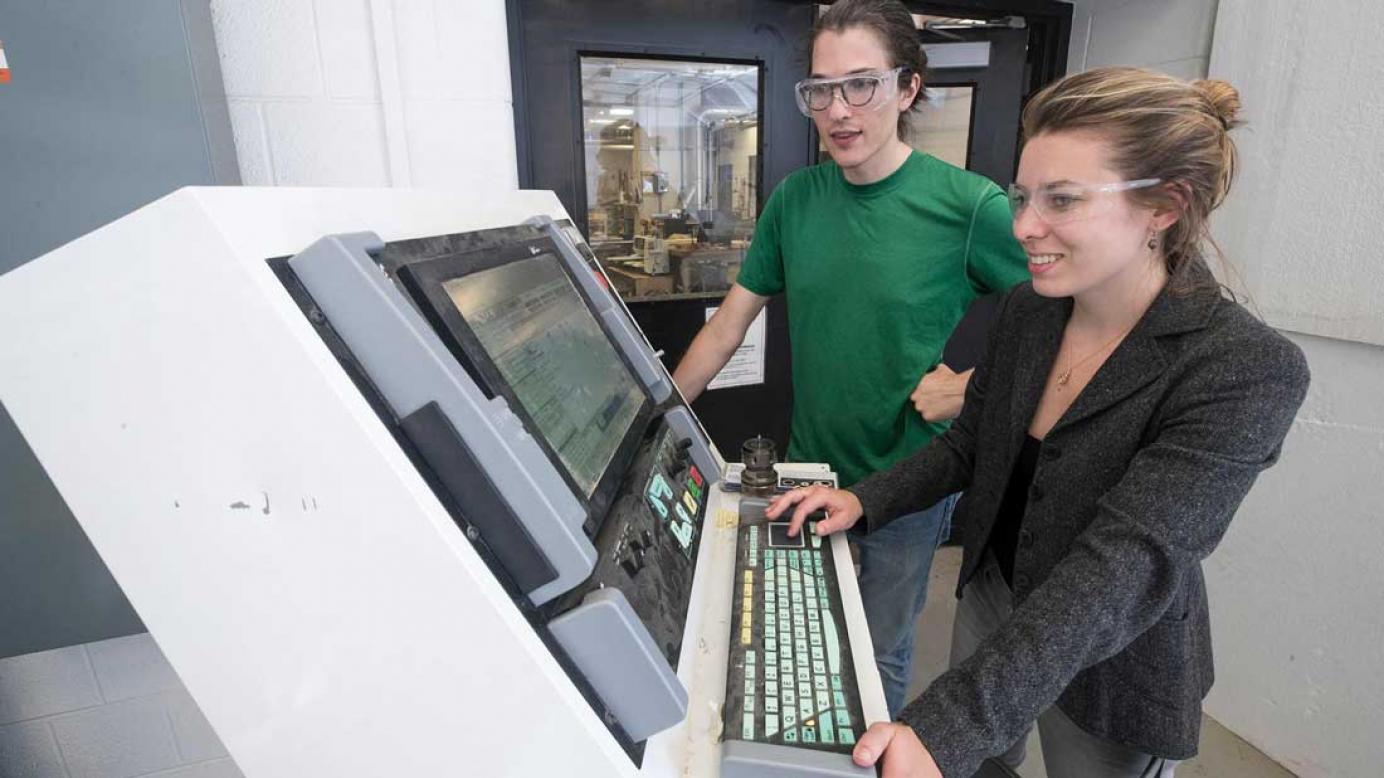 After creating computer algorithms for the design they wanted, students used a CNC router machine in the School of Architecture's Fabrication Lab to cut out their designs.
Above, graduate students Kyle Gename, left, and Zazu Swistel operate the router. Gename is studying landscape architecture, while Swistel is pursuing a master's degree in architecture.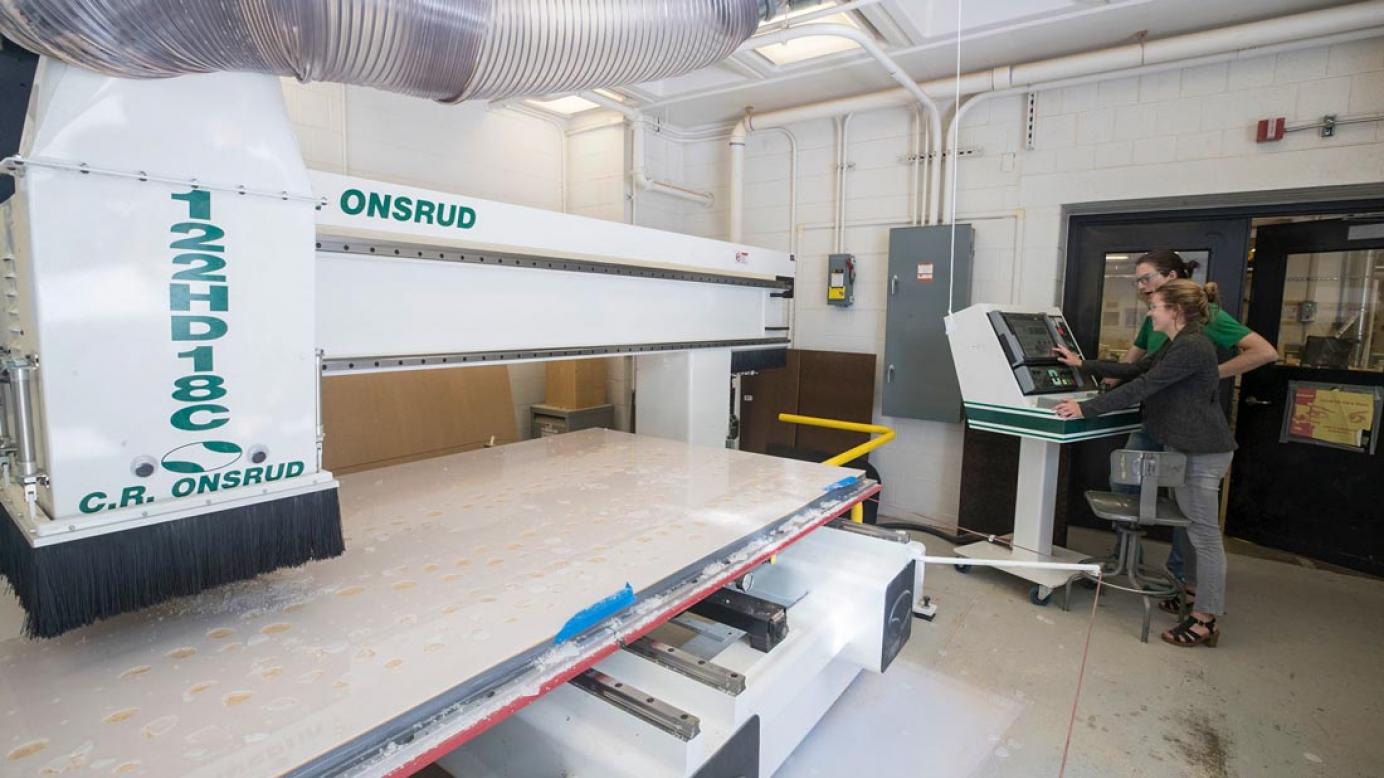 "This technology is now fairly common in the architecture world, but universities are just beginning to use it with undergraduate students," Beaman said. "This project allowed students to learn the software, a very important skill for those going into architecture, and to learn a lot about working in teams and solving problems as you go."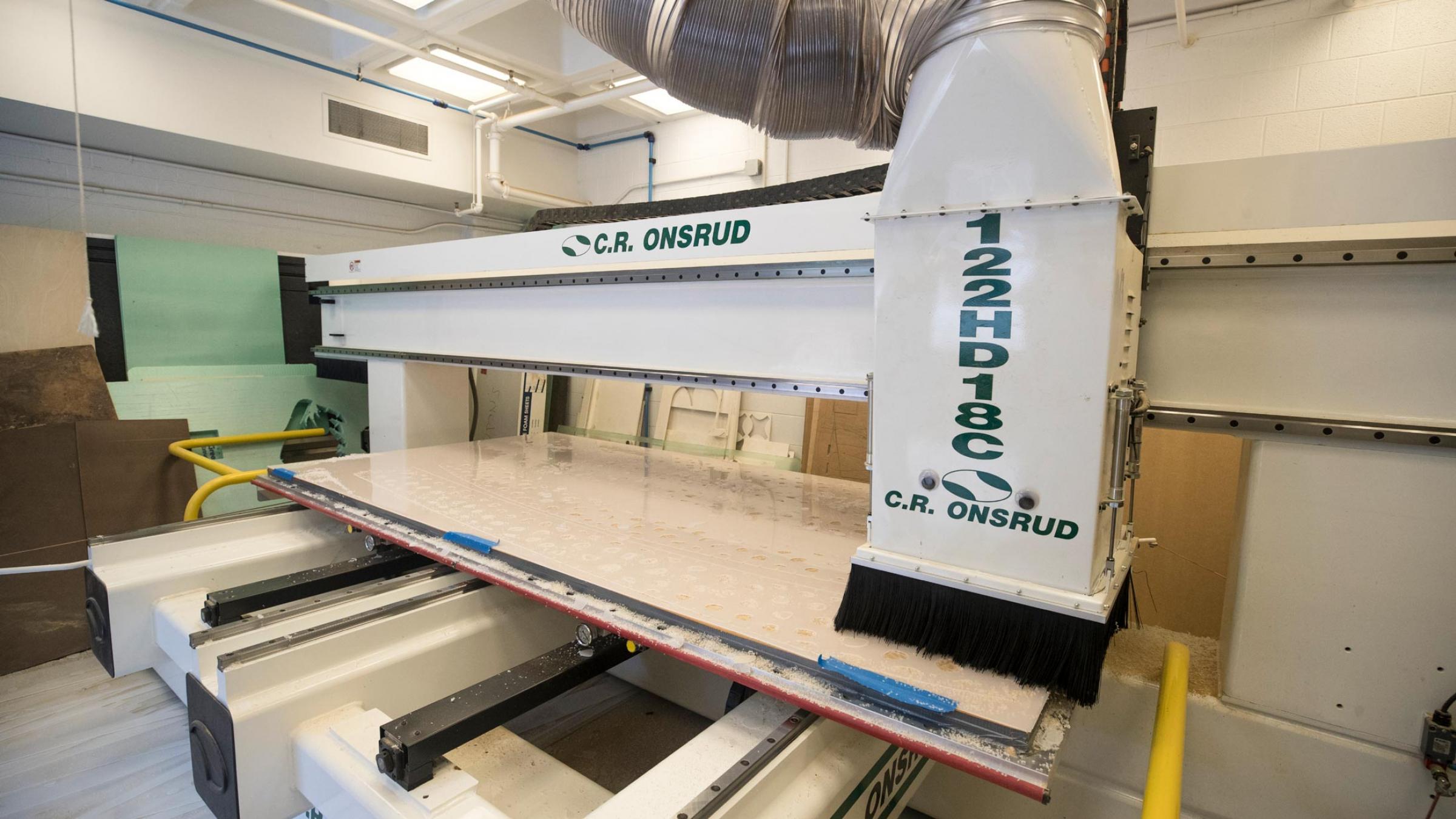 The router printed a series of plastic sheets to exacting design specifications, using polypropylene plastic that was light enough for students to work with, but strong enough to hold up the elements once built.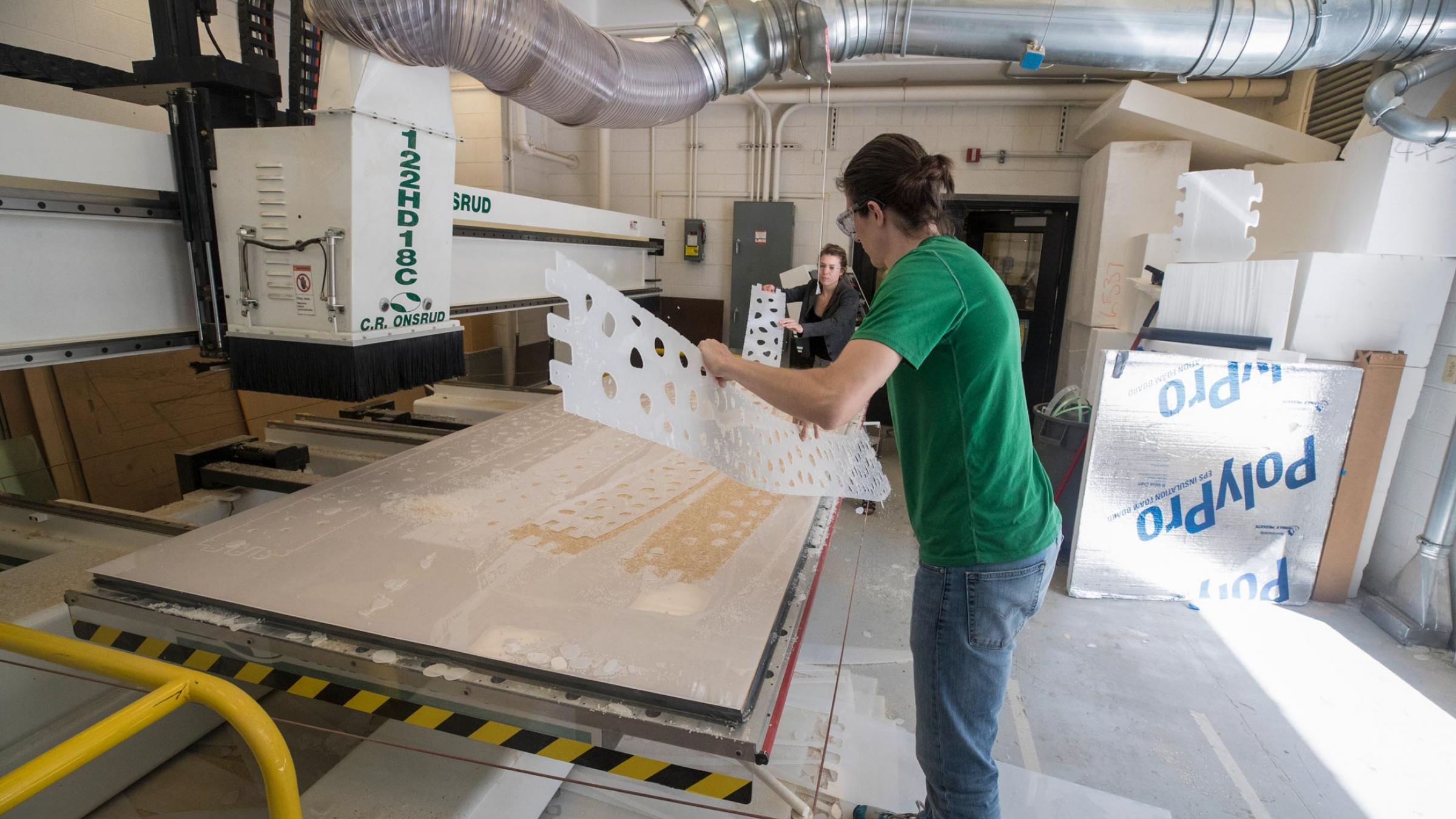 Above, Gname and Swistel lift long strips of plastic off the router after printing is complete. The holes in each sheet help prevent the structure from becoming too heavy, ensuring that each arch can support its own weight.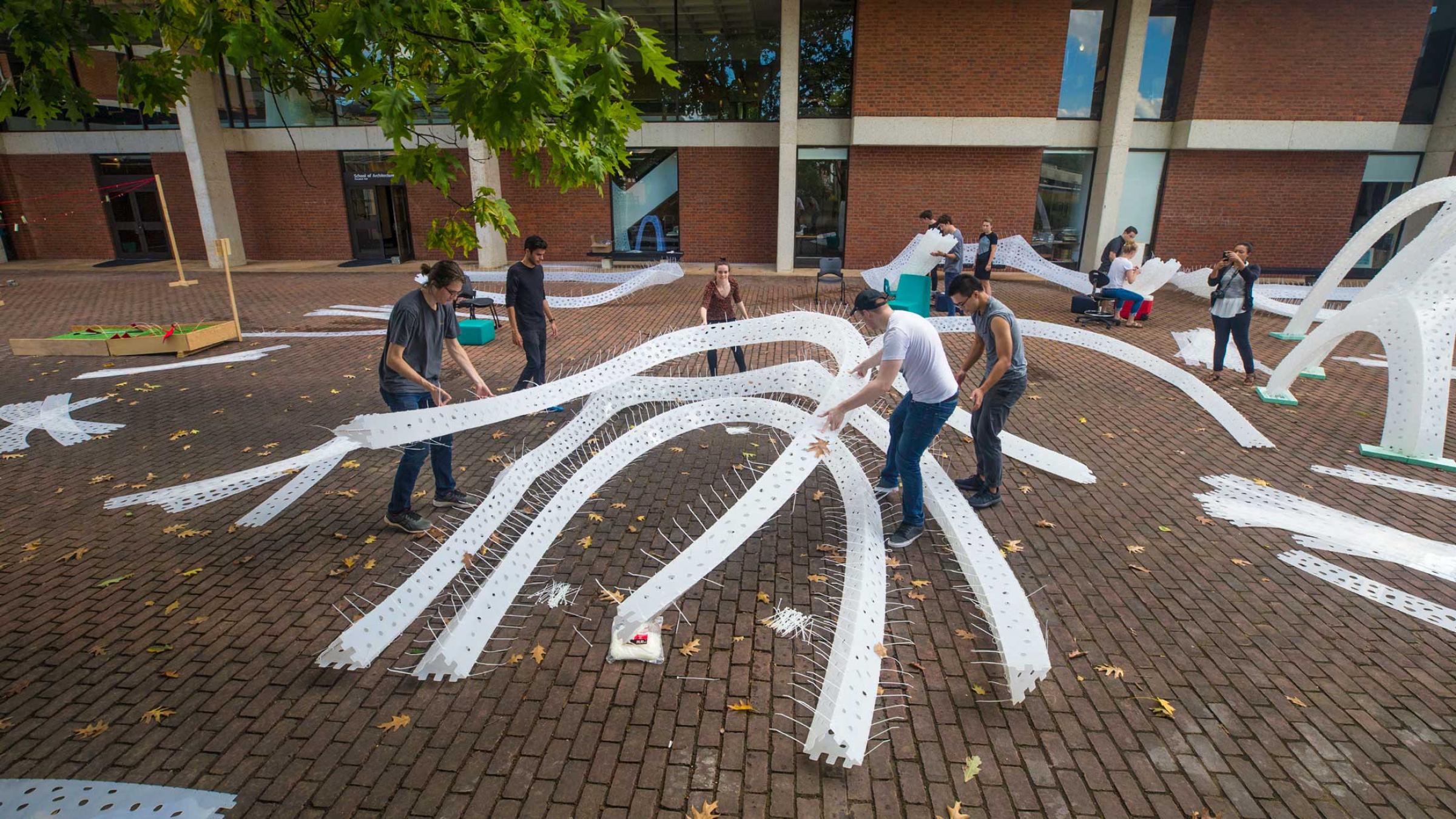 Once printed, students began assembling the long strips of plastic to bring their designs to life. They joined each piece with regularly spaced zip ties, which Kudless chose because they are both secure and easy to handle.
"We wanted students without a prior background in construction to be able to participate," he said.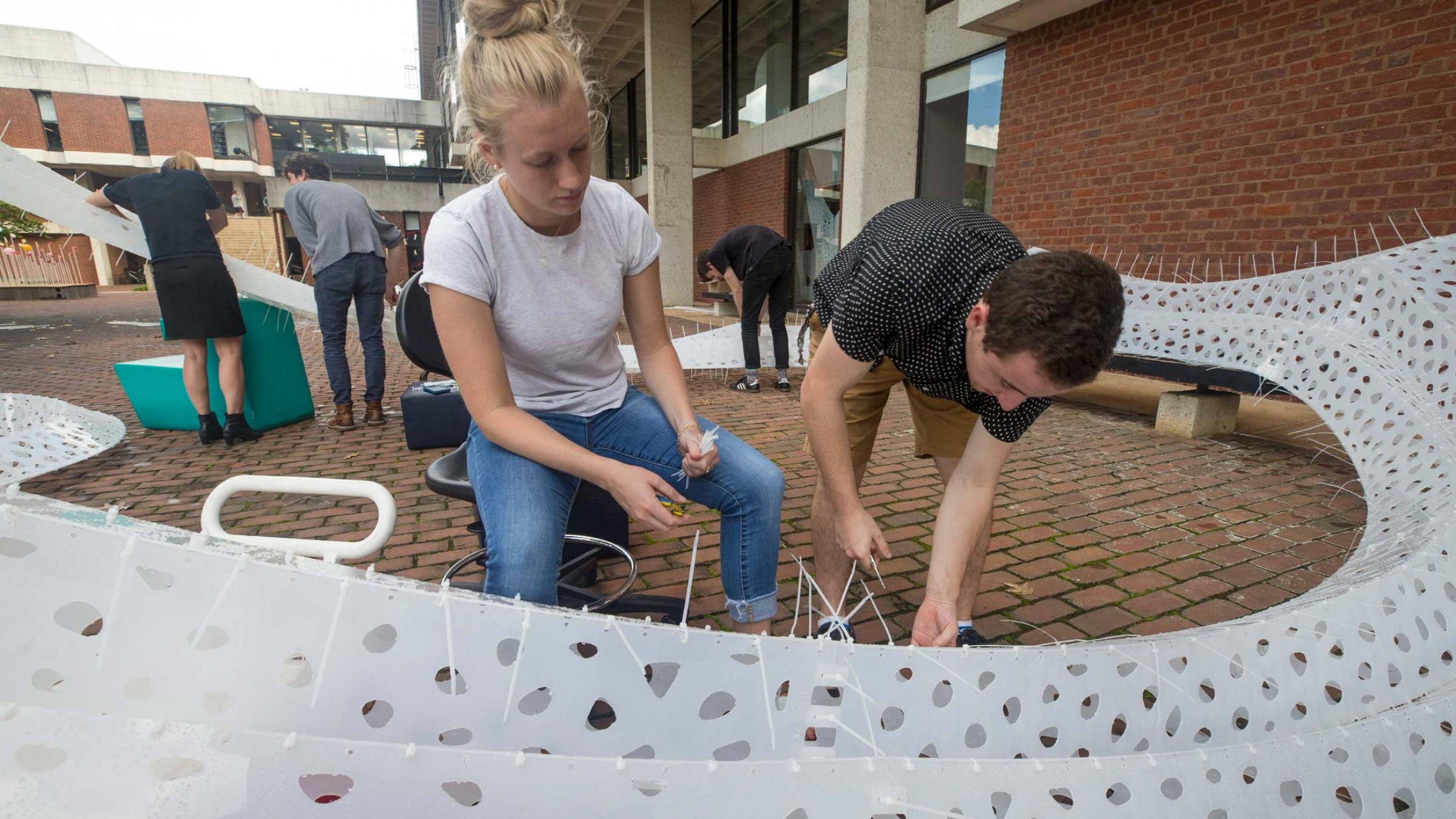 The assembly process took several weeks, with students spending many hours outside of class working on the patio outside the School of Architecture or in the Fabrication Lab.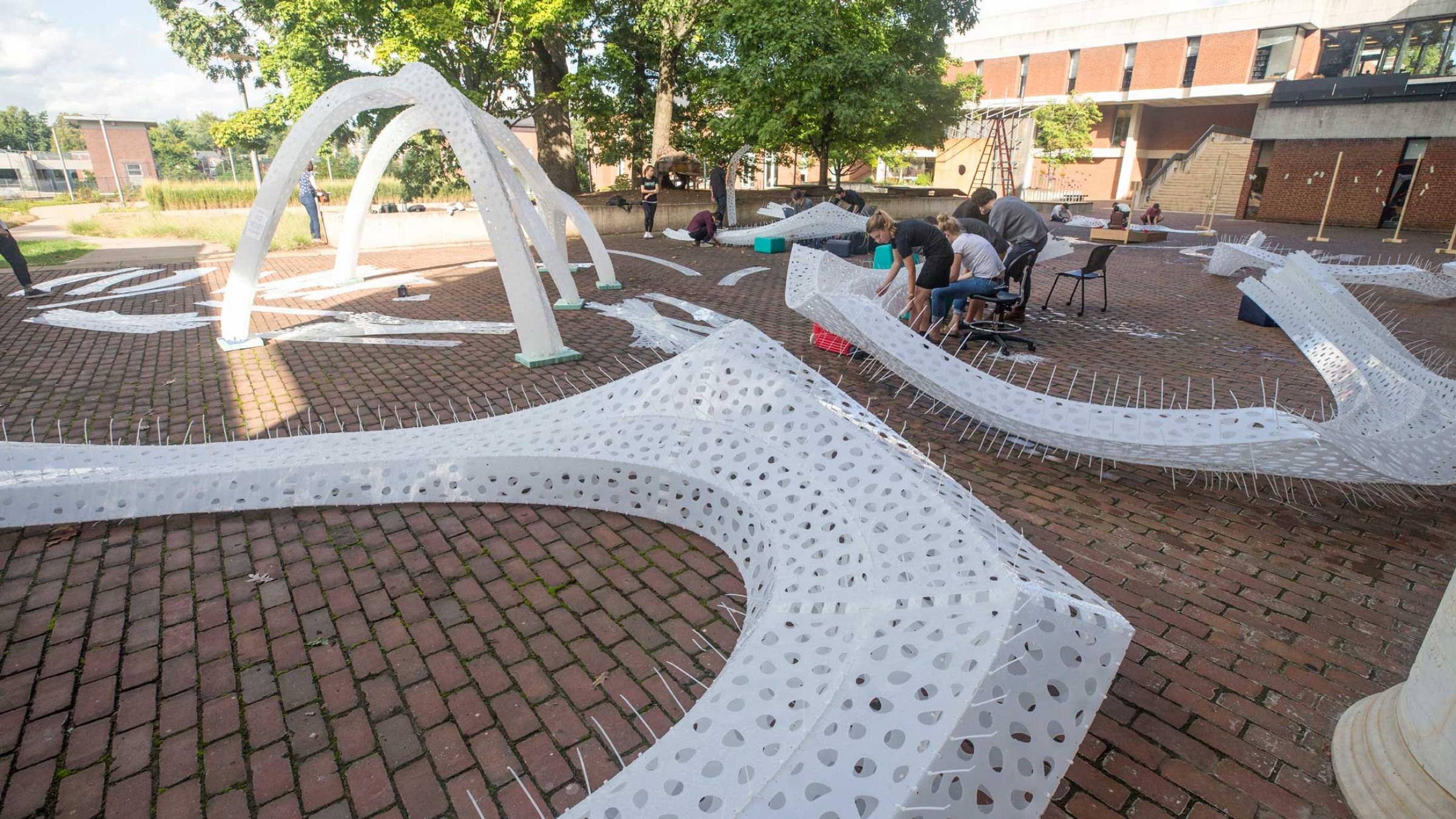 Fourth-year architecture student Ros Bracho said seeing the design come to life was very rewarding.
"It was a great opportunity to get away from the computer and from doing drawings and actually build something," Bracho said. "I didn't know much about fabrication technology before this, and it has been amazing to learn how it applies here and how I can use it in the future."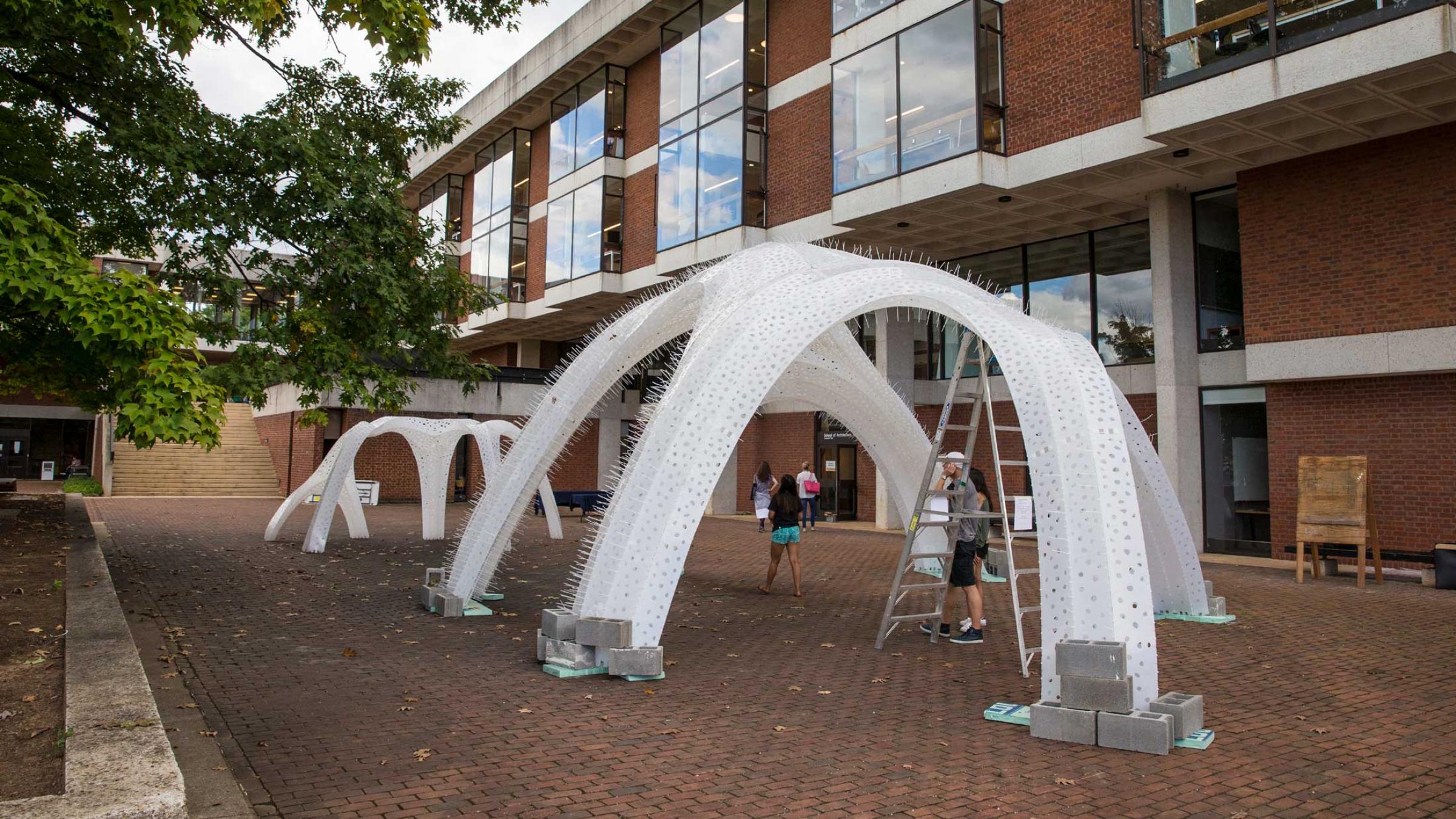 The tallest arches were about 15 feet tall, with individual pieces as long as 10 feet. Gritz said the construction process was often physically demanding.
"The geometry of the project was unusual, so you were essentially forcing it into place right until it all came together," he said. "Still, it was great to have a chance to work hands-on with the materials and the machinery."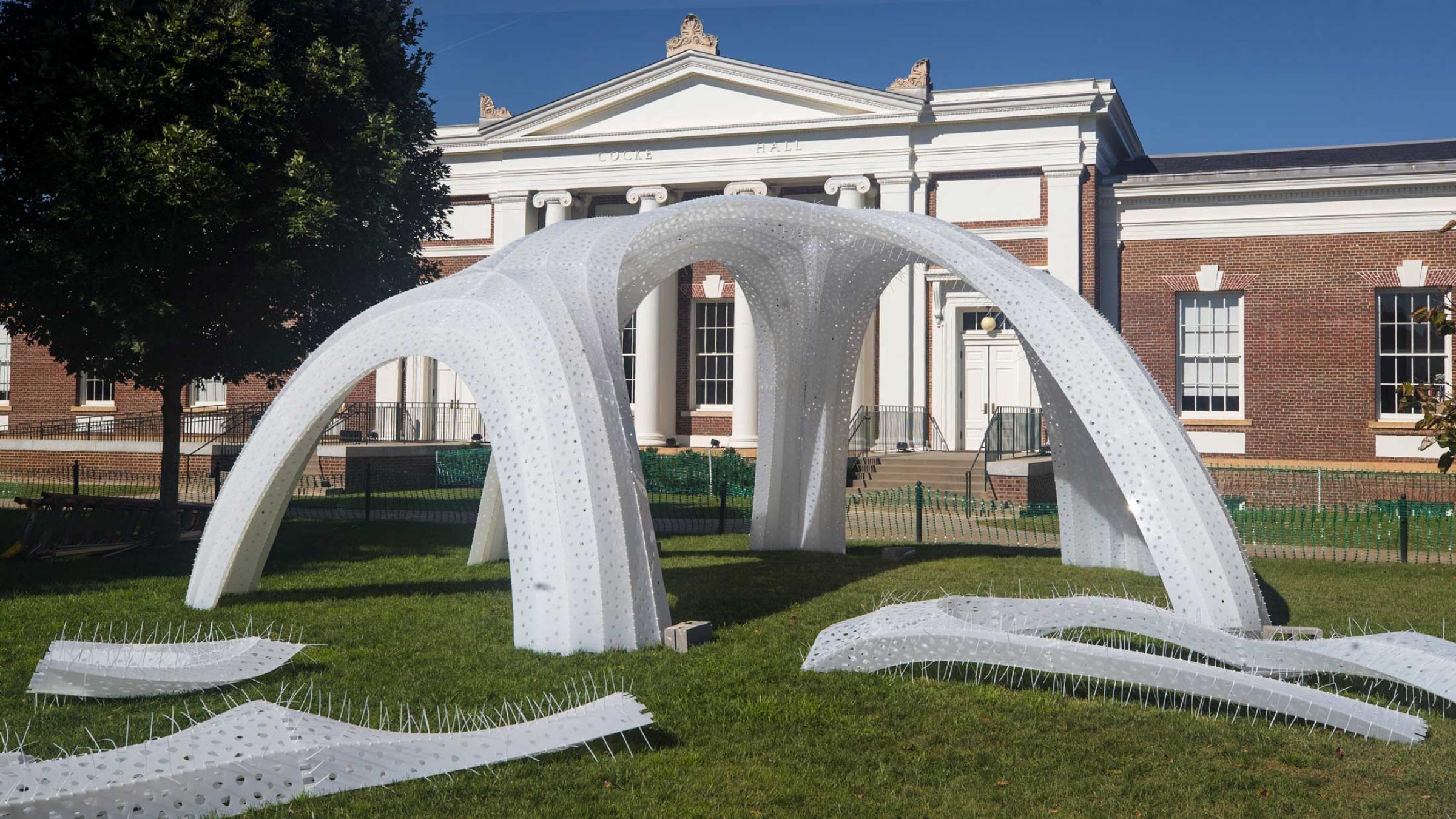 Above, one of the interlocking arches students transferred to the Lawn. Now that their Bicentennial project is nearly finished the students will take what they learned and apply it to their own designs to create a final project for the semester.
"The second half of the class will be a bit more speculative, now that they understand the tools," Beaman said. "They can design whatever they like and really get creative."
Article Information
October 03, 2017
https://news.virginia.edu/content/200-years-architectural-experiments-continue-jeffersons-university