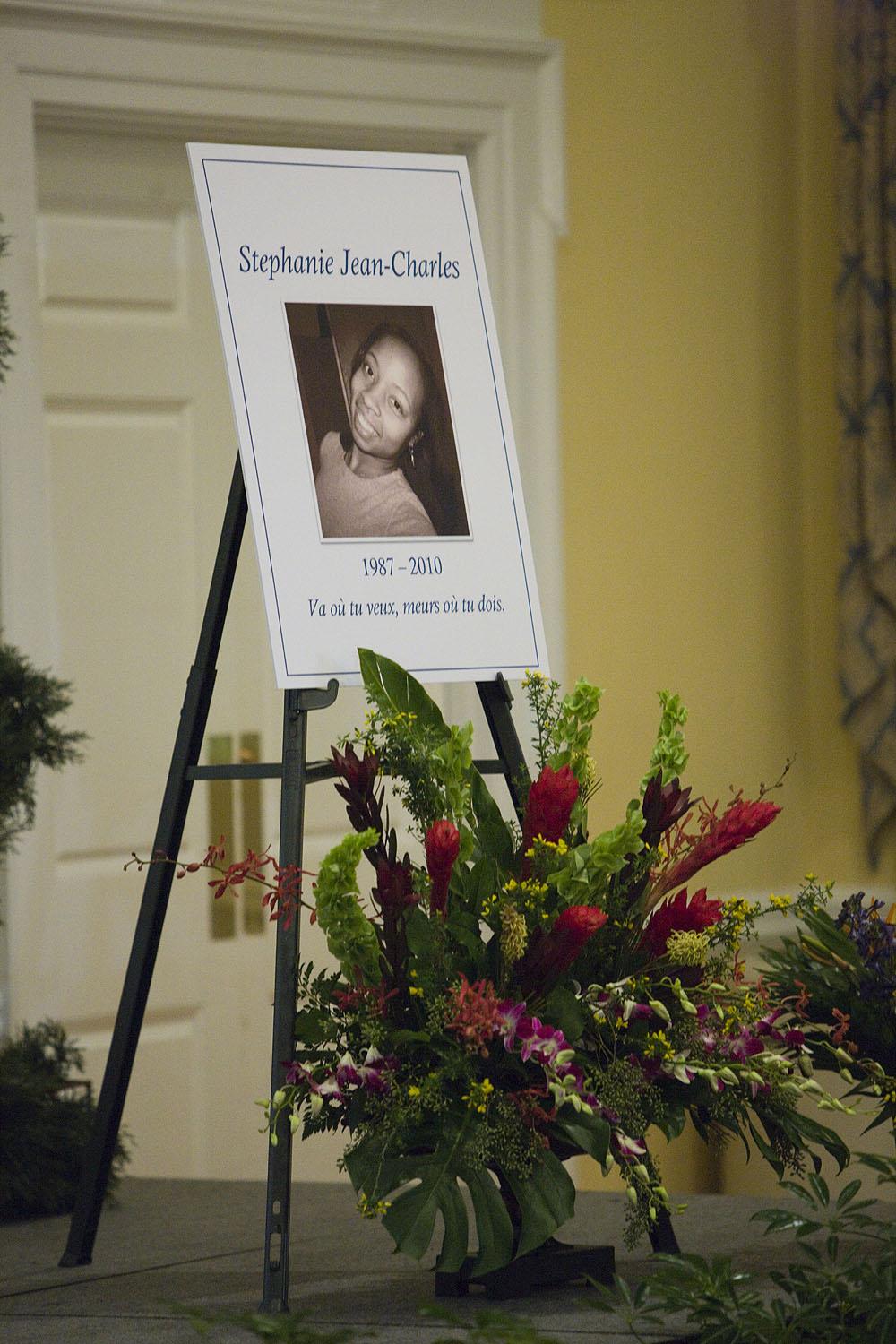 In the closing days of 2010, UVA Today looks back on some of the University's top stories of the past 12 months.
December 30, 2010 — As members of the University of Virginia community mobilized to provide relief after the  devastating 7.0-magnitude earthquake on Jan. 12 in Haiti,  they learned of a personal loss: Stephanie Jean-Charles, a 2009 U.Va. graduate and master's program student at the Frank Batten School of Leadership and Public Policy, had died from a fatal head injury while home with her family in Port-au-Prince.
At a Jan. 21 memorial service attended by more than 300 students and faculty, speaker after speaker fondly – and tearfully – reflected on how Jean-Charles had touched the U.Va. community in numerous ways.
Those with close ties to Haiti included Robert Fatton Jr., an associate dean in the College of Arts & Sciences and the Julia A. Cooper Professor of Government and Foreign Affairs, who was born and raised in Port-au-Prince and has written extensively about his homeland. Long a leading authority on Haitian politics, after the earthquake he stepped forward as one of the nation's leading voices warning that Haiti's long-term future depends foremost on building a viable government.
Efforts to aid Haiti arose spontaneously from various groups and quarters of the University, shepherded by the student-initiated Hoos 4 Haiti umbrella group. Eventually more than $100,000 was raised.
Less than a month after the quake, assistant professor Audrey Snyder from the School of Nursing and emergency medicine physician Scott Syverud were among a cadre of U.Va. employees on the ground in Haiti, providing desperately needed medical care. Other Health System physicians helped via a telemedicine partnership with the University of Miami Hospital.
Haiti remained a focus of U.Va. attention for the rest of the year, with new events and aid efforts announced nearly every month, starting with Haiti Awareness Week in February. In April, a U.Va. conference discussed the political landscape in Haiti and the possibilities for social reconstruction. An August forum compared urban revitalization in New Orleans and Haiti.
In May, and again in September, Deena Hurwitz, director of the Law School's Human Rights Program, brought attention to rape and other gender-based violence plaguing Haiti's capital, which she and others documented during interviews there.
In June, with help from U.Va. architecture professor Anselmo Canfora, student Ania Turnier, a native of Haiti, created Building Haiti, a new contracted independent organization at the University to raise money to build single-room schoolhouses in Haiti. Building Haiti will name its first classroom in honor of Jean-Charles.
In July, a School of Architecture team joined a Haitian government-sponsored international competition to design and build disaster recovery structures.
Learn more in these Haiti-related stories from 2010:

U.Va. Student Dies in Earthquake; University Responds to Haitian Disaster (Jan. 14)
Haiti Quake Victim Stephanie Jean-Charles Remembered for Selfless Passion To Serve (Jan. 22)
Haiti's Key Building Project Is a Functional Government, U.Va. Expert Says (Jan. 29)
Student Group Springs Up to Lead Haiti Relief Efforts on Grounds (Feb. 5)
'Law Hoos for Haiti' Aim to Raise $12,000 (Feb. 25)
U.Va. Medical Center Personnel Assist in Haiti Relief Efforts (Mar. 3)
U.Va. Medical Center, University of Miami Team to Provide Care to Haitian Earthquake Victims (Mar. 8)
Haiti Reconstruction Topic of April 9 Conference at U.Va. (Apr. 2)

U.Va. Law Professor: Haiti's Women at High Risk for Rape Following Earthquake (May 28)
U.Va. Student Starts Organization to Build Schools in Haiti (June 10)
U.Va. Architecture School's 'Initiative reCOVER' Submits Housing Design for Haiti Reconstruction Competition (July 1)

Panel Examines Earthquake's Effect on Safety of Haitian Women (Sept. 24)