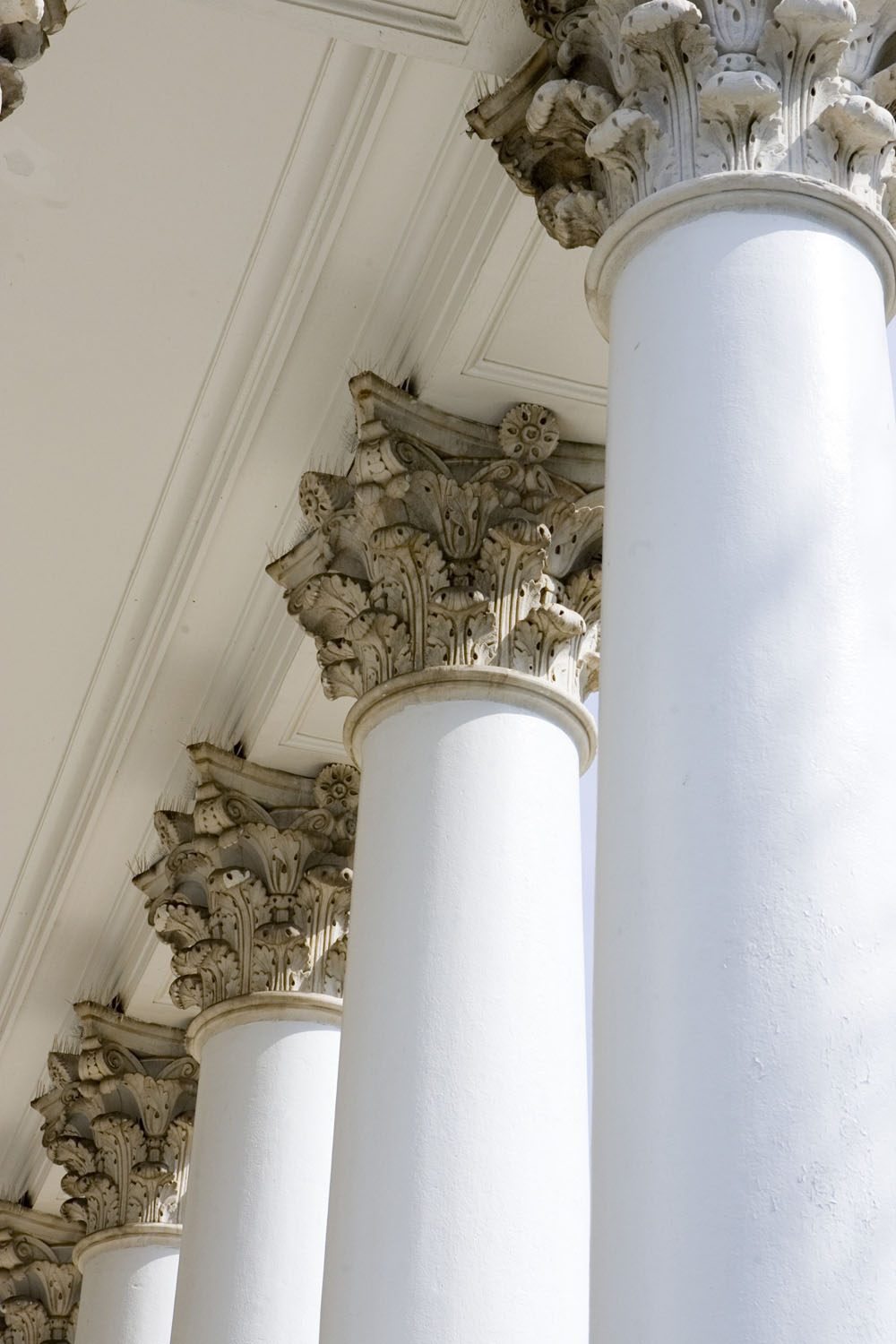 In the closing days of 2010, UVA Today looks back on some of the University's top stories of the past 12 months.
December 29, 2010 — The University of Virginia is moving into the future by tending to its past.
It opened 2010 by installing a new parapet on Pavilion X, restoring what had been part of Thomas Jefferson's design for the building. In addition to the parapet – which had been removed in the 1890s – the trim and columns were painted to match the original "stone" hue, replacing the more familiar white.
At the end of the year, conservators were working on a restoration/renovation of Pavilion IX, the first Lawn building that will comply with the U.S. Green Building Council's Leadership in Energy and Environmental Design standards.
Between these bookends, University conservators restored the flat roofs on several Lawn rooms. Using modern materials, they followed the original design for the second-story walkway and Chinese railing that link the pavilions. The new work preserves some of the original roofs.
The Board of Visitors approved a plan to renovate and repair the Rotunda, the centerpiece of the University, after tests showed that old age was catching up with the building's roof and parts of its columns.
Garrett Hall, built in 1909 and initially known as the Commons, spent the year under extensive renovation. When the work is completed in 2011, the building will house the Frank Batten School of Leadership and Public Policy.
Not just the buildings were spiffed up. The bronze statue of Thomas Jefferson, on the north side of the Rotunda, was cleaned and repaired and some details were restored. Conservators also cleaned and repaired several other statues on Grounds, including those of James Rogers McConnell (the "Winged Aviator," located outside Clemons Library), Homer (at the south end of the Lawn), Jefferson and George Washington (on both sides of the Lawn, at the end of the Lawn rooms), George Rogers Clark (near the intersection of West Main Street and Jefferson Park Avenue), and a Confederate soldier (in the University Cemetery).
The McIntire Amphitheatre is looking more like it originally did. The outdoor performance space, surrounded by Cocke, Garrett, Minor and Bryan halls, is an arc of concrete seating for 1,500 people facing a 60-plus-foot stage, with a semi-circle of grass in between. The original design called for a 10-foot-wide gravel walkway on the inside arc, separating the seats from the grass. This was restored, along with a concrete curb that separated the walkway from the grass and new sod was installed.
The following are some of the ways the University is maintaining its historic legacy:
Parapet Restores Jefferson's Vision to U.Va.'s Pavilion X
(Jan. 13)
Conservators Examine Column Capitals at Rotunda
(March 17)
U.Va.'s McIntire Amphitheatre Is Getting a New, Old Feature
(April 6)
Life-Long Love for Academical Village Leads to Largest-Ever Bequest for Historic Preservation
(May 27)
Some University of Virginia Lawn Roofs Return to Jefferson's Original Design
(July 2)
Conservators Spiff Up Jefferson Statue, Others Around Grounds
(Sept. 10)

U.Va. Board Approves $22.9 Million Plan to Begin Rotunda Renovation
(Sept. 14)
Garrett Hall Renovations to Start This Week
(Oct. 9)
Pavilion IX Being Restored Using Environmentally Responsible Standards
(Oct. 28)
Article Information
December 28, 2010
https://news.virginia.edu/content/2010-review-making-everything-old-new-again