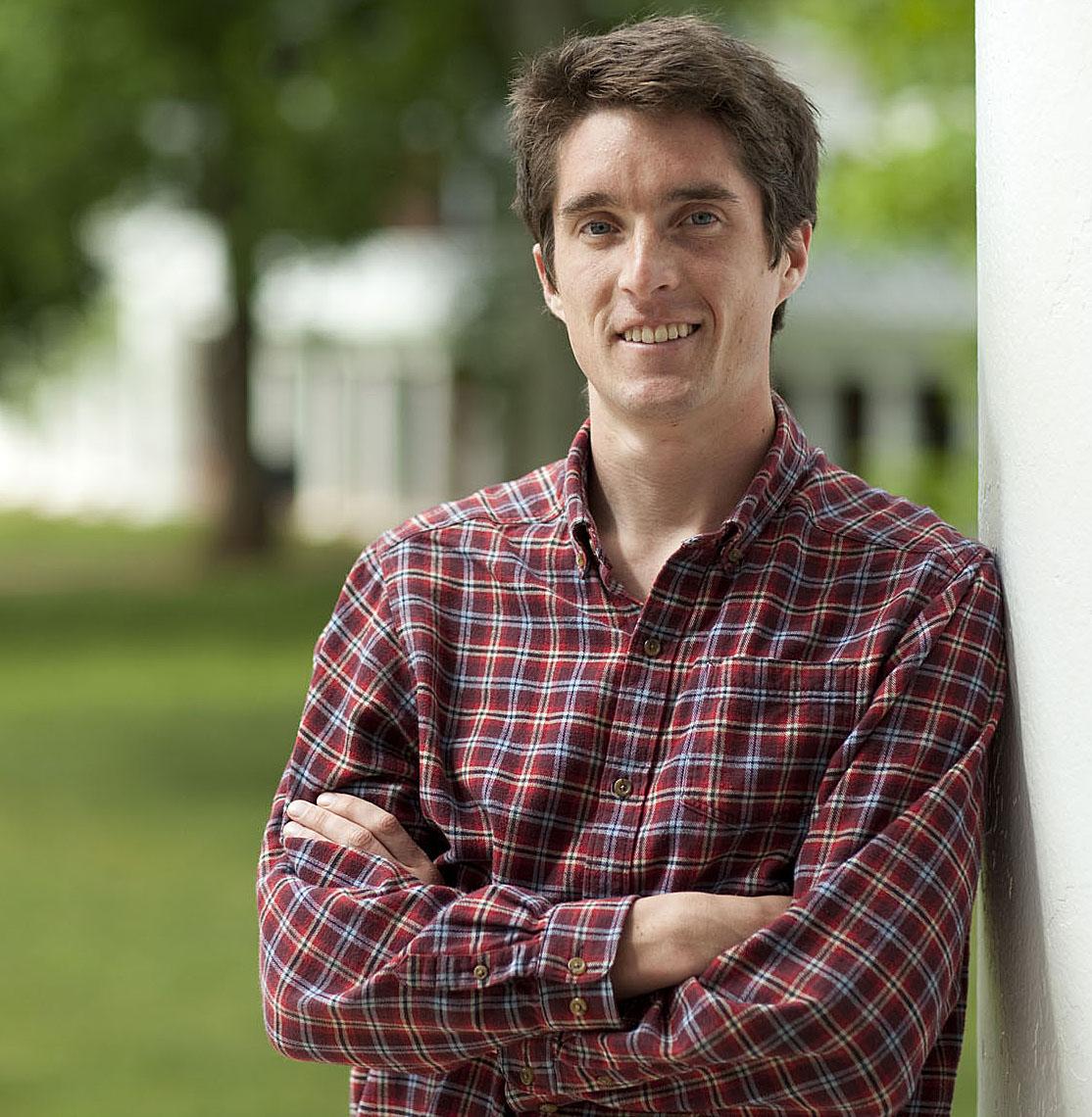 May 19, 2010 — This year's University of Virginia Algernon Sydney Sullivan Award recipients – undergraduates Courtney Mallow and Ben Chrisinger, and head swimming and diving coach Mark Bernardino – have contributed to the University community through tireless dedication, compassion for others and tremendous creativity. They will receive their awards at Valedictory Exercises on May 22.
Each year, the Algernon Sydney Sullivan Foundation sponsors the presentation of awards at 54 colleges in the southeastern United States to individuals who have served others, their institutions and their wider communities.
Created in 1925, the awards are given to distinguished fourth-year students and members of the University community in memory of the award's namesake, a New York lawyer, businessman and philanthropist. The awards are intended to perpetuate the excellence of character and humanitarian service he epitomized.
Courtney Mallow
Courtney Mallow, a Jefferson and Echols scholar and student in the Jefferson Public Citizen program who double-majored in economics and environmental thought and practice, has been a "member and leader within the University since her first year," her Sullivan Award citation reads.
"She has been involved with the University Programs Council, Student Entrepreneurs for Economic Development, and the Public Service Conference. While actively supporting the U.Va. community as a student leader, Courtney pursued her interest in economic equity and community service through an academic community engagement project in Nicaragua," the citation states.
A faculty nominator wrote, "Courtney is an extraordinary fourth-year student who has made a real difference in our University, our community and in the world. She has combined academic excellence with service and community engagement in ways that are a model for us all.
"From her first year to her fourth year, Courtney has designed creative service and learning projects in Nicaragua and elsewhere that are driven by listening to the indigenous people of the cities and villages where she has served. From working with Nicaraguan fishermen, to women's microfinance groups, to creating women's radio shows aimed at education on difficult topics like HIV-AIDS, Courtney has always been open to learning from others. She demonstrates a special commitment to the sustainability of action research and community engagement."
Mallow is "motivated by the ideals of making the world the best place it can be for everyone. She is an optimistic, compassionate citizen scholar who epitomizes the spirit of the Algernon Sydney Sullivan Award," the citation concludes.
During her four years, Mallow, of Raleigh, N.C., received the Davis Projects for Peace prize. Following graduation, she plans to pursue a master's degree in public affairs, focusing on gender issues in international development.
"She is an outstanding young woman who not only has contributed to the life of the University in ways that the Sullivan Award recognizes, but she has serious intellectual interests. A case in point is her study of Arabic, which she began as a high school student," noted U.Va. historian and former Board of Visitors secretary Alexander "Sandy" Gilliam, who served on the 2010 Sullivan Awards selection committee.

Benjamin Chrisinger
"Ben Chrisinger is the consummate community builder," according to his Sullivan Award citation. "A member of Residence Staff for three years, he has been an RA, a senior resident, and is, for a few more days, Head Resident on the Lawn. He has been involved with the Sustainability Committee for Student Council throughout his time here, leading it to many successes and a Best Committee citation. As Chair of the Sustainability Committee, he produced tangible results: the Community Garden, composting in the dining halls, energy audits and monitoring in the residence halls, Recyclemania, Earth Day events – all are projects that came to be largely due to his tireless work and unwillingness to accept defeat," his citation states.
It continues: "Friends and colleagues speak of the way Ben strives to live according to his values every day, whether by riding his bike from place to place, by passing along information about issues and events he thinks are important to his community, or through the gentle and fair way he treats everyone around him." A former supervisor noted that "Ben feels it's his role as a citizen to leave the world a better place."
"While these accomplishments are indeed impressive, it is as much how he goes about them that makes him an ideal recipient of this award. Words like welcoming, inclusive, caring and thoughtful describe his approach. He has worked behind the scenes for four years to make U.Va. a stronger, greener, more welcoming community and has indeed reached out both hands in constant helpfulness to others," concludes the citation.
Assistant University Architect Connie Warnock said, "Ben has worked diligently with the Office of the Architect to realize a long-held student vision for a student residence that embodies the values, practices and lessons of sustainable living. He is articulate, perceptive, intelligent and creative with a clearly focused vision and uncommon diligence and perseverance. Though we have not yet developed a feasible (fundable) project plan, Ben has diligently investigated possible sponsors, partners, strategies and opportunities in his attempt to realize this project. He is a leader among his peers and respected by our staff for the quality of his vision, his maturity and determination. He's also a very humble and genuinely nice person."
An environmental sciences major in the College of Arts & Sciences and a planning major in the School of Architecture's Department of Urban and Environmental Planning, Chrisinger, of Warrenton, has received a National Science Foundation Fellowship to study "Food Systems' Role in Community Development and Urban Revitalization for Non-Majority Populations." It is one of only five fellowships awarded nationally in planning.
He will launch his research while pursing a master's degree in urban and environmental planning at U.Va.
"Our community recipient, Mark Bernardino, now in his 32nd season, is the head coach of the Virginia men's and women's swimming programs. In those 32 years, Coach Bernardino has led the University's swimming and diving team to 19 ACC championships and been recognized as ACC Coach of the Year 27 times – 11 for the women's and 16 for the men's squad. In that time, more than 100 University students have been recognized as All-Americans, including three NCAA champions, who have held five individual national titles in total. Among our alumni whom he has coached are Olympic medalists, World University Games medalists, Pan American Game medalists and World Championship finalists. During his tenure, more than 450 women and men have been named to the ACC Academic Honor Roll and two swimmers have been semi-finalists for the Rhodes," his Sullivan Award citation states.
"Mark has been selected to coach U.S. athletes in many international competitions, including the 2009 World University Games in Belgrade. Most recently, Mark was chosen as the president of the College Swimming Coaches Association of America. These are the highlights of Coach Bernardino's distinguished career, but testimonies from his colleagues, current and former student athletes speak to the character of the man.
"To give you a snapshot of Mark's influence, his giving spirit and what he means to so many, I wish to read a portion of the letter from a fourth-year student who will graduate tomorrow," wrote Angela Davis, special assistant to the vice president and chief student affairs officer, in comments she will make on behalf of the Sullivan Award winners during Valediction on May 22.
The student, Matt Miller, wrote:
I swam for Coach Bernardino my first year at the University – I am now in my fourth year. When I first came to the University, I had never been a year-round swimmer and I did not possess the natural ability to swim at a program of U.Va.'s caliber. I worked hard both in and outside of the pool. And, with time, I gained the respect and admiration of Coach Bernardino, despite my inability to help the team score points in meets. Coach Bernardino encouraged me to contribute to the team in other ways and this is exactly what I did.

At the end of my first year, however, I made the very difficult decision to stop swimming. Coach Bernardino respected my decision, and we continued to remain close friends. I became a competitive triathlete during the summer before my third year at the University. Then, on Nov. 2, 2008, while on a bicycle training ride on the Blue Ridge Parkway, a car struck me in the face.

Incredible blessings allowed me to survive the initial trauma and I spent the next 26 days in the U.Va. Hospital, including two stays in intensive care units. Coach Bernardino came to the hospital the day of my accident as soon as he heard the news, bringing food for my mother, father, brother and girlfriend. He then came every single day that I remained in the hospital – many times he would come twice in a day – to visit and see how I was doing. There were two days that he was unable to visit, as he was traveling with the team for meets at Tennessee and Kentucky – on those days his wife, Terry, came to visit. When Coach Bernardino would come to visit, it was not just for a quick hello; he would often stay for an hour or more visiting with me and then walking with me in the hospital hallways or up and down stairs – he became my coach again as I worked to regain my strength. He did this even though his teams were in the middle of their competitive season and eve n though I no longer swam for him. Coach Bernardino did this because he is a tremendous person – not just a tremendous coach – and, maybe, he saw the smile that would spread across my face every time he walked in my hospital room.

Coach Bernardino is the type of person I describe when people ask me what makes the University of Virginia such a special place. Neither our ranking in U.S. News nor the amazing facilities and resources available to students make the University of Virginia the best place to receive an education in the country. Rather, it is faculty members like Mark Bernardino who have dedicated their lives to serving the University community that makes the University so special. Coach Bernardino has helped shape the person I am today – he helped to save my life. He touches the lives of all his swimmers. … I believe that Coach Bernardino's commitment and dedication to improving the lives of his athletes is what motivates him to continue coaching even after he has achieved virtually every accolade a collegiate swim coach can achieve.
A native of Drexel Hill, Pa., Bernardino graduated from U.Va. in 1974 with a bachelor's degree from the McIntire School of Commerce after a successful college career in the pool. Four years later, he was tapped to lead his alma mater's swim team. He earned a master's degree in counseling from the Curry School of Education before his appointment as head coach.   
"A son of the University ... Mark Bernardino's accomplishments and contributions to our community are legend. Yet, one would be hard pressed to meet a man of such marked modesty and compassion for others. When you encounter Coach B, you find yourself reassured, encouraged and esteemed," said Associate Dean of Students Aaron Laushway, a member of the Sullivan Award selection committee.


— By Rebecca Arrington