Through a program with roots at the University of Virginia, thousands of high school students across Virginia every year are receiving free, individualized help untangling the complexities of accessing higher education.
The service – provided by recent college-graduate advisers who work directly with students in Virginia high schools – is sorely needed in a state with an ambition to become the "best educated state in the nation by 2030."
A 2019 report of the State Council of Higher Education for Virginia, which set that ambitious goal, identified actions most likely to increase the number of Virginians who earn college degrees. Among them: "Expand and enhance outreach, advising, counseling, mentoring, work-based learning, career planning and credit transfer, especially for those at most risk of non-enrollment, non-persistence and non-completion."
Now even more Virginia students will get just that kind of assistance from advisers provided by the Virginia College Advising Corps.
Thanks to a recently announced $2 million grant from Virginia529, the UVA-based organization is poised for a major expansion, significantly boosting its ability to provide equitable opportunities to low-income, first-generation and underrepresented students on the path to attending college or a vocational training program after graduating from high school.
VCAC Executive Director Joy Pugh said the new grant will allow the program to increase the number of advisers it places in schools across the commonwealth from the current 48 to as many as 70 by fall 2023. That will increase the number of students who have access to the high-impact service from around 11,000 today to more than 15,000 over the same period, and add another 28 public schools that will host full-time VCAC advisers. School divisions interested in partnership can apply by Dec. 1 via the VCAC website.
"This generous grant means more Virginia students will unlock career opportunities that are only possible by continuing in their education beyond high school. It means more students will be able to afford college because of the intensive support they receive in applying for financial aid," Pugh said. "We are grateful and humbled by this funding from Virginia529 and we are eager to build relationships with even more students to see them attain postsecondary success."
CEO Mary Morris said Virginia529 selected the Virginia College Advising Corps for the grant because of its track record in successfully opening more doors to college for Virginians – a shared objective of the two organizations.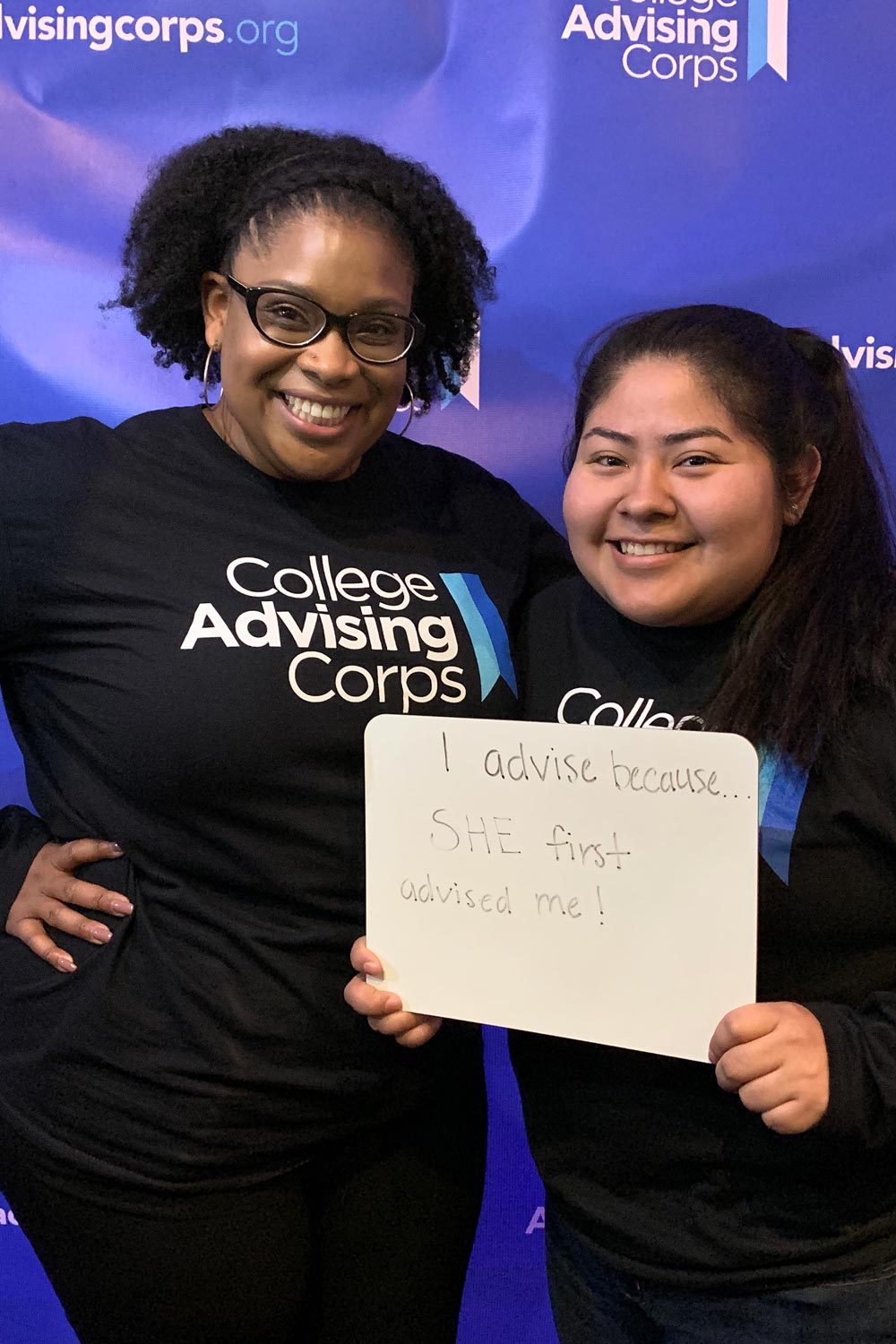 "Virginia529 was conceived with a commitment to make higher education more affordable and accessible for all Virginia families," she said. "We meet that challenge in many ways, including working with organizations like Virginia College Advising Corps to identify pathways and solutions that expand access to educational opportunities.
"Closing access and completion gaps elevates individuals, expands prosperity and transforms the commonwealth's economic landscape. We're thrilled for the transformative experience more students and their families will have because of this partnership."
Virginia529 was established to help make education more accessible and affordable. It manages nearly 3 million accounts in tax-advantaged programs created to provide ways for people to effectively and efficiently save for higher education expenses.
VCAC advisers are recent college graduates who commit to a two-year placement in high schools. This academic year, 48 advisers are serving 53 high schools in Virginia, where they help students and their families with college searches, essay writing, standardized test preparation, applications, federal financial-aid form completion, scholarship searches, college visits and transitioning to post-secondary education. 
"It's well-established that many students, such as those who don't have parents or siblings who attended college, benefit tremendously by having mentors who can help them through what can be a confusing and daunting process," Pugh said. "That is exactly what advisers from the corps provide directly to students across Virginia, in urban and rural schools alike."
The Virginia529 grant will allow VCAC to add six advisers in the first year of the grant, 12 advisers in the second, and 10 more in the third year. At that point, VCAC would be providing individualized college counseling for more than 15,000 high school seniors per year. 
According to VCAC, since its founding in 2005, the evidence-based work of advisers has resulted in:
261,545 1-on-1 advising sessions with students. 
29,783 classroom visits and workshops.
25,274 meetings with parents and families. 
9,362 campus tours.
12,728 students assisted on SAT/ACT preparation.
31,910 completed financial aid forms, known as the FAFSA.
The Virginia College Advising Corps model has been replicated in 19 states and in more than 800 high schools. Today, it operates as a joint venture of UVA and the College Advising Corps, and is an AmeriCorps program.
Article Information
November 15, 2021
/content/2m-grant-uva-based-group-will-open-doors-college-more-students