We are in a grim period, but if we continue to follow public health measures and increase vaccinations, the end of the pandemic is at least in sight, according to experts interviewed Friday in a webinar hosted by the University of Virginia's Miller Center of Public Affairs.
The webinar, "The Biden Administration Inherits the COVID-19 Crisis," focused on the challenges President Joe Biden faces and the public health measures his administration has already rolled out over the past two days. Moderator Guian McKee, an associate professor of presidential studies at the Miller Center, began with some stark graphs showing the exponential rise of COVID-19 cases, hospitalizations and deaths in the United States around the holiday season. 
In a less scientific, but more personal measure, McKee also pointed out a quick audience poll showing that 36% of Friday's virtual audience knew someone who had died of COVID-19.
Helping McKee analyze the current national situation were panelists J. Stephen Morrison, senior vice president at the Center for Strategic and International Studies, director of its Global Health Policy Center and as of Friday, the James R. Schlesinger Distinguished Professor at the Miller Center; and Margaret Foster Riley, a professor with appointments in UVA's schools of Law and Medicine and the Frank Batten School of Leadership and Public Policy, focusing on food and drug law, health law, animal law, bioethics, regulation of clinical research and public health law.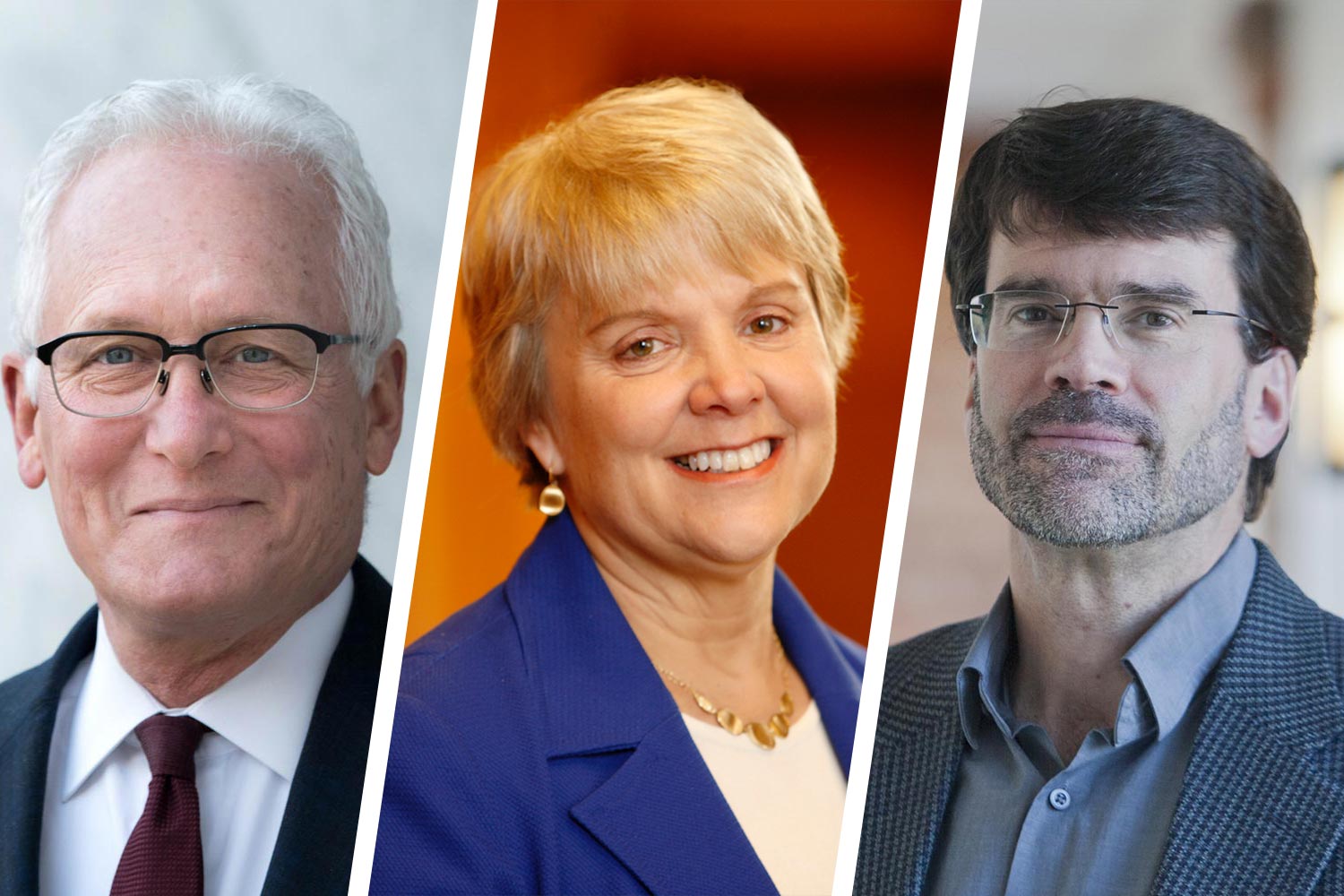 Friday's panelists included, left to right, J. Stephen Morrison, Margaret Foster Riley and Guian McKee. (Contributed photos)
Together, they found reasons for both great concern and enduring optimism. Here are five takeaways from their discussion. (View the full webinar on the Miller Center's YouTube channel.)
Vaccination Supply and the Defense Production Act
Coming into office, Biden announced a goal of vaccinating 100 million Americans in his first 100 days in office. Riley called this goal "both an ambitious plan and probably an undersell."
"If we can meet 1 million doses a day, we will meet that goal easily," she said. Currently, the U.S. is nearing 1 million doses per day; Riley said getting there and staying there will depend on other issues, including the Biden administration's use of the Defense Production Act and organizations like the Federal Emergency Management Agency or the National Guard to distribute the vaccine.
Riley and Morrison spent a chunk of the hourlong webinar discussing the Defense Production Act, created in 1950 to help the U.S. deal with national security threats – including threats like a pandemic. Essentially, it allows the federal government to require private companies to prioritize the production of certain goods. Both panelists, in addition to crediting the Trump administration's Operation Warp Speed with bringing an effective vaccine to market quickly, said that the previous administration effectively used the Defense Production Act to avoid shortages of ventilators, as one example. However, both wished it had been used to increase the production of masks, particularly scarce N-95 masks.
Now, the Biden administration has announced plans to use the act to deal with vaccine supply issues, such as glass vials, syringes and other supplies necessary for vaccine production, as well as protective gear and items necessary to make and administer COVID-19 tests.
What is less clear, Morrison said, is if the new administration will use the act to put new demands on vaccine manufacturers Moderna and Pfizer, which are currently falling short of some production targets.
Gap Between Federal, State and Local Governments
Both Morrison and Riley pointed to gaps between federal, state and local governments as a major cause of confusion and delay in the first month of America's vaccine rollout.
"One of the biggest gaps that has existed is between the federal government and the states. We knew we had to deliver the vaccines to the states, but the infrastructure and guidance from the federal government to the states on how to actually get the vaccine into arms has been lacking," Riley said.  
The shift in administrations, Riley and Morrison said, has brought a shift toward federal authority, as Biden has signed a flurry of executive orders signaling more federal leadership in different areas of the pandemic response, including the vaccine rollout.
"This assumption of national federal responsibility marks a dramatic change from the Trump administration," which had tended to shift those decisions to the states, Morrison said.
"We did see mayors, governors and others jump in to fill that void, with varying degrees of success and some jerry-rigged solutions," he said, "but it's hard to underestimate the level of confusion on the ground."
Some of that confusion, they noted, was essentially inevitable, as the vaccination rollout is one of the most ambitious public health projects in memory. However, Riley and Morrison both said that federal leadership will play a much bigger role going forward. 
"The approach that Biden has laid out is really an FDR-style mobilization; it has been described by the president as a war-time undertaking," Morrison said. "If carried through – and that will require a lot of money and concurrence from Congress – it will significantly change the place of public health and public health infrastructure in America."
An Issue of Equity and Justice
McKee, Morrison and Riley also highlighted equitable distribution of the vaccine as a major issue, especially considering the pandemic's disproportionate impact on minority populations in the U.S., particularly Black and Latino communities.
"We have seen a significant degree of inequity across racial lines in particular, as African Americans and other minority communities have suffered more than other Americans throughout the pandemic," McKee said, "and that is something we are starting to see emerge in the ongoing vaccination campaign."
One concern, Riley said, is "pharmacy deserts" – areas where a CVS, Walgreens or other pharmacy is not easily accessible, or even accessible at all.
"There are plenty of places in the country that are suffering desperately and don't have access to commercial pharmacies," she said.
Biden on Thursday announced a COVID-19 Health Equity Task force to deal with these issues, chaired by Dr. Marcella Nunez-Smith. Dr. Cameron Webb, a doctor and professor at UVA Health, was also tapped by Biden as a senior policy adviser for COVID-19 equity.
The new president also announced that the United States would rejoin the World Health Organization and the COVAX vaccine initiative, a global effort helping bring COVID-19 vaccines to low- and middle-income countries.
If wealthier countries fail to help countries with less access to the vaccine, Morrison said, "We are at risk of a world in which there are haves and have-nots, and desperate countries may opt for unsafe vaccines … a very mixed and dangerous situation."
"Viruses don't care about borders," Riley added. "One of the biggest lessons learned in this pandemic should be that there has to be some form of solidarity if we are going to avoid another pandemic."
A Race Against New Variants
Another large portion of Friday's conversation focused on new COVID-19 variants that have emerged in the United Kingdom and South Africa and begun spreading around the world.
Experts believe the U.K. variant is more contagious, and some evidence emerged Friday that it could be more deadly. It has already been found in at least 20 U.S. states, and both Riley and Morrison agreed it has likely gone undetected in many more. Riley called the South African variant even more troubling, because it seems resistant to some current treatments for COVID-19, such as monoclonal antibodies.
"In the short term, I am very concerned about the U.K. variant, because until we get people vaccinated, double the transmissibility is very bad news," Riley said. "In the long term, I am more worried about the South African variant, but I do think we have ways to adjust."
Masks, Riley said, are effective against any and all variants of the virus and people should continue to wear them and to practice social distancing as much as possible. Both experts noted that current vaccines are expected to be effective against the new variants, and can likely be adjusted as needed. However, they said, it is important that the U.S. increase its genomic sequencing capacity in order to detect more cases of each variant.
"We have very limited genomic sequencing capacity compared with Britain, for example, so we have essentially been flying blind," Morrison said.
The new president's plan, Morrison noted, includes a commitment to boosting genomic surveillance infrastructure. The emerging variants make such initiatives, along with vaccination, all the more urgent.
"These variants have really rattled the world," he said. "It is motivating everyone to think about what we have to do, and how quickly we must vaccinate people, to get ahead of this."
Reasons for Optimism
McKee closed the discussion by asking each participant where they saw optimism for the future.
Riley said she believes February and March will be extremely tough, but that she is optimistic about the longer-term outlook for 2021 and 2022.
"I think we have the capacity to reach herd immunity and to adjust to variants as they come on," she said, noting that mRNA vaccinations like those made by Pfizer and Moderna might also prove effective against the flu.
"The bottom line is that we are all in this together, and that the only way this will work is if everyone wants it to work," from Congress providing funding and resources to individuals continuing to wear masks, she said. "If we can do that, I think by the end of the summer, and certainly by fall, things will feel more normal."
Morrison was also optimistic, but measured.
"We are in a terrible period and it's not over. … We are a very divided country and I am not sure how quickly we can overcome our political pathologies to achieve that kind of behavioral promise," he said. However, he called the Biden administration's plan "ambitious, promising, carefully put together and long overdue," and also praised the scientific research and government investment that led to different and promising vaccines.
"We have a very diverse portfolio [of possible vaccines] that is very promising, from the more conventional to the experimental, and astonishing early results with 94% or 95% efficacy and safety," he said. "We cannot underestimate what a godsend that is."
One test, he said, will be where the country stands in October.
"Where will we be in October, as winter returns?" Morrison asked. "If we have achieved durable herd immunity by that point, we will likely escape a return to a winter surge, and that will be a marker of success in my book."
Photo at top published under Creative Commons.
Media Contact
Article Information
January 22, 2021
/content/5-key-takeaways-bidens-covid-19-plan-and-experts-reasons-optimism