The Jefferson Scholars Foundation at the University of Virginia has announced the 2019 winners of its annual faculty awards. Five UVA faculty members were recognized April 11 at an awards ceremony for their exceptional teaching and received awards totaling $25,000.
The foundation, known for awarding merit scholarships to outstanding undergraduate and graduate students at the University, has expanded its efforts over the last decade by establishing a series of faculty award programs. To date, more than $500,000 has been awarded to 60 UVA faculty members in the College of Arts & Sciences, the Curry School of Education and Human Development, the Frank Batten School of Leadership & Public Policy, the McIntire School of Commerce, the School of Architecture, the School of Engineering and Applied Science and the School of Medicine.
"Exceptional teachers are at the core of the University of Virginia student experience," said Ben Skipper, the foundation's director of graduate and undergraduate programs. "These awards are among the many ways the foundation celebrates the important role faculty play in maintaining a vibrant and engaged intellectual community."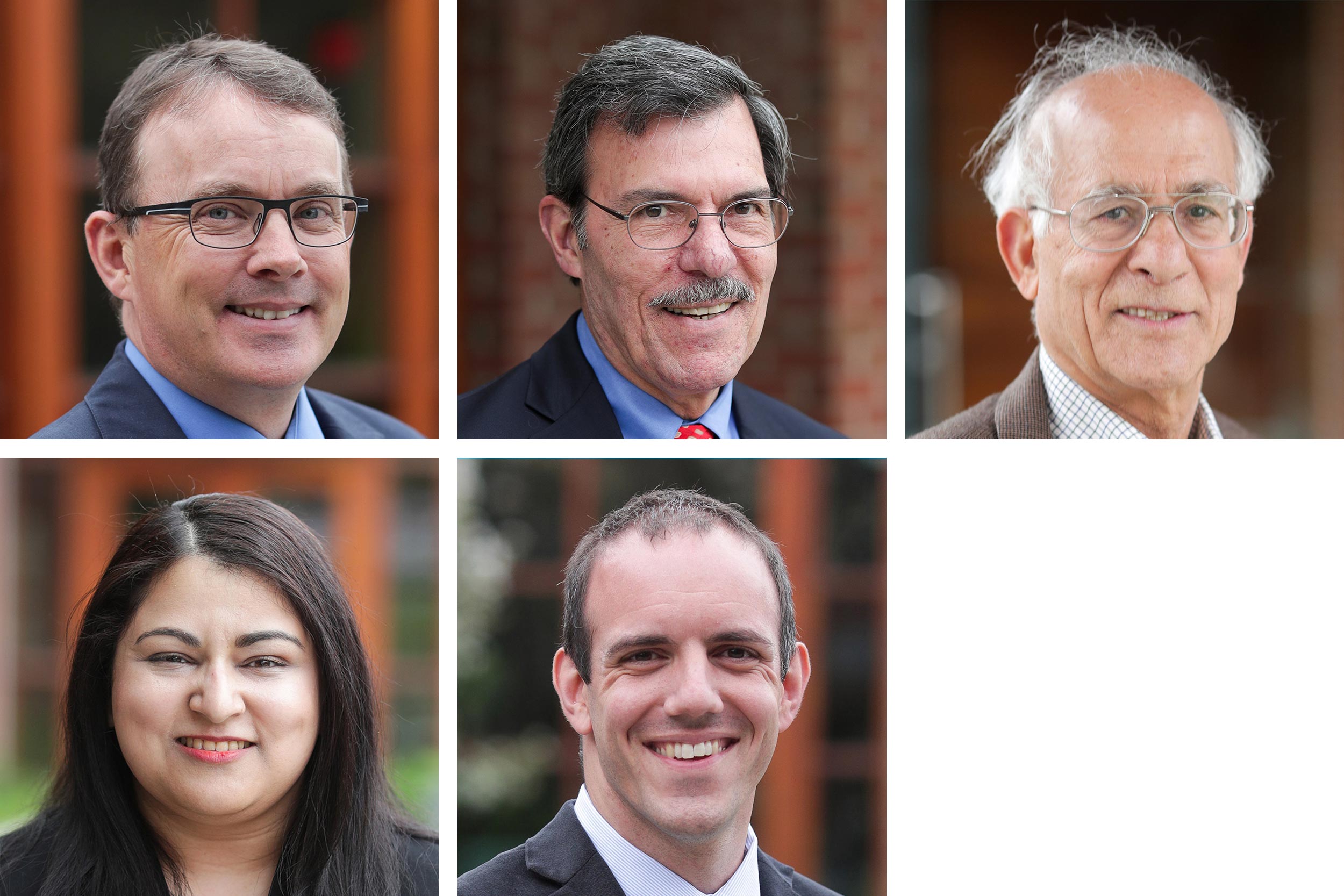 The Jefferson Scholars Foundation's 2019 faculty award winners are, from top left, Patrick Grant, John Miller, Mohammed Sawaie, Nada Basit and Geoff Geise.
This year, three faculty members received the foundation's Award for Excellence in Teaching, which recognizes faculty members who have endeavored selflessly to instill in their students the virtues of scholarship and love of learning. The winners were: Patrick Grant, associate professor of biochemistry and molecular genetics in the School of Medicine; John Miller, professor of classics in the College of Arts & Sciences; and Mohammed Sawaie, professor of Arabic in the College.
Two faculty members in the School of Engineering and Applied Science received the Hartfield Excellence in Teaching Award, which recognizes engineering faculty who exemplify the highest standards and practices of learning. Nada Basit, assistant professor of computer science, and Geoff Geise, assistant professor of chemical engineering, were this year's winners.
"All five of these recipients continue to put the success of their students first, and the University is truly fortunate to have them here," Skipper said.
Law Student Elected National Vice Chair of Black Law Students Association
Rachel Barnes, a J.D.-MBA candidate at School of Law, has been elected vice chair of the National Black Law Students Association.
Barnes serves as the national association's regional mock trial director and as president of UVA Law's chapter, which was named national chapter of the year in 2018.
"While the chair sets the vision for NBLSA and what it should look like this year, I will make sure it happens," she said about her new position. "I will help programmatic chairs have the support that they need to get projects done and fill in any gaps as necessary."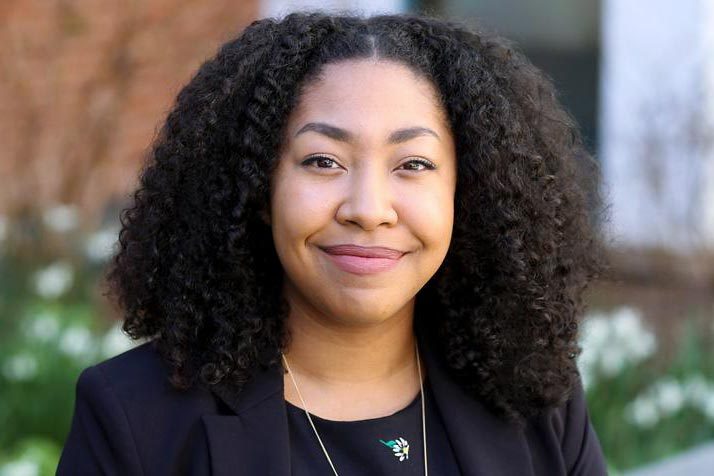 Law student Rachel Barnes has been elected vice chair of the National Black Law Students Association. UVA Law's chapter was chapter of the year in 2018. (Photo by Julia Davis)
Among its many social and service activities, UVA Law's BLSA chapter organizes an annual service trip abroad and debuted the BLSA Alumni Spotlight Award in 2018.
Barnes said her experience in previous BLSA roles has taught her that transparency is key to building trust to garner support and achieve common goals. Her biggest accomplishments, she said, have been boosting engagement among all Law School classes and making sure students feel they can take away something from their experiences with the group.
She was also a Cowan Fellow for this year's Human Rights Study Project trip to Nepal and was the Student Bar Association's Diversity Committee co-chair and American Bar Association representative.
Louisa Schools Honor Nursing Student
Doug Straley, superintendent of the Louisa County Public Schools, recently recognized School of Nursing student Ryan Thomas as one of his weekly "Team LCPS MVP Award" winners.
Thomas, working at Louisa County High School as part of his clinical rotation for nursing professor Vickie Southall's "Public Health Nursing" course, won a grant to secure eight "Stop the Bleed" trauma kits for the school, and then led training for school staff members on how to use them.
Thomas plans to report on the results of his project to Louisa County's Safe Schools Task Force in May.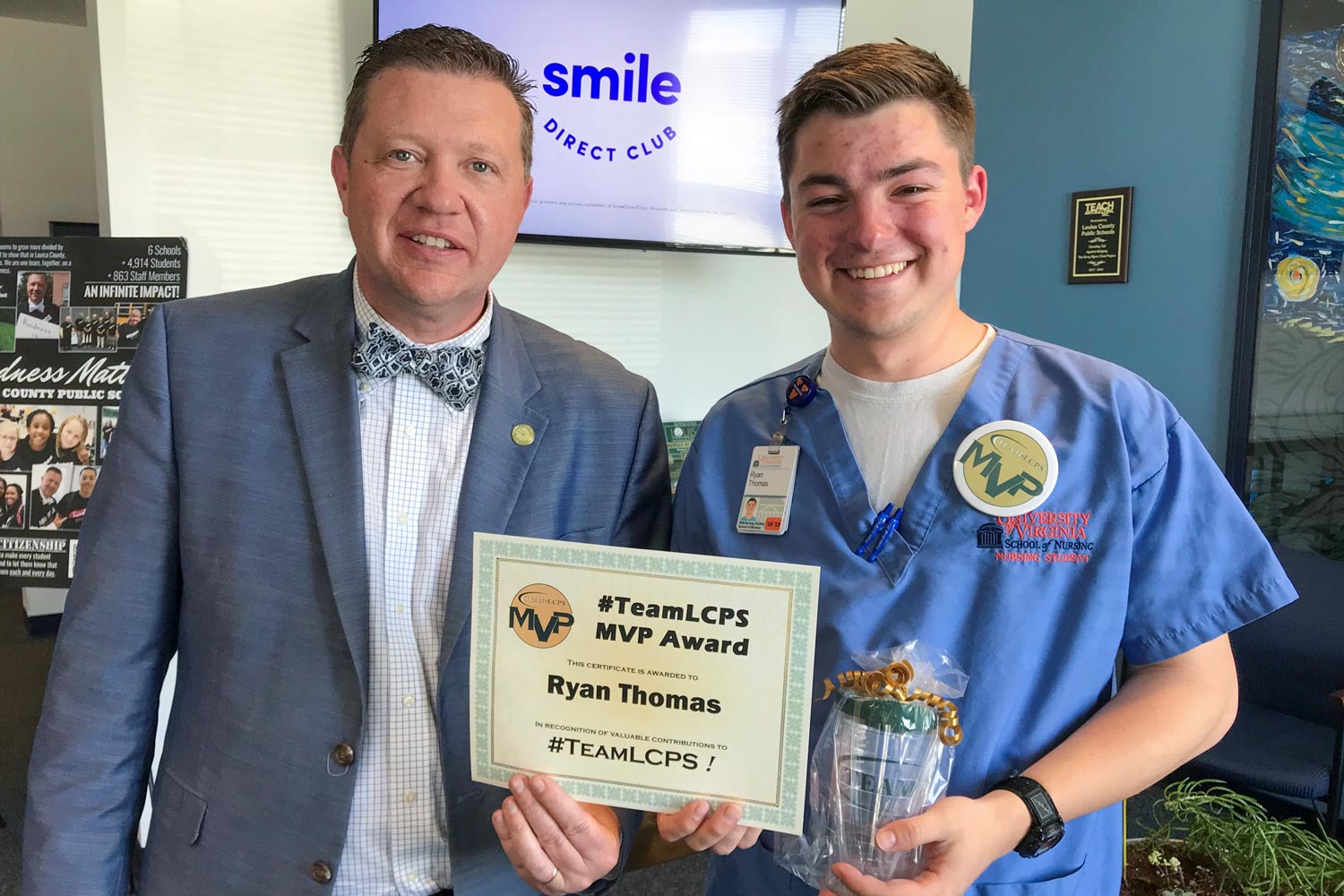 UVA nursing student Ryan Thomas, right, brought trauma kits to Louisa County High School and led training on how to use them, drawing praise from Louisa County Superintendent Doug Straley, left.
Article Information
April 22, 2019
/content/accolades-jefferson-scholars-foundation-awards-25000-five-faculty-members