After 10 years of leading a University of Virginia team performing health screenings at Charlottesville's annual African-American Cultural Arts Festival, Dr. Marcus Martin, an emergency medicine physician and UVA's vice president for diversity and equity, received the "Keeper of the Village" award from the event's organizers.
Martin accepted the award on behalf of the UVA team at the festival, held July 29 at Booker T. Washington Park.
The Charlottesville Community Health Fair, held in conjunction with the festival, has drawn up to 200 volunteers annually, including UVA doctors, nurse practitioners, nurses, staff members and students. They performed functions ranging from taking basic measurements and vital sign readings to performing screenings for vision and hearing, hemoglobin, kidney disease, peripheral artery disease and mental health. They also offered mammography, sports physicals and health education.
The Office for Diversity and Equity took the lead in organizing the health fair, with assistance from the Virginia Wellness Initiative student group. Other participating organizations included Sentara Martha Jefferson Hospital, the Thomas Jefferson Health District and the Virginia Department of Health.
Two Professors Elected to American Law Institute
UVA law professors Julia Mahoney and Saikrishna Prakash were recently elected as members of the American Law Institute.
Mahoney and Prakash will become the 23rd and 24th members of the UVA law faculty currently affiliated with the institute. Professor Kim Forde-Mazrui was elected last fall.  
The institute is an independent organization in the United States producing scholarly work to clarify, modernize and otherwise improve the law. Its membership includes judges, lawyers and law professors from the U.S. and abroad, selected on the basis of professional achievement and demonstrated interest in improving the law. Mahoney and Prakash joined 56 new members inducted in July from across the country.
Mahoney is the John S. Battle Professor of Law. She is an expert on property, land conservation, nonprofit institutions and feminism, among other topics. Her scholarly articles include works on land preservation, eminent domain, health care reform and property rights in human biological materials.
Prakash is the James Monroe Distinguished Professor of Law. He is an expert on separation of powers, presidential powers, the commerce clause and constitutional law. The author of the book "Imperial from the Beginning: The Constitution of the Original Executive," published by Yale University Press in 2015, Prakash comments frequently in the media on presidential power.
Members are selected from confidential nominations submitted by American Law Institute members. The institute was formed in 1923 to promote the clarification and simplification of the law and its better adaptation to social needs, to secure the better administration of justice, and to encourage and carry on scholarly and scientific legal work.
Breast Care Program Earns National Accreditation
For its high-quality care, the UVA Breast Care Program has earned full accreditation from the American College of Surgeons' National Accreditation Program for Breast Centers.
The three-year accreditation follows a review that includes both an in-person survey and a written application. According to the program, accreditation "is only given to those centers that have voluntarily committed to provide the highest level of quality breast care and that undergo a rigorous evaluation process and review of their performance."
"NAPBC accreditation challenges breast cancer centers to enhance the care they provide by addressing patient-centered needs and measuring the quality of the care they deliver against national standards," said Tracey Gosse, who manages UVA's Breast Care Program. "I am proud of our entire team for their hard work to meet these standards every day."
Centers that earn accreditation meet national standards in areas that include quality improvement, clinical management, research, prevention and early detection programs, staff education and community outreach.
The UVA Breast Care Program has an interdisciplinary group of specialists, including radiologists, breast surgeons, oncologists, nurse practitioners, nurse navigators and genetic counselors, to help women with breast cancer and benign breast diseases.
Patients can also access the latest screening and diagnostic technology, including 3-D mammography, ultrasound and breast MRI. Available support services include nutrition counseling and exercise planning. As part of the UVA Cancer Center, which is a National Cancer Institute-designated cancer center, the Breast Care Program also provides access to groundbreaking clinical trials.
Darden Professors Shortlisted for Ranking of Global Business Thinkers
Thinkers50, the premier ranking of global business thinkers, has announced its short list of nominees for the 2017 Distinguished Achievement Awards, and the list includes a pair of Darden School of Business professors.
Professor Mary Gentile was named to the short list of nominees for the T50 Ideas Into Practice Award and professor Jeanne Liedtka was shortlisted for the T50 Innovation Award.
The awards, which will be announced Nov. 13 at a ceremony in London, are often described as "the Oscars of management thinking." This year's award short lists highlight thinkers whose ideas have the potential to change the world and feature business experts from across the globe, including China, India, Korea, Spain, France, Italy, Turkey, Canada, the U.K. and the U.S. The number of female nominees also continues to rise, with 30 women making this year's shortlists, including the two Darden professors.
"Thinkers50 is a celebration of the very best new management thinking, as well as those ideas which stand the test of time," said Des Dearlove, who, with Stuart Crainer, created Thinkers50 in 2001. "We are looking for ideas with a potential impact that extends beyond the business world to address issues ranging from social inclusion to building a sustainable model of capitalism."
Astronomical Society Honors Wilson and APOGEE Team
UVA astronomy professor John Wilson and the Apache Point Observatory Galactic Evolution Experiment team are among the recipients of the Astronomical Society of the Pacific's 2017 awards for excellence in astronomy research and education.
Wilson and the team received the Maria and Eric Muhlmann Award, which recognizes "significant observational results made possible by innovative advances in astronomical instrumentation, software, or observational infrastructure," according to the announcement.
Wilson and the APOGEE team designed, built and commissioned the APOGEE instrument, located at the Apache Point Observatory in New Mexico – the linchpin of the APOGEE surveys that have been a part of the Sloan Digital Sky Survey III and Sloan Digital Sky Survey IV.
APOGEE is a groundbreaking, high-resolution, near-infrared, spectrographic survey of red giant stars in the Milky Way galaxy. By observing near-infrared light, the custom-built APOGEE instrument can efficiently see through most of the obscuring dust to study the galactic bulge, disc and halo. Collecting spectra from 300 targets simultaneously, APOGEE is responsible for the world's largest high-resolution, near-infrared spectroscopic survey of stars in our galaxy. After six years of operation, APOGEE has collected data on more than 250,000 stars.
As one nominator stated, the APOGEE instrument "produced scientifically viable data the moment it was deployed onto the sky and functioned far better than anyone expected." The instrument was so successful that a copy has been fabricated, installed and started operating at the 2.5-meter du Pont Telescope at Las Campanas Observatory in northern Chile. This instrument, in a Southern Hemisphere location, together with the first instrument, provides the APOGEE survey access to the entire Milky Way.
The awards will be formally presented Oct. 28 in Burlingame, California.
Three Nursing Faculty Members Named Academy Fellows
Three members of the School of Nursing faculty have been selected as fellows of the American Academy of Nursing. Clinical professor of nursing Jann Balmer, department chair and associate professor Beth Epstein and department chair and professor Richard Westphal will be officially inducted at a ceremony in Washington, D.C. in October, bringing the Nursing School's total number of fellows to 30.
Induction into the American Academy of Nursing is among the highest professional honors a nurse may receive. The nation's nearly 2,400 fellows include leaders in education, management, practice and research who devote time and energy to the organization and engage with other health care leaders to transform the American health care system.
Balmer, a co-lead nurse planner in UVA's continuing education programs, is a national expert on interprofessional education, chairs the American Nurses Credentialing Center's commission on accreditation and was the driver of the Alliance for Continuing Education in the Health Professions' shift to include a nursing (not just medical) lens. In her dual role with the School of Medicine, where she's director of continuing medical education and an associate professor, she has advised the school's Leadership Partners in Healthcare Management program with Darden and has been a tireless champion of nurses.
Epstein, whose research focuses on pediatrics and moral distress, was a longtime Neonatal Intensive Care Unit nurse before joining the Nursing School faculty in 2007. A widely published "triple-'Hoo," she earned the Lucie Kelly Faculty Leadership Award in 2012, the John Casteen Fellowship in Ethics in 2012 and the Nursing School's Alumni Excellence in Teaching Award in 2014.
Westphal's brief tenure at UVA – he joined the faculty in 2013 – belies the sizable impact he's had. Previously he led the nursing research department at the Naval Medical Center in Portsmouth, before becoming executive manager of the Navy and Marine Corps Psychological Health and Traumatic Brain Injury programs at the Bureau of Medicine and Surgery and a captain in the U.S. Navy Nurse Corps. His work on recognizing stress injuries among emergency personnel recently earned him a regional award for outstanding contributions to emergency medical services health and safety from the Thomas Jefferson EMS Council.
Law Dean's Book Wins Award for Southern Writers
"Vagrant Nation," School of Law Dean Risa Goluboff's examination of constitutional changes and their effect on the social reform movements of the 1960s, is one of two winners of the 2017 Lillian Smith Book Awards.
The Southern Regional Council established the Lillian Smith Award shortly after Smith's death in 1966. Internationally acclaimed as author of the controversial novel "Strange Fruit" (1944), Smith was the most liberal and outspoken of white, mid-20th century Southern writers on issues of social and racial injustice.
Presented in concert with the University of Georgia Libraries, the Lillian Smith Book Awards honors those authors who, through their writing, carry on Smith's legacy.
Goluboff, Arnold H. Leon Professor of Law and professor of history, employed widely used vagrancy laws to show how legal change can fuel much broader social changes.
"Her account of those challenges rewrites the history of the civil rights, peace, gay rights, welfare rights, sexual and cultural revolutions," the award announcement said. "As Goluboff links the human stories of those arrested to the great controversies of the time, she makes coherent an era that often seems chaotic."
Goluboff, the first female dean of UVA Law, also powerfully demonstrates how ordinary people, with the help of lawyers and judges, can change the meaning of the Constitution.
"We often think of constitutional change as starting at the Supreme Court – we hear about the court's arguments and the court's opinions, but that's not where constitutional cases start," Goluboff said. "They start in everyday life, when people decide that a law is unjust or an arrest is unjust, or some interaction that they've had seems wrong to them and they think there's a legal problem, and ultimately a constitutional problem."
The Supreme Court's 1972 decision declaring vagrancy laws unconstitutional continues to shape conflicts between police power and constitutional rights, including clashes over stop-and-frisk, homelessness, sexual freedom and public protests. "This is a story that's always going to be relevant, because there will always be a tension between how much power the police have and how much liberty individuals have," Goluboff said.
The other Smith Book Award winner was "The Firebrand and the First Lady," a portrait of the friendship between human rights activist Pauli Murray and first lady Eleanor Roosevelt written by Patricia Bell-Scott, University of Georgia professor emerita of women's studies and human development and family science.
University of Iowa Honors Alumnus Ariel Gomez
The University of Iowa's Carver College of Medicine recently honored one of its graduates, pediatric nephrologist Dr. R. Ariel Gomez of the UVA School of Medicine, with its Distinguished Alumni Award for Achievement. The award recognizes his notable leadership and unwavering dedication to kidney research.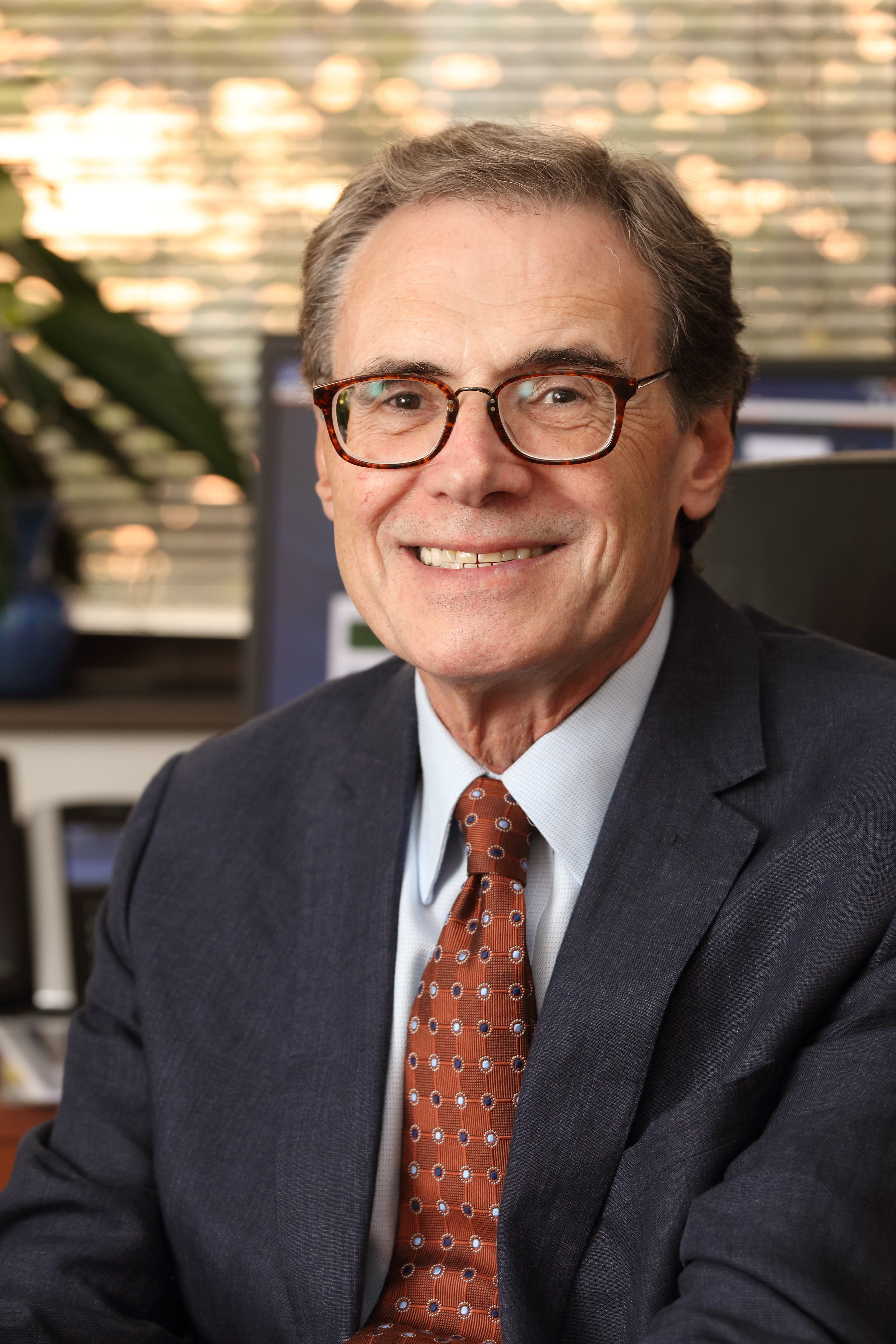 Dr. R. Ariel Gomez
The National Institutes of Health have continuously supported Gomez's research into the origin, identity and fate of kidney renin cells since 1988. He showed that renin cells are progenitor cells that appear early in life and are necessary for kidney development. Descendants from those progenitors retain the memory to make renin once again when well-being is threatened. Gomez identified the genes and epigenetic events that control the identity and plasticity of renin cells.
Most recently, Gomez's group discovered a novel renin progenitor in the bone marrow, a primitive lymphocyte that links the immune and endocrine systems, and it is the cell of origin of a highly penetrant type of leukemia. Through his research, Gomez hopes to develop treatments for hypertension and kidney and vascular diseases.
Gomez began his career in the Pediatrics Department at the UVA School of Medicine in 1984 and held multiple leadership positions at the school before returning to research full-time in 2008.
Article Information
August 7, 2017
/content/accolades-martin-uva-health-team-named-keepers-village