The University of Virginia is one of 150 institutions selected for inclusion in the first edition of a new college guidebook, "Colleges Worth Your Money."
According to a press release, each college profile contains more than 75 data points, including admission statistics, salary and return-on-investment figures, information on companies that recruit on campus, where students land internships and jobs, and more.
"With costs soaring and competition for admission at an all-time high, the college-bound can no longer afford not to consider factors like cost, career services, and [return on investment] when deciding on a school," the press release said.
The book's authors are Andrew Belasco, CEO of College Transitions, an educational consulting firm; Dave Bergman, co-founder of College-Transitions; and Michael Trivette, a veteran higher education administrator in student services.
The listing is the latest of a long string of national citations highlighting the value of a UVA education.
Princeton Review recently listed UVA as No. 12 among the "Best Value Colleges," which focuses on return on investment and includes institutional data along with student surveys, and No. 7 in "Best Value Colleges Without Aid," which measures the return on investment for students who do not receive financial aid. In August, Money Magazine ranked UVA the nation's second-best-value public university and No. 6 among all schools, public and private.
English Professor Joins Long Line of Distinguished Lecturers in Cambridge Series
Rita Felski, John Stewart Bryan Professor of English, is giving the Clark Lectures in English Literature at Trinity College Cambridge over the next several weeks.
These lectures have been given by the most eminent writers, philosophers and literary critics of the 20th century, including T.S. Eliot, Leslie Stephen (father of Virginia Woolf; Woolf declined an invitation), E.M. Forster, Toni Morrison, Tom Stoppard, Richard Rorty, Adrienne Rich, Seamus Heaney, Rowan Williams (former Archbishop of Canterbury), historian Carlo Ginzburg, as well as the figures responsible for the founding of English literature as a field of study in the early 20th century: F.R. Leavis, William Empson and I.A. Richards.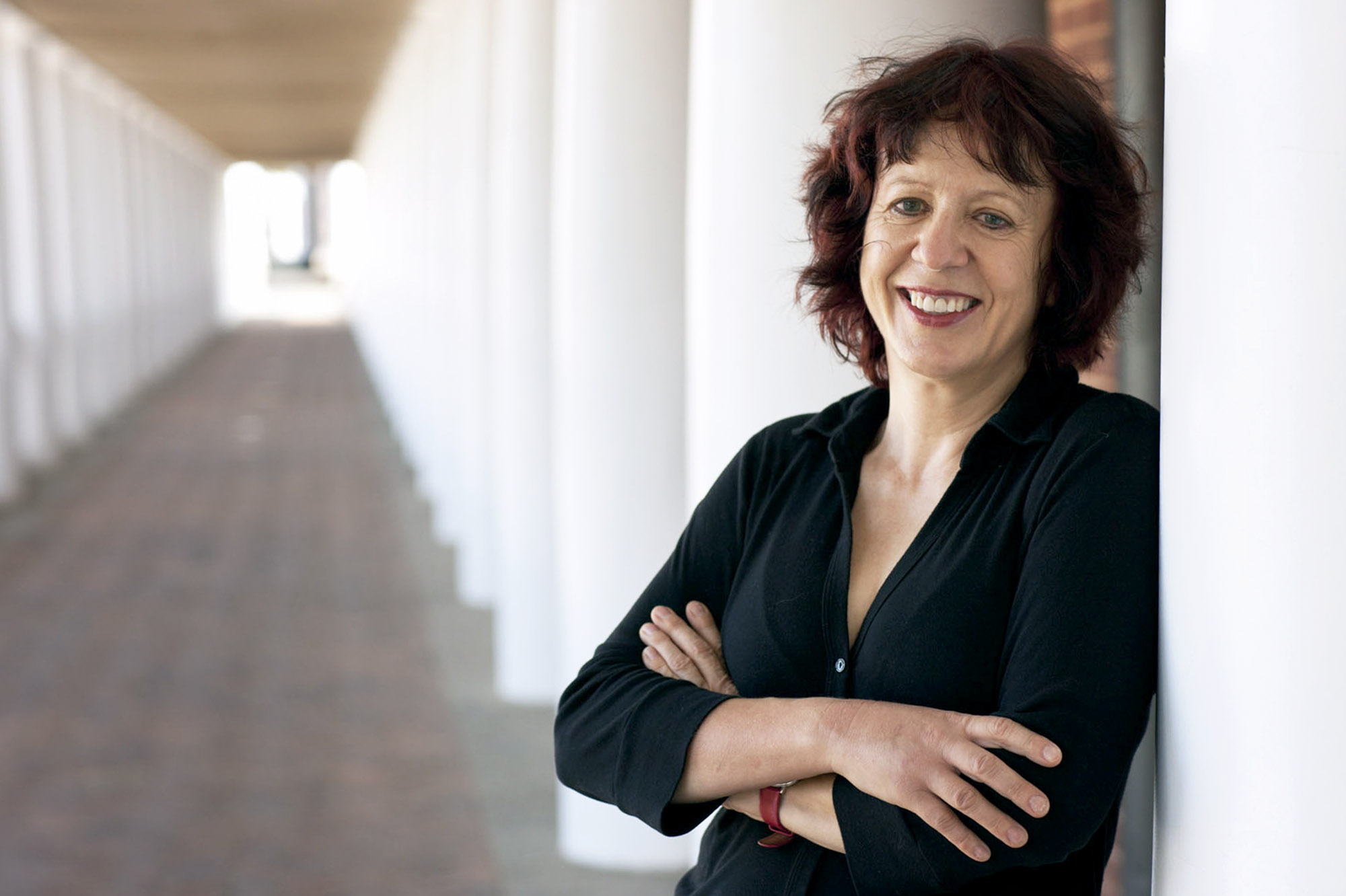 English professor Rita Felski joins a line of Clark Lecturers at Cambridge University that includes T.S. Eliot, E.M. Forster and Toni Morrison. (Contributed photo)
Felski, who is also the Neils Bohr Professor at the University of Southern Denmark, will give four talks, all via videoconference. On Thursday, her title was "Remix." On March 4, she will discuss "On Recognition: Returning to Reims." On March 11, her topic is "On Disclosure: Robert Walser. She concludes March 18 with "On Resonance: Stoner and Theory."
Johnson to Lead American Astronomical Society
Astronomy professor Kelsey Johnson is trading one presidency for another.
Earlier this month, Johnson was elected president of the 7,700-member American Astronomical Society, effective this summer, following a two-year term as president of the Astronomical Society of the Pacific, which ends in 2021.
Johnson's election to lead the AAS comes after years of service to the 122-year-old society. She has been an at-large member of its Board of Trustees since 2017 and chairs the Code of Ethics Task Force. She has also been a member of the society's Strategic Assembly and its Strategic Plan Policy, Outreach, and News Release Subcommittee.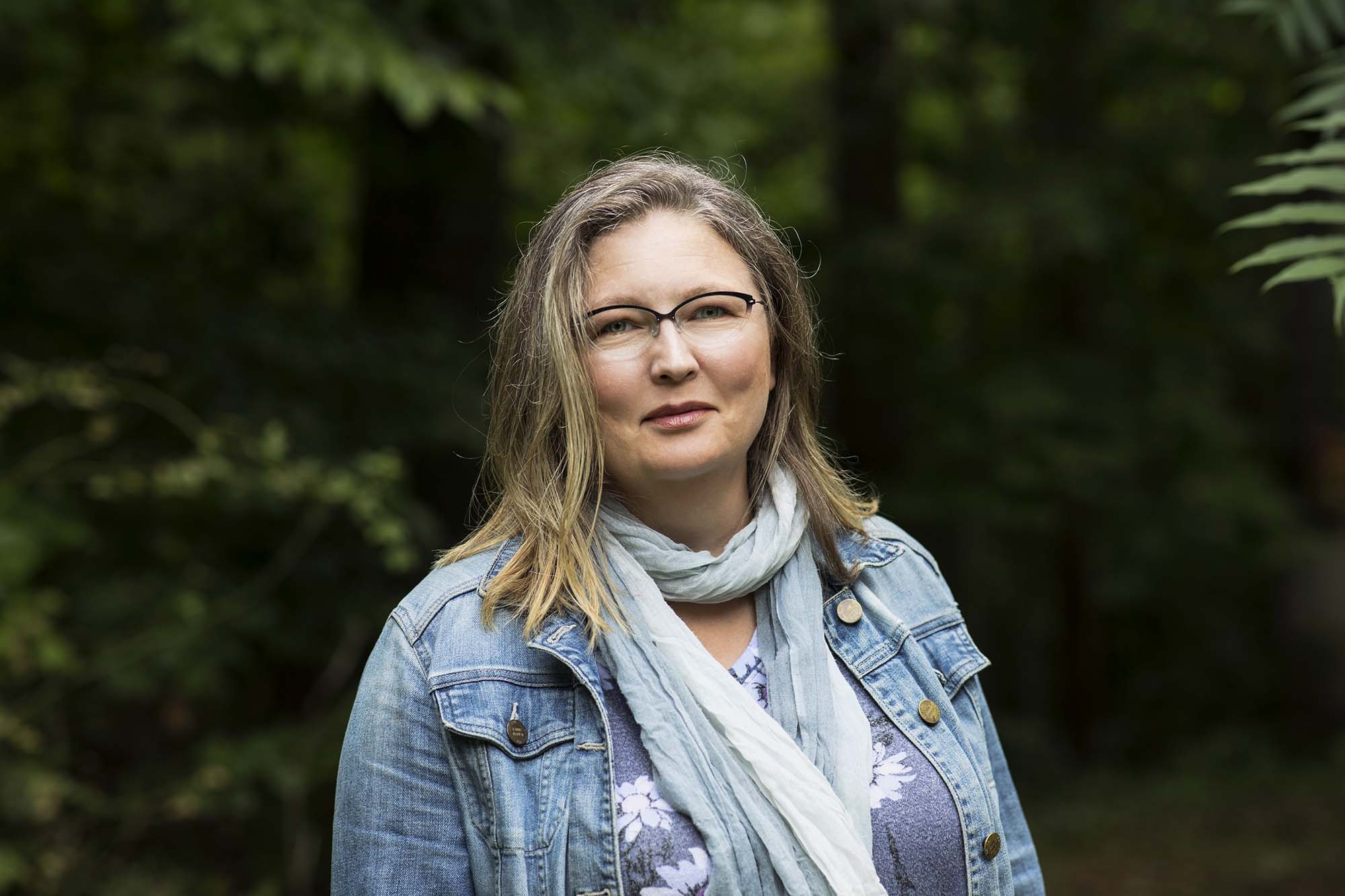 Astronomy professor Kelsey Johnson won the presidency of the American Astronomy Society on a platform of making it more "broadly inclusive and welcoming." (Photo by Dan Addison, University Communications)
Johnson ran for the presidency on a platform calling for more diversity in the society's membership and leadership.
"One critical sign of health is the demographics of our members," she wrote in her winning candidate statement. "It is essential that the AAS be broadly inclusive and welcoming in our mission 'to enhance and share humanity's scientific understanding of the Universe.' It is clear that we need to do better."
Johnson also called for the promotion of "science literacy and advocacy among both policy makers and the general public." She currently directs the Dark Skies Bright Kids program, which leads astronomical outreach programs for local elementary school students.
At UVA, she is also director of the Echols Scholar program.
Law Student Wins Swanson Award
Nirajé Medley-Bacon, a second-year student at the School of Law, is this year's recipient of the Gregory H. Swanson Award, named in honor of UVA and the Law School's first Black student. The award recognizes students who demonstrate courage, perseverance and a commitment to justice within the community.
Medley-Bacon received the award Jan. 29 as part of UVA's Community MLK Celebration event, hosted by the Law School online.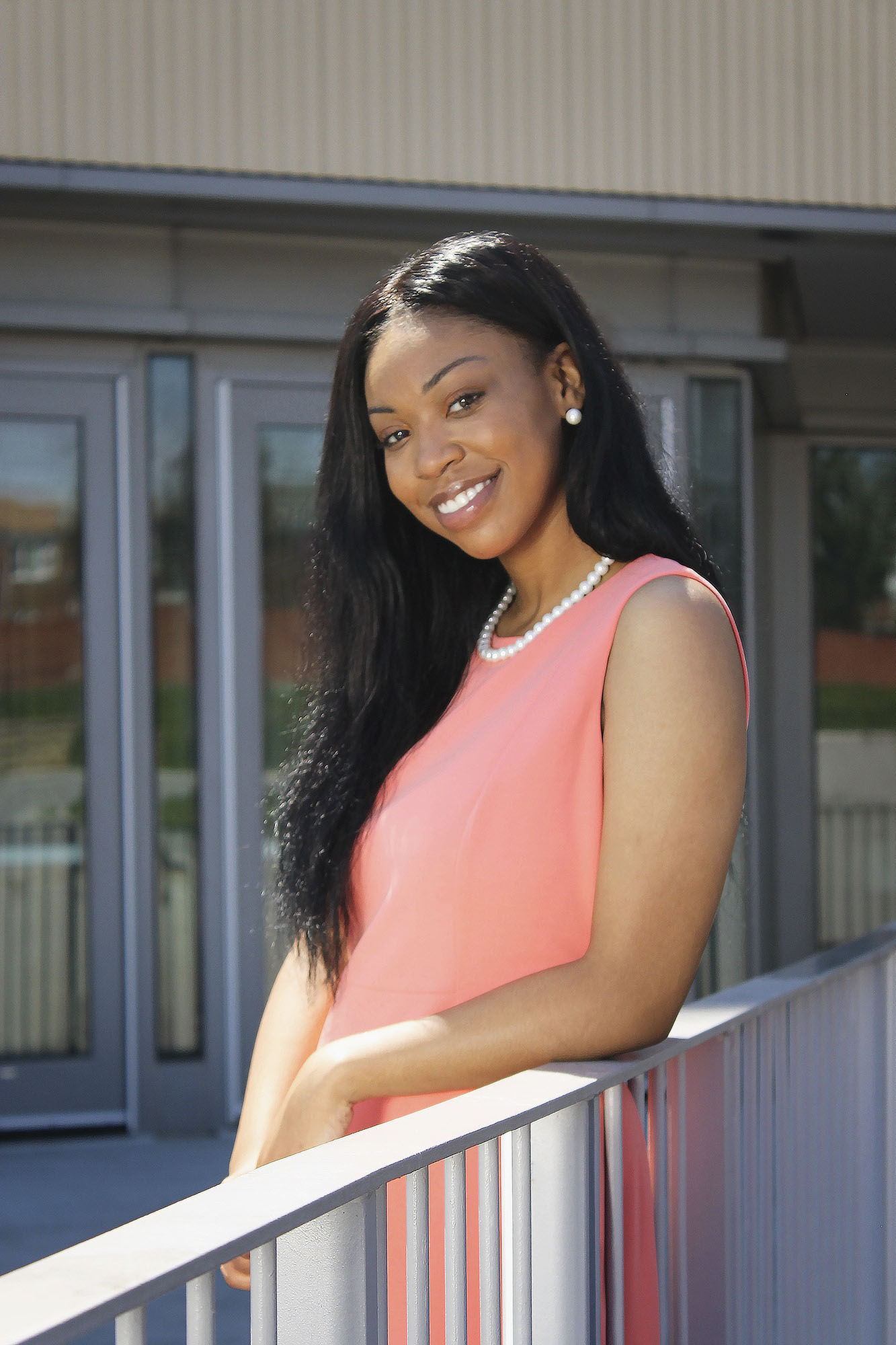 Law student Nirajé Medley-Bacon won this year's Gregory H. Swanson Award, named in honor of UVA and the Law School's first Black student. (Contributed photo)
"When I do things [with the Black Law Students Association or at the Law School] … I just do it because I find it interesting or I find it to be important work," she said. "So to know I was recognized by my peers, as well by professors and other members of the Law School community, for having good character and conduct, that was just really special to me, and it's something I'm really proud of, to know that I have that kind of positive impact on other people."
At UVA Law, Medley-Bacon serves as Black Law Students Association social action chair and on the organization's mock trial team (where she was a National Black Law Students Association Mid-Atlantic region quarterfinalist), on the editorial board of The Journal of Law & Politics and as a Peer Advisor. In November, she was appointed the student representative on the President's Council on UVA-Community Partnerships, created in 2019 by UVA President Jim Ryan.
The Swanson Award, launched in 2018 during a commemoration of Swanson's time at UVA, is meant to recognize students who have the traits he embodied. Swanson attended UVA Law during the 1950-51 academic year as an LL.M. student after winning a federal lawsuit aided by the NAACP Legal Defense Fund.
Faculty Trio Receives NEH Funding
Three faculty members are among the recipients of $32.8 million worth of National Endowment for the Humanities grants, announced in December. The grants support 213 humanities projects in 44 states, the District of Columbia and Puerto Rico.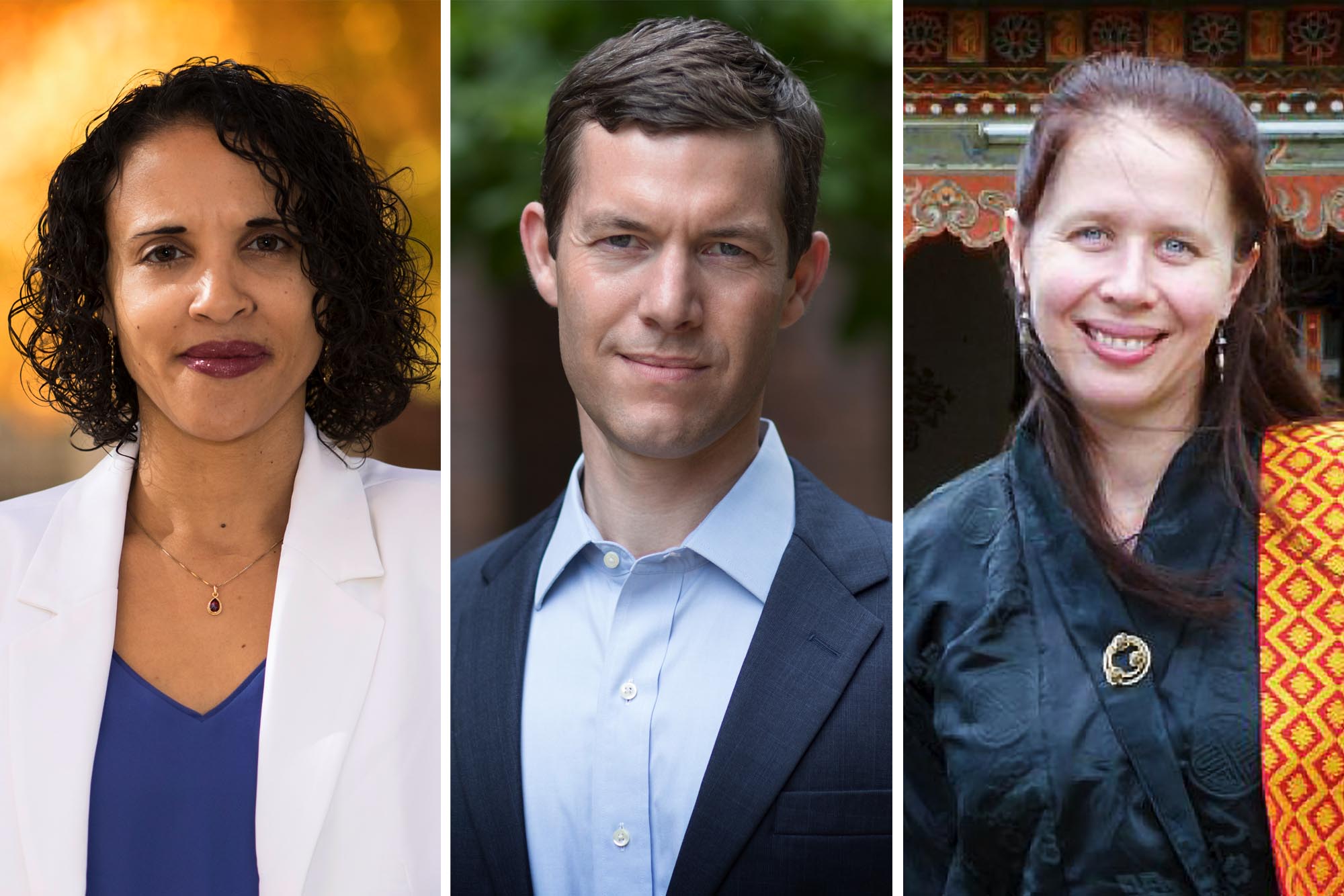 From left, Marlene Daut, Andrew Kahrl and Ariana Maki won grants from the National Endowment for the Humanities. (Daut and Kahrl photos by Dan Addison, University Communications; Maki photo contributed)
Marlene Daut, professor of African diaspora studies in the Carter G. Woodson Institute and the Program in American Studies, received a $60,000 NEH Fellowship for her project, "Awakening the Ashes: An Intellectual History of Haiti," allowing her to pursue research and writing leading to an intellectual history of Haiti from 1804 to the 1950s.
History professor Andrew Kahrl received a $30,000 NEH Fellowship for his project, "The Power to Destroy: A Hidden History of Race and Taxes in America," which will allow him to pursue research and writing leading to a book and digital map on property taxation and race from Reconstruction through the aftermath of the 2008 financial crisis. 
Ariana Maki, a research scientist in the Department of Religious Studies, received a $60,000 NEH-Mellon Fellowships for Digital Publication for "Digital Biography: Teaching the Life of the Buddha Using Literature and Art," art historical research and writing on the extensive 17th-century murals at the Tibetan Buddhist monastery of Jonang Puntsokling, for the Life of the Buddha project. 
UVA Health Awarded for Reducing COVID-19 Infections at Long-Term Care Facilities
UVA Health has received a national health innovation award for its collaborative program to prevent COVID-19 infections at local long-term care facilities and reduce mortality when outbreaks occur.
UVA Health's Geriatric Engagement and Resource Integration for Post-Acute and Long-Term Care Facilities program, also known as GERI-PaL, was named a runner-up in the 2020 Health Quality Innovators of the Year Awards.
GERI-PaL brings together specialists from within UVA and across the health care community through telehealth technology to control COVID-19 at long-term care facilities, which nationally have been particularly vulnerable to the pandemic's effects because of the serious health challenges many of their residents face.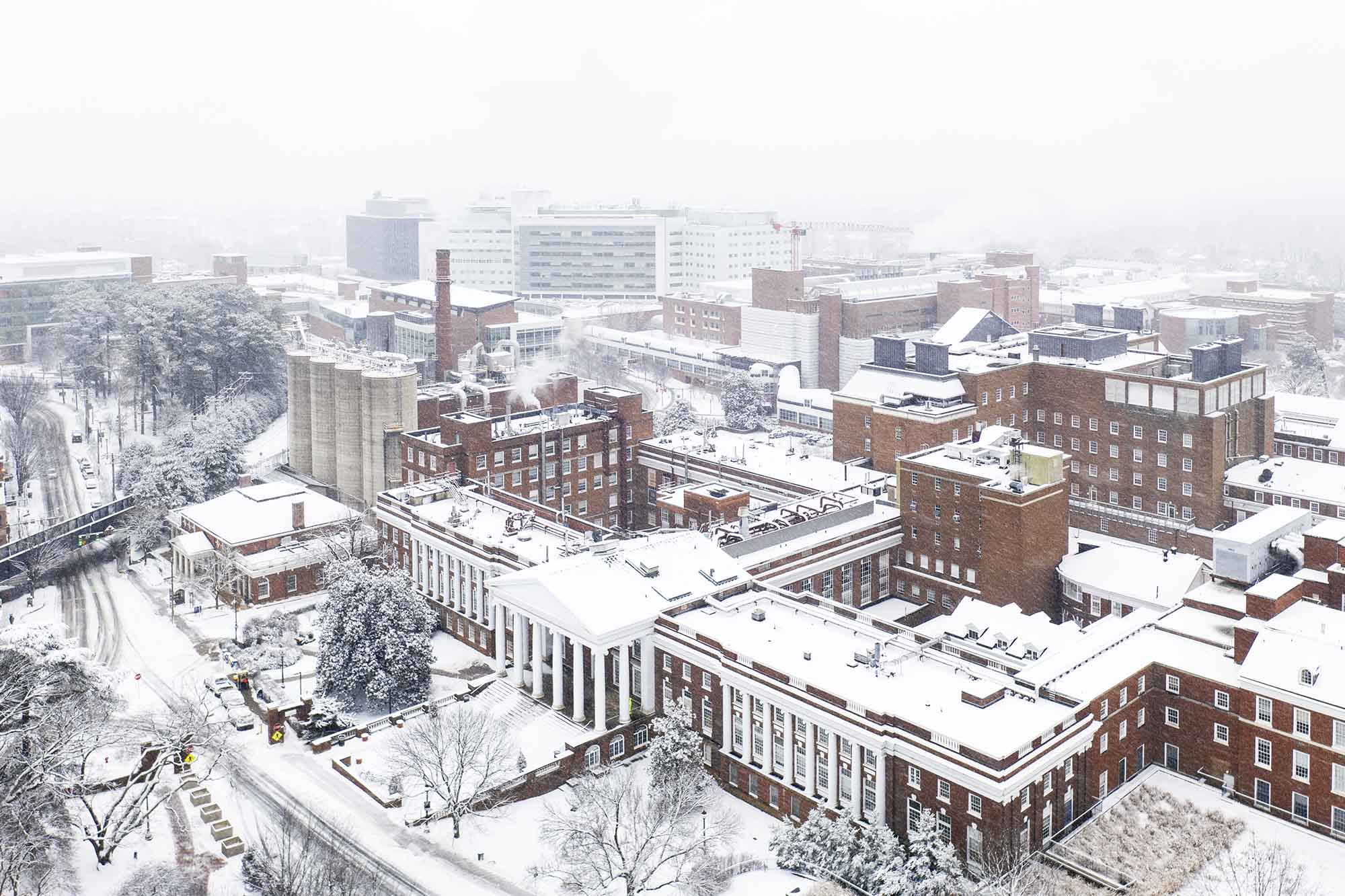 UVA Health's outreach to regional long-term care facilities to monitor and treat COVID-19 patients earned national notice. (Photo by Sanjay Suchak, University Communications)
"I am so proud to see the efforts of our entire team and our long-term care facility and community partners recognized," said UVA Health geriatrician Dr. Laurie R. Archbald-Pannone, the program's lead physician. "This is a wonderful example of health care providers here in the Charlottesville area who are working tirelessly to provide quality care for patients with COVID-19."
As part of the program, long-term care facilities are able to consult with UVA infectious disease experts to develop infection-control procedures; meet with a range of UVA experts in nursing, geriatrics and pulmonology to receive the latest COVID-19 guidance through Project ECHO; obtain consultations on individual patients and transfers to the hospital as needed; have medical student volunteers call residents to reduce social isolation; and have regular discussions with a nurse liaison to make sure each facility's needs are being met.
A research paper based on the first two facility outbreaks addressed by the GERI-PaL team showed lower mortality rates – 12% and 19% – compared with a 28% mortality rate reported at a long-term care facility in Washington state.
3 Law Alumni To Be Honored for Public Service
Three School of Law alumni – Elisabeth Epps (Class of 2011), professor Toby Heytens (Class of 2000) and April Nicole Russo (Class of 2011) – were honored Saturday for their public service work at the school's fifth annual Shaping Justice conference.
Heytens received the Shaping Justice Award for Extraordinary Achievement. He is on leave from the Law School to serve as solicitor general of Virginia.
Epps and Russo received Shaping Justice Rising Star Awards. Epps founded and directs the Colorado Freedom Fund, and Russo is an assistant U.S. attorney at the U.S. Attorney's Office's Child Exploitation & Human Trafficking Unit, where she serves as the Project Safe Childhood Coordinator for the District of Columbia.
In 2018, Epps founded the Colorado Freedom Fund, a prison abolitionist community bond fund that works to end wealth-based detention via litigation, legislation and direct action. The Colorado Freedom Fund has paid bond for over 1,000 Coloradans and secured their pretrial release. She also serves as the Smart Justice organizer for ACLU for Colorado. In both roles she has played a role in passing legislation in Colorado that increases pretrial liberty and fairness across the state.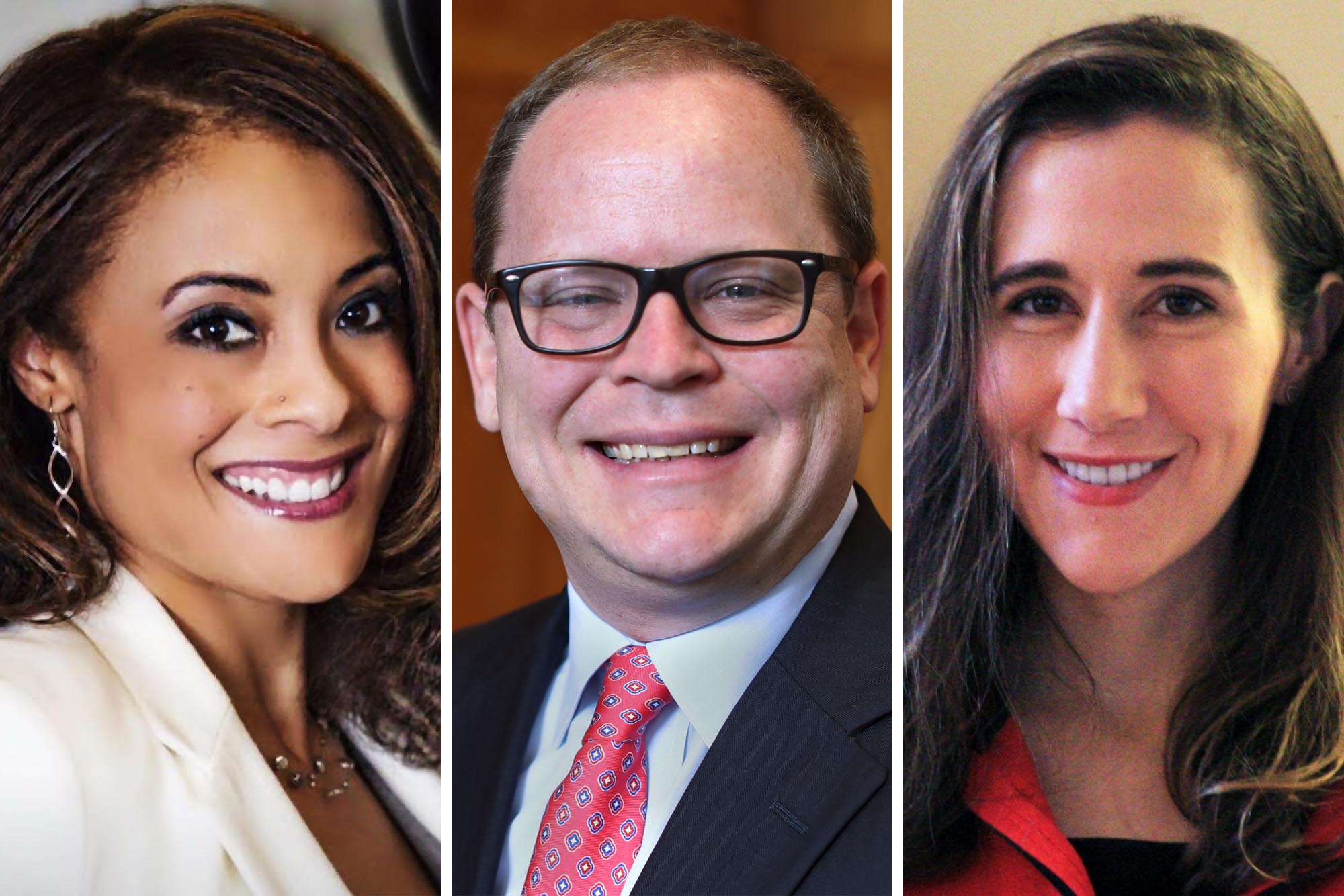 From left, the Law School honored alumni Elisabeth Epps, Toby Heytens and April Nicole Russo for their public service work at its annual Shaping Justice conference. (Contributed photo/Photo by Andrew Shurtleff/Contributed photo)
She was a recipient of the Civil Rights Education and Enforcement Center's 2020 Challenging Discrimination Award.
"The work of those of us who chart our own course is important," Epps said, "and I appreciate that being recognized."
Heytens first joined the faculty in 2006 and then rejoined in 2010 after having spent three years working in the Office of the U.S. Solicitor General and arguing six cases before the U.S. Supreme Court. He was appointed solicitor general in 2018.
He successfully represented the Commonwealth of Virginia in oral argument at the U.S. Supreme Court in Virginia Uranium Inc. v. Warren, and Virginia House of Delegates v. Bethune-Hill, which were both decided on the same day in 2019.
He and his co-authors won the National Association of Attorneys General Supreme Court Best Brief Award in 2020 for an amicus brief filed in Trump v. Vance, and in 2019 for an amicus brief filed in Bethune-Hill.
Russo is a senior assistant U.S. attorney at the U.S. Attorney's Office in Washington, D.C., in the Human Trafficking & Child Exploitation Section and is the district's Project Safe Childhood Coordinator. Prior to joining the D.C. office, she served as the Human Trafficking Coordinator and Project Safe Childhood Coordinator, as well as deputy chief for the General Crimes Unit, at the U.S. Attorney's Office in the Eastern District of Michigan.
"Events like the Shaping Justice conference remind us of the importance of persevering during these difficult times, of always fighting the good fight, and of replacing rage, hatred and anger with dedication, commitment and hope for a better tomorrow," Russo said.
Class of 2011 classmate Jessica Vormwald, assistant commonwealth's attorney for Lynchburg, noted Russo's success prosecuting human trafficking and child exploitation crimes, as well as being an outspoken victim advocate.
"April's commitment, dedication, kindness, integrity, compassion and work ethic will surely lead April to continue to make a difference in any future endeavor," Vormwald said in her nomination letter.
Article Information
February 22, 2021
/content/accolades-new-best-value-guide-says-uva-worth-your-money