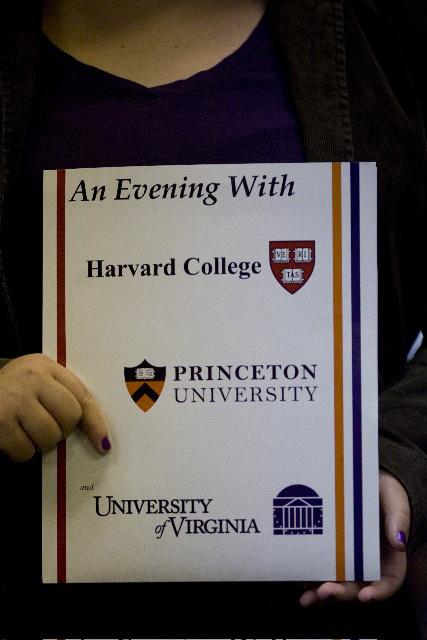 October 23, 2008 — As of Oct. 21, more than 2,500 students in 27 cities had registered to take part in a joint admissions tour being conducted by the University of Virginia, Harvard and Princeton, which began Oct. 12 and runs through Nov. 20.
For the second straight year, admissions officers from the three schools are touring the nation to deliver the message that qualified students from low-income backgrounds can afford to attend. Eight cities were added to the tour this year.
Already, the tour has drawn sizable crowds in Abingdon, Va., and Greensboro, N.C., said Greg Roberts, senior associate dean of admission at U.Va. After a 10-day break, the tour resumes Sunday in San Diego.
More than 1,000 students are registered for the tour's five Southern California stops, which also include Riverside (Monday), Anaheim (Tuesday), Universal City (Wednesday) and Los Angeles (Oct. 30).
Large turnouts are also anticipated in Washington (Nov. 12) — where a whopping 536 students are already signed up — Prince Georges County, Md. (Nov. 13), Detroit (Nov. 16) and Chicago (Nov. 18).
Princeton, Harvard and U.Va. initiated the tour last fall, taking advantage of resources freed up by the cancellation of their early-action admissions programs. The schools were concerned that the programs disadvantaged students from low-income families, who typically must wait to compare financial aid offers before committing to a school.
Perhaps reflecting the state of the national economy, high school students at the tour's first few stops in Virginia, North Carolina and West Virginia asked many questions about financial aid, in addition to the normal queries about academics and student life, Roberts said.
"A lot of it was about affordability — they needed to know how to apply for financial aid," Roberts said. "They were surprised at the level of aid these schools will give them."
In addition to the evening programs for students, the admissions representatives invite local high school guidance counselors to informational breakfasts the following morning. Nearly 200 counselors had signed up in Southern California through Oct. 21.
Upcoming tour stops include:
Oct. 26 - San Diego, The Westin San Diego, 400 W. Broadway.
Oct. 27 - Riverside, Calif., Riverside Marriott, 3400 Market St.
Oct. 28 - Anaheim, Calif., Doubletree Hotel Anaheim/Orange County, 100 The City Dr., Orange, Calif.
Oct. 29 - Universal City, Calif., Hilton Los Angeles/Universal City, 555 Universal Hollywood Drive.
Oct. 30 - Los Angeles, Renaissance Montura Hotel Los Angeles Airport, 9620 Airport Blvd.
Nov. 9 - Austin, Texas, Courtland by Marriott/Austin Downtown, 300 E. 4th St.
Nov. 9 - Little Rock, Ark., Doubletree Little Rock, 424 W. Markham St.
Nov. 10 - Memphis, Tenn., Doubletree Hotel/Memphis Downtown, 185 Union Ave.
Nov. 10 - San Antonio, Texas, Marriott River Center, 101 Bowie St.
Nov. 11 - Birmingham, Ala., Birmingham Marriott, 3590 Grandview Parkway.
Nov. 11 - Laredo, Texas, Embassy Suites Laredo, 110 Calle Del Norte.
Nov. 12 - Jackson, Miss., Hilton Jackson, 1001 E. County Line Rd.
Nov. 12 - McAllen, Texas, Embassy Suites McAllen, 1800 S. Second St.
Nov. 12 - Washington, Renaissance Washington D.C., 999 Ninth St. N.W.
Nov. 13 - Brownsville, Texas, Holiday Inn Brownsville, 3777 North Expressway.
Nov. 13 - Mobile, Ala., Mobile Marriott, 3101 Airport Blvd.
Nov. 13 - Prince Georges, Md., Eleanor Roosevelt High School, 7601 Hanover Parkway, Greenbelt, Md.
Nov. 16 - Detroit, Doubletree Hotel Dearborn, 5801 Southfield Service Dr.
Nov. 17 - Indianapolis, Hilton Indianapolis North, 8181 N. Shadeland Ave.
Nov. 18 - Chicago, Chicago Marriott Oak Brook, 1401 W. 22nd St. Oak Brook, Ill.
Nov. 19 - Milwaukee, Wyndham Milwaukee Airport Hotel, 4747 S. Howell Ave.
Nov. 20 - Madison, Wis., Monona Terrace Convention Center, One John Nolen Dr.


— By Dan Heuchert