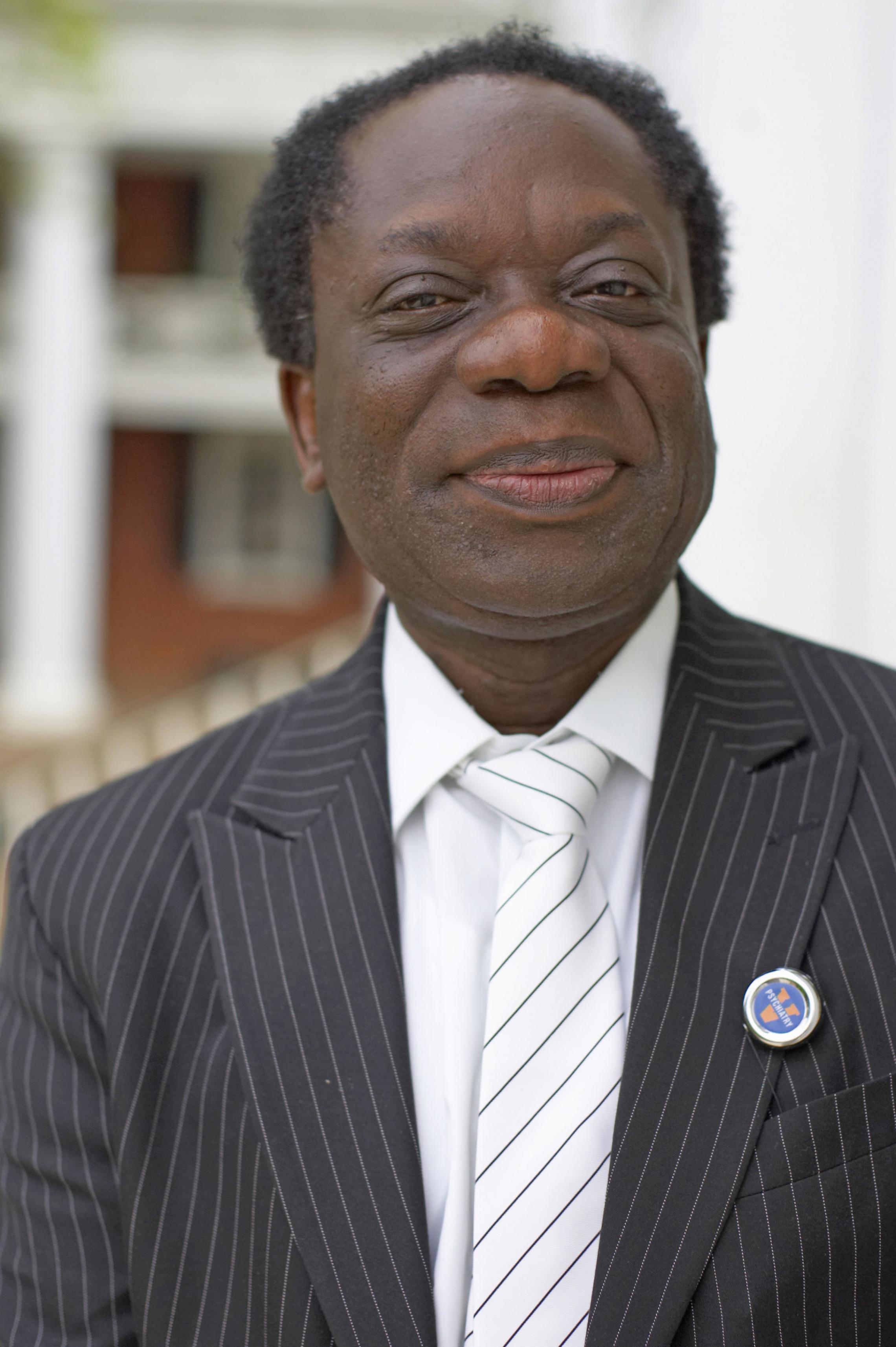 February 7, 2011 — After Maurice Apprey sits down on the leather couch in his office in the Luther P. Jackson House on Dawson's Row, he loses no time in explaining what drives him in his job every day: the academic and personal achievements of the University of Virginia's African-American students.
Now in his fifth year as dean of the Office of African-American Affairs, Apprey recently talked about three concepts his office focuses on to enhance the success of black students, beyond the range of the structured services it offers.
First, he and his staff provide and identify learning opportunities in social activities and encourage students to take advantage of the myriad cultural offerings at U.Va. Apprey called this part of the student experience the "informal" or "implicit" curriculum.
These activities might range from seeking out faculty as role models to attending talks and colloquia. "We want to make that curriculum more explicit," he said.
The second concept might sound counterintuitive: what is called "the strength of weak ties." Apprey said, quoting sociologist Mark Granovetter. Casual or targeted acquaintances and friendships – as differentiated from closer relationships, such as family ties, or formal ties, like those between students and their classroom professors – can lead to unexpected opportunities, networking or progress for students, he said. Those with whom a student has close ties are more likely to know the same people and information that the student does, compared to those with whom he or she has weak ties – for instance, members of a study group, he said.
Whether students' ties are weak or strong, they can help their peers just by sharing the same social network. The third area comprises activities within the network that boost everyone in a reciprocal way, Apprey said.
"Students who are strong academically pull up others along with them," he said. That can happen through tutoring, or even through casual conversation.
The Peer Advisor Program is a more structured example of this reciprocity, where first-year students who had a peer adviser become peer advisers themselves.
Faculty and staff, also available as part of students' social networks – formally and informally – increasingly advise African-American students earlier in their college years with helpful considerations, such as the appropriate sequence of courses in a subject.
The African-American Affairs office also has offered formal faculty-student mentoring since 1995, one of its services that helps students of color achieve intellectual and personal success at the University.
From 2005 to 2010, the percentage of African-American students with grade-point averages of 3.0 or higher after their first semesters increased by 14 percent. The African-American Affairs office marked the occasion in "Harambee II," an annual January gathering that celebrates the achievements of first-year and transfer students.
"This latest class has come in and hit the ground running," Apprey said.
The average GPAs of first-year students for the first two semesters at U.Va. have been steadily rising for the past five years. Apprey said these improvements "are the result of collective, high-impact, front-end intervention in the very first semester at U.Va., so that they can build on that success to compete successfully for competitive work places and graduate and professional schools, among other opportunities."
Activities begin before the students arrive at U.Va., focusing on advising and mentoring to achieve academic success. Office of African-American Affairs staff members have discussions with newly accepted students and their parents; the staff writes to incoming students; Apprey reiterates the emphasis on academic achievement in his fall welcome to incoming students; the peer advisers are trained to address it; and academic excellence continues to be the major focus throughout the four years.
"We'd like to see an increasing number of Echols Scholars and students who are eligible and more competitive for scholarships, fellowships, graduate and professional schools and other jobs," he said. 
Making assertive efforts to put students on the right track to academic success is the first and most crucial step for them, Apprey said.
"The next stage will be the evaluation of the impact of this strong infrastructure in terms of what opportunities accrue from it," he said.
Apprey is looking for results to show an outcome of more successful black students and graduates, while maintaining the output. The University has achieved a black graduation rate of about 87 percent over the past 15 years, which ranks highest in the nation among public universities, according to the Journal of Blacks in Higher Education. By "outcome," Apprey is referring to preparing African-American students academically to for their post-graduate future.
Apprey, who came to the University in 1980 and has been involved in the successful recruitment and retention of minority students in the Medical School, still teaches medical students and psychiatry residents.
Even as Apprey oversees progress in black students' academic achievements, he still appreciates being part of their social network. "The best kind of workday for me is to be constructive and helpful to students, on a wide range of non-academic decision-making issues and academic concerns."
— By Anne Bromley
Media Contact
University News Associate Office of University Communications
anneb@virginia.edu (434) 924-6861