After eight years at the University of Virginia Police Department, Muki is retiring.
Muki is a 10-year-old Belgian Malinois who has served as the department's explosive-detection canine. He will continue to live with his handler, Officer Audrell Ragland.
"He's the type of dog that is really loveable," Ragland said. "He loves to give people hugs and he loves to be petted, and he is a loveable type of guy."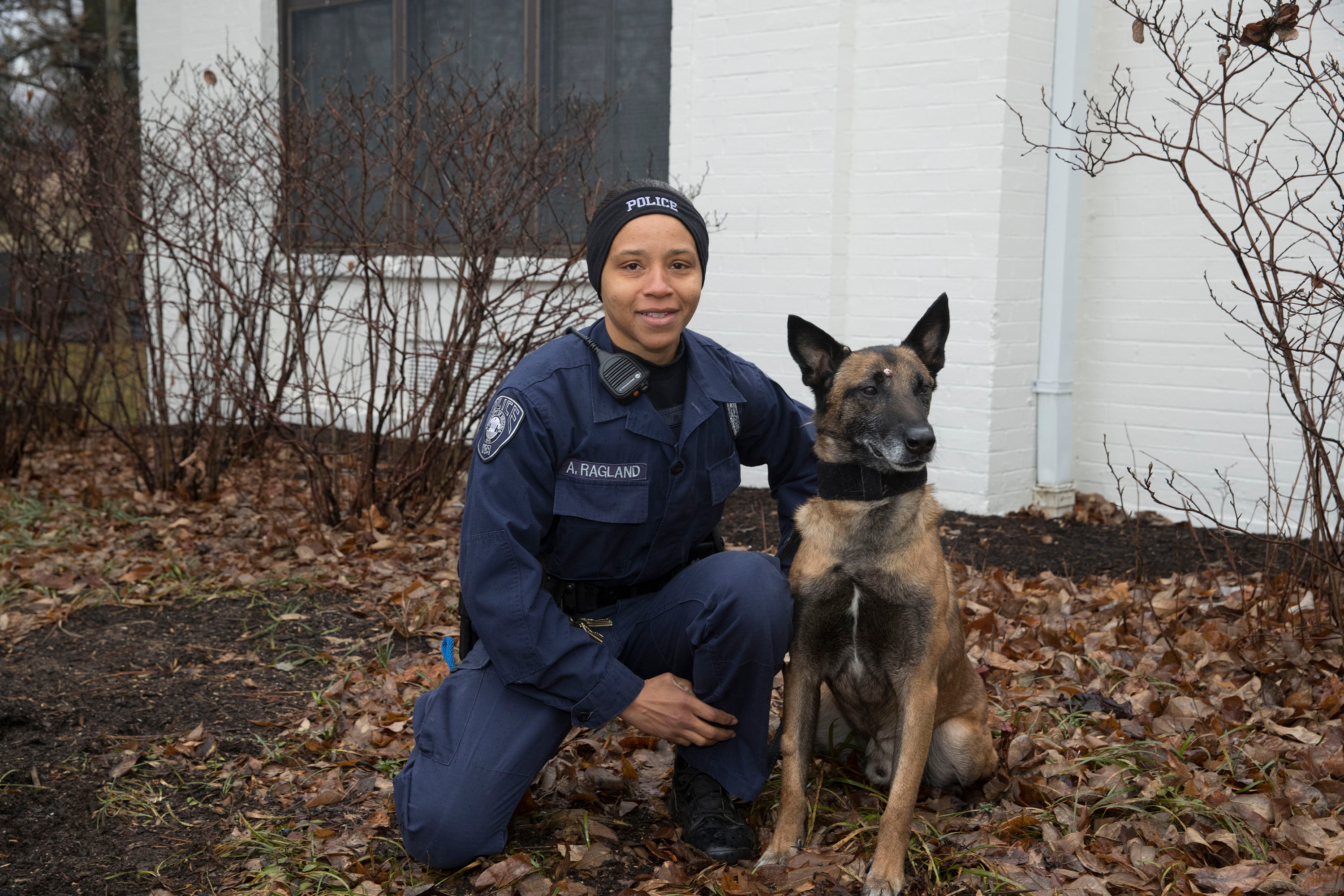 Officer Audrell Ragland and Muki. (Photo by Dan Addison, University Communications)
For about the past year, Muki had been developing benign cysts on his body that had to be surgically removed, prompting higher-ups to begin planning for his eventual retirement and replacement. That process soon got sped up.
"He went to the doctor to have some cysts removed and in doing so they discovered a lemon-sized tumor in his throat, which turned out to be cancerous," Ragland said. "They had to do emergency surgery to remove it. Soon after that, we retired him."
Ragland praises Muki for his resilience and for working while the tumor was growing in his throat.
"Never once did he complain, did he whine, did he let anyone know that he was suffering with this tumor in his throat," she said. "The thought of him working is amazing to me. He was working like a champ and we did sweeps of places such as the John Paul Jones Arena. Those sweeps can last up to 35 to 40 minutes that he is working at one time.
"He is a fighter, a tough guy. I like to say that he's beat cancer and he is still going, he still has his energy and his spunk and he is an amazing, amazing dog," she said.
University Police Officer Yong Bacon shares Ragland's opinion of Muki's dedication.
"Muki has always liked to work," she said. "I remember a time, Muki had bloody paws due to materials covering the floor, but he wanted to continue working because in his mind, he had not completed his job."
Bacon said Muki's personality is friendly and easy-going, except when he was on a work assignment.
"He knows when to work and when to play," Bacon said.
His mission for the University was a serious one, sweeping through athletic and concert venues and other large gathering places before events to search for explosives.
"They do all basketball games, men and women, they do all football games, concerts, shows, dignitaries, anything that is going to generate a large crowd of people," Ragland said. "The dogs do sweeps for each event."
To train for this, Muki was introduced to specific odors connected to explosive devices and rewarded when he found them.
"Essentially, the dog is working for a toy," Ragland said. "He knows, 'If I smell this odor and sit, mom's going to give me my toy.' In the human world, we're looking for a bomb. We're looking for something that is going to hurt people. But in their world, the only thing they are working for is this toy. So a lot of times you see these dogs and they are jumping around, super-excited because they want to play so they can find this toy. It is just a game to them."
After the initial 12- to 16-week training course to become certified, Muki still trained for at least an hour a day while at work. Ragland would frequently train him with Albemarle County Police Officer Bill Saulle and his dog, Cleo, who retired around the same time as Muki.
"Officer Saulle and I are members of the same training group in Richmond," Ragland said. "We train together three days each month in Richmond with agencies such as Richmond City, Capitol Police, Federal Reserve, U.S. Marshals, Henrico and Hanover Fire Marshals, just to name a few. Also, Saulle and I try to get together as often as we can to conduct training at local venues such as the Fashion Square Mall, Charlottesville/Albemarle Airport, Colonial Auto Center, Stonefield Movie Theater, Charlottesville/Albemarle Fire Rescue and JPJ."
Muki is not going to get lazy in retirement. Ragland is currently working with Nahla, the department's new bomb dog, a black German shepherd, who is also living with her. She said that both dogs are territorial and vie for her attention. She plays with Muki when she gets home from work and her children also help playing with him. He is in a difficult transition period, adjusting to the idea that when Ragland leaves for work, she takes Nahla instead of him.
"We are going to have to feel our way through," she said. "At the last women's basketball game, he came along with us, rode in the truck and hung out with us. It is going to be a transition we are going to have to work on."
Muki is a chewer and he showed some of his "spunk" one day on the police truck Ragland used to carry him around.
"In our truck we have a big kennel in the back and a divider between myself and Muki," Ragland said. "I open the divider because Muki enjoys looking out the front windshield, and he will nudge me from behind and I will rub him on his head."
One day, Ragland met another officer at the police station and forgot to close the divider.
"I was out of the truck for five to 10 minutes, and when I come back to the truck, I found he had ripped up both front seats. Stuffing was everywhere. And he had managed to jump back to his kennel and he's looking at me like 'Hey Mom, what's the problem?' That phone call I had to make to my lieutenant was the worst call I ever had to make to her."
A dog lover, Ragland became a police officer to give back to the community and applied to be a canine officer when the position opened.
"I love what I do and if I could be a canine officer here for the rest of my career, I would love to be," she said. "Working with the dog all day is just amazing. And seeing the effects they can have on people you wouldn't believe."
Ragland said she learned a lot about resilience from Muki, especially when she realized the he had continued to work even while suffering from cancer.
"From him I learned the resiliency and the hard work he put in to be great at what he does," she said. "If I could take that and apply it to being a police officer and a dog handler …"
The University Police Department is in the process of planning a ceremony to honor Muki for his service.
"He has done a lot for this department," Ragland said. "He's worked 24/7 and he has given this department eight good years of his life. He's been through sicknesses, he's been through three handlers and having to adjust to three different homes. He is a very resilient dog."
Article Information
February 13, 2019
/content/after-working-eight-years-only-toy-muki-takes-rest