For a wedding anniversary gift two years ago, Victoria Willis wanted to do something special for her husband, University of Virginia alumnus Gordon Willis Sr., whose father, grandfather, great-grandfather, great-great grandfather and, now, all four children, had attended UVA.
Wouldn't it be great, she thought, if she could arrange for a photo to be taken of their kids – each a sixth-generation 'Hoo – on the University's historic Lawn?
Easier said than done.
Eldest child Phoebe was in the midst of a dual-graduate-degree program at UVA; Larkin was getting her master's at Stanford University; Gordon Jr., then a fourth-year UVA student, was a double-major involved in a host of extracurriculars; and Catesby, then a first-year UVA student who played field hockey, was just getting acclimated to life as a student-athlete.
But one fall day in 2016 – before Larkin had to return to California – the photo shoot happened.
There, on the Lawn – a place where five generations of family had stood before them – the Willis kids were all smiles, their affection for UVA unmistakable.
"It's a place that feels like home for all of us," said Larkin, a 2014 alumna.
"There's a special nostalgia," said 2013 alumna Phoebe.
With a familial affiliation whose endurance spans the American Civil War, both world wars, women's suffrage, the first man on the moon, the civil rights movement, the advent of the internet, 9/11, the first African-American president (and beyond), how could there not be?
Between grandparents, in-laws, uncles, cousins and other relatives, Willis Sr. isn't exactly sure how many members of his family have attended UVA or are planning to in the future.
"We've always said it's probably more than 25 – that we can keep track of," he said, with a laugh. "It just keeps going."
Deep Roots
The family's relationship with UVA began in 1861.
Around the time Southern states were seceding from the Union, Culpeper native Jere Malcolm Harris – the father-in-law of Gordon Willis' great-grandfather – was working toward his master's degree from UVA, on his way to becoming a professor at Furman University in South Carolina.
Then, in 1878, Beverly Tucker Crump – Willis' great-great grandfather on his mother's side – earned his law degree from UVA, eventually becoming a judge in Richmond.
Crump's career path would have a ripple effect.
In 1893, Benjamin Powell Willis was the first in a string of five generations of Willises to earn a UVA law degree. "B.P.," as he was known, set up a law practice in Fredericksburg, where the family, for the most part, has resided ever since.
Jere Malcolm Harris Willis, a third-generation 'Hoo who earned his degree in 1921, was the mayor of Fredericksburg in the 1930s. During his time at UVA, he was a member of the Virginia Glee Club and Pi Kappa Alpha fraternity.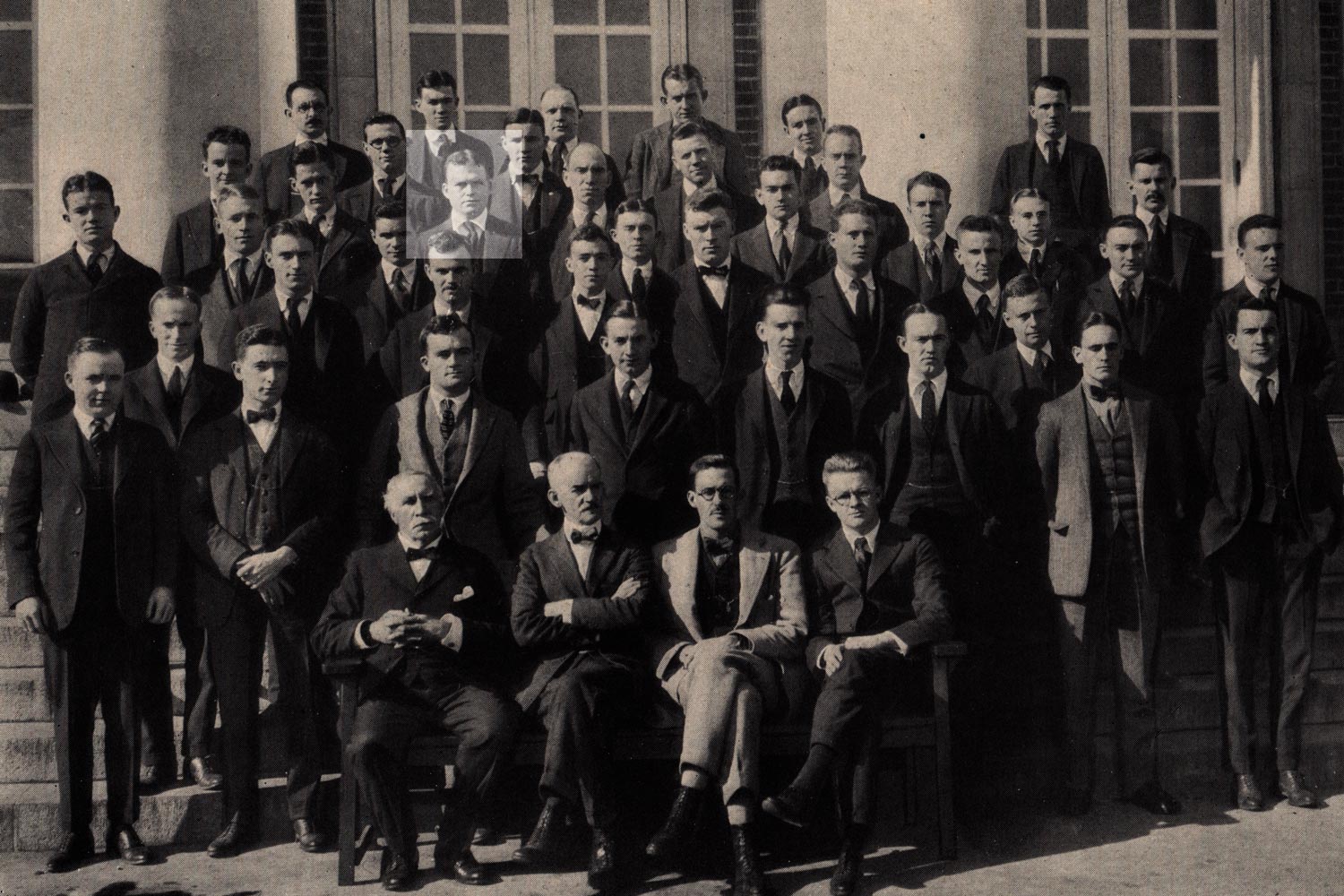 Jere Malcolm Harris Willis graduated from the UVA School of Law in 1921. (Corks and Curls photo)
His son, Jere Malcolm Harris Willis Jr., always wanted to study law at UVA. "They talked it up pretty good," recalled the 85-year-old Willis Jr. (Law '57), referring to his father and grandfather.
Willis Jr.'s mother, Phoebe Enders Willis, had taught at Mary Washington College in the late 1920s. From 1944 to 1952, she served on UVA's Board of Visitors. "She was very proud of her service – and that pride and interest flowed down to me and my brothers," said Willis Jr., whose four brothers all earned degrees from UVA.
Willis Jr. has fond memories of his time on Grounds. "We lived it up as much as we should, and probably a little bit more," he said. "But we had to work kind of hard in law school. That's the main thing I remember. People dressed a little different and the student body composition was quite different from what it is now. There were only two women in my law class."
Willis Jr. went on to an illustrious legal career in Fredericksburg, serving as a city councilman, commonwealth's attorney, circuit judge and state court of appeals judge.
Ralph's House
Growing up, Gordon Willis Sr. said there was never any pressure to follow in his father's footsteps, though his dad "certainly set a good example for me to follow."
"I had other choices," said Willis Sr., whose older brother, Jere, had also attended the University, "but the choice I wanted was to go to UVA."
Some of Willis Sr.'s fondest memories from his time as an undergrad are of watching the basketball team, which made both of the program's Final Four appearances while he was there.
During one of his first nights on Grounds, Willis Sr. attended a dance.
"I remember looking across a sea of people and there was this one person who was about a foot-and-a-half taller than everybody else," Willis Sr. said, "and that was Ralph Sampson!"
Willis Sr. joined Kappa Alpha fraternity, and later served as the rush chairman on the Inter-Fraternity Council.
In 1983, he was elected as the Board of Visitors' first student representative.
Willis Sr. graduated from the College in 1983 before earning his law degree – at UVA, of course – in 1986.
He met Victoria, a Vanderbilt University grad, when he was employed at Christian & Barton law firm in Richmond and she was working for the chief justice of the Supreme Court of Virginia.
Today, both are circuit court judges – Gordon in Fredericksburg, Victoria in neighboring Stafford County.
The fact that Victoria didn't attend the University has been something of a running joke over the years.
When youngest daughter Catesby (Class of 2020) decided to attend UVA, the family held a celebratory dinner with relatives. "Catesby just looked down the table and said, 'Mom, you'll be the only one here without a UVA degree!'" Victoria said.
Willis Sr. contends that his wife, having sent four kids to UVA, should be an "honorary 'Hoo."
At times, Victoria said she feels like it. Last year, the UVA Club in Fredericksburg asked her to speak at its annual send-off party for newly accepted students. She believes she was the first non-UVA alum to have the honor.
"It was very flattering," Victoria said. "I felt like that was my honorary moment."
The Sixth Generation
From a young age, their kids were exposed to all things UVA.
Phoebe remembers parties her dad used to throw with other alumni who lived in their Fredericksburg neighborhood, one of them being former Cavalier football player Charles McDaniel. "Just seeing them talk about their school and how proud they were – people were just proud to have gone to Virginia," she said.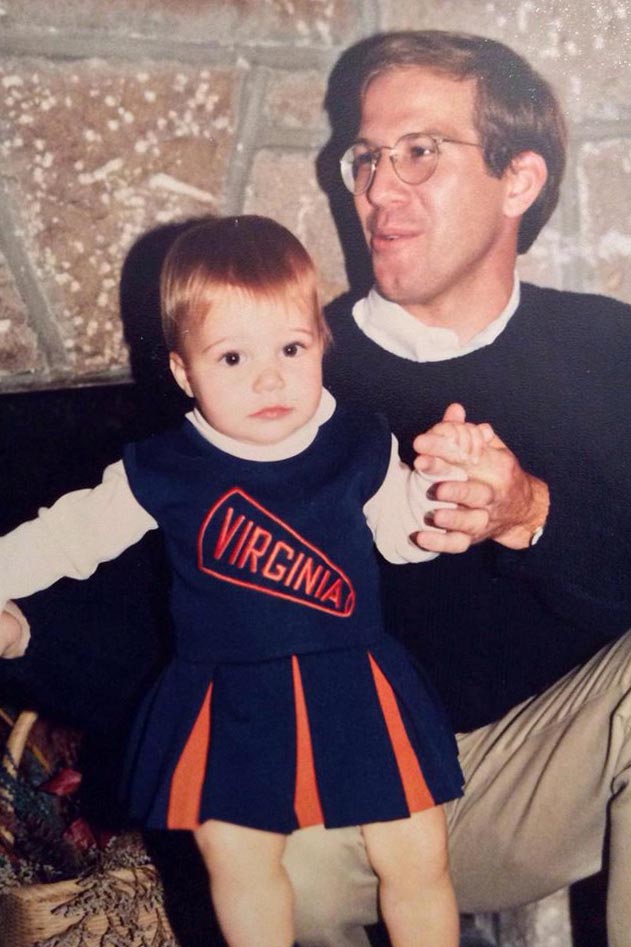 UVA alum Gordon Willis Sr. with his eldest daughter, Phoebe, circa 1991. (Contributed photo)
Every summer, when they attended a camp near West Virginia, Gordon Sr. would stop in Charlottesville – even though it wasn't really on the way. It was on those visits that the kids were introduced to hamburgers at Riverside Lunch and donuts at Spudnuts.
During football season, the kids – all of whom attended James Monroe High School in Fredericksburg – traveled to Charlottesville for giant tailgates on a bus filled with other UVA families and friends from Fredericksburg. "We would stop and get like a hundred Riverside burgers for the ride back," Gordon Willis Jr. said.
At home, the kids were encouraged to explore ideas – and to debate.
"There were a lot of really long dinners," Willis Jr. said.
"They definitely instilled in us the powerful tools of argument. I think that's one of the advantages of being surrounded by so many lawyers."
Phoebe went on to play field hockey for the University, becoming the first member of the family to be a varsity athlete at UVA.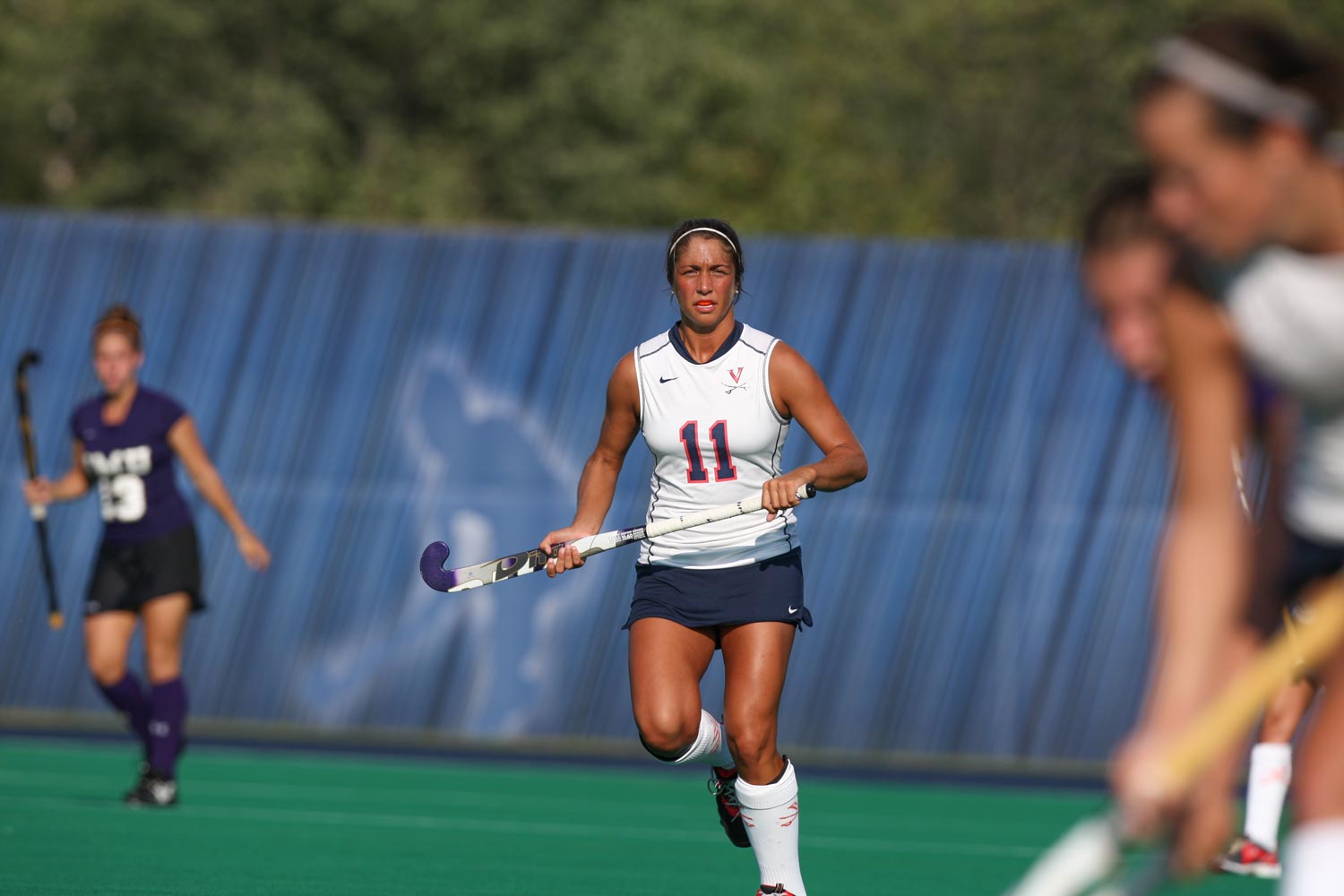 Phoebe Willis played four years on the UVA field hockey team. (UVA Athletics photo)
Off the field, she immersed herself in the University community through a number of activities, including her class council, the Honor Committee and Athletes Committed to Community and Education.
Willis applied unsuccessfully for the student position on the Board of Visitors that her dad had held nearly three decades before.
However, when she returned to UVA Law School in 2016, she gave it another shot – and was selected to serve the 2016-17 term.
Serving on the board more than a half-century after her great-grandmother – whom she was close with growing up – made the experience even more special.
"She was a bit of a firecracker," said Willis, referring to Phoebe Enders Willis, her namesake who lived until she was 103, "but also diplomatic and knew the correct time to say things."
The family takes great pride in the fact that Phoebe is its first female member to go to UVA Law School, and that – when coupled with her Bachelor of Arts from the College and an M.B.A from Darden – she will be the family's first "triple-'Hoo."
"Our generation is living out experiences that previous ones did not have," Larkin said.
Added Willis Jr.: "The older generation had such a singular experience that I think, by the time it came for all four of us to apply to school, we had a clear picture of what we thought the University was. And I think one of the beautiful things that we discovered was that the school is really whatever you want to make it."
It took Larkin, who is just 16 months younger than Phoebe, time to find her niche.
"It was intimidating following in all those footsteps," she said. "On move-in day, I wasn't entirely convinced that it was the place for me or that I would feel at home there.
"But I realized it had something to offer everybody. Nobody has the same experience."
Larkin co-chaired the Women's Leadership Development Program, served as arts editor for The Declaration, and was a Phi Beta Kappa, who – with a focus on public education – was in the Political and Social Thought honors program.
Gordon Willis Jr. – a 2017 alum who goes by "Hugh" – was a religious studies and politics major, sang for the a cappella group the Hullabahoos, served as a University Guide and as a Rotunda ambassador, and worked in the Center for Politics. Through the Hullabahoos, he got to perform at the White House and on an aircraft carrier, among a number of notable gigs.
As a midfielder on the UVA field hockey team, Catesby scored the first goal of her career this past season.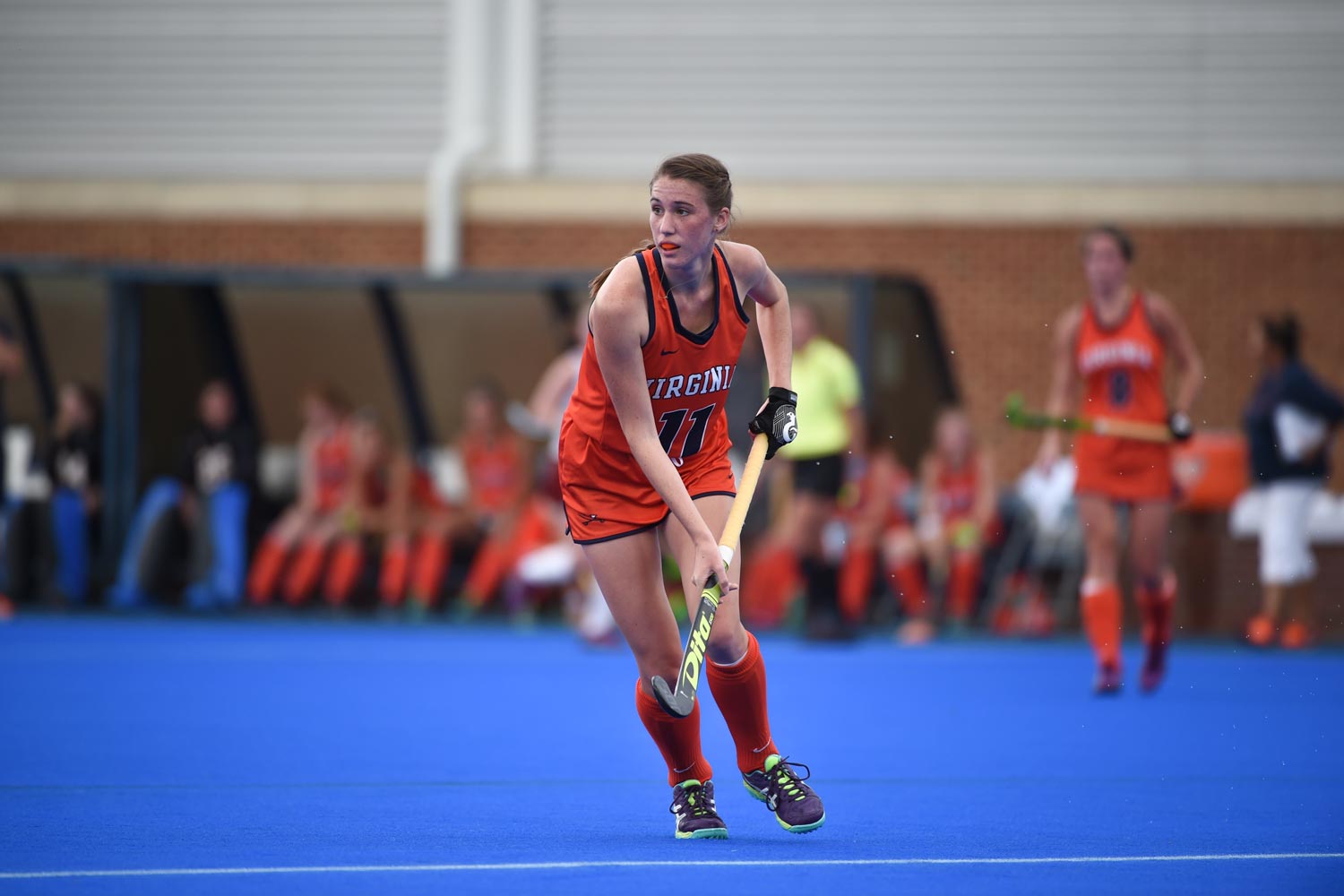 UVA second-year Catesby Willis wears the same No. 11 for the field hockey team that Phoebe wore during her playing days. (UVA Athletics photo)
She is a Meriwether Lewis Scholar and member of Pi Beta Phi sorority – the first of her siblings to do either.
"I didn't know if I wanted to get involved in Greek life because there aren't that many student-athletes who do," she said, "but it was another way to connect. Sometimes you need those people who are outside of academics and athletics. It's crazy how each of those things connect."
She added, "One of my favorite things about UVA is that it's a large school and it offers a lot. But it offers a lot of different ways to, in a good way, make it feel small – comfortable and familiar."
To this day, Willis Sr. talks about classes he took at UVA, with his favorite one taught by American historian Ed Ayers.
"The UVA that my dad went to is so different than the UVA we went to," Phoebe said, "but what's really neat is that while some things are different, there are some things that are still true – like the idea of really getting to know your professors.
"I've had a multitude of professors at UVA who I've really gotten to know. I think the focus on student-faculty interaction goes throughout time. Things like that are really interesting – that that's still a core tenet of the University. I think that's really special."
The Future
While Victoria Willis jokes that "the jury is still out" on exactly how many of her kids will become lawyers, one looks like a pretty good bet.
After finishing her dual degree this spring, Phoebe will take the bar exam and begin working in corporate law at Hunton & Williams in Richmond. "In this family tradition of lawyers, nobody's ever done what I'm doing," she said excitedly. "I'm going to be doing mergers and acquisitions and joint ventures and outsourcing contracts. … That's not the kind of law they ever practiced."
Larkin is currently working as an education researcher in Washington, D.C. at the Learning Policy Institute, an equity-and-education-focused think tank. "I couldn't have told you that it was a job that you could have when I was an undergraduate," she said.
Gordon Jr. just started a job as an assistant director of leadership giving at the UVA Alumni Association. "I've had a long-term affinity for the Alumni Association and everything that they've done in my life growing up, so I'm really enjoying what I'm doing," he said. "I love higher-education development. It's like a world of its own."
Catesby plans on majoring in economics and applying for the master's in public policy program at the Batten School of Leadership and Public Policy. As a Meriwether Lewis Scholar, she's looking forward to a fellowship this summer in which she will work on a project benefiting fellow students.
Of course, there will also be a 2018 fall field hockey season to train for, too. "I've always been somebody who would much rather be busy," she said, smiling.
The fact that all four siblings have pursued different paths doesn't surprise Gordon Jr.
"All four of us have very dynamic personalities, but in very different directions. I think that's why we were all able to find our UVA, to make our UVA here," he said. "And I think that's kind of the passion we got from our parents and all our family members who went through. We knew it was a wonderful place, but I don't think we had any idea how much it could give to us. Each in our own different way."
Even though she never attended UVA, Victoria Willis can attest to that.
"I tell people all the time, 'There isn't one UVA, but there is a UVA for your child,'" she said. "And I think that's the joy that you see when they go there – finding their own way, finding the things that interest them.
"I think that's really the jewel of the UVA experience because it isn't cookie-cutter. You don't all come in and all take the same things. It's not trying to fit square pegs into round holes. Instead, the students are given opportunities to find things that interest them. And I just think that's wonderful."
Sitting in his judge's chambers in Fredericksburg last week, Gordon Willis Sr. glanced at the photo of the kids that Victoria had given him.
A palpable pride filled the air.
"I'm delighted for them to have had the experience," he said. "I think each in their own way has tried to contribute to the University community and give back. I'm very proud of them.
"My grandfather and father's experience was not the same as my experience, and my children's experience has been different than mine. I think one of the great things about a place like UVA is that it is large enough and diverse enough to where each individual can have their own unique experience. But that experience is still one that binds everyone together."
Article Information
April 2, 2018
/content/all-family-six-generations-hoos-find-their-niches-grounds