Jeremy Klitzman went from being a University of Virginia student to an employee at the online file-sharing service Dropbox after earning degrees in global development studies and history in 2014. It was all because of a T-shirt.
He spotted the garment on a Dropbox table at a UVA job fair the spring semester of his last year and was determined to score one for himself.
"The guy manning the booth said, 'Hey man, can you give us a résumé and we'll give you a T-shirt?" he said during a call from Austin, Texas. "I handed in my résumé and didn't think anything of it."
A Dropbox rep called Klitzman in for an interview the next day at UVA's Career Center and he hit it off with the interviewer, "a guy named Kyle," he said, who would go on to be an awesome supervisor.
"It was a job in Austin at Dropbox. I'd used Dropbox. I liked it," he said. "I wasn't a big tech guy, but I knew I wanted to get off the East Coast for a little bit and Austin sounded like a really fun place."
Klitzman took the job. He worked in sales. "I'd been a University Guide, pretty much selling UVA. Most U-Guides just like the sound of their own voice, and sales is pretty much the sound of your own voice," he said.
If you're not picking up on this yet, let's spell it out: Klitzman is a funny, smart guy with a curious, free spirit.
For him, working at Dropbox was a great first job out of college where he learned a lot about how to interact with clients. Klitzman knew sales would not be a long-term career for him, but said it was a great transition for a humanities major.
"You know, what you're doing is talking and writing all day," he said. "My major and all of my Socratic seminars really prepared me for it."
Before long, it was time to move on and Klitzman transitioned to Dropbox's corporate social responsibility operation. That side of the business felt better to him. He started a group called "Dropbox for Good" in the Austin office. "It's basically their philanthropic arm," he said. "So, we do volunteer events, fundraising and small-grant donations to nonprofits in Austin."
Tiny Living
This was the kind of work that really appealed to Klitzman, working in the community and making a difference in a thoughtful way and not just parachuting in.
At this point in his professional trajectory, Klitzman became deeply interested in urban planning and housing. "I've always been interested in issues of equity. That's what I studied with Handler," he said, referring to Richard Handler, the popular, founding director of UVA's Global Studies Program that Klitzman participated in. The first three years that Klitzman lived in Austin, it was the fastest-growing city in America, and he witnessed firsthand certain Austin communities being pushed out. Seeing the upheaval, for him it was important to ask questions: What makes a city good and equitable?
That led Klitzman to the tiny home craze, in which people drastically downsize and simplify their lives to live in small, RV-sized dwellings. He discovered a company called Kasita, which was building tiny, modular homes. Another start-up company like Dropbox, Kasita had the perfect blend of Klitzman's interests: housing and equity.
"I persistently applied for a job. I tracked them down at recruiting fairs, gave them my résumé, forced them to get coffee with me and eventually kind of wore them down," he said, "and they offered me a job."
For a little over a year, Klitzman worked to increase the sales of the Kasitas, the brand name a riff on the word "casita," which is Spanish for "small house."
"I worked with developers who wanted to buy a bunch of them and stack them into an apartment complex; others who had big back yards and wanted to rent them out like AirBnBs," he said. "I got to meet some incredible people who were working at the forefront of the housing crisis in America, which for me was the most exciting part of the job."
You've Heard of Music to Your Ears; This is Music to Your Eyes
It was Kasita that brought Klitzman to his current job at an outfit called Soundwaves Art Foundation. Its founder, a visual artist named Tim Wakefield, wanted to buy one of the Kasitas, hollow it out and convert it into a recording studio for children in Austin's underserved areas, in partnership with a non-profit company called Notes for Notes.
Klitzman, who has always been an ardent music fan, had again found a "spot-on intersection of my interests," he said.  He started volunteering for Wakefield, who soon asked him to come on full-time.
Wakefield's foundation has worked with more than 200 top musical acts to digitally manipulate, shape and color the sound waves generated in the studio recordings of legendary songs into stunning pieces of visual art. The musicians autograph a limited number of pieces, which Soundwaves then sells on its website, donating the profits to charities. The rock band Band of Horses asked that proceeds from their art go the ACLU. Grunge band Pearl Jam designated Children in Conflict, and country singer Emmylou Harris chose Bonaparte's Retreat, which places shelter dogs in permanent homes.
When Wakefield worked with The Dave Matthews Band, the money raised went to Matthews' own foundation, the Bama Works Fund, which has distributed more than $52 million since 1999 to charities, often in the Charlottesville area.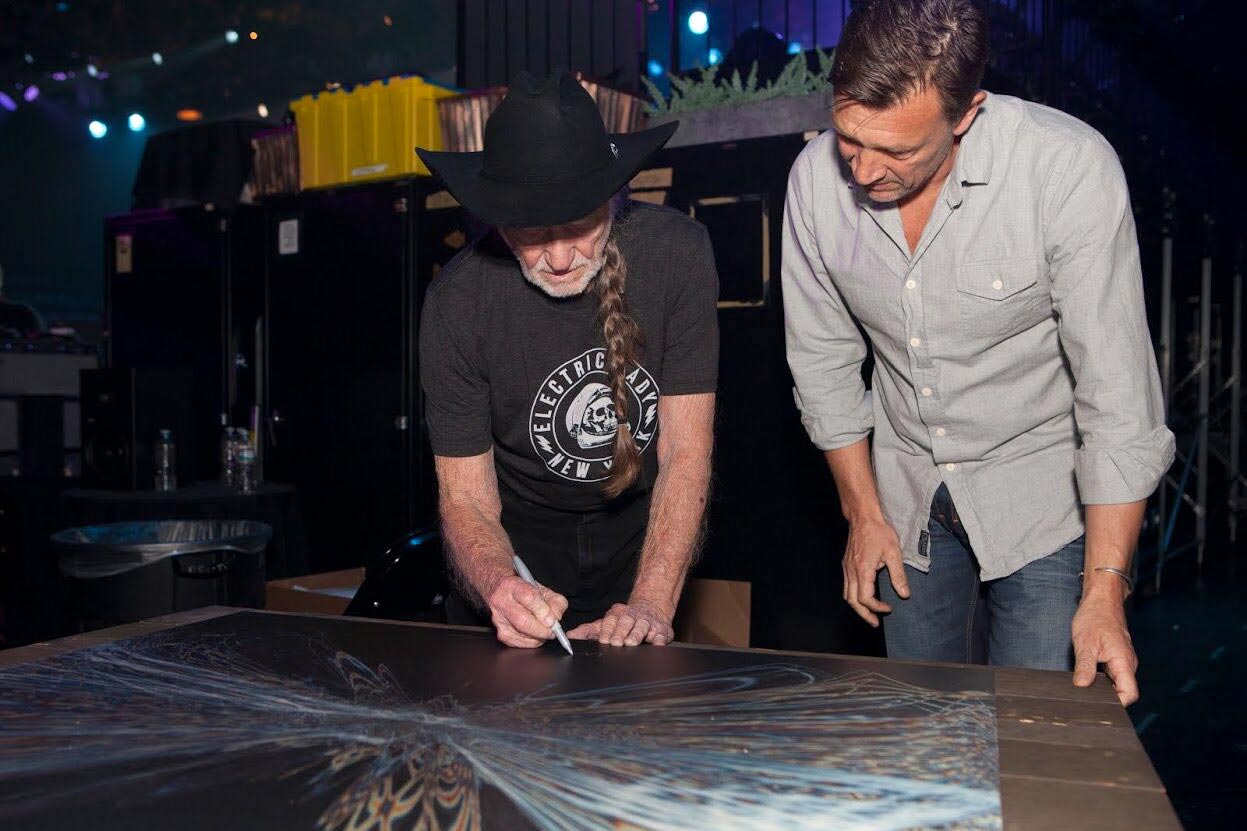 Tim Wakefield, the artist behind the Soundwaves Art Foundation, watches as Willie Nelson signs a print of his song, "Whiskey River."
Soundwaves Art Foundation has raised about $2.4 million for charity since 2009, the majority of that in the last five years, and is charging ahead to offer more help.
Klitzman is in charge of all the operations and logistics in the United States; the foundation recently hired his counterpart in London. "I'll reach out to musicians and bands to see if they will do signings with us," he said.
On his second day on the job, he helped do an art signing with Brian Wilson of the Beach Boys. During Austin's famous South by Southwest festival, he did another signing with the Haitian rapper Wyclef Jean in the foundation's offices in East Austin. "He was nice. He signed in front of our studio and he took a look at our studio and was like 'I like your vibe,'" he laughed. "And then he had his assistant film an impromptu music video of him because he liked the vibe so much!"
Other recent signings include popular soul singer Leon Bridges, indie rockers the Yeah Yeah Yeahs, Irish alt-musician Hozier, Sting of The Police and Texas rockers ZZ Top.
"A lot of the musicians really, really like the canvases, which is always gratifying to see," Klitzman said. Many request copies, he said. "Of course, the answer is always 'yes.'"
The Biggest Names in Music
So how do Wakefield and Klitzman manage to convince so many big-name artists, like Grammy Award-winning singer/songwriter Brandi Carlile, to sign up?
"Tim's just a really personable guy and he's great at building relationships. He and Brandi are quite close," Klitzman said. As a result, Carlile has introduced other artists like the folk rock group The Avett Brothers to Soundwaves.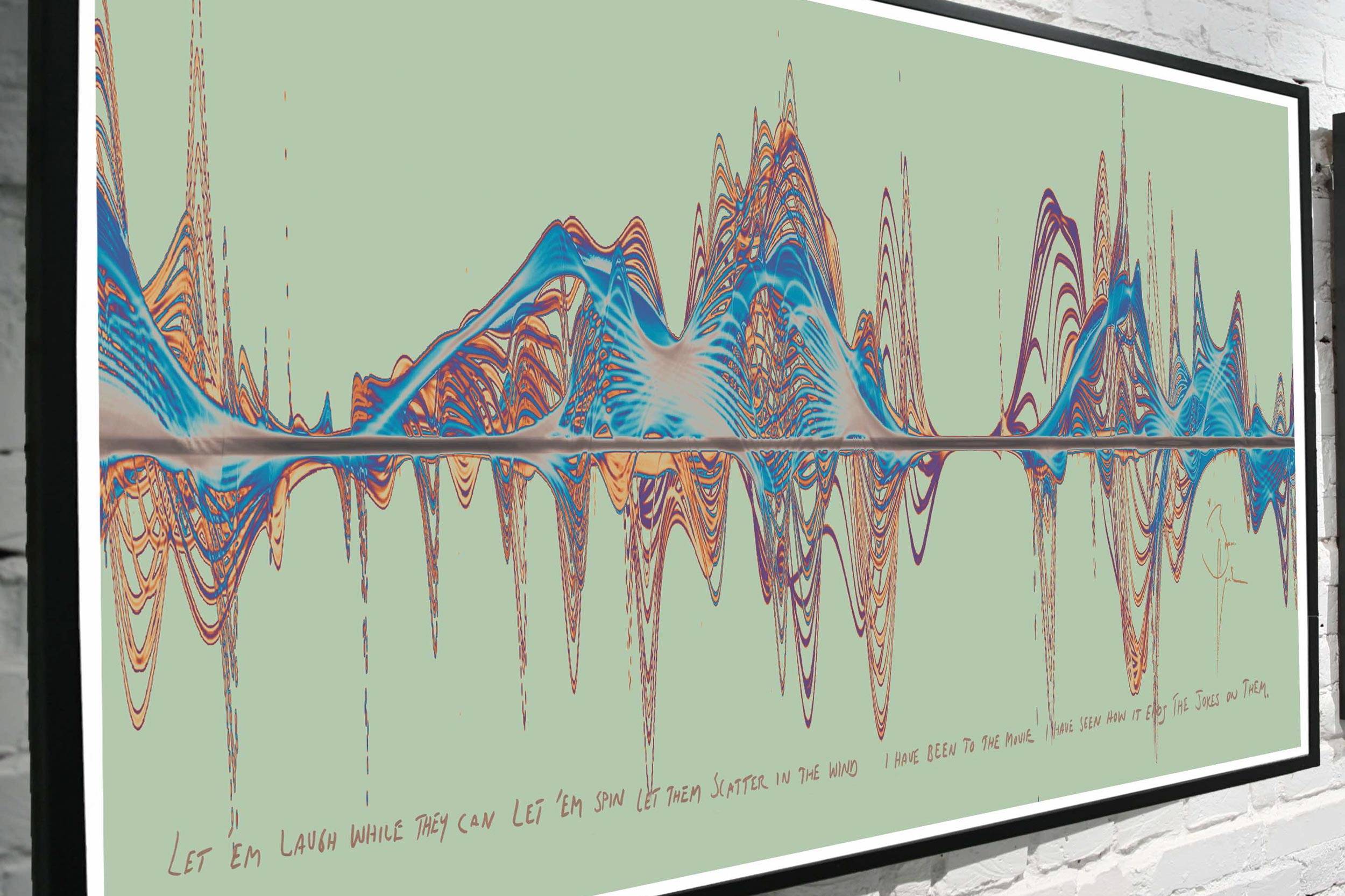 A Soundwaves print of Brandi Carlile's "The Joke."
Wakefield also has a good network of people in Nashville, which has a tight-knit music community. "A lot of the musicians he started with are Nashville-based, like Jason Isbell, Kacey Musgraves and John Prine," Klitzman said.
Wakefield is British and also uses his hometown connections to work with big British acts like Elton John, The Who, Queen, Mark Knopfler and Pink Floyd.
A large part of Klitzman's everyday work is writing to managers saying, for example, "Hey, you represent Justin Timberlake. He's playing a concert near Austin in a couple of months. Here's what we do. Would he have five minutes to spare, and we will donate a bunch of money?" Klitzman said.
When people respond, Klitzman says they recognize the commitment is pretty simple and a good thing to do.
His pitches continue to raise money for charities around the world. Earlier this month Soundwaves, in concert with mega-band Coldplay, raised nearly $50,000 to support the giving arm of London's famous Roundhouse theater, to provide music, media and performance opportunities for young people aged 11 to 25 years.
So, what's next for Klitzman and Soundwaves Art?
"We're actually going through permitting for a sculpture park and outdoor music venue in East Austin to host benefit concerts and community events," Klitzman said. "The plan is to keep Soundwaves going, but expand off the canvas and into the built environment. So that's a big focus of mine right now, as is locking up a signing with my favorite band, Bon Iver. That would be a really special one."
Article Information
June 26, 2019
/content/alum-works-elton-john-sting-and-coldplay-create-art-charity