Landscape architect and University of Virginia alumna Kate Orff has officially earned the right to call herself a genius.
Orff is one of 24 promising professionals to receive a 2017 MacArthur Fellowship – colloquially known as "genius grants." The prestigious fellowships, announced Tuesday by the John D. and Catherine T. MacArthur Foundation, honor exceptionally talented and creative leaders in a variety of fields. Each fellow receives a $625,000, no-strings-attached grant to further his or her work.
Orff is the first landscape architect to receive the honor. Other members of the UVA faculty who have received MacArthur Fellowships include then-English Professor Deborah Eisenberg in 2009; Terry Belanger, University Professor emeritus, former director of the Rare Book School, 2005; Janine Jagger, epidemiologist and research professor of neurosurgery, 2002; and Brooks Pate, professor of chemistry, 2001. Darden professor Greg Fairchild also received a grant from the foundation for his work in community development finance.
"I was shocked and deeply honored. It's amazing to be named a MacArthur Fellow and to be asked to raise the game even higher," Orff said, writing from Amman, Jordan, where she is currently conducting research. "I am thrilled to be the first landscape architect, but I am also pretty sure there will be many more to come. Creative, political landscape practice is becoming more and more critical to the future of humanity and the planet."
Orff, who played on the women's lacrosse team at UVA, graduated in 1993 with a degree in political and social thought. She also took as many classes as she could in the School of Architecture and earned a master's degree in landscape architecture from Harvard University in 1997. She has returned to UVA several times since graduating, including as the School of Architecture's Howland Memorial Lecturer in 2012.
She credited the interdisciplinary education she pursued on Grounds as a significant influence in her career.
"It was great training to become a practitioner," she said, speaking to UVA Today about her work in the spring. "I got to pursue my interests in politics, ecology and environmental science, and bring all of those to bear on my career as a landscape architect."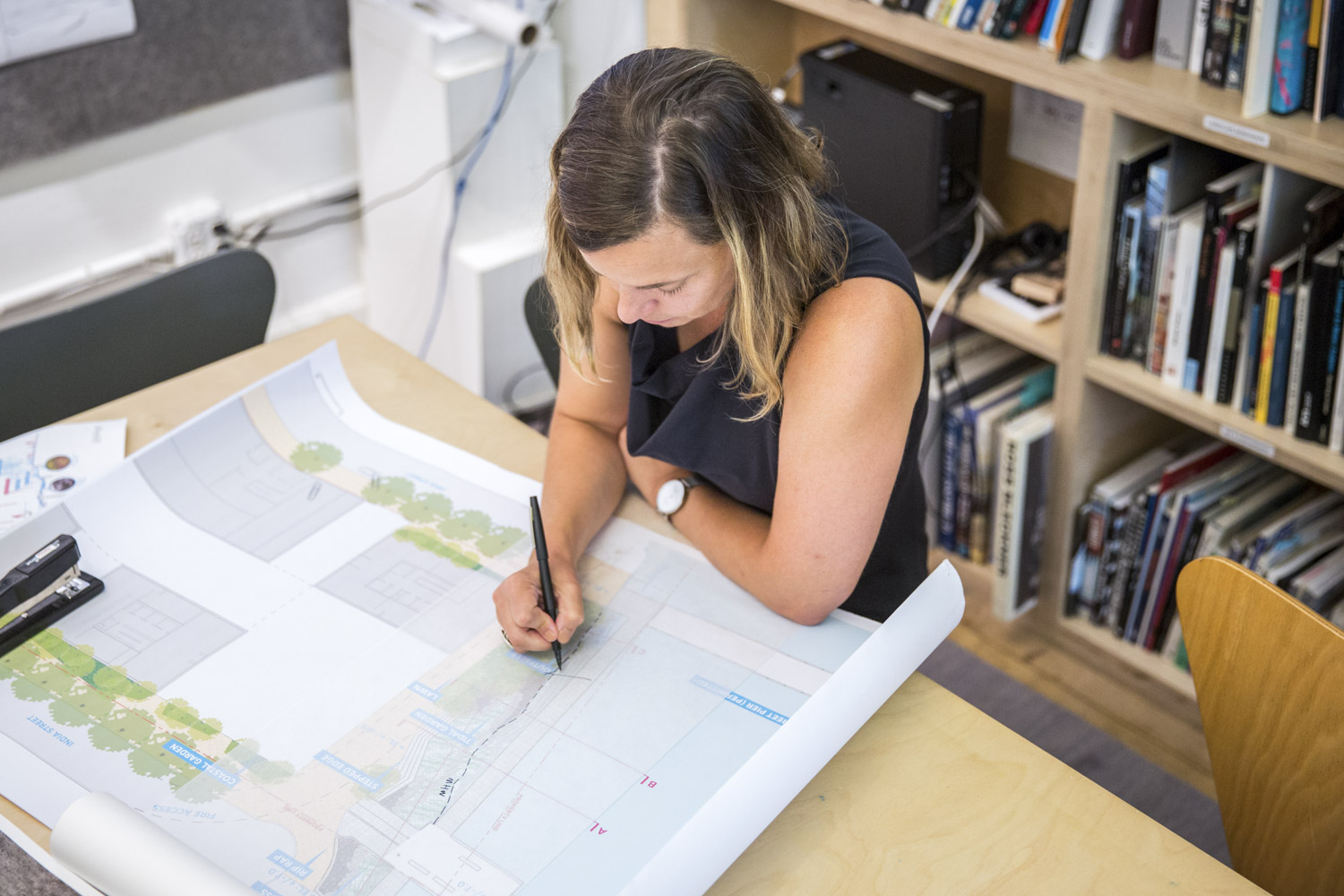 Orff founded her own landscape architecture and urban design firm, SCAPE, in 2007. Among many other projects, the firm has played a key role in efforts to boost New York's resilience and reduce risk in the wake of Hurricane Sandy. Its Living Breakwaters project, one of six winning proposals in the Rebuild by Design competition launched by the Department of Housing and Urban Development after Sandy's devastation, is revitalizing Staten Island's southern shore and preparing that vulnerable landscape for future storms.
Rather than building more bulkheads and walls – which displace water to other areas, block views and reduce the shoreline's usability – the Living Breakwaters project combines offshore breakwaters, designed to provide a habitat for oysters and small fish, with onshore dunes and a robust public education program.
The layered approach helps to prevent wave damage and coastal erosion while keeping the shoreline beautiful and accessible for Staten Island residents and protecting marine life.
"In the era of climate change, we have more frequent and less predictable storms," Orff said. "We absolutely have to think differently about the relationship between cities and water, and be proactive about not only planning for resilient communities, but planning to rebuild ecological systems."
Other SCAPE projects highlighted by the MacArthur Foundation include the Town Branch Commons project in Lexington, Kentucky, which is revitalizing Town Brach Creek – currently buried among downtown streets – to create a 2.5-mile network of trails, parks, pools and stormwater management systems. The project exemplifies her signature combination of landscape architecture, conservation and community education.
"Orff's resourceful design approach calls attention to the most distinctive natural attributes of a given place, while her collaborations and community outreach strategies extend the boundaries of traditional landscape architecture," the foundation wrote in an announcement of her selection.
Orff is also an accomplished author. She published "Toward an Urban Ecology" in 2016 and co-edited "Gateway: Visions for an Urban National Park," about the Gateway National Recreation Area spreading across Brooklyn, Queens, Staten Island and New Jersey, in 2011. In 2012, she partnered with photographer Richard Misrach for a two-part book, "Petrochemical America," documenting economic, environmental and public health issues due to intense chemical production along a stretch of the Mississippi River from Baton Rouge, Louisiana to New Orleans.
The variety of Orff's work, paired with her continued to commitment to finding solutions that benefit the community and the natural environment, set her apart, according to landscape architecture professor Beth Meyer.
"Through Kate's practice as a landscape architect, she imaginatively addresses the most pressing socio-ecological challenges of contemporary urbanization, from the loss of wildlife habitat to rising sea levels," Meyer said. "She has re-conceived the public in 'public space' to include non-human as well as human life, and in doing so she has formed new links between urban design, landscape ecology and landscape architecture.
"For all of these reasons, it is fitting that she is the first landscape architect to be selected as a MacArthur Fellow," Meyer said.
Media Contact
Article Information
October 11, 2017
/content/alumna-among-24-geniuses-chosen-prestigious-macarthur-fellowship