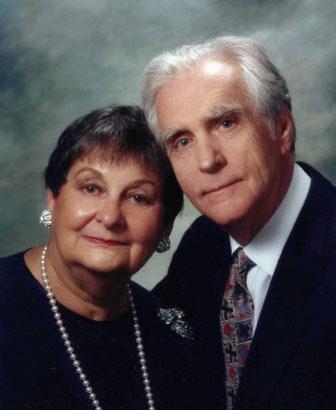 When Maxine Platzer Lynn was a student in the University of Virginia's Curry School of Education in the late 1940s, she asked for tips on how to handle some off-color comments from young men in her undergraduate classes. She heard "the best advice for that day and time," she said: "Ignore it."
Much has changed at U.Va. since then, a reality Lynn said she recognizes. "Today I feel that the University is more egalitarian, particularly in that it gives women, as well as men, the ability to pursue their dreams."
Lynn said she wanted to underwrite an endorsement that would continue to have a meaningful impact on the University. She sees the U.Va. Women's Center as having that impact, she said.
Her personal desire for the Women's Center to continue its mentoring and outreach to all students, "irrespective of gender," inspired her to give a $3 million endowment, she said. An event marking the renaming of the center for Lynn and celebrating its 25th anniversary will be held Oct. 23 at 5:30 p.m. at the Fralin Museum of Art at the University of Virginia.
"This gift will make our future come alive," Women's Center Director Sharon Davie said. The endowment – the largest gift in the center's history – will bolster its core programs, which emphasize leadership and related learning, she said; it is otherwise unrestricted.
Lynn graduated from the Curry School in 1951, before undergraduate women were admitted in 1970 to all schools in the University. She arrived at U.Va. as a 19-year-old married student and found out during her fourth year – in the same building that now houses the Women's Center – that she was pregnant with her first child.
"As a female student who would receive a B.S. in education, I was an anomaly," Lynn said, because she also took many courses in the College of Arts & Sciences. "Yet I was treated with great respect and felt very welcome in class. Extraordinary professors were then, and continue to remain, at the heart of the University experience."
During her time at U.Va., Lynn was active in a variety of programs, such as Hillel and the Interfaith Council. She subsequently volunteered to teach English as a second language to the diplomatic corps in Washington, D.C. and was honored with a grant from the National Conference of Christians and Jews to participate at the National Training Laboratories in Bethel, Maine.
Lynn said she believes her days in Charlottesville gave her an "adventurous spirit," as well as developing her interests in community beautification, competitive sports (specifically golf), art and interior design, and travel: She has visited every continent with her husband, Bernard.
She and her husband have already given back to the University community by contributing the assisted hearing system to Culbreth Theatre, where they "have enjoyed so many fine productions."
Her long-time relationships with Patricia L. Lampkin, U.Va.'s vice president and chief student affairs officer, and Wayne Cozart, the Alumni Association's vice president of development and director of the Jefferson Trust, began when her daughter, Julie, was a student in the late 1980s.
Those relationships led to other opportunities to support U.Va. "Wayne and I had a terrific time refurbishing one of the Pavilions on the Lawn with appropriate art and antiques," Lynn said.
"Aside from an education degree and many electives in the College, I believe that U.Va. gave me a great sense of community and of the importance of giving back," she said.
"As far as my gift to the Women's Center, I hope that it will give the center some financial flexibility and security to pursue a range of services and offer them to the current and future classes of young people," she added.
Diverse students from across Grounds work and learn at the Women's Center through internships, mentorships, team- and skill-based learning, visiting scholars and activists, and academic courses that require research and community service.
The center provides counseling services, including trauma counseling for survivors of violence, and an eating disorders education prevention program, Body Positive, which has been recognized nationwide. The center also offers academic community engagement programs, such as Young Women Leaders; Women, Girls and Global Justice; Gender Violence and Social Change; the Men's Leadership Project; and Iris, an online publication.
The center's Oct. 23 renaming event is free and open to the public, but preregistration is required. RSVP or email Carol Gilbert at ceg6a@virginia.edu.
Media Contact
University News Associate Office of University Communications
anneb@virginia.edu (434) 924-6861