Working on Wall Street a decade ago, Lindsay Burton would often glance around a table, a conference room or even an entire floor of her office and realize that she was the only woman.
And she wouldn't care one bit.
The University of Virginia alumna – who dreamt of a career in finance since a summer internship at Lehman Brothers – loved the long hours, the intense work and being "one of the guys."
But about seven years in with position at a private equity firm, Burton realized that no matter how hard she tried, she wasn't one of the them.
She could never be – especially now that she was pregnant with her first child.
"All of a sudden, the energy shifted," Burton said. "I went from feeling like I was the best in my class, up for promotion, had everything under control, to just getting the sense that something had changed."
Burton felt isolated, helpless, and – after her firm chose not to promote her – devastated.
"They told me they weren't sure I had an 'entrepreneurial spirit,'" Burton said. "Nothing had changed except for the fact that I was now a mom. It rocked my world.
"I didn't have any women to talk to. There were no women on our team. There were no women who had ever been pregnant in the office before and returned to work. You feel like an alien.
"UVA is a place where women thrive and it had never occurred to me that the world was any different."
With her confidence shaken, Burton returned to Charlottesville and decided to keep doing what she thought she did best – crunching numbers, creating spreadsheets and providing financial advice.
With the help of her father, longtime UVA economics professor Ed Burton, she started Kayo Advisory, an outsource business geared toward helping chief financial officers raise capital for merger and acquisition purchases.
Burton said she enjoyed the work – especially since she was able to team with her dad, who had always been her mentor – but "something was missing."
Burton found what that was on a trip to, of all places, Charlotte, North Carolina.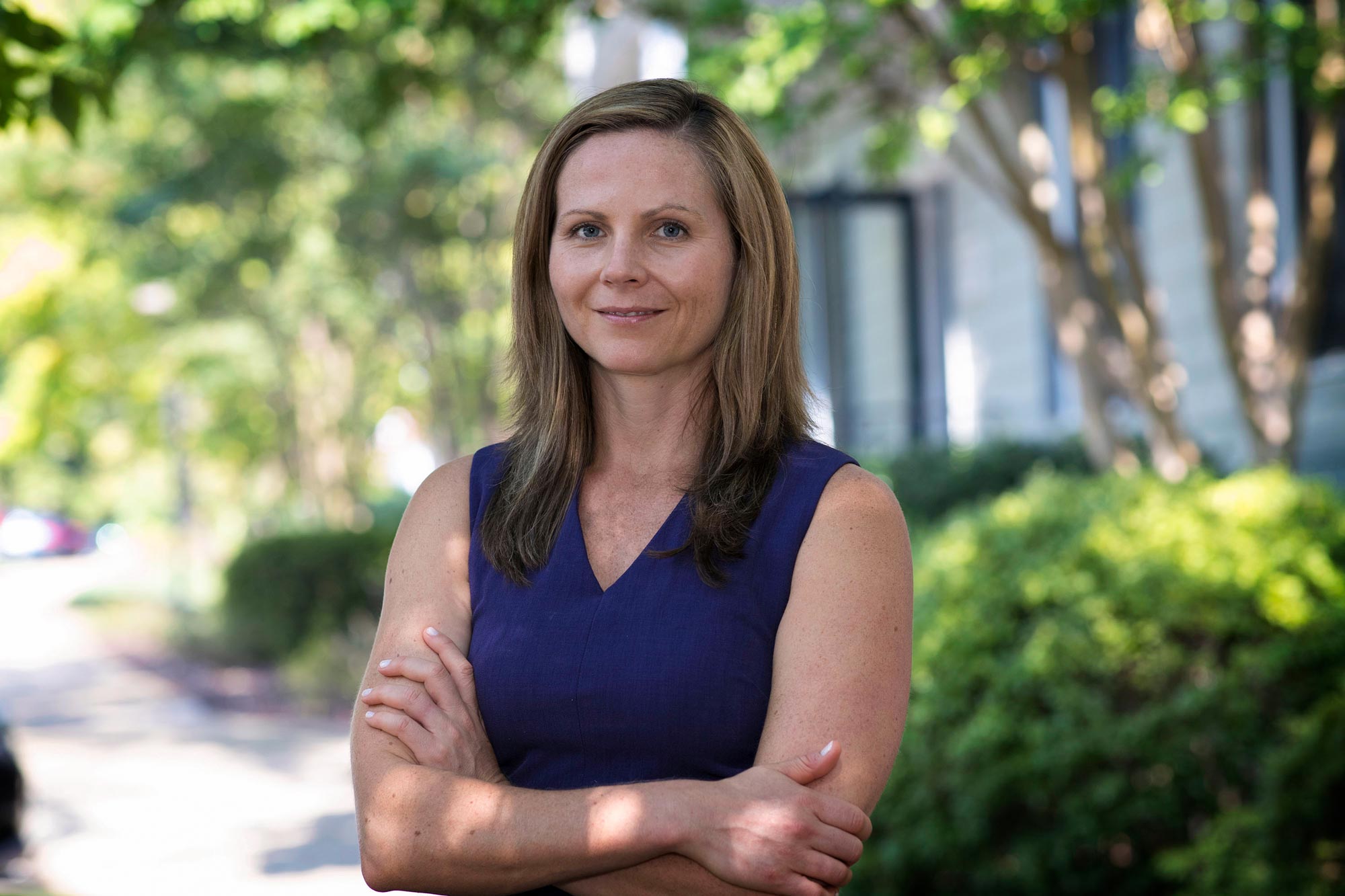 UVA alumna Lindsay Burton fell in love with organizing conferences for women and eventually decided to focus her career on them. (Photo by Dan Addison, University Communications)
While attending a large finance conference, she had something of a flashback to her time on Wall Street. At a cocktail party, she noticed that she was just one of two women.
While there, a photographer asked her and the other woman if they could stand on opposite ends of the room to balance out photos.
"I thought, 'This is crazy,'" Burton said.
It was then that Burton realized that there needed to be a way for women working in finance to talk to each other, learn from each other, feel like they're part of a community.
So as an offshoot of Kayo Advisory, Burton launched Kayo Conference Series.
Burton held the first one at the St. Regis Hotel in D.C. in 2013. With the help of mentor Palmer Garson, she secured Alice Handy – who led the UVA Investment Management Company for three decades before founding Investure, an outsourced investment office for colleges and foundations, in 2003 – as the keynote speaker, then called all the women she could think of in private equity, venture capital and investment banking in the D.C./Mid-Atlantic area.
More than 130 showed up.
"The feedback that I got from the event was, 'This felt different,'" Burton said. "I wasn't a conference organizer, I wasn't in it for the money. My goal was to connect women. Let's make sure women know they are part of this industry and that they are not walking alone on their path to success.
"It felt intimate, not corporate, yet business connections were made."
Burton fell in love with organizing the conferences and, eventually decided to focus her business on them.
"It was more scalable," she said, "but it could, more importantly, impact more people. It was helping one or two CFOs versus helping a whole group of isolated women feel like someone cares about them and are part of a community."
Today, Burton operates Kayo Conference Series out of an office off of Ivy Road in Charlottesville. She has five full-time employees, four independent contractors and three UVA interns.
The business has expanded to include conferences in other male-dominated industries –credit, energy, real estate and power.
"The number of people from all over the world who went to UVA who come to our events is so high. … The UVA network was our key."

- Lindsay Burton
Kayo (pronounced "kay-O"  is the abbreviation for "knockout," derived from Burton's love of kickboxing) sells sponsorships and tickets for summits, leadership retreats and small pop-ups in cities around the country.
In all, the company puts on more than 20 events per year.
While the events are geared toward women who want to advance their careers, connect with leaders and champion their peers, men are also welcome.
Burton said time is more important than money to the vast majority of the women who attend her conferences. To that end, there is no "fluff."
"Every moment is well-thought-out so that they can go home and spend time with their kids or do whatever they need to do," said Burton, now a mother of two.
UVA alumna Cody Nystrom, managing director at SJF Ventures, has attended about a half-dozen Kayo conferences. She said she likes that they are laid-back, but still highly professional and well-organized, and that they gather an "authentic group of women with a bias toward action over talk."
Nystrom, who has spoken at some of the conferences, said the combination of the content, networking and location of the conferences always proves to be "uplifting and therapeutic."
Like Burton, Nystrom has, over time, come to see the value in building female-based networks.
"Most of the time, I do not even notice that I am the only woman in the room at board meetings and investment events. It becomes just a given part of the job," Nystrom said. "But I have realized that connecting with other women in similar roles at other firms is not only professionally important, but personally gratifying and even cathartic. 
"As a mother of two now, I find the lessons learned from other women investors who have raised families while blazing their own career paths to be of equal or greater importance to investment tips from the most seasoned male venture capitalists. I believe that women investors, whether they even know it or not, greatly benefit from the annual affirmation that there is a female peer support network out there with genuine interests in helping one another." 
Nystrom said she always looks forward to the conferences.
"Kayo has been instrumental in introducing me to the power of this female network, while always providing an enjoyable setting for absorbing that support and reflecting on ways in which we can continue to support one another even more," she said.
"She gave me the support and confidence to interact with the many senior executives and prominent businesswomen both attending and speaking at the event. This was so important for my career development."

- Julia Roberts
UVA alumna
Since its inception, Kayo has hosted a large number of student interns from UVA's McIntire School of Commerce. Many have gone on to highly successful careers in finance.
Kayo has also employed alumni, including Julia Roberts, a former standout on the UVA women's soccer team who is now a senior financial analyst at MicroStrategy.
Under Burton, Roberts said she learned, among other things, how to select and manage vendors, track budgets, create event brochures and serve as the main point of contact for attendees.
"I was very anxious at the start because I was so far out of my comfort zone and intimidated by the accomplished women, including Lindsay," Roberts recalled, "but she gave me the support and confidence to interact with the many senior executives and prominent businesswomen both attending and speaking at the event. This was so important for my career development."
Roberts said Burton's willingness to discuss her own experiences made her an incredible mentor.
"She was very open about her career and personal goals and often shared her trials and tribulations from her young adult life juggling Wall Street and her personal life, which I often think about as I face similar challenges in my own life," Roberts said. "During my time at Kayo, Lindsay balanced launching a new business, conference planning, toddler wrangling and pregnancy with poise and grace. I'm sure I will be recalling many of these lessons when I enter that phase of my life as well."
On the flip side, alumnae like Roberts and Nystrom have helped make Kayo what it is today.
"The number of people from all over the world who went to UVA who come to our events is so high," said Burton, who graduated in 2005 with degrees in economics and comparative literature. "It would have been a lot harder to launch my business and introduce myself with credibility if I couldn't have said, 'Hey, you're a Wahoo and I'm a Wahoo. Can you hop on the phone and talk about this conference?'
"The UVA network was our key."
Looking back, Burton believes her Wall Street experience would have been a lot different had she had a support group like Kayo.
"I could have handled a lot of situations better," she said. "I wouldn't have felt quite so alone."
That said, Burton is actually glad – as painful as it was – that she went through what she did.
"I had this narrow view of my skill set back then," Burton said. "I thought, 'All I know how to do is run spreadsheets.'
"Kayo has pushed me in a direction that I might not have otherwise thought to go with my career. I'm grateful for those difficult experiences; they lit a fire in me that burns to this day."
Article Information
September 20, 2019
/content/alumna-turns-negative-wall-street-experience-booming-business