As one of the youngest White House speechwriters on record, Kyle O'Connor earned a rare view of history in the making. The University of Virginia alumnus joined Barack Obama's presidential campaign shortly after graduating in 2008 and followed the president to 1600 Pennsylvania Avenue.
O'Connor stayed with the Obama administration for five years, steadily rising up the ranks of the speechwriting team and building his communications credentials in the fast-paced environment of the White House. He learned to capture the president's unique voice, sometimes working with Obama directly to discuss important remarks.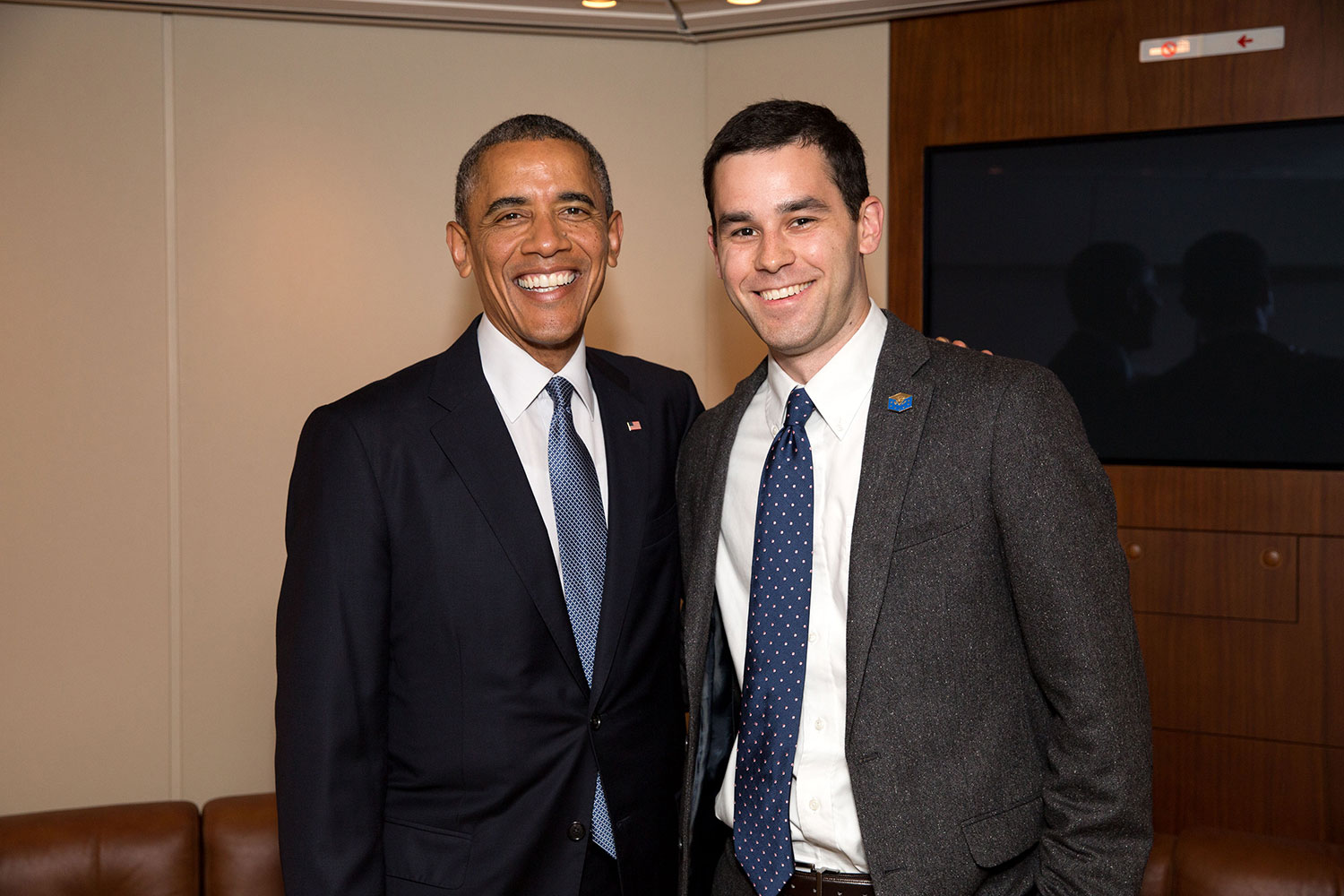 O'Connor served on President Obama's speechwriting team for 5 ½ years. (Photo by Pete Souza, Chief White House Photographer)
Now the executive communications manager at Facebook, O'Connor has fond memories of the days he spent cutting his teeth in the West Wing. In the last days of the Obama administration, UVA Today caught up with him to reflect on his experience.
Q. How did you land your job at the White House?
A. When I was at UVA, I spent a couple of summers interning at a political consulting firm in D.C. called Squier, Knapp and Dunn. Then when I was about to graduate, it looked like Barack Obama was going to get the Democratic nomination and one of the partners at the firm where I used to work, Anita Dunn, was on the Obama campaign.
I bugged her every two weeks in the spring and she finally gave in and connected me with an internship on the speechwriting team at the Obama campaign headquarters in Chicago in 2008. I started there about a month after I graduated.
When Obama won, I told the speechwriting team that I'd love to continue working with them, but they were getting a lot of requests at that point so I wasn't sure if it would work out. Eventually they had barely enough money to bring me on as the research assistant on the speechwriting team at the White House.
I started the week after Obama was inaugurated and worked there for 5½ years. I would do research for all the speeches, and then they started giving me little things on the side. For example, if a sports team came to the White House, I would write something for the president to say to them. Or if he recorded a video, I would write the script. Little by little, I got bigger assignments, and when people left the White House from that team, I got promoted a couple of times and eventually ended up as the deputy director of speechwriting.
Q. How did your experience at UVA prepare you to be a speechwriter for the president?
A. I loved politics at UVA and I took a bunch of political classes, including a "Campaigns and Elections" seminar with Larry Sabato. It was amazing because it was a really small group of people who were all pretty interested in politics and we learned a lot about the real nuts and bolts of how a campaign worked. Sabato took us through polling and messaging and how to run a campaign.
I also think one of the most useful things for me was that I was a sports writer for the Cavalier Daily. I had a column at one point and that was helpful in terms of learning how to write speeches, because you had to make an argument in the span of a few hundred words in a column and make it good and interesting. Sometimes I was covering a game that hadn't been all that exciting on the surface and I had to make it into a good concise article. That could be tough, but it was a great training ground for writing speeches.
Q. What was one of your most memorable moments working at the White House?
A. I always loved writing speeches for the president that only he could give, and I think those are the speeches that end up being the best for anybody, whether you're a politician or not.
I wrote the commencement address that he gave at Morehouse College, which is an all-male, historically black college outside of Atlanta. I'm not African-American, but as we were preparing for that, it was interesting to hear what he wanted to say to young men who were much like he was at that age. I remember we talked about that speech and at one point he said, "I know some of the things that I'm going to say you might be uncomfortable writing, but just remember that I'm the one giving the speech, not you." That was helpful.
Then I got to go with him and hear the speech. I saw the reaction that the students had to hearing the first black president speak to them on their graduation day and say some things that only he could say. It was pretty special. I'll never forget that one.
Q. What were some of the biggest challenges in your position?
A. It was a relentless pace. When anything happens in the world that's at a certain level of importance, then the president is expected to comment on it. Everything intersects with the work that you do and so just having to be constantly on call was pretty tough. I used to write statements when people died and the president had to make a statement about it, and that can happen any time day or night, so I was often on call for that.
I didn't do many foreign policy speeches, but the little foreign policy work I did was really difficult. Every word that the president says can be interpreted different ways around the world and you have to make absolutely sure that the language you're using is the message that you want to convey. It's more delicate than it is when you're only speaking to an American audience.
Q. What advice would you give to current UVA students interested in similar work?
A. Don't try and plan things down to too much detail. If I had graduated a year earlier, I probably wouldn't have been able to work on the campaign without being paid and if I had graduated a year later, I probably would have missed the boat on getting a job in the White House. Luck plays a big role in it.
Be open to opportunities and willing to do anything, whether it's writing or research or whatever else it is that people need you to do. Just getting in the room sometimes is the best thing you can possibly do.
Article Information
December 28, 2016
/content/alumnus-recalls-five-years-speechwriting-obamas-white-house