If you have ever been in the hospital, you probably know the truth about hospital gowns. One might even call it "the naked truth."
Traditional hospital gowns, as necessary as they are for medical treatment, are flimsy, paper-thin and often come with embarrassing gaps exactly where you don't want them. As patients, we grin and bear it in the name of wellness, but most of us would welcome a gown that covers our medical needs and our rear ends.
University of Virginia alumnus Chaitenya Razdan believes his company, Care+Wear, has created that gown.
Even better, hospitals believe it, too. The new gown, designed in partnership with the Parsons School of Design and launched this week with an article in The New York Times, is being tested by MedStar, a nonprofit health care system that served about 678,000 gown-wearing, exposed patients in 2017. It was designed to provide more coverage, comfort and privacy while ensuring that doctors and nurses can care for the patient without the gown getting in the way.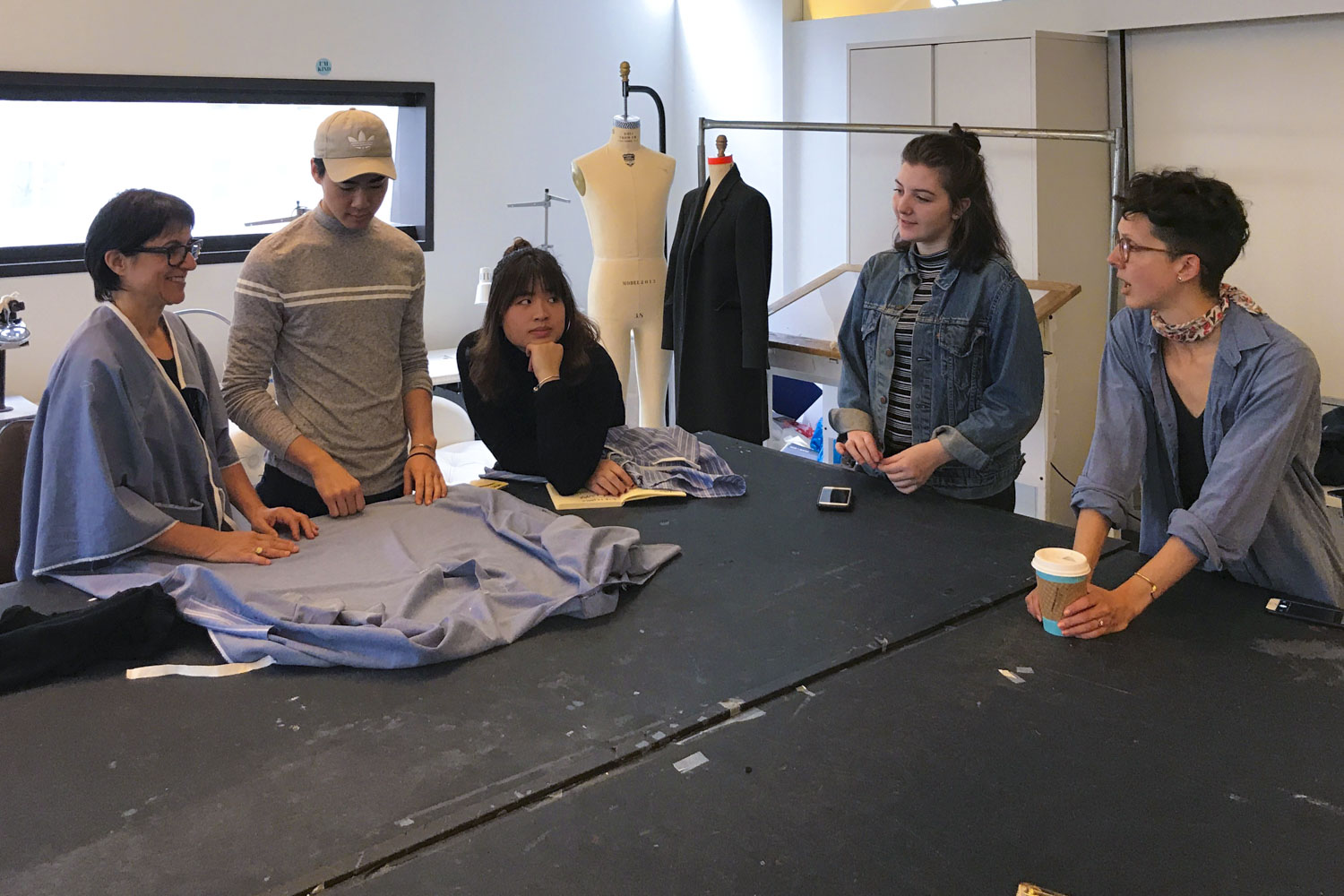 Care+Wear partnered with the Parsons School of Design to create the gowns. Here, teacher Brittany Dickinson, right, and her students talk with patient Joan DeCollibus, left, about a prototype gown.
"Our company was founded on the promise to improve the patient experience. When you visit a health care institution, your experience begins the second you're told to put on a hospital gown," Razdan said in a press release. "By partnering with Parsons and working together with patients and clinicians, we knew that we could create a better version of what's available so that patients are protected and have a sense of dignity while they undergo treatment."
Razdan, who graduated from the McIntire School of Commerce in 2005, co-founded Care+Wear with Susan Jones in 2014 to create more functional clothing for cancer patients and others with long-term health concerns. Their early products, including breathable sleeves that keep PICC lines in place and specially designed shirts that provide access to chest ports, were featured in UVA Today last year.
As these products thrived, Razdan's growing team turned their attention to the hospital gown, the most ubiquitous and arguably most dreaded item of health care clothing. 
"We wanted to create something that was easy to put on and secure and that provided clinicians with access to the chest and the back without leaving too much exposed," Razdan said. The ideal gown also needed to stand up to high-heat commercial laundering processes while remaining soft and breathable.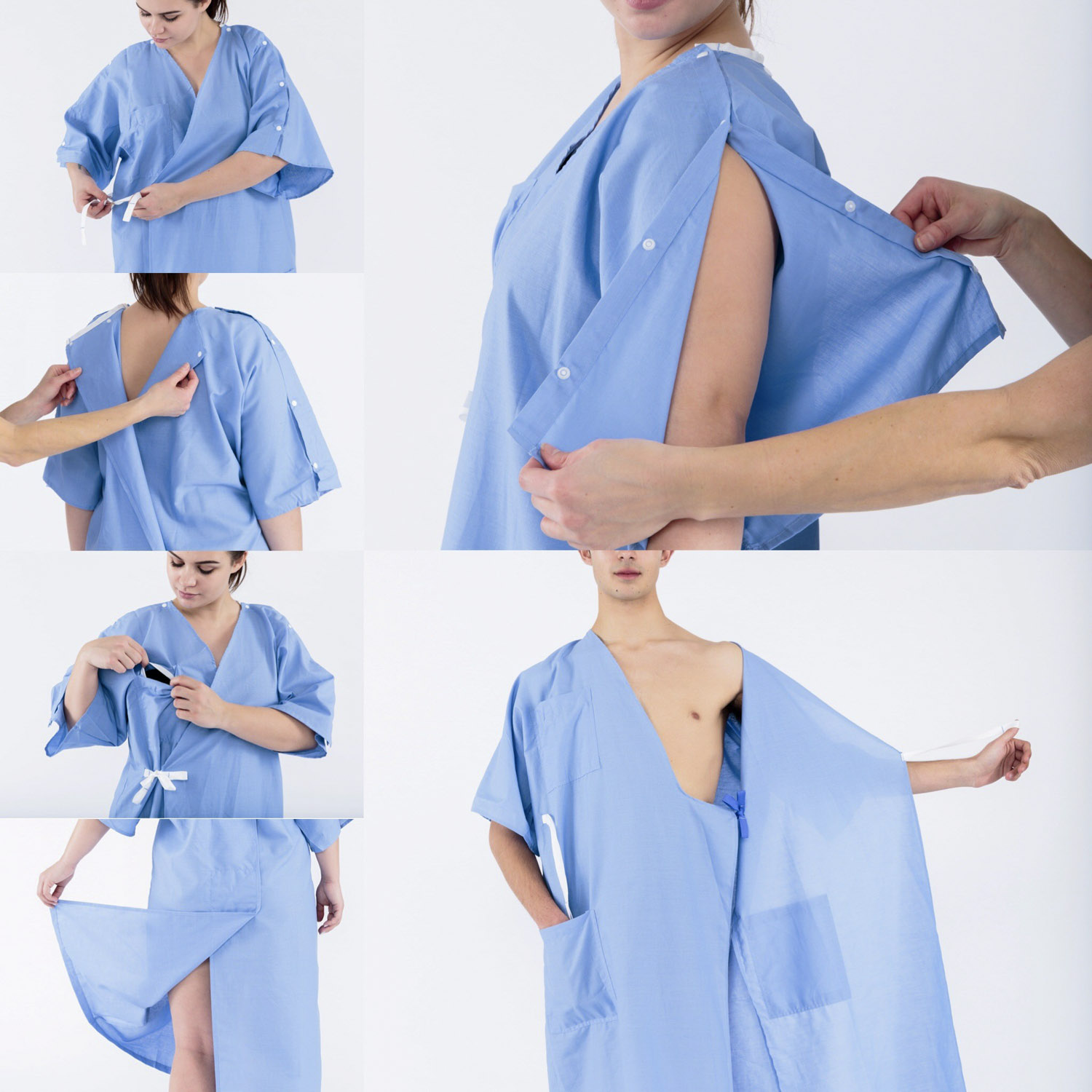 The new gown includes a privacy-preserving backside pleat, snaps and slits that provide important access points for IVs and other devices and secure ties for easy dressing and full coverage.
With this goal in mind, Care+Wear partnered with the Parsons School of Design for a class last spring, where 11 fashion students and their professors worked with patients, doctors, nurses and hospital leaders who Care+Wear brought in. AARP donated a cash prize to participating students, and retailer Zappos.com sponsored one student intern who worked with Care+Wear to finalize and produce the gown this fall. A portion of sales proceeds will go to a health care design scholarship at Parsons.
The light-blue gown resembles a kimono, with ties on both sides of the body, a specially-designed back pleat that provides both coverage and access, wide sleeves with snap-closures for IV insertion, a slit for devices monitoring vital signs and pockets for personal items. Doctors and nurses verified that the gown's access points were compatible with clinical treatments, and patients tested it out for comfort and ease.
"We work directly with clinicians and patients on every product we design," Razdan said. "Their input is extremely important."
He believes the new gown will provide a better experience for patients and solve several important problems for hospitals, which currently use up to five different types of gowns for different patient groups, from maternity patients to ICU or cancer patients. The new Care+Wear gown was designed to meet all of those needs in one gown and eliminate the necessity of purchasing several different designs.
Razadan said the new gown, which retails on the Care+Wear site for $45 and is available wholesale, is cost-competitive.
"Cost was very important to us, because we know hospitals are already struggling with rising costs," Razdan said. "We did not want to add to that burden."
MedStar plans to use the gown across its 10-hospital system if the current trial is successful, and Razdan hopes that other hospital systems across the country and around the world will follow suit.
"We are already talking with a number of other hospitals," Razdan said. "Our goal is to take these gowns worldwide."
Media Contact
Article Information
January 5, 2018
/content/alums-startup-unveils-new-hospital-gown-keeps-everything-covered