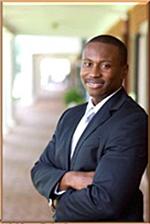 The American Academy of Nursing will induct two University of Virginia faculty members and one student into its ranks during a ceremony to be held Oct. 13 in Washington, D.C.
Randy A. Jones, an associate professor in the School of Nursing; Dr. Don Eugene Detmer, a former Health System vice president and professor emeritus of surgery; and post-graduate nursing student Ken White, a professor of health administration at Virginia Commonwealth University, will all become fellows of the academy, joining nearly 1,900 other professionals around the country who have earned the same distinction.
Jones is the 18th nursing faculty member to be nominated to the academy. White is the first to earn fellow designation while a student at U.Va.
Jones received his Bachelor of Science in nursing, master's, post-master's and Ph.D. at U.Va., and also earned a bachelor's degree in biology at Hampden Sydney College in 1998. He is a Robert Wood Johnson Nurse Faculty Scholar, a National Black Nurses Association Institute of Excellence Scholar and recipient of several research awards from the National Institutes of Health and the American Cancer Society. He has won numerous U.Va. awards, including the Lanford Award and the Jeannette Lancaster Award.
Jones is the assistant director of the school's Center for Nursing Research, is involved in its faculty governance and is a registered nurse at U.Va. Medical Center. He has taught at U.Va. since 2005 and is widely published in issues related to health disparities, minority health issues, community health, prostate cancer and other cancer care.
Recruited as vice president for Health Sciences at U.Va. in 1987, Detmer coordinated the recruitment of Jeannette Lancaster, who served as dean of the School of Nursing from 1989 to 2008, and often lectured on health policy to nursing students. Always a champion of nursing education and practice, Detmer went on to serve as CEO of the American Medical Informatics Association and continued work as a consultant to the universities of Wisconsin, Minnesota and Michigan.
A graduate of the University of Kansas School of Medicine, Detmer received medals for lifetime achievement from the Institute of Medicine of the National Academies and the American College of Medical Informatics. 
"I wish to thank my many nursing colleagues over the years for their expert help across a career as a vascular surgeon, administrator, policymaker and informatician," Detmer said. "Nurses are simply terrific and I'm most grateful for this recognition."
White, the Sentara Professor at Virginia Commonwealth University and an acute care nurse practitioner student set to graduate in 2013, is a longtime professor in VCU's School of Allied Health Professions, with a wealth of experience in health care management and organizational outcomes research related to services for vulnerable populations, especially end-of-life and palliative care. White plans to incorporate a palliative care nurse practitioner practice into his academic career after he receives his degree from U.Va., working to help those who need care and those that provide it learn more about palliative care options.
"I've had other honors and recognitions, but this one is at the top of my list," White said. "Though I've mostly worked as an administrator and educator, I identify as a nurse, and what I've been focused on the last 18 years at VCU is revising the curriculum to be more patient-centered. I feel strongly that administrators who appreciate what goes on between patients and caregiving teams will be the ones who lead the innovation required for transformational leadership in health care delivery. Administrators must understand and champion patient-centered care."
Academy fellows are nursing leaders in education, management, practice and research, according to the association's website. They include association executives, university presidents, chancellors and deans, state and federal appointees, hospital chief executives and vice presidents for nursing, nurse consultants, researchers and entrepreneurs.