In Seth McDowell's vision of New York City, locals and tourists zip around not in cabs or on the subway, but on water-fueled scooters, refueled and launched from the banks of the Hudson River. In his vision of Hong Kong, daily life takes place on an infrastructure made of excess food waste.
If these ideas sound far-fetched, that is exactly what McDowell, an assistant professor of architecture at the University of Virginia, wants.
"We are taking technologies that are currently in research stages and imagining the extreme future environments that could emerge," he said.
McDowell's extraordinary imagination is already earning recognition among the nation's top architects. This summer, mcdowellespinosa, the design studio co-founded by McDowell and Rychiee Espinosa, won a 2015 Architectural League Prize, one of North America's most prestigious awards for young architects and designers. Along with other winners, McDowell and Espinosa traveled to the Parsons School of Design to deliver a series of lectures on how current advancements might alter the future of architecture.
The New York concept, called "Water Fuel," and the Hong Kong concept, "City of Blubber," were both featured in the studio's entry, as was a third project transforming hair salon waste into public art installations. All embody the firm's mission statement to "focus on the transformation of waste, excess and the ordinary into new spatial and material realties."
The Water Fuel project, which also won the Self-Sufficient Cities competition hosted by the Institute for Advanced Architecture in Catalonia, Spain, began when McDowell and Espinosa were looking into research on electrolysis, a process that uses an electric current to dissociate hydrogen and oxygen in water molecules. Specifically, they were interested in the late engineer John Kanzius' method of burning saltwater with radio frequencies to generate hydrogen. What would happen to cities, they wondered, if electrolysis were applied to transportation on a large scale?
Intrigued, the duo researched current applications, such as the water-powered car developed by Japanese company Genepax, and even purchased their own small, remote control model to see how electrolysis worked firsthand. They also read all of the research they could get their hands on to better understand the implication of ideas that remain largely untested in the general marketplace.
"We took the research very seriously and approached the work from a very technical standpoint, measuring precisely how much energy our ideas would need," McDowell said. "But we did not let the technicalities keep us from imagining fantastical end results."
The resulting concept envisions a Hudson River lined with fueling mats that collect water and extract hydrogen, all while doubling as a recreation area, complete with sleek circular pods for swimming and lounging.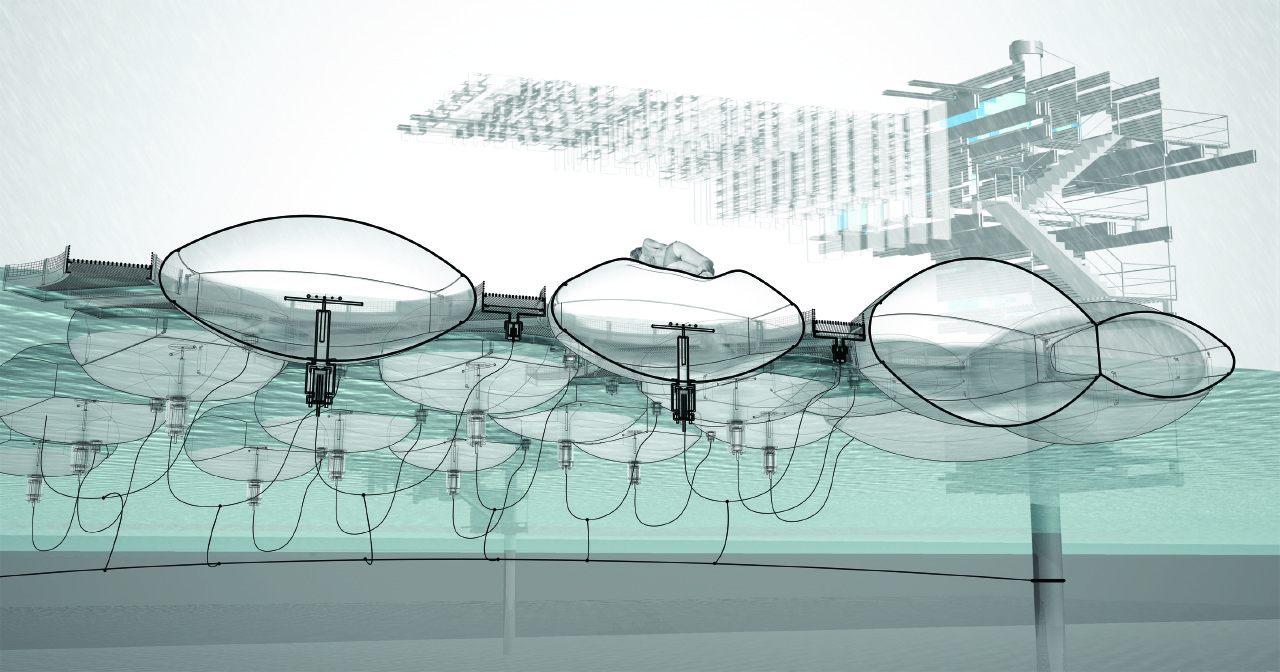 A section rendering by mcdowellespinosa, shown at left, shows the NYC Water Fuel Network's floating electrolyzer beach, which would power water-fueled scooters and double as recreation space.
Those mats fuel a network of park-and-go scooters throughout the city, providing a sustainable alternative in a city where 69 percent of all car rides are single passenger.
"The idea develops the waterfront, helps to solve huge problems in energy and infrastructure and gives back to the city in terms of recreational space," McDowell said. "Eventually, it could be a valuable infrastructure piece for Manhattan."
McDowell and Espinosa's vision for Hong Kong focuses on a different kind of sustainability, perhaps more dystopian than a city powered by water: a city insulated by fat.
"We had this idea of a new materiality emerging above Hong Kong, providing both thermoregulation and a new urban terrain."
That vision, shown at right in a rendering from McDowell Espinosa, uses the food waste of Hong Kong to transform the city. Like the Water Fuel project, though, this seemingly impossible vision is grounded in research. Scientists and engineers are currently investigating how we can turn excess food waste into a plastic-like material that could be used in construction or consumer products. 
The team initially developed the concept for the 2013 Bi-City Biennale of Urbanism/Architecture in Hong Kong, illustrating their idea with a series of installations that appear eerily alien when compared with traditional cityscapes.
McDowell does not intend for his creations to look familiar and that originality played an important role in securing the team's Architecture League Prize, where judges themed their selections around the concept of authenticity.
"We thought about our work as questioning what authenticity means in a digital age where many things or copied or shared and it is difficult to find the origins of things," McDowell said.
These projects find their origins in unexpected places – in the waters of the Hudson, in ruinous landfills or on the floor of hair salons. But, as McDowell and Espinosa have shown, today's research is building a tomorrow that few of us can truly imagine.
mcdowellespinosas' work will be on exhibit in Scottsville's SCAN Art Gallery beginning Sept. 26.